Instacart – Grocery, Alcohol, Pet & Home Delivery
Instacart as a Customer
Instacart has been my best friend for a while. I've been a customer of Instacart for a long time and love being able to plan grocery delivery at a certain time. I started using it a lot in 2017 when we were planning our wedding. Between a long commute to work and the extra time spent wedding planning, Instacart made it easy to stock up on groceries. I also love that I can set an actual grocery budget using it and not have those "oh that looks good", in the moment food purchases I don't need. So even with delivery and tip, I still ended up saving money and food waste using Instacart!
I also love that they expanded to deliver alcohol from stores like Total Wine & Spirits, pet stores like Petco and a variety of grocery stores. In Minnesota, I was able to get deliveries from places like Lunds & Byerlys, Cub Foods, Trader Joes, Total Wine & Spirits and Petco. Here I am able to get deliveries from Shaw's, Market Basket, Stop & Shop, Costco, Total Wine & Spirits and Petco.
So why should you start using it now? THIS is a great way to practice social distancing! It's also a great way to support people who may have been doing Instacart Shopper as a side gig, but now are doing it more full-time as they've been laid off from other positions and looking for ways to make money quickly. Grocery store hours are also reduced, so it's a great way to get the groceries you need without having to go in-store, reducing your risk of exposure/exposing others. Aside from using it now, I think it's something you'll love and want to continue to use once this all passes.

You can sign up here, select the store you want to shop from, choose a delivery window and check out. From there, you will get notification of when your Shopper starts shopping and any notifications of replacement items for items out of stock (WHICH is a lot right now) or if there is no suitable replacement. I have my settings so I don't need to approve replacements. My husband and I don't have any specific allergies, etc. so it's never really a big deal as long as we got something similar or just a different size. I have always gotten a great delivery including all of my items (unless if it was refunded because nothing suitable was available) with a great selection of products.
SIGN UP for Instacart Delivery!
Here are my pros and cons of using Instacart:
Pros:
Set your grocery budget and actually stick to it!
Choose from a variety of items at a variety of stores
Adjust settings so you don't have to approve replacements
Conveniently shop online or via your mobile app
Schedule a time that's convenient for you
Tip via the app, no need to have cash on hand
Cons:
Items can be out of stock and have no similar replacements – THIS IS going to be the case a LOT right now, be patient during these times and open to suitable replacements!
Long wait times – this is another con that's just going to be more of an issue right now than normal, so be patient! You are still helping by not physically going into the grocery stores.
Delivery fee – it is a fee, however, as mentioned above if you are sticking to your list vs. buying what looks good, you can still save money on groceries!
Not available for every store – there are other stores that have their own delivery platforms, but Instacart definitely has the widest variety of stores to shop from.
---
Instacart as a Shopper
I started as an Instacart Shopper back in July of 2019. I thought about doing it for a long time because I enjoy grocery shopping and one time my delivery person told me how much she enjoyed it and that with good tips, the pay was great too. I have been picking up Instacart batches as a Shopper on and off since July. Overall, my experience has been great and I would highly recommend it right now for anyone looking to supplement their income.
Whether you are self-employed, experienced a lay off due to COVID-19 (thinking of anyone affected by this – I'm so sorry if this has happened to you or someone you know, hang in there!), or expect things to be tighter in the coming months, Instacart Shopper is a great way to make some extra money right away. The first time you shop, it can take a bit of time to get used to. The Shopper app is intuitive and easy to use, but depending on what grocery store and what location you're at, it's just going to take some time to get used to the layout, weigh the items, scan the barcodes, etc. After a few batches, it gets so much easier and faster.
My Tips/Good Things to Know:
Can't find the exact item? Move on, find a suitable replacement. Most people, of course, want the specific item or brand but should be able to note it in the app. For example, if someone wanted a can of green beans, but they were out of Green Giant, then I would quickly and easily replace it with a different brand. If someone wants Skippy peanut butter but they only have Jiffy, I would still replace, but this might be something they choose to have you put back – some items are just more brand dependent if that makes sense.
Force replace items. The app can have all sorts of glitches while you're shopping. Nothing serious, but more often than not, I have to "force replace" an item because it doesn't recognize the barcode. Sometimes it's the exact item and the app doesn't recognize it. Force replace, take the picture, and you should be covered!
Don't let people get to you. Some people are extremely picky (even during COVID-19) about brands. Or they might not be as understanding as others that something is out of stock. It can be frustrating and it's OKAY. Get through it and move onto the next batch. Normally when I work a few hours/pick up a few batches, it all balances out in the end with one difficult batch and a couple of easier batches. Don't give up!
Always check the distance between the grocery store and the items selected before accepting a batch. For me, to make a batch worth the time and effort, it has to be in a reasonable distance from where I am, reasonable distance to the delivery destination AND the order of product/unit count should be reasonable. What do I mean by reasonable? I mean that the person isn't purchasing 20 2 liter bottles of soda, 10 packages of 20 water bottles, etc. That is a lot of heaving lifting and would take up a ton of time to bring to their house/doorstep from my car. I've had a couple of batches I regret taking because they took much longer than they should have for the base price + tip. It's just a good habit to quickly scroll this before accepting.

Pros:
Make extra money on your own schedule
Get paid once a week, OR MORE, with instant cash out. You can choose to get paid every Wednesday for the week Monday – Sunday the week before plus tips or cash out on the base price instantly after your shift. It charges 0.99 cents per transaction, but you have money in your account immediately.
Easy to sign up and start right away
Pro right now – TONS OF BATCHES available everywhere. They also aren't limiting batches to anyone currently. Normally they push batches to people with best ratings first. Right now the demand is so high, you literally have batches to choose from all the time (at least I've gotten a ton of notifications even though I'm working elsewhere to pick up a batch)
Be your own "boss" – since you are shopping and delivering, it's a great side hustle for someone who wants to be their own boss. You pick the batches, you do have some interaction with the customer, but it's limited and you can do it whenever it works for you.
Cons:
The driving distance can be too long sometimes, leaving you out in the middle of nowhere to drive far back to another grocery store
Like any job with tips, not everyone tips or tips well (or worth the effort)
No guaranteed hours – since you get paid per batch and not the hour (at least here in the Greater Boston area – you used to be able to schedule hours but would still need to work a batch for pay), there are no guaranteed hours. That makes it flexible but also can be inconsistent week to week. If you want to make some extra cash, this is great, but if you are looking for consistency, this might not be the best option.
No benefits – even if you did work up to 40 hours a week, there are no benefits tied to being a full-time Shopper. Instacart gives you resources like Stride to find health insurance, etc. but being a full-time Shopper does not equate to benefits you might receive at other full-time jobs.
No consistent base rate. Every time you pick a batch, it will tell you predicted pay based off the base rate and what they expect the tip to be, but there is no certain base rate or hourly rate. Again, if you like consistency in hours and pay, this might not be the best fit!
---
DoorDash – Restaurant Food Delivery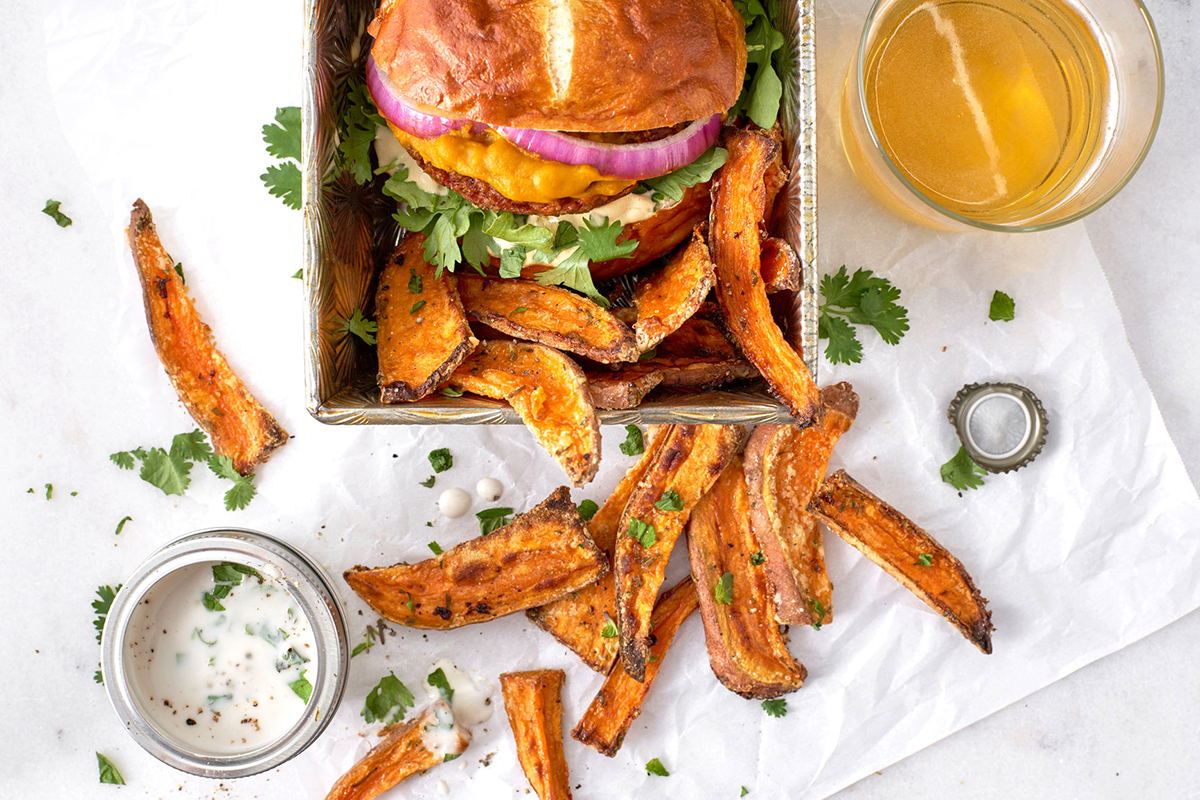 DoorDash as a Customer
DoorDash has been my go-to food delivery app for a few years. I used it SO much when living in Minneapolis and it came with me as my top delivery app in the Boston area. Like Instacart, I started using it a LOT during wedding planning season. It was a lifesaver to order food for my husband and I while we were busy working full-time with long commutes and a lot of extra to-dos with wedding planning!
DoorDash brought my favorite local restaurants to my doorstep in Minneapolis and is now doing the same in the Boston area. One of the great things you can do with DoorDash right now is continue to support local restaurants while they are only open for takeout. This also ensures you can stay inside and practice social distancing while allowing your delivery driver to leave the food at your door for no contact! Additinoally, by ordering via DoorDash you aren't only supporting your favorite restaurants, you can also support people who may be picking up extra deliveries as Dashers because they were laid off or are looking for supplemental income that they are losing in their businesses. I also feel like you will love DoorDash and continue to use it long after trying it out during the COVID-19 pandemic.
Support your local restaurants and order delivery today through DoorDash!
Here are my pros and cons as a DoorDash customer:
Pros:
A variety of your favorite local restaurants
Ability to select items off the full menu
Order from multiple places at the same time to adhere to all wants and dietary needs
Easy to order online or via the mobile app
Tip directly via the app, no need to have cash on hand
Support local restaurants and delivery drivers!
Cons:
It can take a while to receive your food – this is true even outside of our current situation. I've waited close to two hours before, but I would say this is NOT likely. Just pay attention to the timeframe listed when you do place an order.
Fees – there are a couple of fees that honestly feel like a lot but right now supporting restaurants and Dashers AND getting some delicious food that you haven't been able to get in person is a great thing right now!
Not all restaurants are on it – some of your favorite restaurants might not be on DoorDash (yet) or do delivery through another service. I do feel like a good variety of restaurants are available via DoorDash though!

So what are you waiting for? Sign up to get food delivered to your door via DoorDash today!
---
DoorDash as a Dasher
I recently just became a Dasher – literally just a few weeks ago as I was seeing a lot of local restaurants on my DoorDash app. Before COVID-19, Instacart wasn't quite as busy in the Gloucester area, so I wanted to see if DoorDash had some more opportunities nearby. I've only done a few deliveries with them, but here are my thoughts on pros/cons so far (plus a little bit of research I did reading about other people's experiences and watching their YouTube videos)!
Pros:
It is really easy! You simply accept a job, pick up the order (ensure it is correct) and drive to deliver it. You don't have to worry about picking out the correct items, just focus on ensuring the restaurant gives you the correct order and driving.
The delivery locations (at least so far in my experience) have been extremely close to the pick-up location, making it a great way to pick up multiple dashes per hour.
You can get started right away after signing up! I was able to start "dashing" within an hour after signing up. My background check, etc. went through and you can dash without needing your Activation kit. A great thing to start today if you want!
There are constant promotions for additional pay during what they call "Peak Pay". This has been consistently true right now. I see a $2 to $4 bonus in peak pay currently – this is per delivery.
Get paid once a week (Tuesdays or Wednesdays depending on your bank for dashing the Monday – Sunday the week before), and after a certain number of successful deliveries (25 in the Boston area at least), you can qualify for instant pay. Unfortunately, the fee is $1.99 every time you want instant pay, but at least the option is available.
Cons:
I've noticed the base pay is extremely low, meaning your pay is almost entirely based on tips. This can be great when customers tip well, and disappointing when customers tip low.
The fee for customers is so high, it might deter them from giving a better tip. Since the customer is required to pay the fee, while the tip is optional, they might not be willing to give a big tip because they are already paying so much for the fee.
You can schedule hours, but might not have anything come through. I scheduled hours one Friday over lunch when the app said it was "busy" in my area and I waited for 45 minutes, nothing came through.
Your car will smell like the food you're delivering! Since this is a fast turnaround from fresh at the restaurant to the delivery location, the food scent is strong. Between delivering a shrimp basket and a bacon cheeseburger on my routes, I can say it took a bit for the smell to leave my car.
---
So there you have it! Two apps, two ways to make money, two ways to get groceries, take out and other essentials delivered to your doorstep without needing to worry about social distancing! Have you used Instacart or DoorDash as a customer before? Have you ever signed up to be a Shopper or a Dasher? Let me know in the comments below and be sure to ask me any questions you have on being a customer or employee of either app!