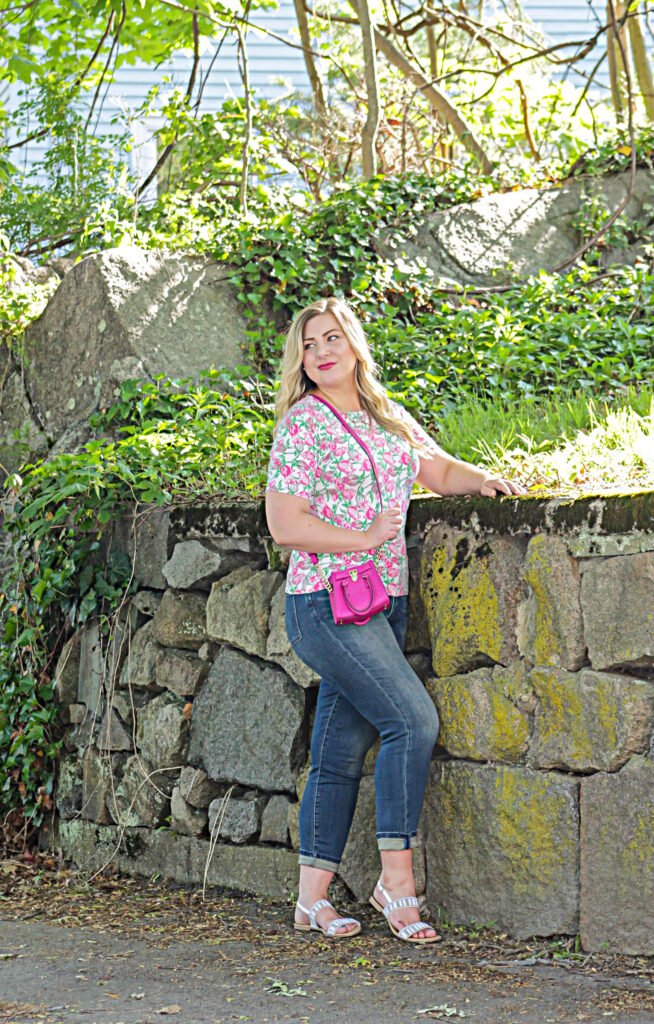 Sometimes the easiest formula for getting dressed is a simple t-shirt + jeans look. Even though it's been sweltering here lately (I thought New England was supposed to be a bit cooler in the summer – JK, LOL – so far not so much), I still love wearing jeans + t-shirts in the summer. This t-shirt is a bit of an upgraded look, as it is vintage Lily Pulitzer that I thrifted back in Vermont (along with the blouse from this look)!
Along with that, I paired it with a simple pair of beaded sandals from my favorite (Primark!) and a new pair of jeans I recently got from Nordstrom Rack. They are "girlfriend" style, so I would actually suggest sizing down one! I wish I would have because after wearing a few times and even with washing/drying them, they are still a bit looser than I want them to be. Along with my favorite pink purse from Michael Kors (this exact style is sold out, but this Michael Kors handbag is almost identical!) and my favorite pink matte lipstick, I was ready for a summer date night with the hubby.
Outfit Details
T-Shirt, Lily Pulitzer – Thrifted (Similar HERE, HERE and HERE) | Jeans, BLANKNYC – Nordstrom Rack (Other BLANKNYC styles HERE and HERE) | Sandals, Primark (Similar HERE, HERE and HERE) | Handbag, Michael Kors – Old (Similar HERE, HERE and many similar styles HERE) | Lipstick, NYX Matte in Audrey (Also available HERE and HERE)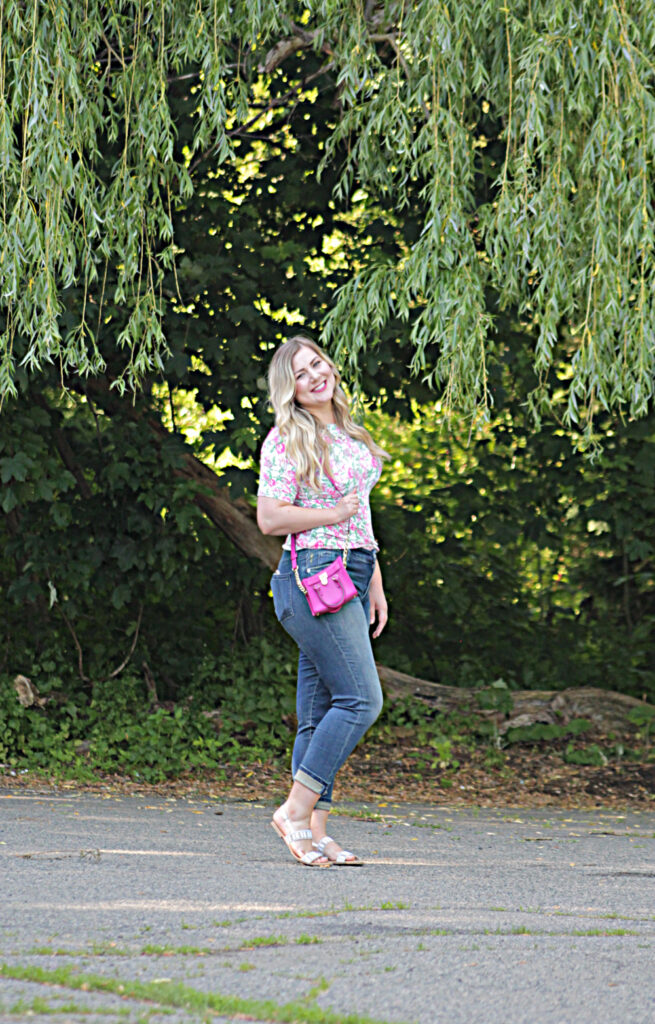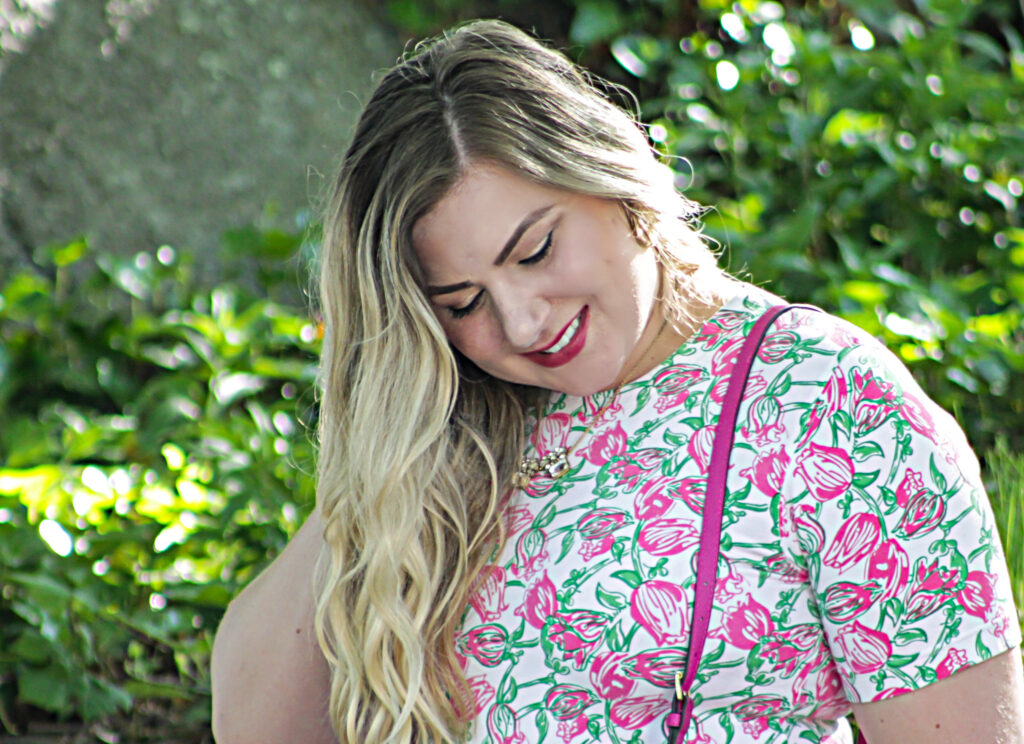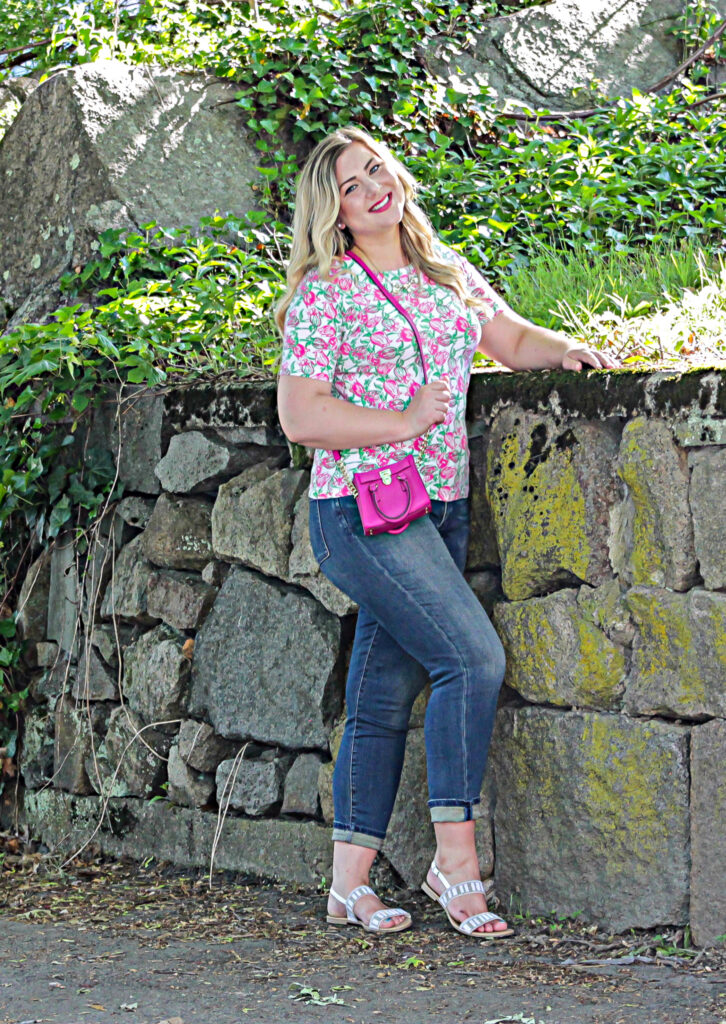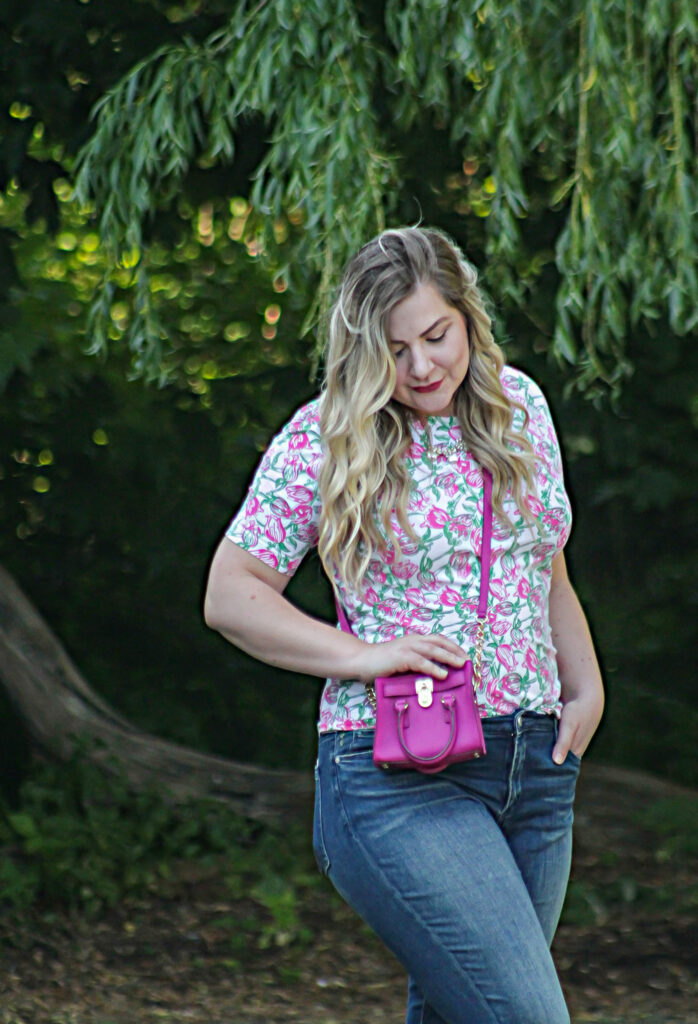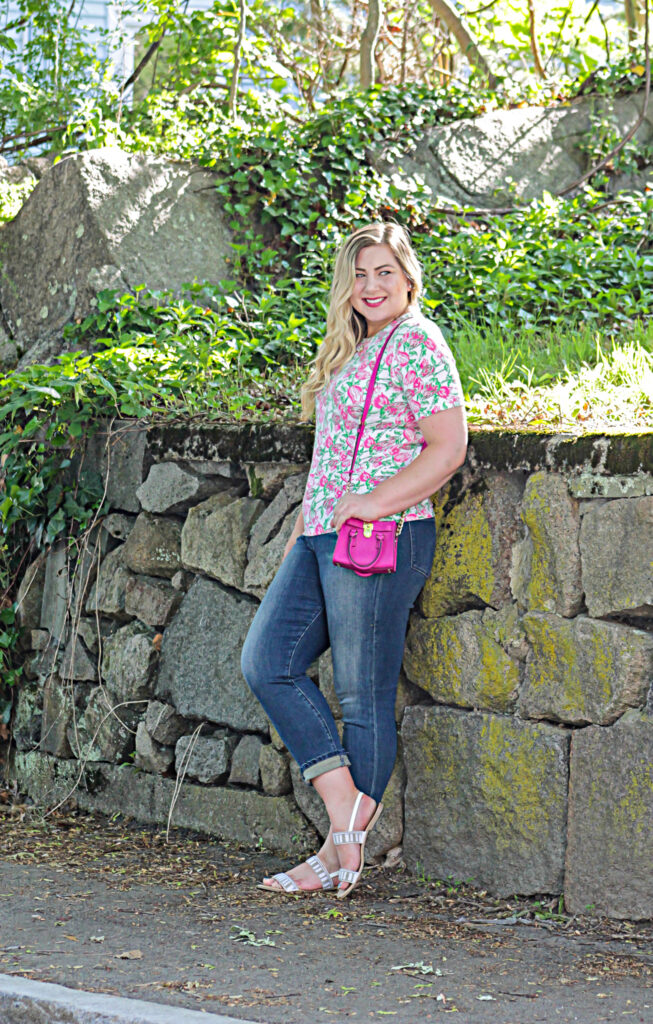 Now that 4th of July is over, I feel like summer is in full swing. The next couple months are going to fly by and we are going to be spending every moment we can soaking up our first summer in Boston. I traveled two out of the four weeks in June and then was at my aunt and uncle's last week for the 4th (which was so much fun), so I'm excited to be back and not traveling until the end of August so I can keep playing tourist 🙂 I hope you had an amazing 4th of July and holiday weekend, and are having a great start to your week!
Talk soon, xoxo – Rachel
Shop the Post
T-Shirt, Lily Pulitzer – Thrifted (Similar HERE, HERE and HERE) | Jeans, BLANKNYC – Nordstrom Rack (Other BLANKNYC styles HERE and HERE) | Sandals, Primark (Similar HERE, HERE and HERE) | Handbag, Michael Kors – Old (Similar HERE, HERE and many similar styles HERE) | Lipstick, NYX Matte in Audrey (Also available HERE and HERE)

beaded sandals blanknyc blonde hair curls fashion floral print how i thrift how to style a pink handbag jeans lilly pulitzer Michael Kors michael kors handbag Nordstrom Rack NYX NYX lipstick outfits Primark primark sandals thrifted style vintage