Choosing your wedding dress is definitely one of the most exciting parts of the wedding planning process. Every bride is going to consider the fabric, current fashion trends, colour, and so on. However, when you're getting married abroad, you have even more things to think about! You don't want to end up pulling on your dream dress, only to become a hot, sweaty mess as you say your nuptials. Here's the essential bride outfit guide to help you when getting hitched abroad: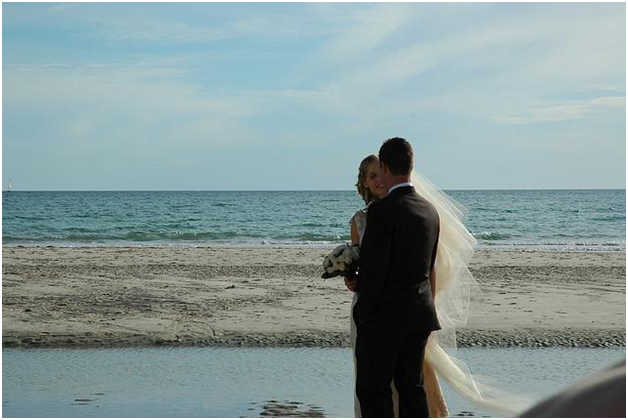 Where Are You Going?
As soon as your man has popped the question, you'll start thinking about your perfect wedding dress. However, if you plan on getting abroad, you need to think of your destination first. If you plan on having a laid back ceremony on the beach, then a long, lace gown isn't going to be the best choice. If you plan on getting married in a fancy European castle, then you're going to need something a little more fancy. Your destination should always be chosen first; then the perfect dress to suit that destination. Popular destinations to get married abroad include Paris, Italy, Mauritius, and Australia. In fact, there's a fantastic wedding videography company in Melbourne that could capture all of your precious moments on film for you – check them out if you plan on having an Australian wedding!
Getting Your Dress There
The most important thing to keep in mind is how you're going to transport your dress to your destination. The more slimline the dress, the easier it is to transport in general. A princess style gown will be an absolute nightmare to ship; I can tell you that for free. You may even be able to take a slim fitting gown in your hand luggage with you, saving you from parting with it.
If you want a dress that will take minimum fuss to transport, but you don't want to sacrifice style, then a plain gown can easily be customized using belts, brooches, and other sparkly objects. Also, by choosing something short and sexy, you can show off your wedding shoes and avoid dragging your dress in the sand!
The Weather
If you're getting married somewhere warm, you need to select a material that will allow you to breathe on your big day. Loose fitting fabrics are perfect for a country with a boiling hot climate. If you choose something fitted, then you'll probably overheat, sweat off all of your makeup, and get that dreaded frizzy hair look. You might even want two dresses, one to get married in, and another to let your hair down and party in afterwards. Of course, this is up to you, as many women want to make the most of their wedding dress as they'll only get to wear it once.
Getting married abroad is very special, so follow the tips in this guide to ensure you look as amazing as you feel. Use a little common sense, and you'll end up with the perfect dress for your big day!
This is a guest post, as always all opinions are 100% my own.