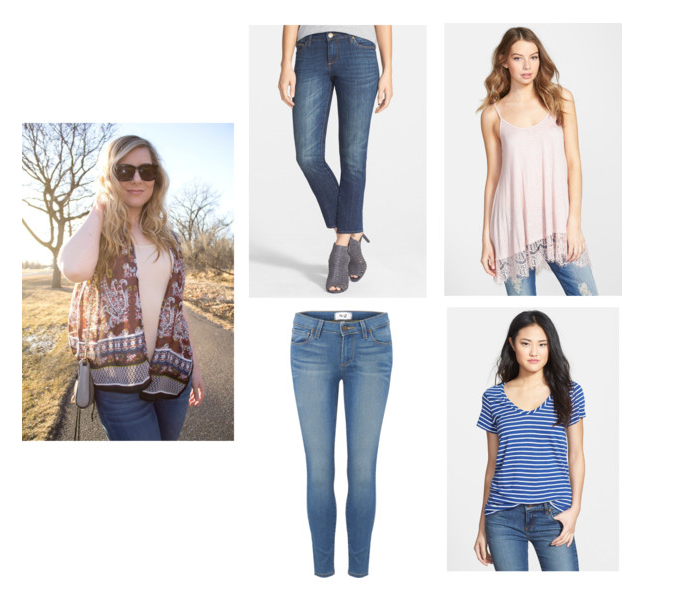 Kimono Top – Nordstrom Rack (Couldn't find exact online – similar here), $17
Kut from the Kloth Straight Leg Jeans – Nordstrom Rack (Couldn't find exact – same brand and similar style here), $45
Paige Denim – Nordstrom Rack (Couldn't find exact – same brand and similar style here), $49.50
Tank Top – Nordstrom, $24
Striped T-Shirt – Nordstrom, $25
Total: $160.50
Another month  over, another time to admit to where my money went. This month I was in desperate need for some jeans, so I found a couple pairs while at Nordstrom Rack looking for shoes. I ended up coming out with a light-weight kimono too. I also realized I've been needing some more basics – a striped t-shirt and blush tank top will give me a couple more items to work with as far as basics go and be a good mix up to some of the neutral tank tops and t-shirts I have. Nothing too exciting – but I did buy some fun souvenirs while in Miami! Only one dress – but I didn't include it here because my parents gifted it to me as a way to remember the trip. I got a dress the first time I was in Miami and every time I put it on I remember our vacation, our memories and the very moment I fell in love with it. Sounds silly to some I'm sure – but clothing as a souvenir to me is fun because I'll actually wear it and remember those times.
Sponsorship
I was also able to team up with a lot of brands this month for my week of giveaways! I was fortunate to receive an off the shoulder top and pleated skirt from Lulu*s, a pair of flats and wedges from Aerosoles and a new set of brushes from Sigma.
As always, linking up with budgeting bloggers!