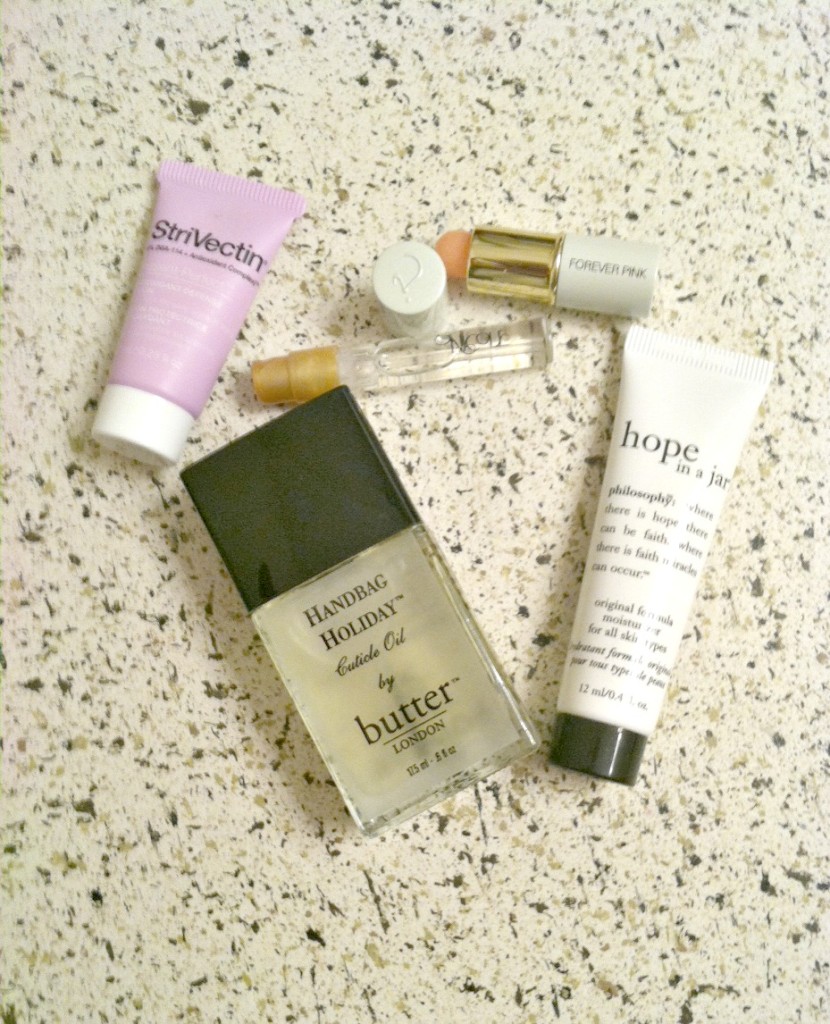 I have been LOVING my Ipsy subscription, so I decided to sign up for another beauty box subscription. I only want makeup and skincare samples, so the Sample Society seemed like a good fit for me.
Sample Society is brought together by BeautyBar.com and Allure. It is $15 a month and they send you five luxury samples each month.
My first impression when opening the box wasn't good. I was suprised by how tiny all the samples seemed (in comparison to some full size products and bigger samples through Ipsy), but it got better the more I looked into and saw what I got.
Hope in a Jar – Retails at $42 for a 2 oz. jar
Sample size 0.4 oz, so about an $8.40 value
I have used Hope in a Jar in the past, it was introduced to me through one of my best girlfriends who swears by it. I really loved it, but was also looking for a moisturizer more specific to acne prone skin. I have used this the past couple nights and let me tell you IT IS HOPE IN A JAR. Great moisturizer, perfect for my skin overnight. I want to use a heavier moisturizer overnight to ensure I get the hydration I need, but wouldn't want to use it on my oily face during the day. It has made my skin look brighter and healthier than it has in awhile.
StriVectin Present Perfect – Retails at $59 for 1.7 oz.
Sample size 0.26 oz so about a $9.02 value
I have honestly never heard of this brand or product before. It is an antioxidant skin lotion that is meant to:
• Reverse dullness
• Instantly hydrate and prevent dehydration
• Combat the look of fatigue
• Smooth fine lines and prevents wrinkles
• Even skin tone and texture
This lotion seems a little bit lighter than Hope in a Jar and since it is winter I am going to apply this to my skin in the morning, after I put on my regular moisturizer. So far so good! I have worn it the past couple days and it is light on my face, I don't feel any extra oiliness but I will update you when I run out.
Jane Iredale Forever Pink Just Kissed Lip and Cheek Stain – Retails at $25 for 0.1 oz
Size not on sample, but I estimated somewhere between a $5.00 – $7.50 value
I swear by Benetint, but this might give it a run for its money. I immediately fell in love with this when I tried it! It has such a good, light smell and almost looks like lip balm, but when applied it gives your lips a nice satiny finish with a slight pink color and when applied to the apples of your cheeks, gives a GORGEOUS light pink color. I will definitely be doing a vlog post to share about this product and show you how it works and I already know I will be buying this product.
Butter London Handbag Holiday Cuticle Oil – Full Product Sample! Retails at $15
I have yet to try it, but I definitely need a cuticle oil! I am excited to try Butter London, I am admitting right now that I have never used their products before…
Full size sample $15.00 value
Nicole Richie Fragrance – Retails at $69 for 3.4 oz
Sample size estimated around 0.3 oz so a value of about $6.08
Ugh, disappointed. I HATE getting perfume samples in the really really tiny spray bottles. I enjoyed the roller perfume I got from Ipsy because at least I can test it out for longer and it is easy to apply. I have big fingers so these little tiny spray bottles are not fun for me. Also, I can't even wear perfume to work because one of my co-workers is extremely allergic to strong scents. I did test it out and the scent seemed nice. It wasn't too strong, but definitely a feminine scent. I tend to shy away from overly feminine scents, but I would say it is feminine in a good way… flirty and fun.
Overall this month, when comparing the sample sizes to retail price, I got $43.50 worth of product (even on lower estimated ends) for $15. That makes me happy, especially since I am loving four of the five samples. I will definitely continue with the Sample Society Box next month. I love the lip and cheek stain and will definitely be purchasing that!
You can sign up for Sample Society here.
For anyone interested in testing out or purchasing any of these products, BeautyBar.com has a coupon code for $15 off of $50 if you buy one of the above items: