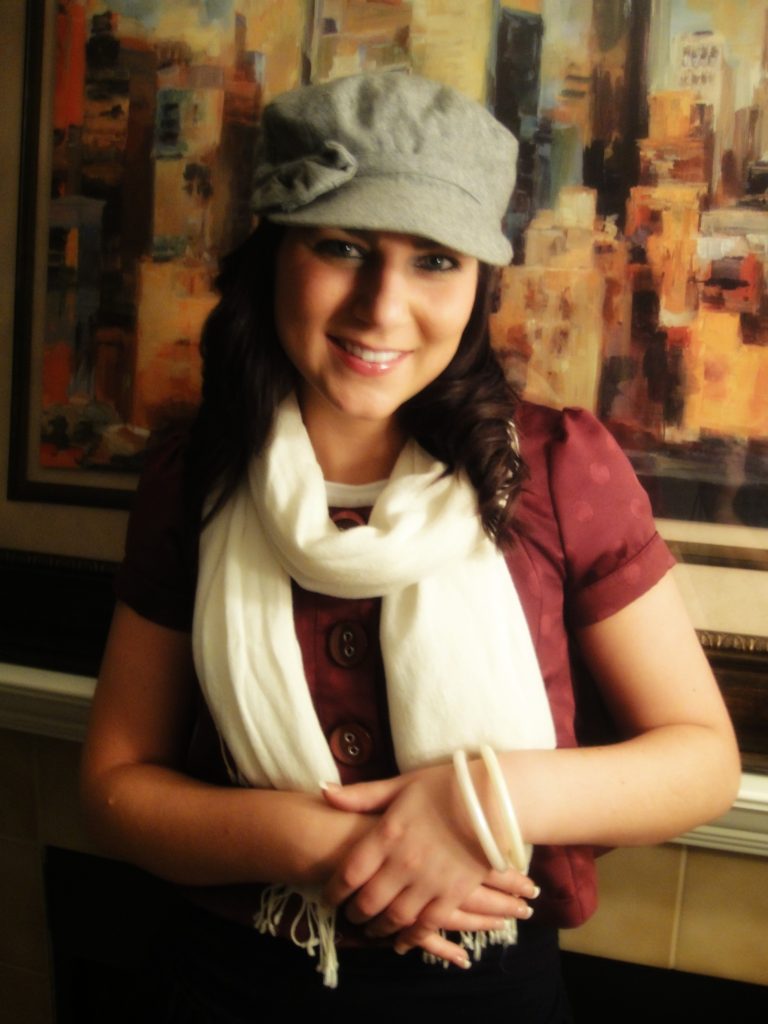 Basically the title of my post says it all… this outfit is extremely simple to throw together and is so comfortable.  Unfortunately, it is only a weekend outfit because it's a bit too casual for work, but I still love it!  I was inspired by Lucky magazine's spread on how to mix and match a few items for A Month of Outfits" from the November 2008 issue. I have kept that magazine and tabbed out that section because it's always been a source of inspiration for me!  Anyway, I love the hidden polka dot pattern on this short-sleeved cape jacket and adding a pair of plaid flats to complete the look.  For me, it's the perfect combination of comfy and cute.
Burgandy Boxy Jacket: Target; Black Skirt: Target; Gray Tights: Target; Plaid Flats: Kohls; Cream Scarf: Wal-Mart; Gray Military Hat: Ann Taylor Loft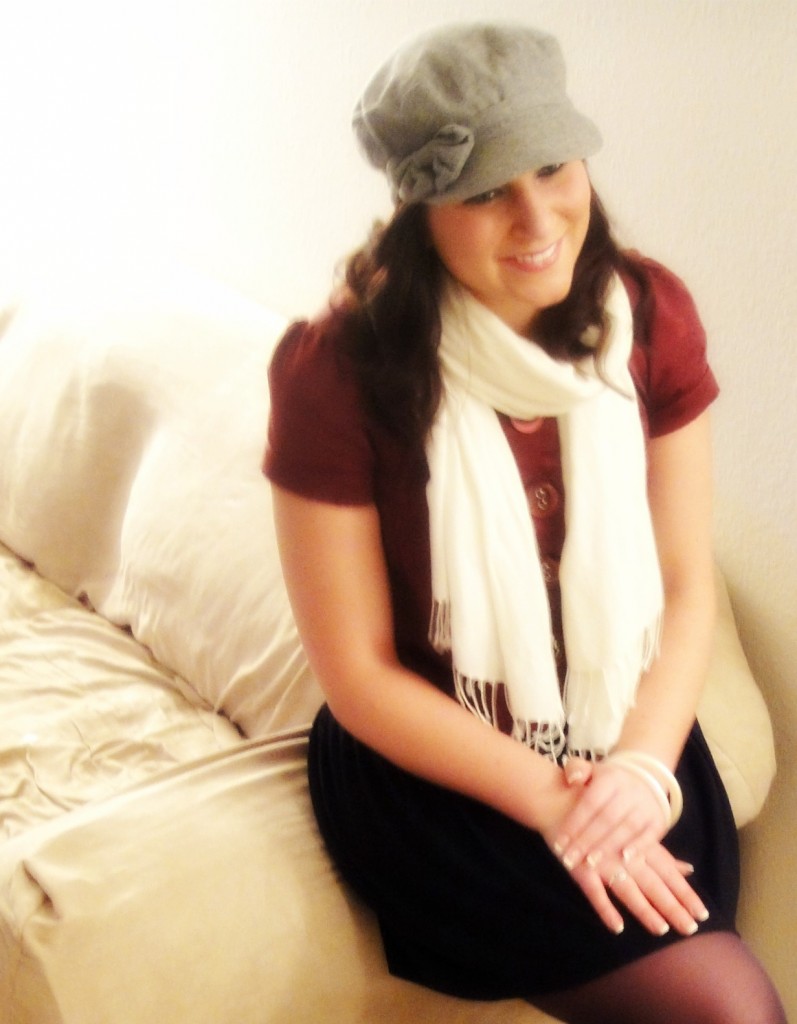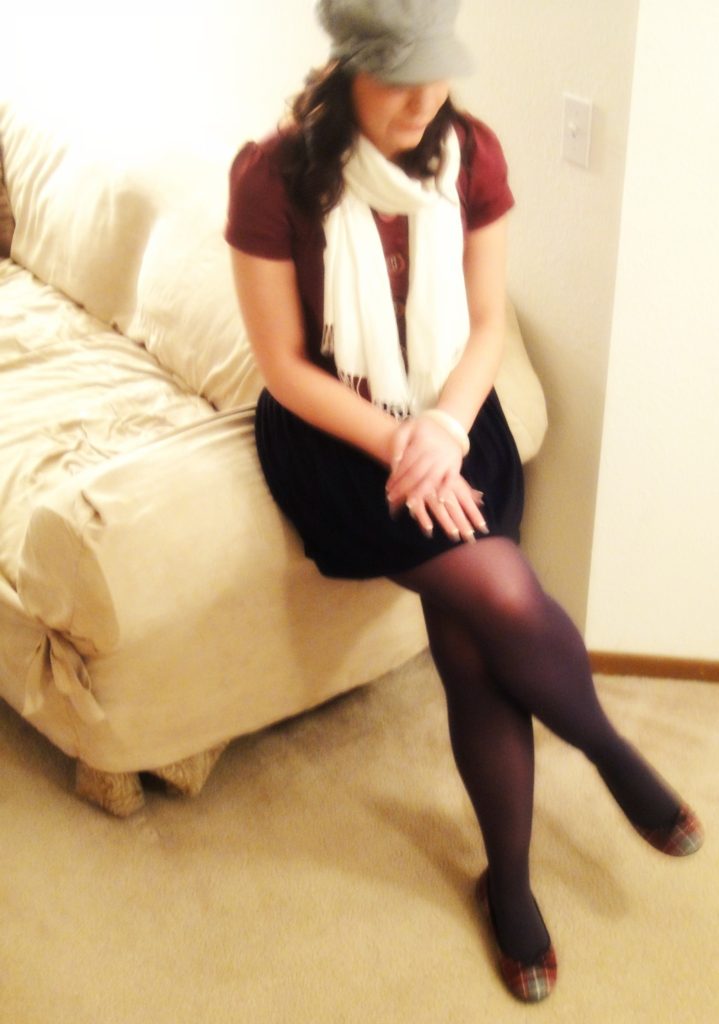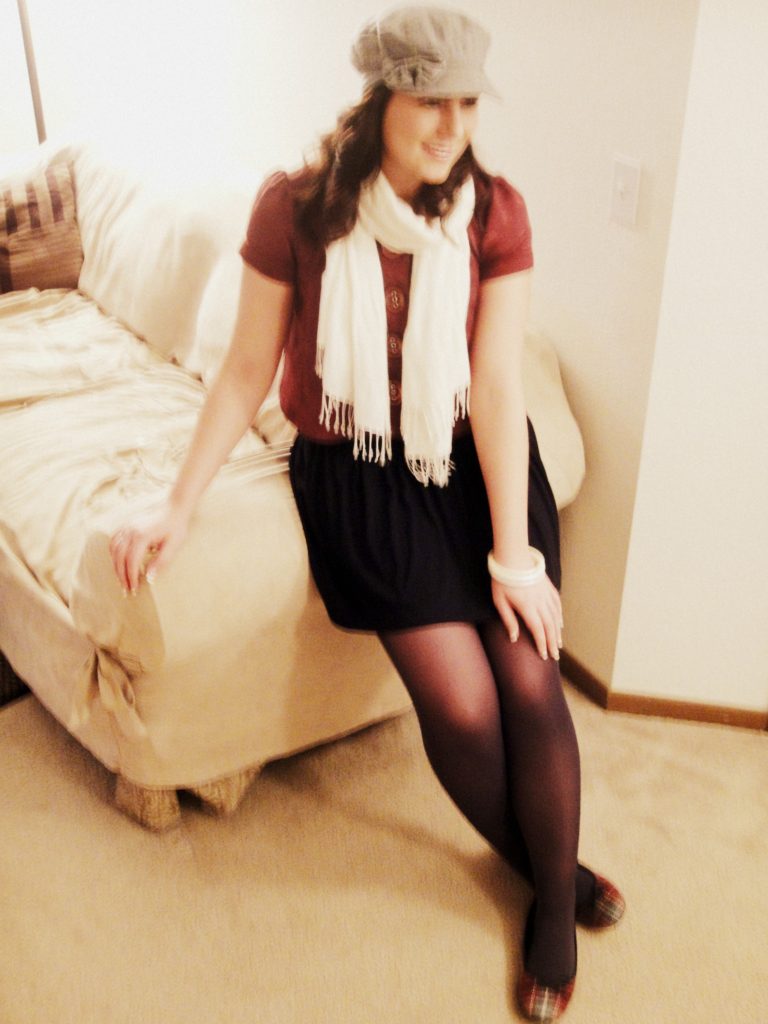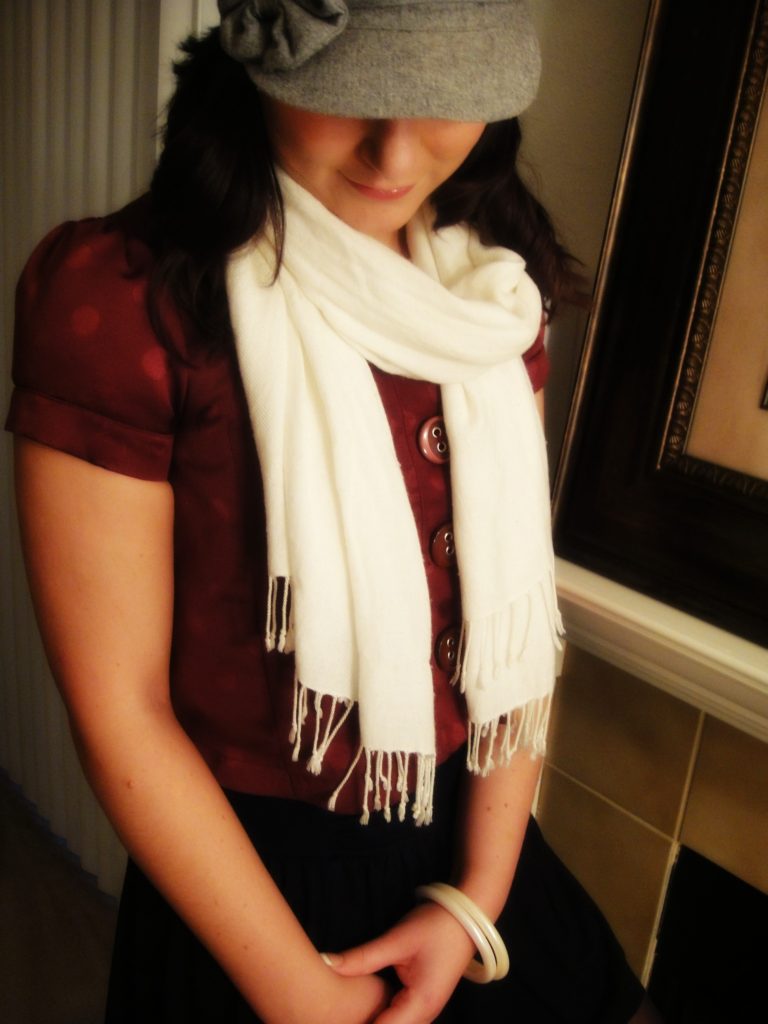 Do the "LOOK"
Boxy/Cape Jacket:  To get this look, you either need a cape jacket or a looser, yet structured piece.  Basically a cape has a very strong, sturdy look, but it doesn't fit to the body, and that's what you need to have to get this same look.  Color options are endless and with patterned flats, any bright or neutral solid color would work great.  A looser fitting, baggy or long cardigan could also work with this outfit.
Black Skirt: I know, I know, how many times do I post wearing a black skirt?! I guess they are just so versatile and this one is no exception.  A looser, free flowing skirt that fits right around your waist helps balance the overall look.  Another neutral or even basic color would work here too, as well as a pencil skirt for a more structured look on bottom.  If you want to go really casual, wear some boyfriend jeans and cuff to show off the flats/heels (whatever you choose!)
Gray Tights:  I chose gray as another color contrast, but with the simplicity of the rest of the outfit, if you wear a skirt rather than jeans, definitely have some fun with the color or patterns on the tights.  Otherwise, other neutrals like black and beige work well too.
Plaid Flats: I own so many adorable flats, but barely ever wear them.  This outfit is all about cute (vs. glamorous or sexy) which is why I went for flats over heels (not that I don't own heels that I categorize as "cute") so go with one of your favorite pairs of flats.  Whether you are neutral with the rest of the outfit or have some bright colors, adding a pair of patterned or animal print flats would be a great contrast.  Heels work as well, try classic pumps to keep the overall simple look or go for something strappy or patterned if that's your style!
Cream Scarf:  I wanted a contrast to the burgundy color in my flats and cape jacket with some neutrals aside from black (my usual go-to).  Patterned or colored scarves work well if the rest of the ensemble is pretty simple.  A scarf is one of the easiest ways to accessorize, and not only that, you get a different look with how you style the scarf!  I would go for the classic wrap around as I did, or make it very big and bold (I tuck the fringed ends under as a very simple way to get that look, but I'm no scarf master)
Gray Military Hat: This was ultimately my last touch to the look… honestly the look still remains simple and cute without it, but I have quite a few hats that I forget about!  This is my favorite one and I love it so much that I actually bought the same style in black with a sequin bow.  For me, it just adds an extra element of cute and allows me to wear a hat since I'm not able to wear hats to work!