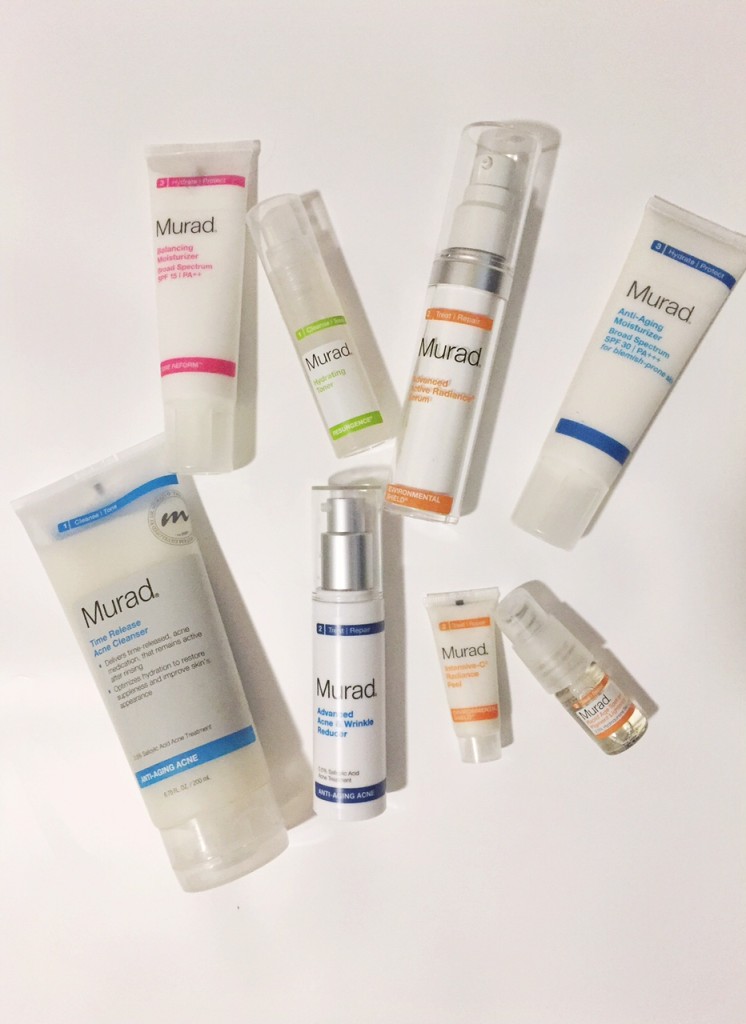 I love being able to take part in some of the amazing things Murad is doing, and this month I am happy to share my experience at Massage Envy experiencing a summer glow facial with Muradl! Massage Envy has partnered up with Murad to provide four different types of facials at all their locations.
I have only had one facial before, and it was a part of a spa package my boyfriend got me for my birthday last year. I loved it, but didn't really keep up with it, so I was ecstatic to try out another one with my favorite skin care products (especially after the lack of love my skin got while on vacation). After my first facial, the esthetician recommended I schedule a facial once a month to help with congestion and acne. Well I must admit, I am horrible at scheduling things… especially since my schedule can fluctuate so  much during the work week! Anyway, had I stuck to it, here are some of the best benefits of facials, aside from the healthy, glowing skin benefits:
· Emotional Wellness: Estheticians are trained to guide relaxation and remind clients the importance of taking time off for health reasons. Oftentimes, essential oils are used to moisturize the skin but also relieve stress to encourage peace of mind and contentment.
· Increased Circulation: Facial treatments help to improve and restore circulation to facial skin layers, increasing the flow of oxygen-enriched blood to cells in the skin.
· Anti-Aging: While there is no way to stop the aging process, regular exfoliation with professional-grade topical products can help to slow and even prevent the visible signs of aging.
Now time to review my experience. I was excited to go back to a Massage Envy, as I have visited a few times for a massage. The whole wall was full of Murad products from their various lines that I have been able to sample. I love Murad products, so it was exciting to see a beautiful wall displaying every set and many of the products that have helped my skin improve so much since I first started using Murad's acne line. I was immediately offered water or a cup of tea, and then taken back to start my facial.
The esthetician was amazing – very sweet, kind, and thoroughly listened to my skincare needs. I told her about how I've been struggling with acne since I was a sophomore in high school, but also how dullness and redness are two of my biggest concerns aside from acne. My breakouts aren't what they used to be and are pretty manageable. After washing off my makeup and examining my skin under the "bright light" – she said I was doing pretty good! Yay – pretty good is GREAT for me. I still had bad news though, more congestion than I probably should be having. I get those really deep breakouts due to congestion in my skin. She gave me a few great tips that I'd like to share for anyone who struggles with breakouts and acne.
· A fresh pillow case every day – I know it sounds extreme right? Well she said no need for an expensive pillow case, just seven affordable ones keep by your night stand so you can easily switch them out every night. And then do a load of wash with towels or what you can once a week.
· Use a different detergent – I love Tide, I love the way it makes my clothes smell and feel, but unfortunately she told me it gives people with acne more congestion! I am going to switch detergents even if it is only for washing my bedding/pillow cases.
· Use a clarifying mask once a week – Maybe this one is more obvious, but with some many products sometimes I'm not sure how often I really should be using them. She suggested switching between my Murad® Clarifying Cleanser and Murad® Acne Release Cleanser during the week and then once a week, do a good deep cleaning and apply the Murad®Clarifying Mask.
After these few tidbits, she told me she wanted to do the Anti-Aging Facial because I talked about wanting that glowing, youthful skin since dullness and redness can be issues. The whole experience was so relaxing – the first product she placed on definitely got a good deep clean. It tingled and after it was on awhile, it even itched a bit, but nothing extreme. Then she moved onto a mask and while that was on, massaged my arms, hands, head, and back. I guess this is why I loved the facial SO much! It is great for your face to get a good deep clean and get the extractions, but I also felt like I got the added benefits of a good massage being at Massage Envy! I was almost asleep in my chair by the end of the facial and my skin felt amazing.
My skin looked so dewy and beautiful afterwards. I even went out to dinner with my boyfriend (without makeup of course, which never happens – I almost always have some foundation on). I was happy to hear my skin was in better shape than it was during my first facial in January of 2014. I know it is due to many factors, but being consistent with a good skin care regimen definitely is a huge factor for me. I hope to continue to improve my skin by taking some of her advice and scheduling a monthly facial!
If you are interested, here is an infographic giving you a bit more of an in depth view to Massage Envy and the Murad Healthy Skin Facials available right now: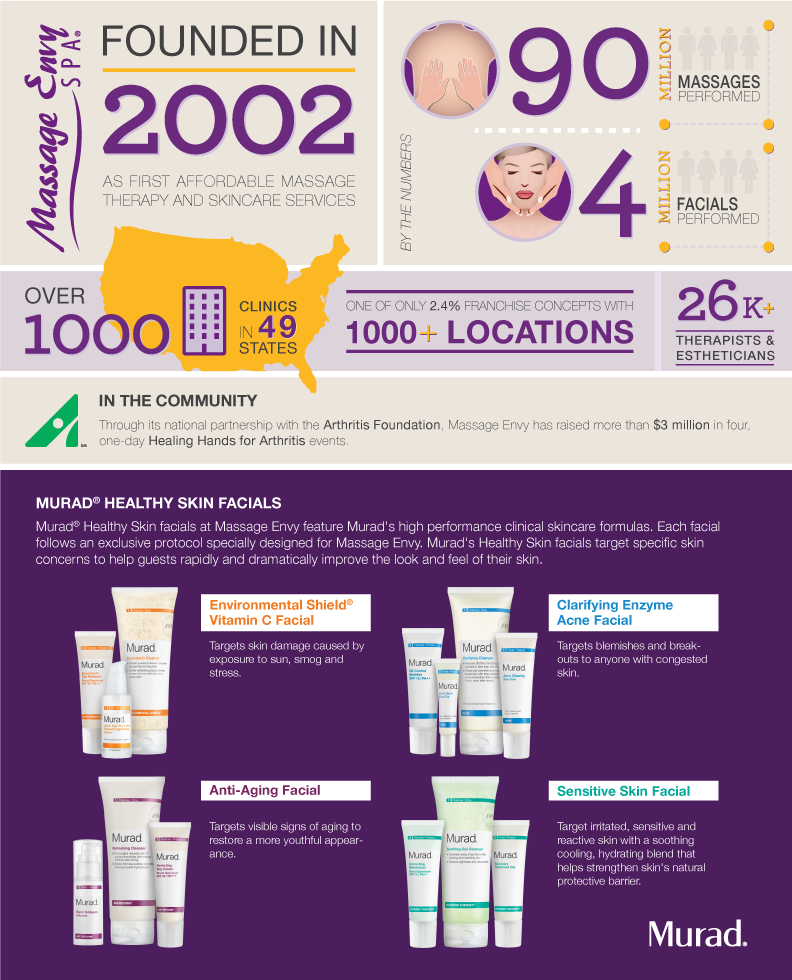 The best part is that if you are already a Massage Envy member, you can now use your monthly credit to a massage or for $10 more, a Murad® Healthy Skin Facial. Signing up for a facial every month? YES! Sounds great to me. Anyway –  I had a fantastic experience at Massage Envy with the products I already love and trust. If you love Murad, I would highly recommend one – and if you book your facial now through August 2, 2015, you will get $10 off and free Murad® sample!
GIVEAWAY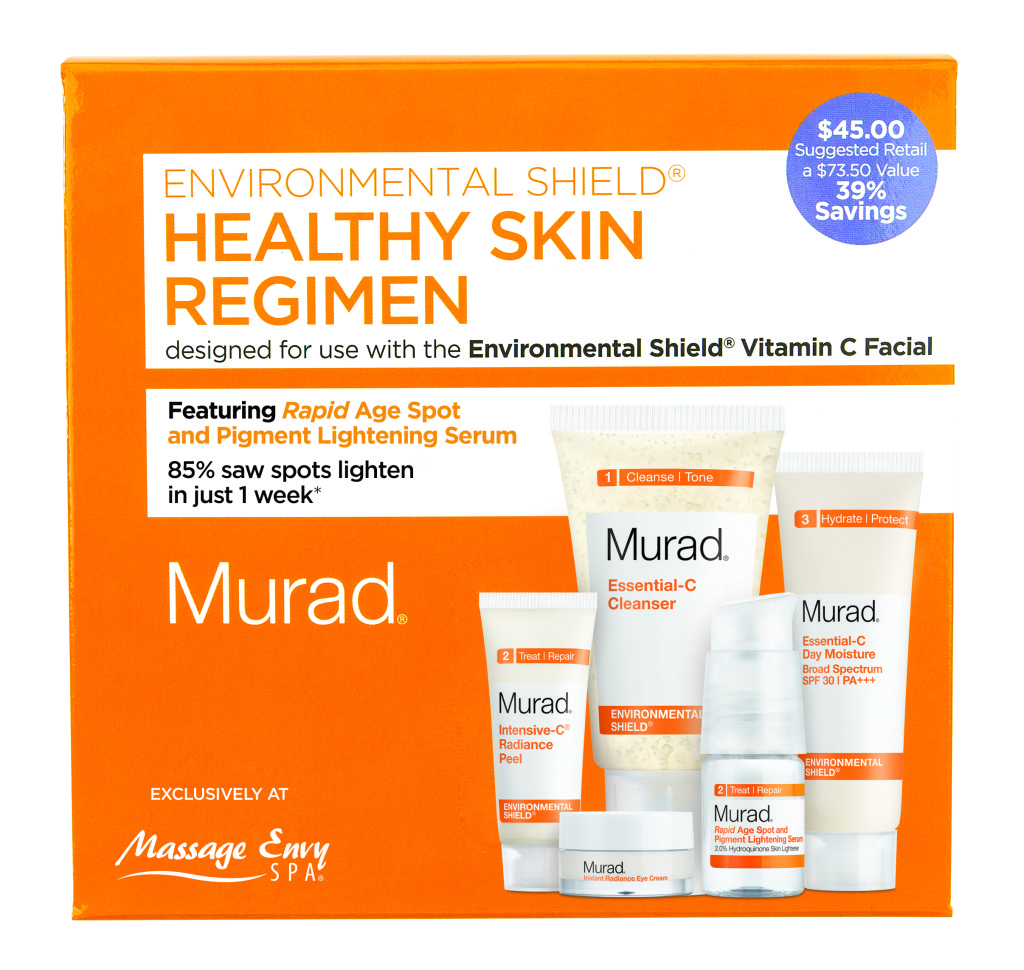 I am also excited to be giving away the products designed for use with the Environmental Shield® Vitamin C Facial including the cleanser, radiance peel, serum, moisturizer and eye cream! You must be a U.S. resident to enter. Please fill out the form below and GOOD LUCK! Go treat your skin to something amazing!
ENTER HERE