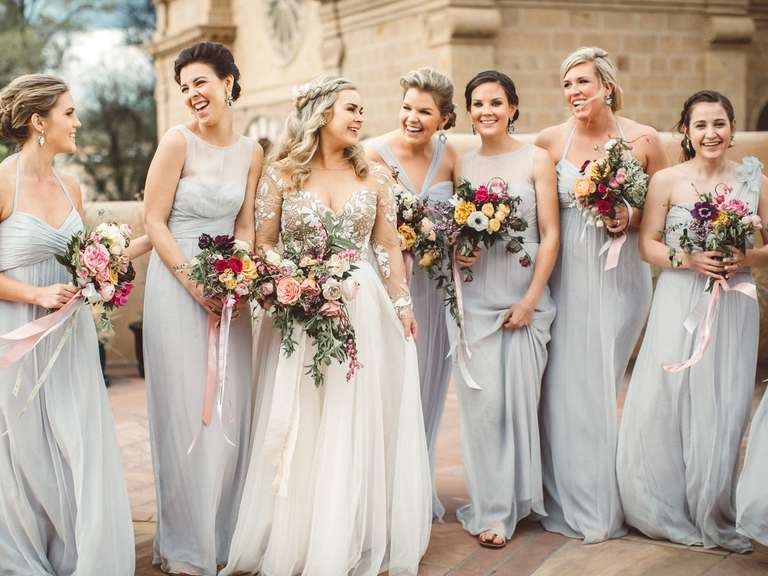 Modern weddings are a great deal different than their vintage counterparts in all ways. The arrangements, the executions and everything has now got the contemporary touch. Weddings have become a lot more lavish and fancy than they used to be in previous times. With the change in lifestyle, modifications were also seen in the way people get married. The ceremony changed, the party changed, and even some of the traditions changed. In the modern day hectic lifestyle, people hardly have time to get married peacefully and experience the beauty of the age-old traditions that were once part of all the wedding ceremonies.
Being a bridesmaid, you can take up this responsibility on your shoulders to make sure that your girl gets to experience all the vintage traditions and get a chance to relive that era. After you get time to decide the wedding venue, the theme for the hen do, the decoration scheme and everything else, sit down and discuss your idea of keeping the traditions alive in your best friend's wedding. After all, old is still gold, isn't it? Giving a touch of some of the old traditions will give all the more reasons to remember the wedding!
Begin with the dress
The wedding gown is probably every bride-to-be's primary concern regarding her wedding. Everyone has always had some or the other idea's regarding her wedding attire and why not! Every bride wants to look the best on her big day. Being her bridesmaid, why not help her to look a bit vintage and regal! Help her choose a gown that probably has a traditional look. A style from the classic 70's or from a designer label that was at its peak at that time. You can easily keep it simple and classy. While every other bride may choose the same modern gowns, make your best girl look different with a slight change in the dress design. If she loves everything classic, she sure will be the happiest!
The family traditions first
How about including some traditional piece that has been running in the family since the generations in your girl's wedding trousseau! Amidst all the preparations and hassle, ask your girl's parents about something they have inherited from their parents that they might want to pass on to their daughter. It might be vintage jewelry or an art piece or maybe anything else. I am sure her mom has kept safely a piece of jewelry for her baby girl that her mother must have given her when she was about to walk to the altar. Make sure the new bride gets to wear it and feel the same emotions that her mother had felt at the time of her wedding. It is all these emotions that make this day even more cherishable, isn't it?
The Hen party
This is by far, one of the most exciting responsibilities of a bridesmaid. Hen parties are a lot of fun, and give you time to bond with your BFF for the last time, before she is married. While going to a pub and getting super-drunk sounds like a fun idea, the celebration of th last night of singledom deserves much more. A proper hen do is an event worth pulling all stops for.
If you find yourself confused or overwhelmed with the planning, don't worry. It is always a good idea to ask for help from one of the bridesmaids. If that's not enough help, you can always go for the professionals that make it easy and effortless.
Sixpence in her shoe
With time, this tradition has long lost its value and place in the wedding preparations. But you being the best bridesmaid, you can make it come alive again. Earlier in those times, keeping a sixpence coin in the shoe of the bride was significant of prosperity and wealth in the future for her and her new family. Do the same when your girl is almost ready to go for the ceremony that she has been waiting for all this time. Those beautiful shiny heels in her legs will become even more valuable for her after you put that coin in one of them. Tell her the significance of this and how it will keep this dying tradition from vanishing altogether.
The veil
Veils used to be an integral part of the wedding gown in the olden times. With the modern intakes in designing the best of wedding attires, this main feature has begun to lose its presence. When you go out to buy the best wedding gown for your girl, ask her if she would like to incorporate this traditional part in her gown or not? To make it more emotional and personal, you may ask her mother to give her the veil from her wedding gown and then you can personalize it according to your best friend's chosen dress. Her mom will be the happiest to do that for sure.
In order to be the best bridesmaid ever, it is important that you do something different. With people forgetting about traditions, the job isn't so difficult anymore. Help keep the traditions alive at your BFF's wedding, and the couple will be thanking you for it for the rest of their married lives.