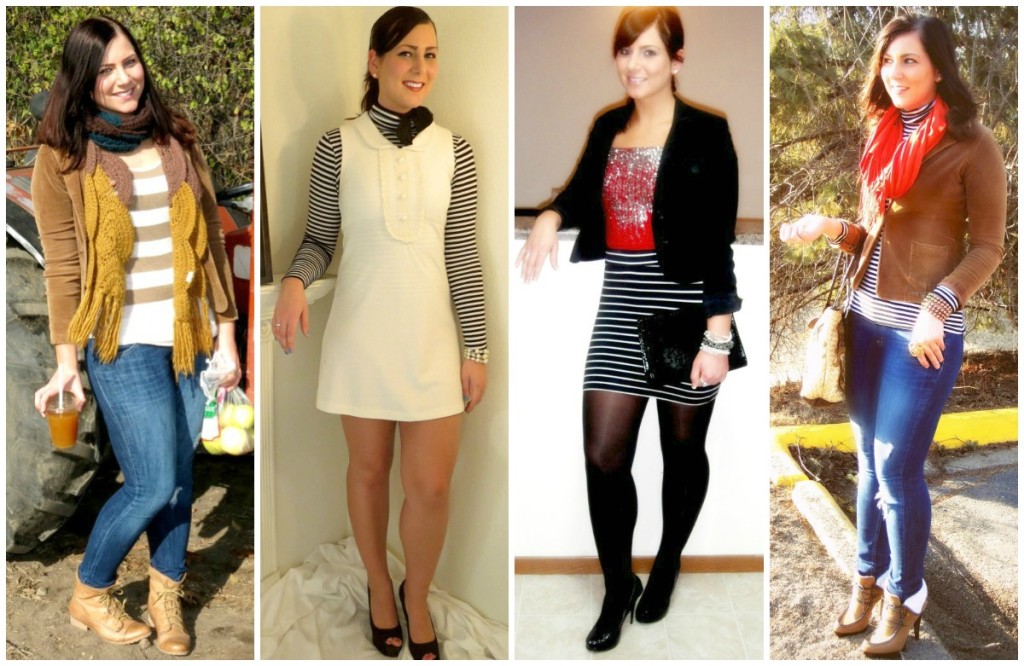 And who doesn't?!?! Stripes literally go with everything and I love being able to layer with them during the fall/winter so here are a few of my favorite layered outfits incorporating stripes (two are with the same striped turtleneck and the others are with my striped sweater and striped mini).
From left to right:
Outfit #1: (See more here) A striped sweater paired with a chunky scarf, jacket, skinny jeans and lace-up boots makes for a great casual outfit for any activity you might possibly be doing! Of course during the winter… add another coat over top for warmth!
Outfit #2: (See more here) Layering a neutral dress over a long-sleeve striped turtleneck or shirt can really look chic! Add your favorite pair of pumps and a simple scarf for a head to toe look.  Stick to a neutral palette and it can look very Parisian (which is what I was going for!)
Outfit #3: (See more here) Stripes + sequins = amazingness… does it not?! By pairing stripes and sequins you can create a very fun, going out look! Striped minis can also literally go with everything from bow-tie blouses, collared shirts, etc. but I wanted to add some color, sequins and more shine to this going out look!
Outfit #4: (See more here) Another casual look with this tan jacket and again with the striped turtleneck! Nothing more fun than adding a cute pair of heeled booties to keep you warm! A colorful scarf, like this burnt orange one, adds more detail and fun to your outfit. Also, by pairing a black and white striped piece with camel/tan details, you take neutral from boring to fun!
Here are some great striped layering pieces for fall/winter: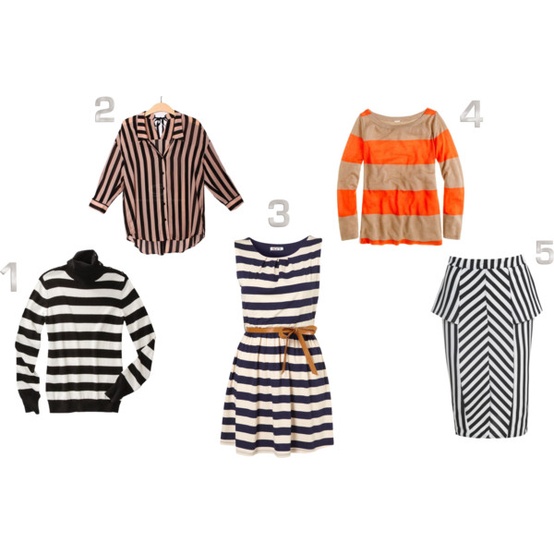 1.  Striped Turtle Neck – Target  $24.99
2. Vertical Striped Collar Blouse – SammyDress $10.49
3. Striped Belted Dress – TopShop $23.99
4. Rugby Striped Boatneck Top – JCrew $34.99
5. Striped Peplum Skirt – AXParis $29.00
What's your favorite way to wear stripes?