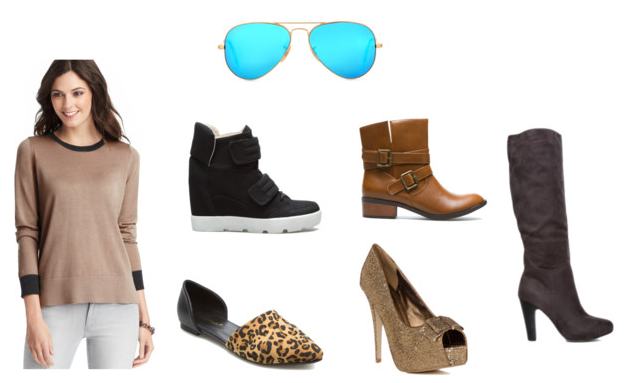 HELLO! It is already January 31st. Although it has felt like a long month (thanks to the lovely weather), it also flew by. Got back from Vegas late Tuesday night and have literally just been trying to catch up on life. Honestly, we didn't really take many pictures, just some I captured on Instagram, so I probably won't have much to share here! I didn't even get a full picture in my gold sequin dress! FAIL. Epic fail. Oh well, my boyfriend and I had good time and that's all that matters!
Onto the January budget. I didn't do much shopping this month because I am really really focused on my finances this year and was saving most of my money for our trip. We did so much partying, we didn't even shop while in Vegas haha! I had a bunch of money saved up in my ShoeDazzle VIP account, so that's where most of my purchases were made this month.
Technically I spent money from months before, but I will include it in this post because I never shared that I was storing up $9.99 each month towards shoes (the VIP account charges $9.99 a month and at any time you can choose to use it). That's also changing now that JustFab and ShoeDazzle are under the same company. ShoeDazzle will be changing to JustFab's VIP membership in which you choose to skip a month, or get charged automatically on your account. I honestly don't know what the price is going to be charged on ShoeDazzle because pricing has always been different, ranging from $32 all the way up to over $80, whereas everything, except the LUXE brand, is $39.95 at JustFab. Anyway, blah blah blah, sorry for that, just thought some who buy from JustFab or ShoeDazzle might want to know that if you don't already!
Betsey Johnson Aviators  (Not actually shown in the image, just a similar pair… see them here)- Nordstrom Rack $18 (Similar)
Colorblock Sweater (Not actually shown in the image, just a similar sweater) – Nordstrom Rack $25 (Similar here and here)
Wedged Sneakers – ShoeDazzle $15 (Sold Out, Similar)
Leopard Flats – ShoeDazzle $26
Brown Booties (I also have these in black and LOVE them so I had to get them in brown) – ShoeDazzle $19
Gold Heels – (bought for my golden birthday!) JustFab $40
Grey Boots – ShoeDazzle $25
Total: $168
Not too shabby! Although, I really want to keep my spending down to $100/month, but I decided to cash in on my VIP money at ShoeDazzle right now because they are having amazing sales on their boots, definitely check it out if you are in need of some new boots.
Actually, let's be honest. I am reconsidering how I shop. I have been really happy with my purchases the past few months, but I'm still in the process of a closet purge. I do want to start spending more on certain pieces that I wear a lot. For example, the black skinny jeans I bought in November are already wearing out/fading because I wear them almost every weekend and during the week. They fit great and everything, but I want a pair that is REALLY going to last me. Sometimes it is hard for me to know when and where to spend my money on something. Anyway, just a random thought, but it would be nice to have a month where maybe I spend $200 and the next, maybe I only spend $30, you know? I'm going to have to put some thought into this!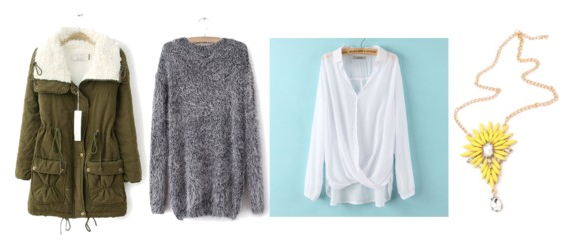 Franish started sharing what she received through sponsorship each month, and I think it is a great idea! I want to share how I really feel about the items I received and how I would wear them/how they fit into my wardrobe. This month I had the opportunity to work with Aupie again. I really loved the first blouse (style and quality) they sent to me, so this time I got to pick a few items that I will share on the blog. I placed the order but haven't received them, so once they arrive I will make sure to do a review ASAP!
Linking up with Franish for Budgeting Bloggers!