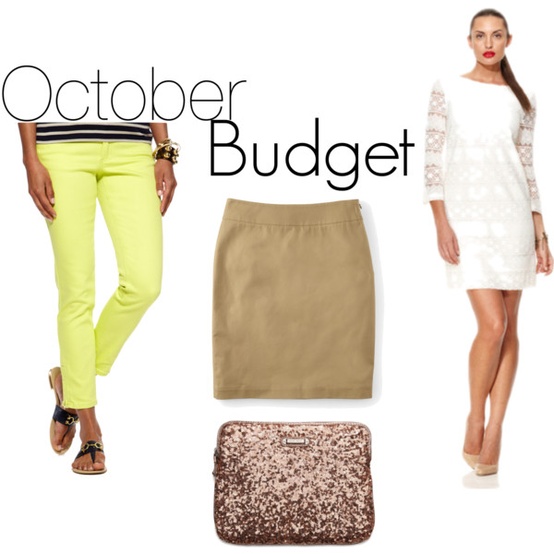 CWonder Neon Cropped Skinnies: Half off clearance price – $22.50 (using one-day promo code) available here
CWonder Khaki Pencil Skirt: Half off clearance price – $15.00 (using one-day promo code) available here in black
Nine West Sequin Bag – $19.95 available here
London Times White Lace Dress – $30.40 (using 20% off promo code) available here
Total: $87.85
Sorry I haven't been doing many budget posts since July… mostly this was because I didn't really set a budget for each month. I didn't want myself to purchase anything clothing related until I had completely cleaned out my closet.  But let's be honest, I knew from the start that wouldn't happen!  So here is what I got this month… unplanned but I feel pretty good about it. Technically the "bag" I got is an iPad case, but it will actually fit all my going out necessities and day-time necessities! What did you buy this month?
I am linking up with Franishh for her Budgeting Bloggers series… be sure to check it out!
Like this post? Share it on Facebook or Twitter!  Also, don't forget to follow me!