This post is sponsored by Olay.
If there's one thing I want to simplify when packing for a vacation, it's my beauty products. Namely, my skincare routine. I put a lot of effort into both my morning and night routine to ensure I'm taking the best care of my skin to keep my skin looking as youthful and refreshed as possible! This means using products that provide the ultimate hydration while also fighting against wrinkles and aging.
That's a lot to ask of a product, but I have fallen in love with the Olay Regenerist Whip SPF 25. I've used both Olay's Whip and Micro-Sculpting Cream products in the past, and this these Olay Red Jar products give me everything I need in one compact size. Aside from face wash and eye makeup remover, the only other product I packed for my recent family vacation to Orange County, California was the Olay Regenerist Whip!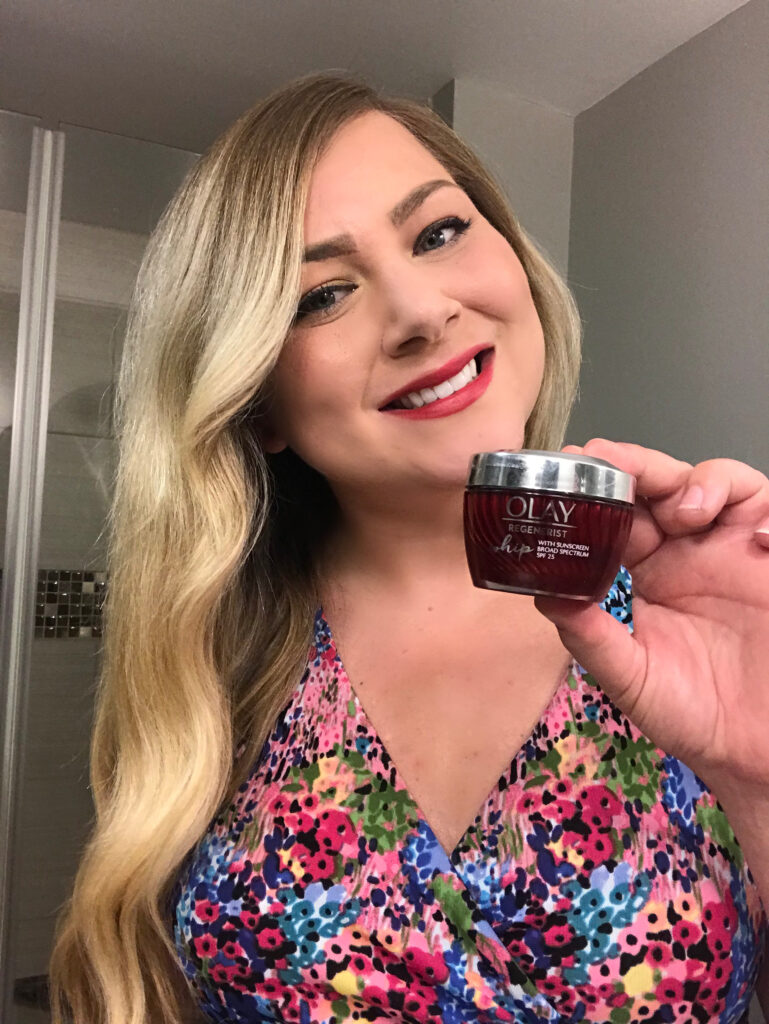 This Olay Red Jar product combats so many of the travel skin woes that I dread … (which is unfortunate because every other part of traveling is so much fun). But if you're like me, you are often left with dry skin from a long flight and needing something powerful in a limited-space suitcase. After the LONG flights and layover from Boston to Santa Ana, my skin was in definite need of some love.
I used the Olay Regenerist Whip SPF 25 every single day, both in the morning and at night, as a part of my skincare routine. As I said before, it's amazing how much this one product accomplishes – giving me something that true, all-in-one skincare miracle without the need to pack several products. I also made sure to apply it to my neck and chest every morning to help moisturize and protect before going about our daily activities in Southern California. This is a VERY important aspect of your anti-aging skincare routine and this product is the perfect moisturizer for these areas as well. I felt protected and glowing in that California heat the whole time we were there!
So why should you pick up an Olay Red Jar before your next vacation?
It is a great, compact package that easily slides into your cosmetic case. It is sturdy enough that you don't have to worry about it exploding in your suitcase or causing a mess!
It provides a luxurious, yet light-weight hydration perfect for all skin types – giving you an overall glow (that might even put your highlighter to shame) without the heaviness of some moisturizers. It transforms from cream to liquid for a light, shine-free finish.
It diminishes the look of fine lines and wrinkles, plumping skin full of hydration and keeping you looking youthful your entire trip!
It has protection RIGHT in the moisturizer. Using an SPF daily is NON-NEGOTIABLE. Instead of needing a separate product, you are protected for whatever your day looks like. THIS was so essential for my time in Orange County as the days were hot and the sun was unforgiving!
It is literally such a luxurious moisturizer that I can immediately feel soak into my skin, leaving it feeling smooth and hydrated. And honestly, my favorite part is knowing that I don't have to pack 50 products to get amazing results, I have my go-to, essential companion right in my cosmetic case.
So, as I gear up for my next couple of trips still coming in 2019, you know which moisturizer you'll find in my suitcase! Have you tried the Olay Regenerist Whip before? Tell me in the comments below and get yours here!