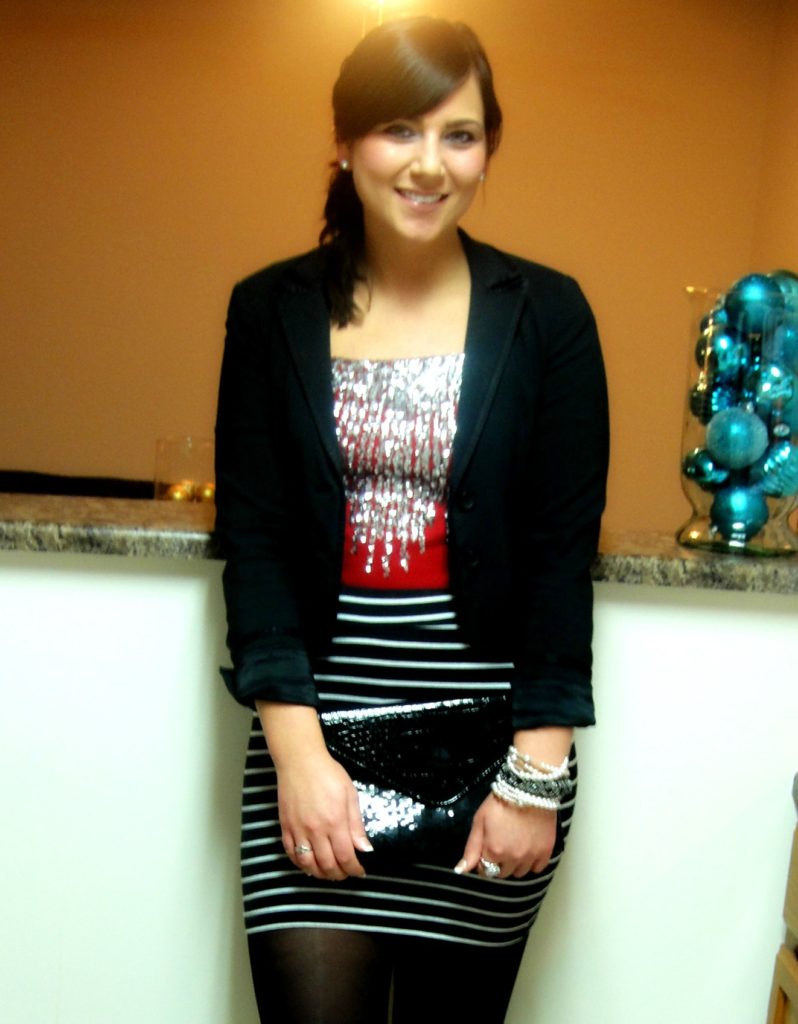 So this is my first Bloggers Do It Better post and I am so excited about it!  The assignment was sequins and I thought it would be easy… I am always drawn to sparkly and shiny pieces but I didn't think I actually owned that many.  Going through my closet I found sequin tank tops, shirts, skirts, dresses, shoes, clutches and pieces embellished with sequins.  I didn't know what to do!  Then I found my red sequin top that I bought from Peacocks in the UK when I studied abroad at one semester when I was in college at Swansea University in Swansea, Wales.  I remember buying it for a certain event, but besides that and a couple other times, I haven't worn it much.  I did wear it over Christmas break, but just to run errands before church on Christmas Eve…. so when I saw it hanging in my closet I knew I wanted to work around this piece.  Since I knew the day would be Friday, I decided to glam it up for a night out.  Although I would never wear this exact outfit to work (mostly due to the length and tightness of the skirt), I have casual Fridays at work, so I could wear the shirt and blazer with jeans to work and then change into the skirt and pumps for the night!  I decided to pair the sequins with a pattern, going for my striped mini and throwing on a blazer (my favorite go-to to make something more dressy).  With a few more accessories, including my sparkly black pumps, I was happy with the result!  Happy Friday everyone, I hope the first week of the New Year treated you well!
Sequin Shirt, Peacocks; Striped Mini, Forever 21; Blazer, Express; Earrings, Macys; Black Tights, Target; Sparkly Black Shoes, endless.com; Black Sequin Clutch, Forever 21; Pearl Bracelets, Vintage; Black Bracelet, Kohls; Cocktail Ring, Gifted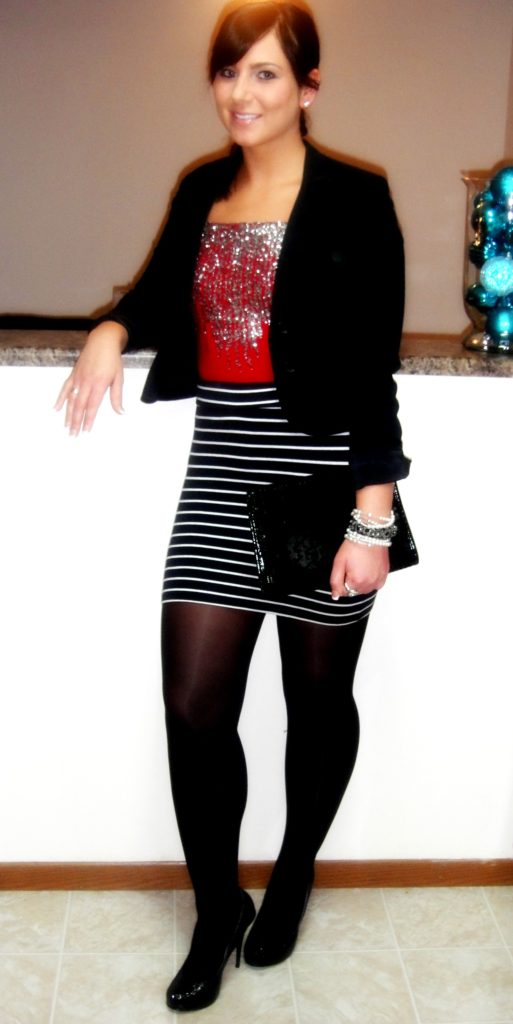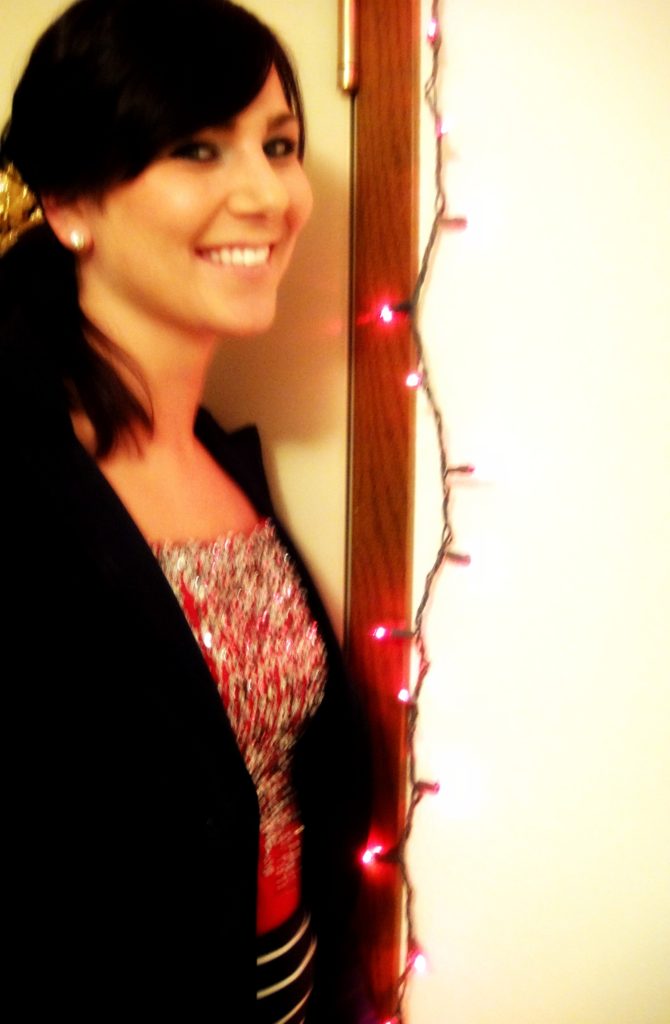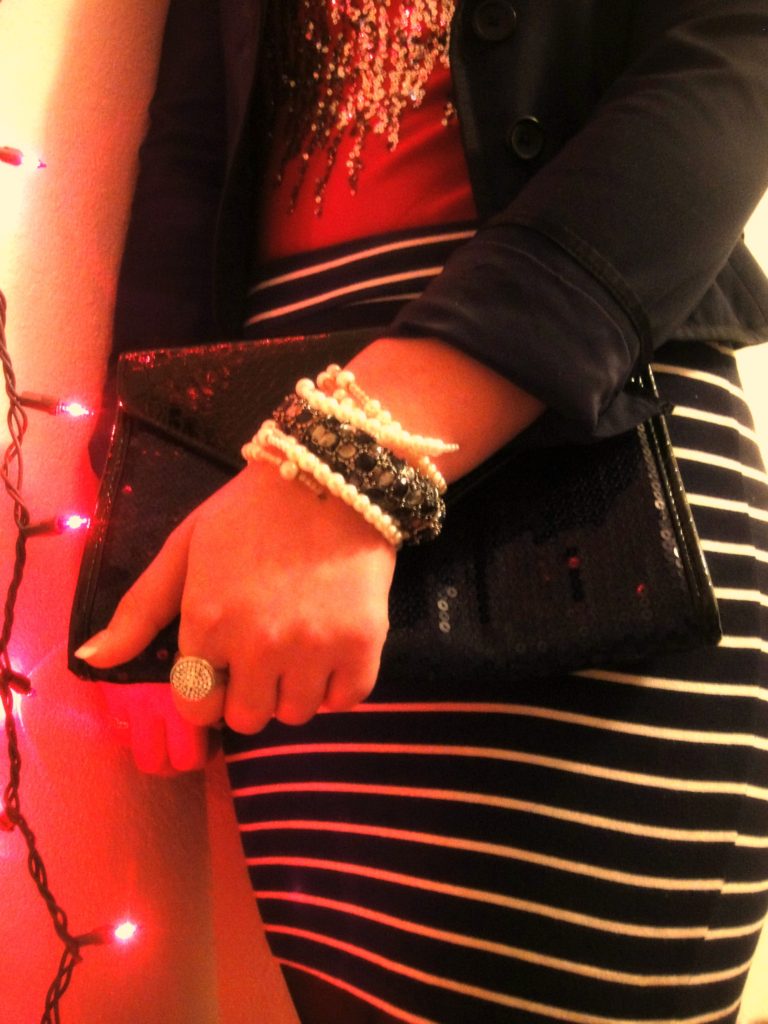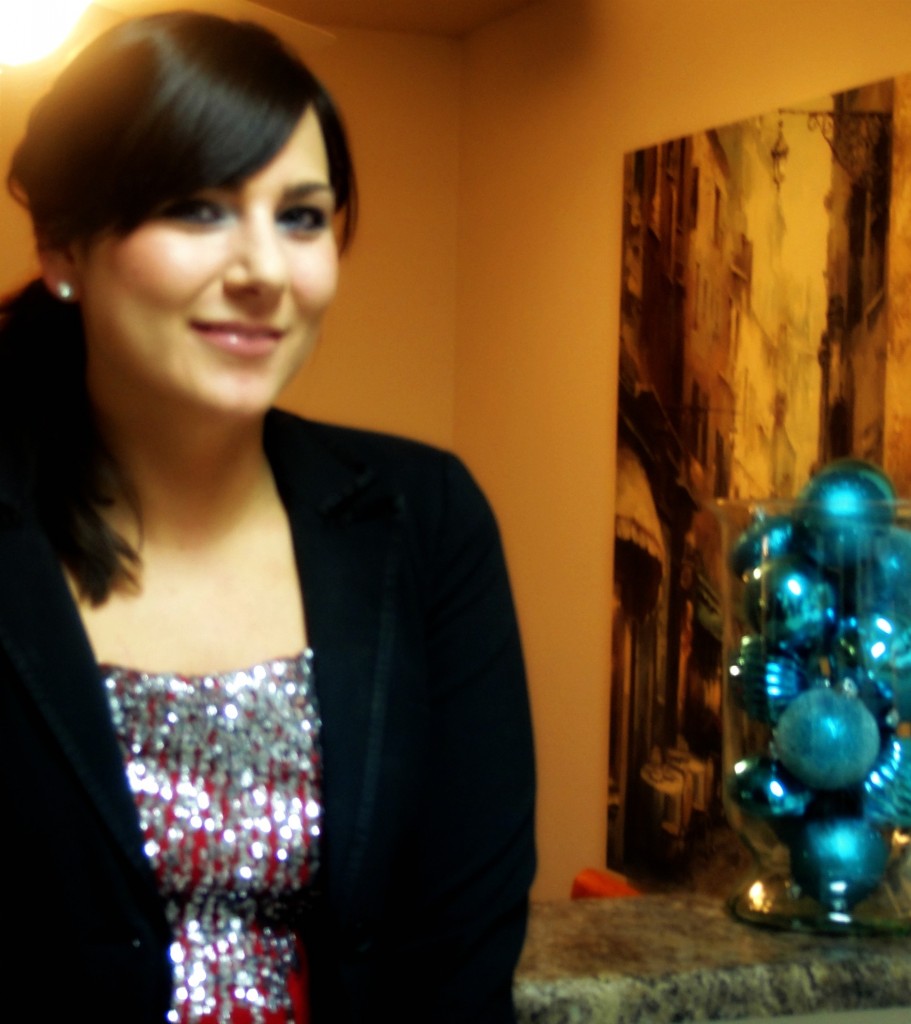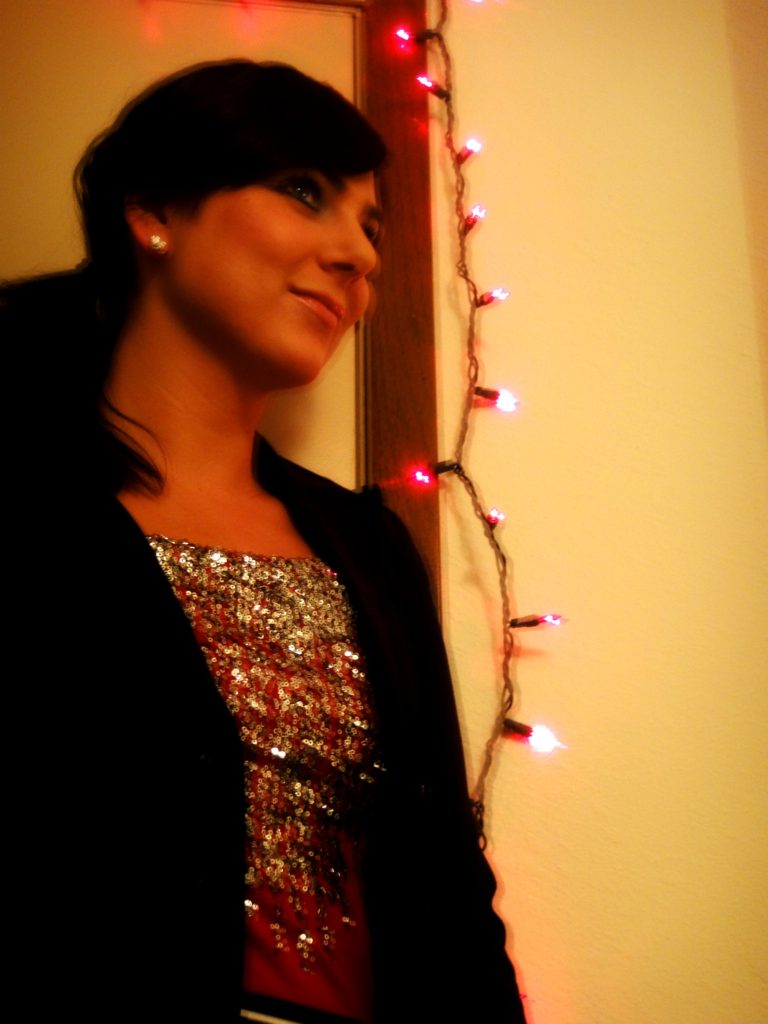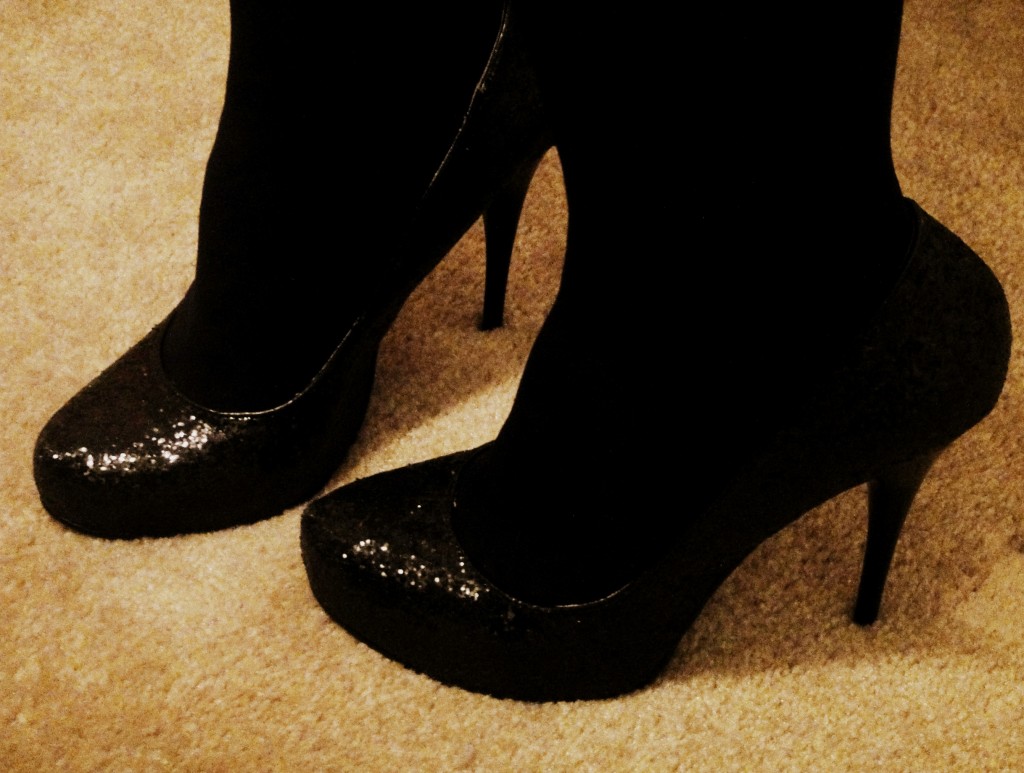 "DO" the LOOK
Black Blazer: *INVESTMENT PIECE* I've said it before and I'll say it again… if you don't have a black blazer in your wardrobe, get one ASAP!  They are so many out there that you can get for a great price and it is the most versatile piece that helps dress up any outfit and looks great with even the dressiest dresses.  Here it helped dress up the simplicity of a striped mini and helped blend the whole outfit together.
Sequin Shirt:  Pretty much any type of sequin shirt or tank top of any color, whether fully sequins or embellished works here.  A shimmer metallic top would also work to get this overall look.
Striped Mini: The main look here was pairing sequins with a pattern, so if you don't have stripes, maybe try another plainer pattern or if your sequined top is a neutral or dark color, pairing with a vibrant bright patterned skirt or pants could really liven up the outfit and create the same effect.
Sparkly Black Pumps:  I wanted to keep the sparkle of the outfit going from head to toe, but any basic tall pump would work.  I would stick with a pretty basic pair because there is a lot going on throughout the rest of the outfit or a basic pair of opened toed pumps would work as well.
Black Tights:  I am wearing them because even though the weather has been nicer here than normal, I still get chilly!  Bare legs or another color (especially if you have a neutral colored sequin top) would be great.  For example, if you have a black or gray sequin top, pairing it with a striped or neutral patterned skirt and burgundy or bright fuchsia tights would look great.
Black Sequin Clutch: I wanted to incorporate sequins a couple places since I found so many of them in my closet, but any solid colored clutch or handbag would be a great pairing with this outfit.