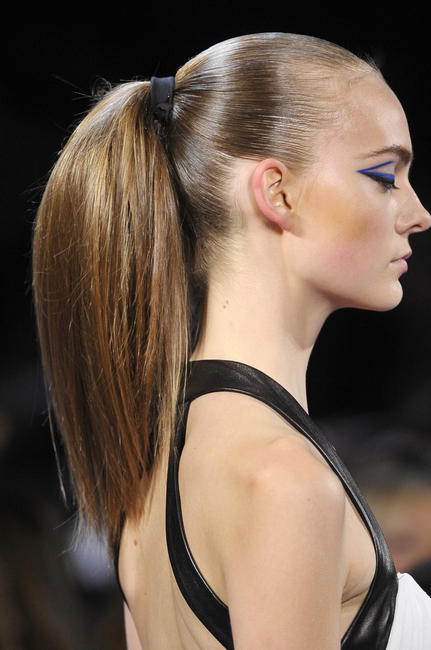 The cooler months are rolling in and it's time to welcome Jack Frost with a new hairstyle that won't leave you in the cold this fall and winter. Here are a few hairstyle ideas, made popular by celebs, for both girls and guys to look your best for the colder part of this year.
For the Girls: Glossy Pony Tails
Do you want your hair to glisten brighter than the snow and help you stand out from the crowd? Then try one of the latest fashion trends for this year, glossy pony tails. Many celebs, like Angelina Jolie and Michelle Dockery sported a dazzling glossy pony tail this year, and you can too. Pony tails are a versatile fashion that can be pulled off in a variety of ways. They can be painstakingly neat or artistically disheveled (or perhaps purposefully disheveled if you don't have time to fix it in the mornings). You can use them to complement certain facial features, such as high cheek bones, or to create the look of more volume in your hair.
For the Guys: Spiked Look
If you've been blessed with thicker hair, then you can use that volume to create a spiked look that is both modern and suave. Keep your hair short on the back and sides and use hair gel to give it a spiked look on top. You can go for a clean look that Taylor Lautner is currently sporting. You can also go for the rugged, disheveled look that Asher Monroe Book currently wears.
For the Girls: Pin Curls
This is a simple, blast from the past that is slowly rearing its head for the winter season. Gwen Stefani rocked this hairstyle earlier in the year, and other celebrities followed suit. With a curling iron and a little time, you can pull this classic hairstyle that will make you a scorching beauty in the winter months.
For the Guys: Skin Fade
The skin fade is a suave, dapper look that is being supported by a lot of big music industry names, like DJ Mark Ronson. This is a really hot look for 2014 and can be combined with any hairstyle of your choosing. It tapers from the length of hair all the way to the skin. To create this look you start with soft spikes on top and looks like slick hair, with the added bonus that you don't need lots of length to pull it off. Make sure to make regular visits to the barber to keep your haircut looking great.
These are just a few of the hairstyles that are starting to take hold for the colder months of 2014. Keep an eye out on the later part of the year for more amazing celebrity hairstyles!
Image via