It's the question that swirls around every man's head, like a great unanswerable riddle. What's the perfect gift for my beautiful lady? Flowers just won't cut it. You've already used the framed photo idea – she loves a personal touch – and last year you took her away for the weekend; now that was great. But every year must be better than the last. And this time round, you want to give her something special, personal, something she'll treasure forever.
But it's really not a difficult conundrum to crack. We've all heard the phrase'diamonds are a girl's best friend'. So imagine how much she'll love the guy who gives them to her. Yes lads, I'm talking shiny, sparkly, beautiful diamonds. Diamond rings, diamonds pendants, diamond necklaces, diamonds, diamonds, and diamonds – whichever way they come, you can't really go wrong. And they don't have to be huge; she's not expecting you to donate your life savings. In fact, she's probably not expecting anything, and an unexpected diamond is a very special one indeed.

The perfect way to give your girl a diamond without the proposal is in an eternity ring. A simple band set with a never ending circle of diamonds, its endless loop representing your eternal love.

The concept of the eternity ring dates back roughly four thousand years ago to the Egyptian period, when bands set with precious stones were worn to symbolise eternal life and love. An infinity ring is a similar, but less well known concept. The sideways figure of eight symbol is the mathematical sign for the concept of infinity, and it makes for a particularly meaningful, beautiful and timeless piece of jewellery, whether on a ring, necklace or bracelet.
But if these symbolic pieces don't have quite enough character for you, how do you feel about personalization? Personalized rings and pendants show thought, individuality and meaning. Plus, they are proof that you haven't simply popped to the local store on your way home to grab something, anything, because you forgot it was the most romantic day of the year. From a simple engraving of your initials, to a small message etched into the inside of a delicate ring, it could be a message of love or a private little saying only the two of you share.
Too much? What about a pendant? A simple but to the point heart charm, or a tiny, delicate diamond she can wear every day. Or a pair of pearl drop earrings, a treat to wear on those special occasions together.
But what makes your gift a truly special one?
It's all about the way you deliver it. Tell her the pendant is so that a piece of you will always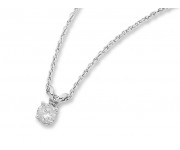 be close to her heart. Give her a watch to celebrate the time you spent together. Cheesy? Sure. Romantic? Of course. But say it with a cheeky grin and you'll really make an impact. I mean, who could turn their nose up at some timeless jewelry and a sense of humor?
This is a guest post brought to you by Bevilles. As always, all opinions are 100% my own.
| | |
| --- | --- |
|   | Bevilles Jewelery understands it can be hard to choose the perfect ring for you or for your partner. They have a stunning range and designs that are timeless. Bevilles has a wide variety of diamond jewelery for any occasion. You don't have to be getting married to have your own diamonds. Find out more at Google+ or visit www.bevilles.com.au |