Is your hair a little lackluster? Could it use with a little suttin' suttin' to give it life and volume? Well ladies, I've got you covered! By taking a look in your cupboards, I bet you can find a ton of ingredients that would work fantastically to not only thicken up your hair, but strengthen it, and make it shiny to boot. Here are some easy hair mask recipes to give you a little inspiration: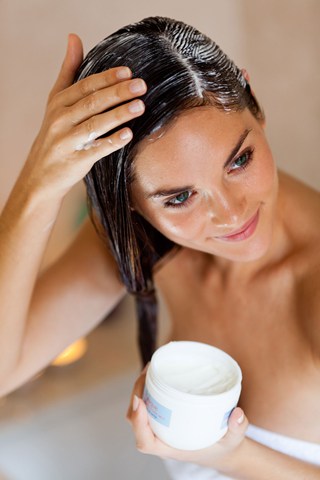 Beer and Egg Hair Mask
I know, this sounds absolutely disgusting. However, it can be a miracle for those with fine, lifeless locks! Simply let any car of beer go flat, or you could use one that's been lying around for a while if needs must, and then mix in an egg yolk. Apply to your hair, leave for 30 mins to an hour, and then enjoy your new, thick hair!
Delicious Chocolatey Hair Mask
Who doesn't want to cover themselves in delicious chocolate? I know I do! This mask will not only leave you smelling better than pudding, but will leave your hair in gloriously thick, amazing condition. All you need is:
Organic Cocoa powder
Enough almond or coconut milk to dissolve the powder in
Coconut oil, Avocado oil, and Jojoba oil. About a tablespoon of each.
Essential oils – I recommend geranium, lavender and lemon for the best effect!
Once you've mixed up your mask, apply it generously and wrap your hair up in cling film. Wrap a towel or hair turban over the top, and then sit by a radiator for about an hour to speed up the effects. Alternatively, if you have lots of time, you could sleep in the mask and wash it off in the morning. Just try not to eat your hair!
The "When Life Gives You Lemons" Mask
My motto has always been, "when life gives you lemons, make a hair mask with them." Honestly though, this mask will give your hair shine, strength, softness, and even brighten it up! All you need to do is squeeze out the juice from one lemon, and mix with equal parts water. It will even help to get rid of excess build up once applied! Oh, and it smells so fresh and lovely.
The Avocado Mask
Not only is avocado great for us when we eat it, but it's great for us when we roll around in it too. You can make face, body, and hair masks with this stuff, making it a serious wonder food. I suggest you mix it with some honey and an oil of your choice, like olive or castor. Smooth it on your hair for at least one hour and you'll have the nicest looking locks on the block!
Alternative Treatment
If your hair doesn't seem to be getting thicker from the hair mask suggestions, there are other options you can look at. There are treatments sold in drugstores and pharmacies you can try, or you could look at having a hair transplant in Turkey where they offer a permanent solution to hair loss.
The above ideas are simply suggestions; you can experiment and make your very own hair masks using your favorite ingredients! Just look in the cupboards for natural foods like eggs, fruits, veg, honey, Greek yogurt, and then add any essential oils you like.
Image via