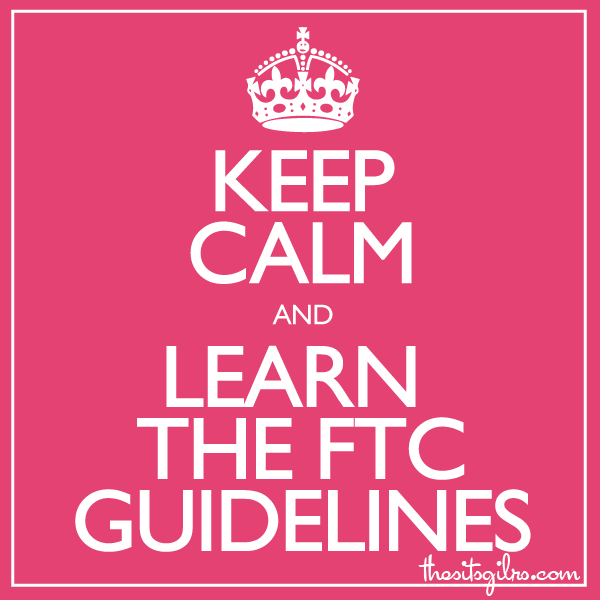 Image via … a great post on how to comply with FTC guidelines!
Okay, first of all… I can't discuss this subject without first acknowledging my own faults. I am in no way perfect, but at this point, I feel like when I first started getting offered products and/or did sponsored or guest posts that I should have made it very clear on my blog. At that point, I thought it was just how it worked and everyone, including my friends and family who no nothing about the blogging world, would know what c/o means.
So before I go into this subject, here it is: When I am gifted something for free, it will always say c/o next to it (courtesy of). Meaning a brand or company gifted it to me for free to wear and/or review on the blog. I am not a big blogger by any means, but I do share c/o items in outfit posts. I have always found it important to comply with FTC guidelines, but I wish I would have made the gifted items, sponsored posts and affiliate links more clear. Here is an example of my lastest sponsored post. You can the disclosure at both the top and bottom of this post. Here is an example of an outfit post with gifted items. I do my best to make it clear a company has sent me something and try to review the product in detail.
Okay, now to go on about the subject in general. Although I didn't do a good job of making this clear in the beginning, I have always ALWAYS said c/o next to items I was gifted and ALWAYS used #ad in social media posts related to my sponsored posts. Oh and I always use c/o even if I wear the same item in another outfit post the next day. It's not only adhering to the guidelines, I think it is respectful to your readers (Thanks to Fran for clarifying: You only have to disclose the first time). I personally still think it is nice to say so every time!
So lately I've noticed a few, okay several blogs, making it extremely difficult to figure out what has and has not been gifted to them by a company. Bolding or italicizing your gifted items with no disclosure in the post itself is not making it very clear to me as a reader that this was gifted to you. I shouldn't have to go to your about page or disclosures page to read: "Hey guys anything in bold was gifted to me." If that's how you want to disclose something, just say it at the end of each post! Or I've seen no disclosure at all. I have a VERY hard time believing some bloggers who spend thousands of dollars on outfits are shopping at some of the inexpensive places I do. Maybe they are to relate to their audience more, but what if they are just skipping over the guidelines?
Also, I always include #ad or #sponsoredpost in my social media posts. In the past few months, I had an opportunity that didn't require the #ad in some of the social media posts, which made me scratch my head. You better believe I still included it! Just because I'm hashtagging a media company, doesn't mean people automatically know who they are and that means it is an ad or sponsored post.
Anyway, I just had to bring this up because I was curious if anyone else was noticing this? And what your opinion is on it in general (regardless of the fact it is REQUIRED)? It is a lack of education on knowing what the guidelines are, or bloggers trying to get around making their audience upset with too many c/o items, sponsored posts, etc.? Also, to be a little less hypocritical, I just added a "DISCLOSURE" widget on my blog to show up on the front page. So basically I suck at this too, but gosh darnit. It really grinds my gears when people aren't honest!