Let me let you in on a secret: the summer style of 2014 is the native Indian tribal look. If you want to remain ahead of the game and raise your fashion stakes, then this is the look you want to opt for. Some like to go for the full on, headdress look, coupled with tan skirts and accessories, but the key is to really play it down for effortless chic. Think quirky silver jewellery, accents of tan and fringed handbags and you will be bang on trend all summer long.
Fringed Satchels:
Does our love for fringe ever die? I think not. The key to keeping it fresh for summer 2014 is to ensure that your fringed satchel is a cross body bag in light tones. Blacks and dark browns simply won't cut it for the summer months. Opt for light tans and creams to keep it fashionable and edgy. The bigger the fringe, the better when it comes to bags!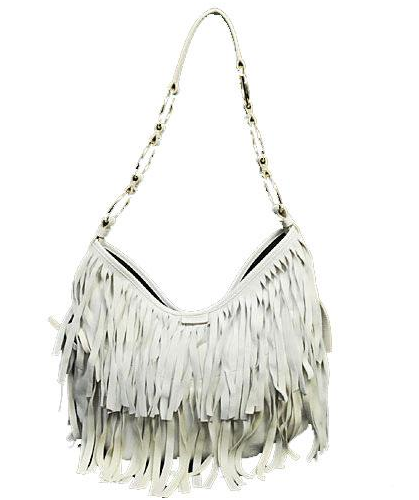 With thanks to Queen Bee for the image
Native American Jewelery:
If you want to keep ahead of the fashion game, but you like your look more understated and muted, then opting for Native American jewelery is the perfect way to update your summer look and still remain trendy. With a gorgeous array of silver styles of jewellery, adorned with quirky gem stones and beautiful patterns, you would be mad not to invest in some key pieces this summer. Think of bangles adorned with the great animals of the Great Plains coupled with gorgeous topaz stones to set off the silver and you would not be far wrong. For a truly unique and understated look, opting for Native American jewellery would be a wise choice and a sound investment. After all, this look can be replicated all year round and for many years to come.
Maxi Skirts:
If you want to look effortlessly bohemian and bang on trend this summer, then opt for a flowing maxi skirt. No longer the prerequisite of your grandma's wardrobe, maxi skirts are going to be huge this summer and it is easy to see why. Many people flirted with the idea of a maxi skirt in 2013, but for 2014 they are back and bolder than before. With radical prints, lace inserts and in a flowing material, you are sure to remain cool in more ways than one this summer. The great thing is, is that they are uber comfortable too, so much so than wearing denim in the summer months. Sticking to the Native American theme, opt for tribal patterns and wear with your native American jewellery for a true boho twist. The great thing is, the maxi skirt can take you from office to bar in the blink of an eye. Smart enough for work and chic enough for after. A maxi skirt is a sound investment for summer 2014.
Shoes:
If you are looking for a Native American style shoe, then you cannot go wrong with a moccasin. Opt for brown hues to ensure that you are working the trend as intended and you will not put a foot wrong.
This is a guest post. As always, all opinions are 100% my own.