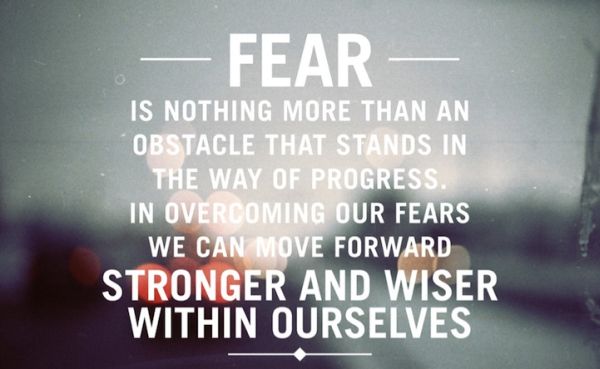 "The only thing we have to fear is fear itself" – this famous quote from FDR's inaugural address in 1933 has really hit me hard lately because within this quote there is a meaning that we only have ourselves to fear. We create and react to our own fears. And yet there is something natural and innate in us that reacts a certain way to things: loud noises, actions, motions. Our bodies know and want to react to anything that might hurt our chance of survival: the whole fight or flight reaction.
But today I don't want to talk about the fear created in us naturally to help us survive, today I want to talk about the fears we create ourselves.
Fear is defined as "an unpleasant emotion caused by the belief that someone or something is dangerous, likely to cause pain, or a threat." Last year, especially last summer, I took fear to a new level.  A fear of falling, a fear of being too emotional, a fear of failure and a fear of disappointing those I love the most. Last year was the year I wanted to get back on track. To get back on track with finances. To get back on track with my fitness goals. And to really focus my attention on this blog as it is something I'm extremely passionate about.  During that time though, I placed so much pressure on myself and the things going on in my life that I caused myself more stress, more pain and overall accomplished less because of it.
I am all about goals and reaching them, but I also believe and have learned that you have to be realistic when it comes to achieving them. For example, I love this blog and want to dedicate as much time to it as possible and yet I want to cook more, go for more walks with my dog, hang out with my boyfriend more and work out four to fives times a week.  It just isn't always possible when I work a 9 to 5 job and still want to meet up with friends during the week.
Realistically I need to balance it all or choose something to prioritize. Well the thing is I'm selfish and I want it all. But in being selfish and wanting to do everything at once I haven't only hurt myself, I've hurt those around me. I have been struggling with body image on and off for the past year. I haven't really talked about it with too many people because just a couple years ago I was so happy with my body and my image regardless of past body image issues in high school. I know I'm not alone in this, but when I was finally happy with the way I looked, I told myself I would never go back to feeling this way.
Well then a spiral of not-so-great events happened, I let myself go. I have never been the most fit person in the world, but I have always been healthy. At my worst, about two years ago, I was 20 lbs over my "normal weight" (a weight I was happy with and maintained consistently since high school). Now I have about 10 lbs to go, which means I'm making progress, but I can still be tough on myself some days. Taking pictures and working on editing them, it is really hard for me not to see every single flaw. The worst part is looking back and thinking, why have I been so hard on myself? Like this set of outfit photos for example, which made me cry when I first saw them. It makes me sad as I'm writing this to know that I was in such a low place when those photos were taken. By the way – this is NOT a post to beg for sympathy and compliments, I'm just being real and expressing myself, and hoping maybe I'm not alone in this struggle.
But to be quite frank, I'm sick of it.  I'm sick of not feeling adequate. I'm sick of creating my own fears. So from now on, I'm going to push myself to be my best, but never more than that. Because I simply am who I am. I am me. THIS is me. I am learning to love who I see in the mirror again, not just physically, but who I am as a person. And I'm starting to tell myself I am enough.
So, are you with me? Let's stop with the negative talk and empower ourselves instead. We are enough. Let's get rid of our fears and move forward.