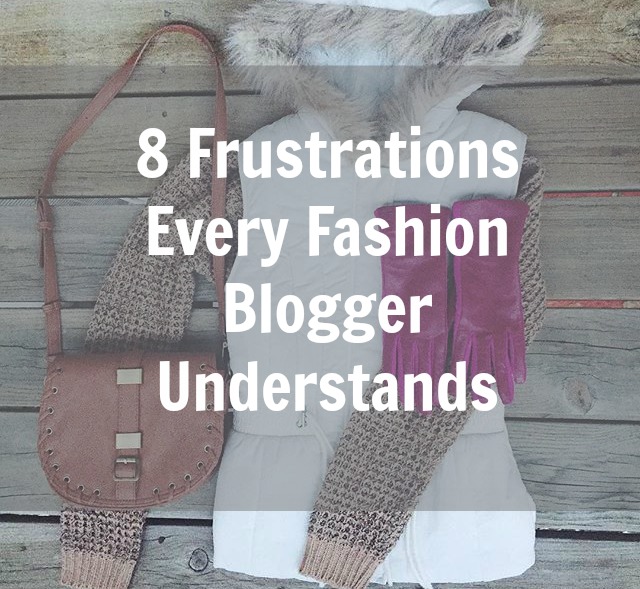 I've been wanting to do a few more fun, lighthearted posts on the blog lately, so today I'm sharing some of my frustrations when it comes to fashion blogging that I'm sure many other fashion and beauty bloggers can relate to. This post is meant to be fun, not just me complaining about trivial things, because let's be honest – all these frustrations are definitely #firstworldproblems! Hope you enjoy – let me know if you would like to see more fun posts like this!
1. Daylight Savings Time (in the Fall)
Remember how you had the perfect photo schedule figured out? You can kiss that good-bye when it starts to get dark by 5 p.m. This transition happens every year, and after almost four years, I still don't have it figured out! I think if you're a morning person, morning photos work well, but if you're like me, good luck. Now when I like an outfit during I wear during the week, I hang it up to be photographed at a later time – it's not as "honest" as I want to be (of course my hair and makeup looks better on the weekend when I have more time to get ready), but daylight photos are just so much better than attempting to get a good indoor photo. That would mean my apartment would have to be perfectly clean and decorated all the time? Thanks, but no thanks.
2. Chipped Nails
Have you ever been ready to take outfit photos or snap a photo of your cool new ring for a post on Instagram and realize your manicure is chipping? Yeah, not a good look. I'm SO lazy when it comes to my nails because it means I have to make plans to get to the nail salon or do it myself (and it's really something I don't enjoy doing). DANG YOU NAILS! Lately, I started Manicure Monday for myself, so I have a night every week that I spend pampering my nails and painting them a new color. So far I have done pretty well with sticking to this!
3. Windy Days
Whether it's messing with your hair, or your outfit – the wind never seems to be our friend when we're taking outfit photos! I will say though, it makes for a very interesting set of funny-faced photos, am I right?! Mother nature wins this battle every time.
4. Lint & Wrinkles
I'm sure this is a frustration for everyone, not just fashion bloggers. But there is nothing more annoying than wearing a shirt all day and having to re-steam or iron it so it doesn't look so awful in photos. Or maybe it should look awful in photos because that's what happens to the material? Also, doesn't seem to matter how hard I try to keep my clothes lint-free during the day or for photos, still seems to show up! And all I can think is that will be the focus of the outfit I just featured. Like hey girl – where's your lint roller? I have one, but it doesn't always seem to make a difference.
5. Explaining Your Blog to People
This isn't true for everyone in my life, but I'm talking about coworkers or acquaintances who hear about your blog and pretend to care, but probably don't care, or maybe they do care, but it's still awkward as *. It's just an awkward and weird conversation to have. How do you really explain it? Somehow I end up saying something like this: "I take pictures of myself and put them on the Internet" – that sounds awful right? Like very conceited and weird, and I don't think it is an accurate portrayal of many talented fashion bloggers and writers out there, but I have yet to find a good elevator pitch that represents my "brand" and doesn't leave one to think we are all shallow, materialistic, greedy people. I love my fashion blog, and I love to share it with people in my life, but not going to push it on people who just don't care. Because the deal is, not all of my best friends care about clothes, or how to wear a faux fur vest, or why people are now wearing blankets as scarves – and that's okay! If people ask, fair enough, I will talk about it, but aside from my boyfriend, my friends interested in fashion and my family, I'd prefer to not have the conversation.
6. Finding the "Perfect" Outfit for Everything
Okay maybe this isn't everyone in fashion blogging, but I get frustrated with myself when I can't just move on and wear something or get so caught up in what I'm wearing to the next event, or when I travel, or even some days to work. A prime example was when I went to Dallas to visit my friend. I forgot to pack jewelry, and had to borrow my friend's necklace and earrings. A couple of the other girls joked around and said "shouldn't you have all of this down and perfect since you are a fashion blogger?" NO. Absolutely not! While I am passionate about what I wear because to me it is how I am able to be creative in my everyday life, it certainly doesn't mean I get it right all the time (if ever). It's just something I enjoy and love to share with others. Do you ever feel frustrated by this? Do you feel extra "pressure" when you're around people who know you run a fashion blog? I don't really let it hang me up, but sometimes it means I overthink what I'm wearing more than when I didn't have a blog. And sometimes I just want to wear sweatpants, an old high school t-shirt, and not have to take the time to fill in my brows – someone has to understand this, right?!
7. Awkward Staring While Taking Outfit Photos
Yup, my boyfriend and I have made several "friends" while taking outfit photos out in public. Aka, we've seen a lot of people walking by and staring. I'd do the same thing, but it can be really distracting and embarrassing, am I right? Also, even more awkward when it happens near our apartment complex. Our neighbors probably think we are nuts – yup, not a model, not doing this for a project or for work, just taking pictures of myself in this outfit because it is #omgsoawesome. We've been thinking about handing out business cards with the blog name and information so people can check out the latest outfit post on the blog, or at the very least understand what we were doing (or find me to be even more crazy than they already thought I was). Also, the worst is when people stop what they're doing to try to go around you, like NO stop, we will move out of the way for you – yes the normal person here just trying to use the sidewalk as sidewalks are meant to be used, haha.
8. "Hello Dear" Emails
Do I even need to explain this one? I understand everyone has a job to do – and I used to freelance for a company writing blog posts and reaching out to bloggers, so it can be a lot of work and tiresome to try to be unique in your approach to each one, but calling me "dear" from the get go does not mean I'll agree to $10 for a sponsored post. Sorry, but no, just no!