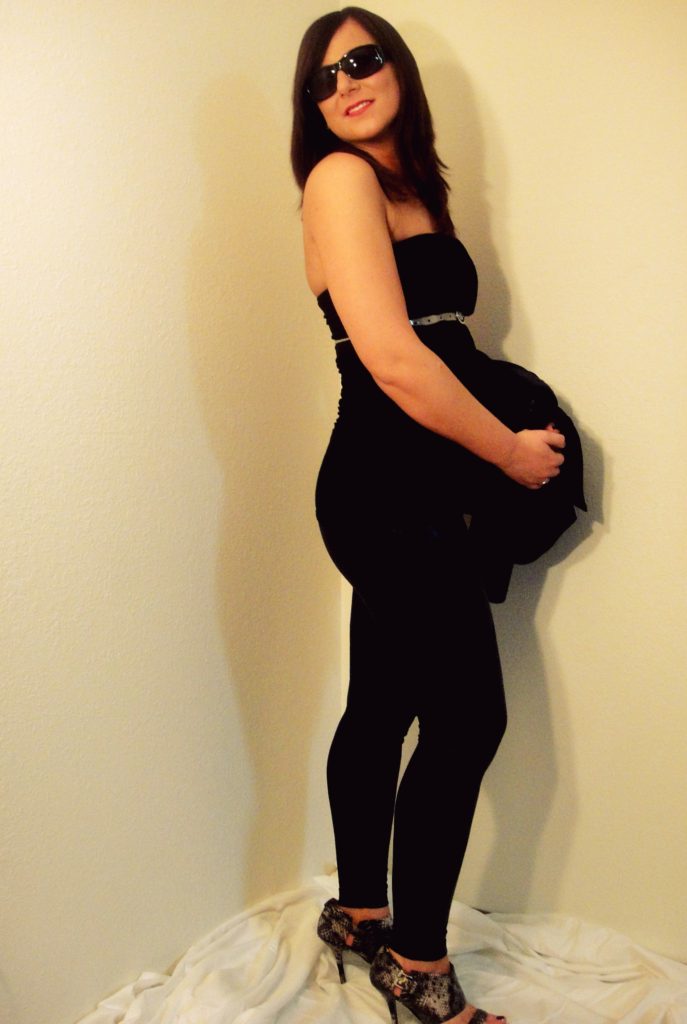 Since its November in Minnesota, dressing for warmth isn't an option, it's a must. It can be hard to transition from beautiful fall days to temperatures close to zero, but there are plenty of ways to look put together and stay warm without looking too bulky. Pleather or leather leggings are not only warm, but extremely comfortable and chic. I can literally wear them out anytime of the year, but they are especially great for cold nights out in Minneapolis and here they are my favorite part of this outfit. (Oh, and I also love the sequins on this cluth!)
Black Snake Skin Pleather Leggings: Express; Ruffle Tank: Charlotte Russe; Black Blazer: Express; Black Sequin Clutch: Forever 21; Skinny Gray Belt: Ann Taylor Loft; Snake Skin Heels: Steve Madden; Red  Lipstick: "Red Muse" Rouge Volupt No. 17 Yves Saint Laurent
"DO" the LOOK
Black Pleather/Leather Leggings: If you don't own any, this look still works well with black skinny jeans or dark-wash skinny jeans.
Ruffle Tank: Any black tank top would work, as long as it can be belted properly to focus in on the narrowest part of your body. A colored tank could also work here to add more pop or to incorporate your own personal style.
Black Blazer: *INVESTMENT PIECE* I have owned this black blazer for over six years and have worn it for multiple occasions, including casual daytime wear to dressing up for a New Year's Eve party. You could wear a cardigan or some type of over shirt as well, but make sure it has structure, that's what pulls the look together.
Gray/Metallic Skinny Belt: This is another place where a color could be incorporated if you have colored skinny belts. A skinny belt is suggested because there is so much else going on with the ruffles, the structure of the jacket and the snake skin. A big/wide belt could work, but might overwhelm the mix.
Snake Skin Heels: Basically any pair of neutral, dark or colored classic pumps or strappy heels would be great. I always make the shoes I wear about me and my personal style. I personally believe shoes are the easiest way to have fun and be you, so wear a pair that screams YOU!
Red Lipstick: All black allows for extreme makeup looks, whether its bright eye shadows or lipstick. If you don't own red lipstick, try other shades such as a rich berry or classic pink. Otherwise playing up your eyes with bright blue, purple or teal shadow and a nude or toned down color lip would also look great.