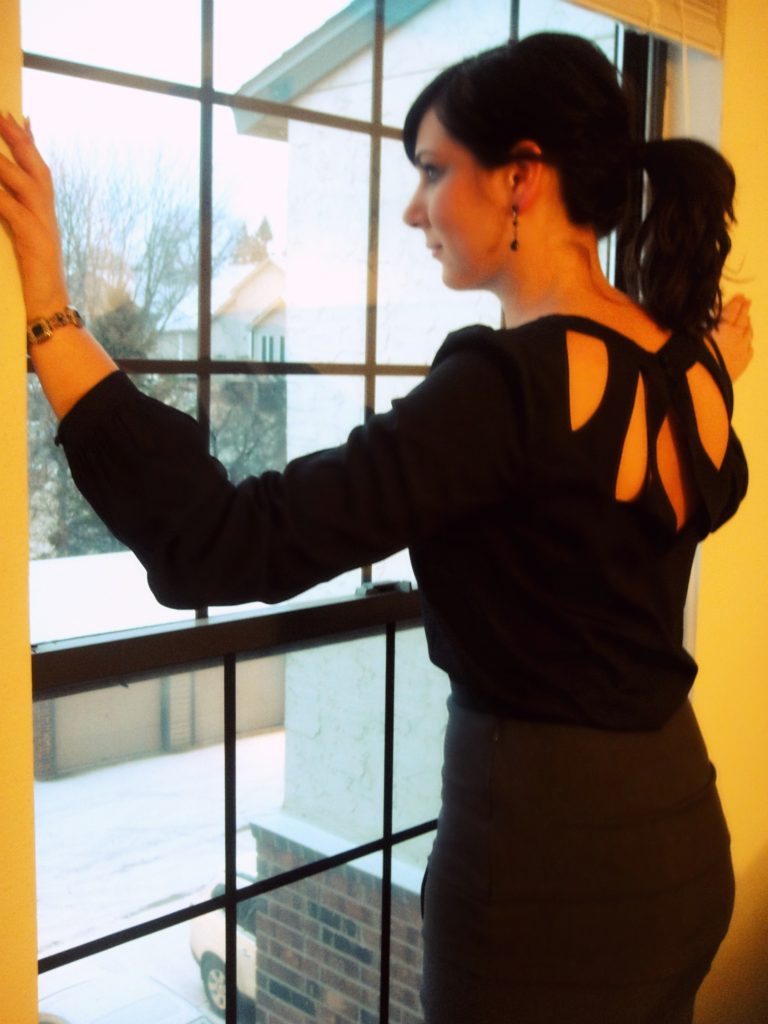 What does it mean to feel whole? I couldn't even begin to describe what it is like to feel whole even if I wanted to, but feeling whole in terms of fashion is simple for me:  this outfit captures my sense of style perfectly and is a unique look that I can wear to the office. When I have accomplished looking professional and have completely incorporated my personal style into the outfit, I FEEL WHOLE (and this usually lends itself to confidence and a productive day at work).  Also, the title is a play on words for the petal holes in my blouse… which is my favorite piece in this outfit.  A new black blouse with just enough detail to make it unique, but still professional enough to wear to work, BONUS! Other favorite details include: fishnets, the mauve color of my heels, the bows on my heels, asymmetric ruffles on my skirt.  Details, details, details! That is all.
Black Petal Hole Blouse: Lulus; Gray Skirt: Macys; Fishnet Stockings: Heartbreakers; Bowtie Open-Toed Heels: Lulus; Tear Drop Earrings: Kohls; Watch: BCBG Generation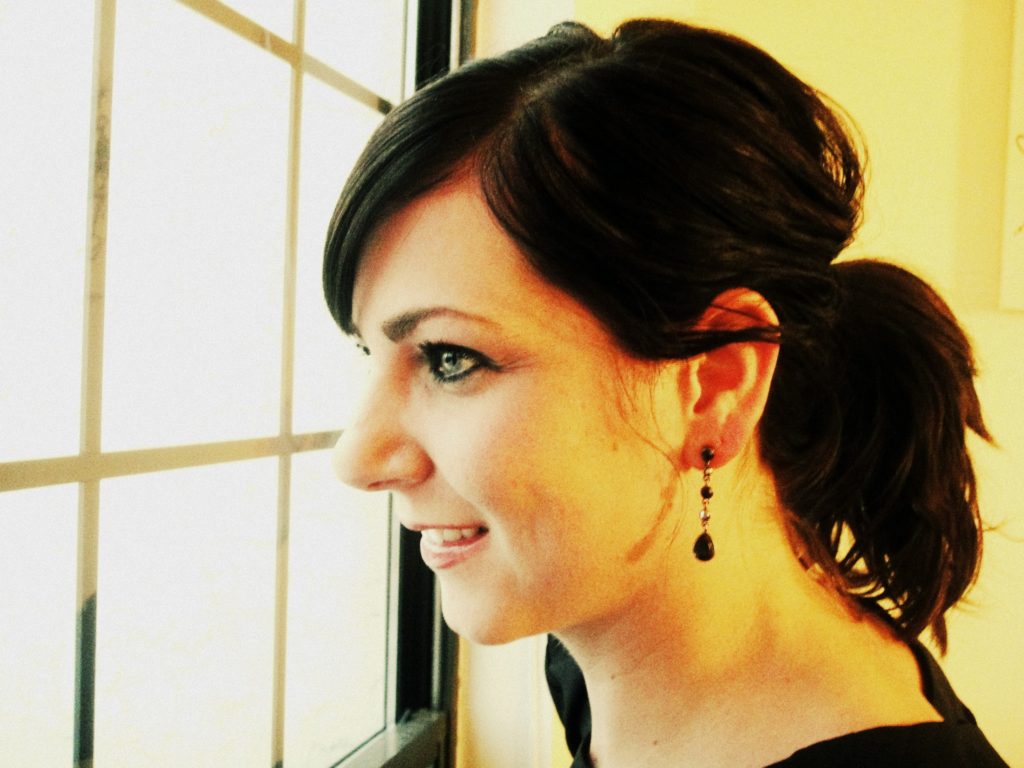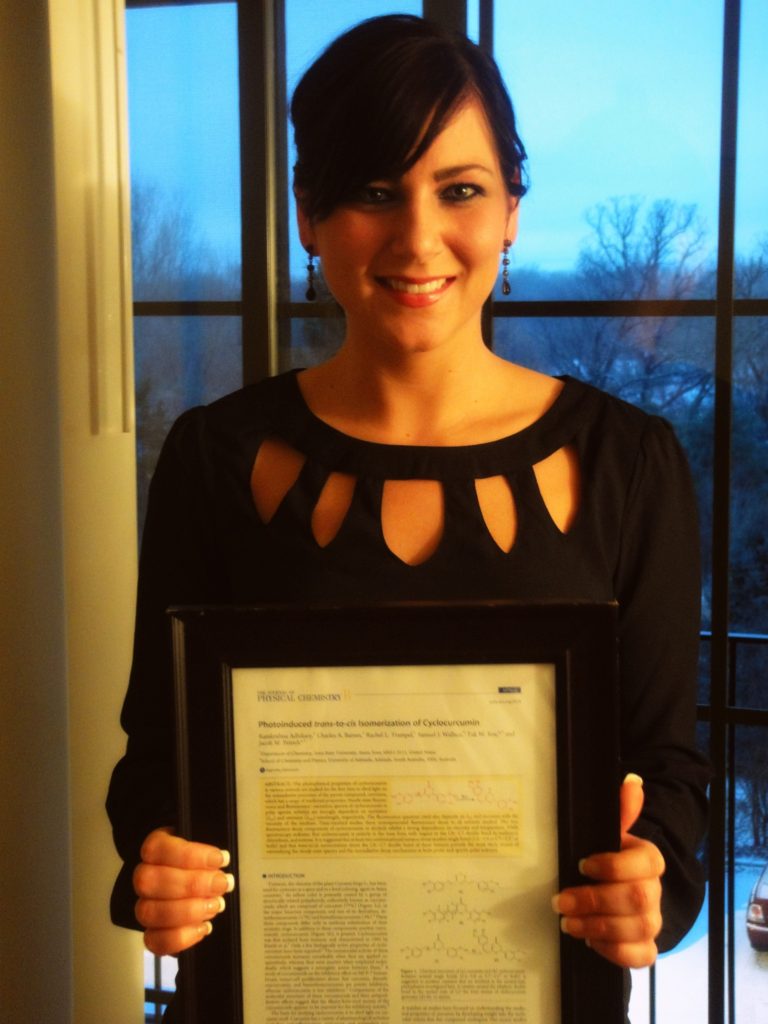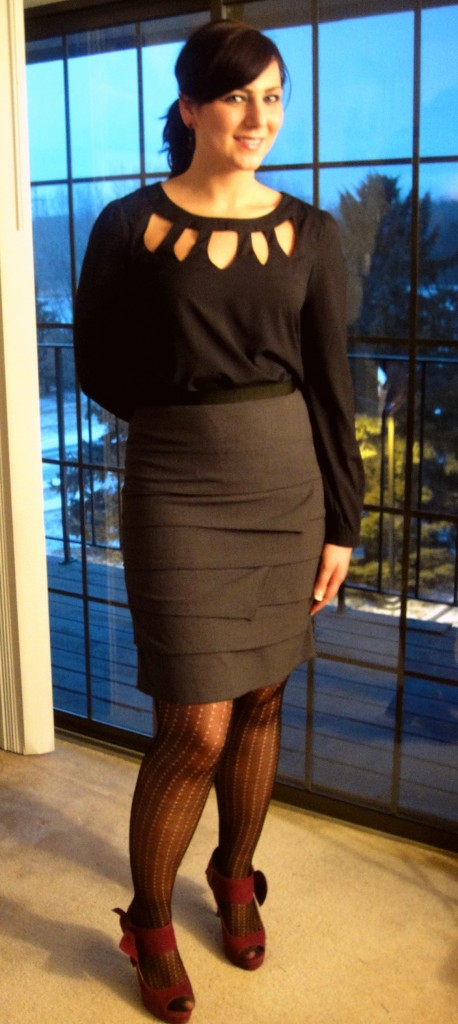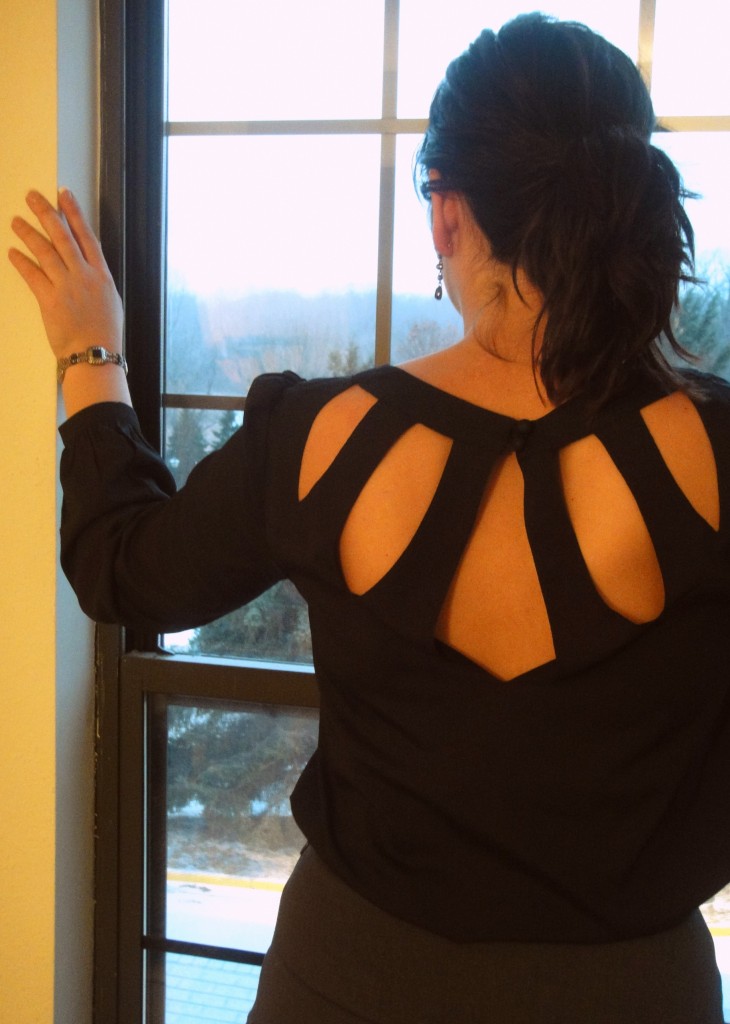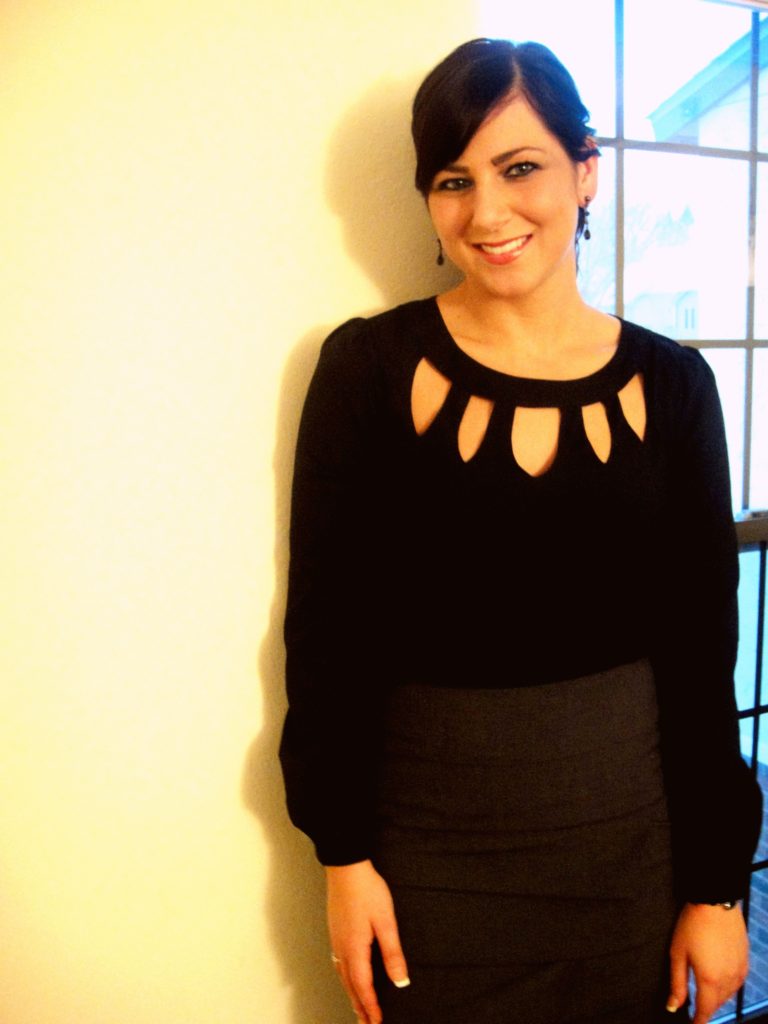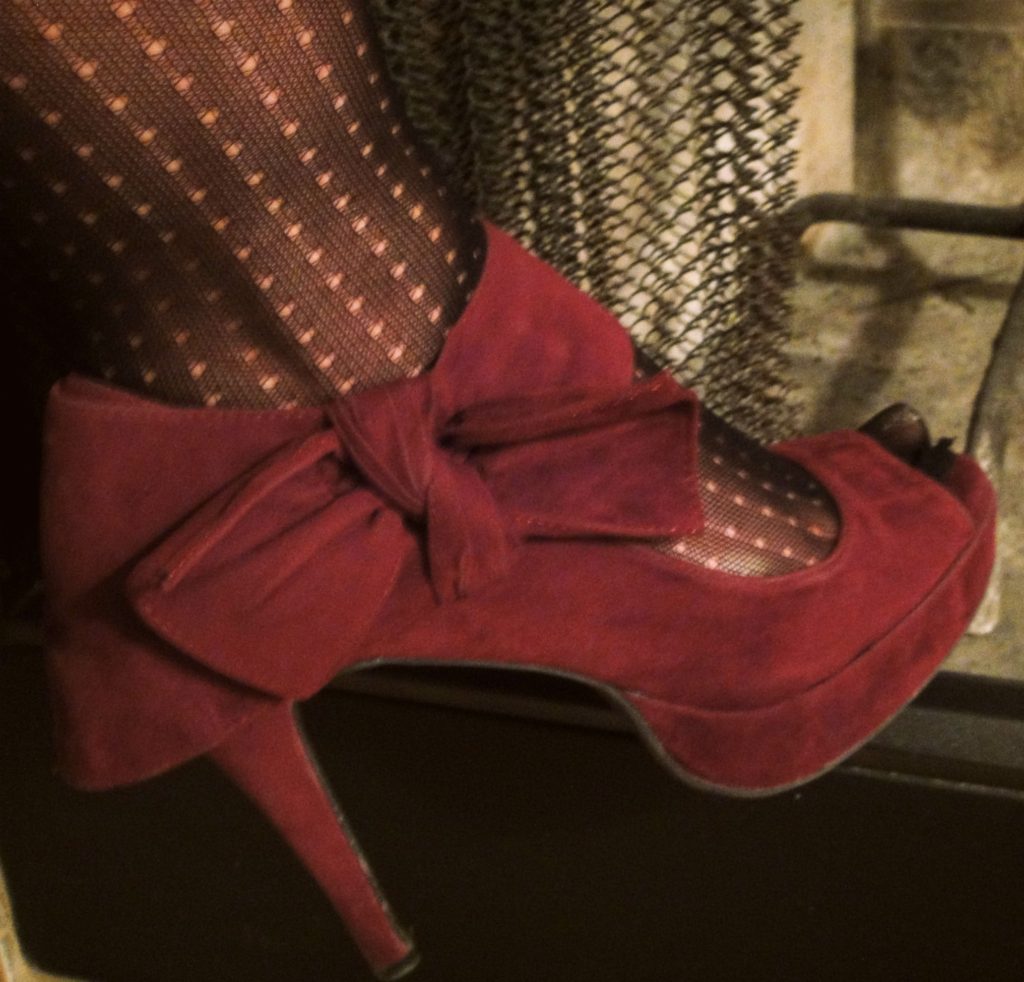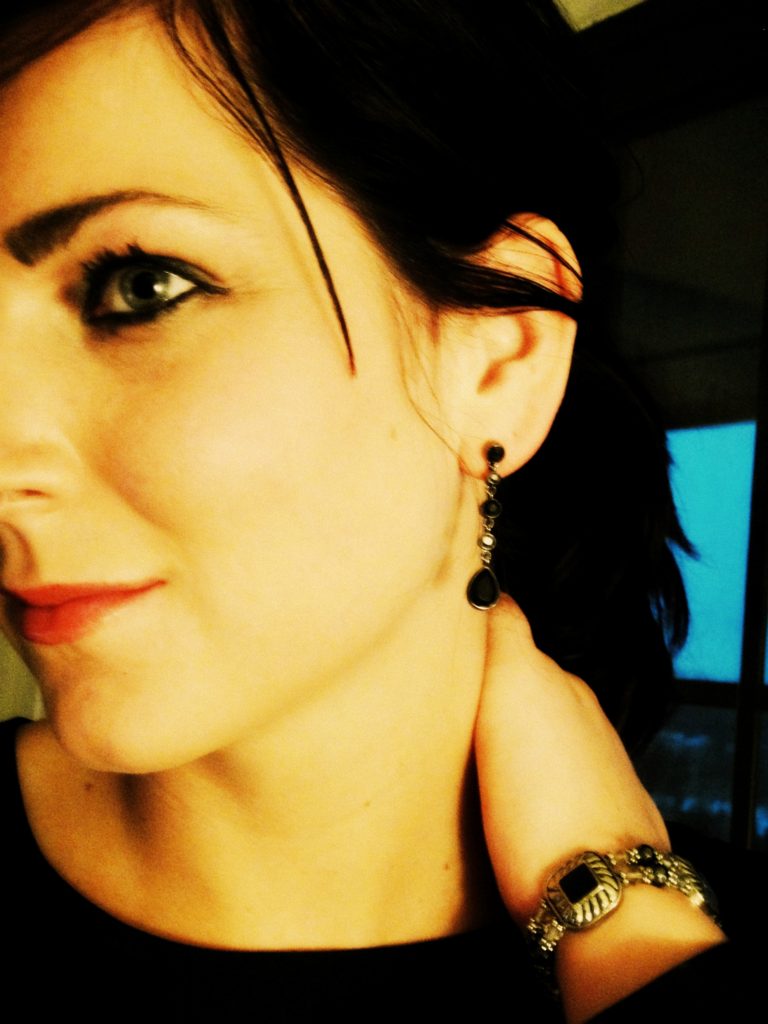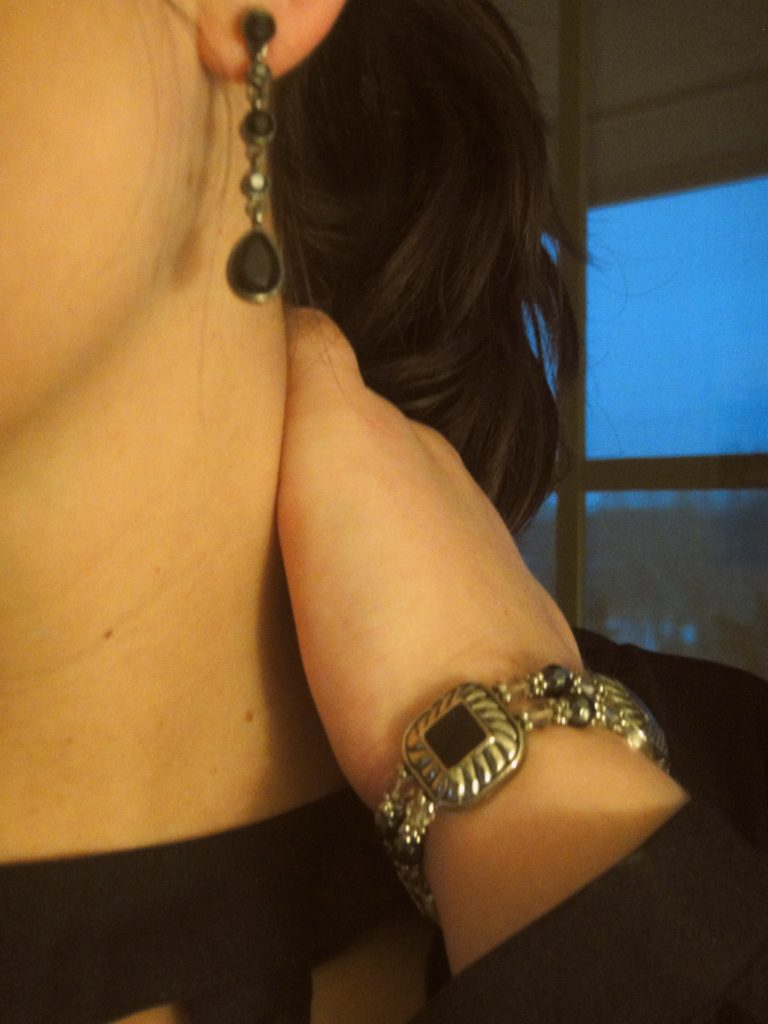 "DO" the LOOK
Black Petal Hole Blouse:  To get this exact look, you would need a blouse with holes like this or maybe a few less… this should still be available on Lulus.com and if you click on "Get the Look" I linked to another blouse on Polyvore.  For a simpler look, a plain black blouse, or even another colored or neutral blouse can work.  Jeweled or embellished blouse (like my Simply Vera Wang one seen here) would be a great way to capture this look as well.
Gray Skirt:  A gray pencil skirt without ruffle details is a great option, or you could use a black pencil skirt to get a chic head to toe look in black.  Additionally, a nice pair of slacks, gray, black, pinstriped, etc. would be another option if you don't want to wear the blouse with a skirt, and you would still have a polished look.
Fishnet Stockings:  By wearing a very low-key fish net stocking pattern, you can play up any work outfit you wear with and still look professional. Genius, right?! Other patterns or colors would definitely work here.  (I love colored tights and have a pair of bright purple that would look great with this, but I stay away from colored tights at work because I don't feel they are appropriate for my work atmosphere… definitely go for it though!)
Bowtie Open-Toed Heels:  Bows are always a nice feminine touch to professional work wear, which usually tends to be very structured.  Adding a feminine heel with ruffles or bows adds a nice touch to an otherwise structured, but this can simply be paired with pumps or other basic heels or flats.
Tear Drop Earrings: *INVESTMENT PIECE* I don't usually point out investment jewelry pieces because I have so much fun playing with fun pieces and don't usually spend a lot on jewelry, but a good pair of classic tear drop earrings, regardless of the color, will serve you well.  I have had mine since I was in high school and I think they are a great compromise between studs and loud dangly earrings (these earrings would also work with this outfit).
Watch: *INVESTMENT PIECE* Not because it tells you the time (even when I have a watch on I still check my phone or the computer first, oh thank you technology), but because it is a great accessory that is chic and professional.  A simple black band and rhinestones makes this one versatile yet fun for all my outfits. Find one that suites you and your personality!
Pink Lip Gloss:  I chose this shade because it's vibrant and plays off the color of my heels.  This shade is a great way to add some color, especially during these dark, cold winter days. Clear, nude,  or lighter pink shades are great options too.