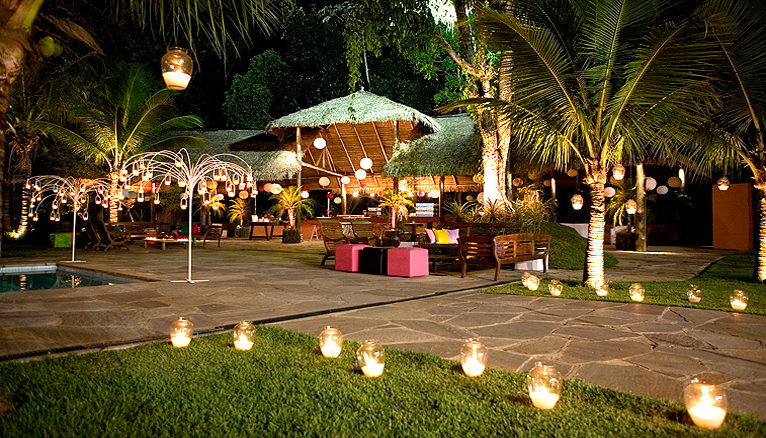 A wonderful aspect of summer is that this is also the time of year when many people choose to hold garden parties. They're a great excuse to spend time outside enjoying fresh air, flowers, fine company and nice food. Of course, if you're the one throwing the party you'll need to make sure that all of these things are properly arranged before your guests turn up. Follow these simply tips to make sure your garden party goes off without a hitch.
Day vs. Night
Summer garden parties work equally well at night as they do during the daytime. To make sure your guests are comfortable during the day, make sure to provide some means for them to escape the sun (should they so wish). Parasols are a great idea as they will keep your guests cool without the need to retreat inside. At night time many people choose to use fire pits to provide heat and entertainment. If you decide to have a fire at your party it's important to be aware of how to stay safe around an open flame, as well as to have the proper fireplace products to tend it with and the right hardwood fuel to keep it lit. Lighting can be provided fairly easily and to good effect simply by putting tea lights in jam jars, or by handing some lamps or fairy lights out.
To Barbeque or Not to Barbeque?
Barbeques are a great addition to any summer garden party, as they provide a focal point to the festivities as well as a means of serving food. But you must make sure that you know your guests' dietary requirements before you start cooking. Vegetarians and vegans won't eat food that's been cooked on the same grill as meat products, so if your guests comprise of both meat eaters and non-meat eaters it's important that you utilize more than one means of cooking, or do away with the barbeque altogether.
Drinks
Garden parties are the perfect time to have some drinks with friends, but summer demands a very different sort of drink to winter. Summer is warm, so your drinks should be as cold as possible. Pimms is a great choice as it's designed for sharing and served with ice. Any bottled drinks should be kept in the fridge and served in an ice bucket. Any drink that can be served in a jug is to be preferred, as this can be left on the table for your guests' convenience.
Entertainment
For most people it's usually enough for their garden party entertainment to consist of music, nice food and enough drinks for everyone, but others choose to go the extra mile by providing their guests with activities or a show. Ideas for your garden party could include:
A football game
Giant Jenga or Twister
A cook-off
This is a guest post, as always all opinions are 100% my own.
Image via