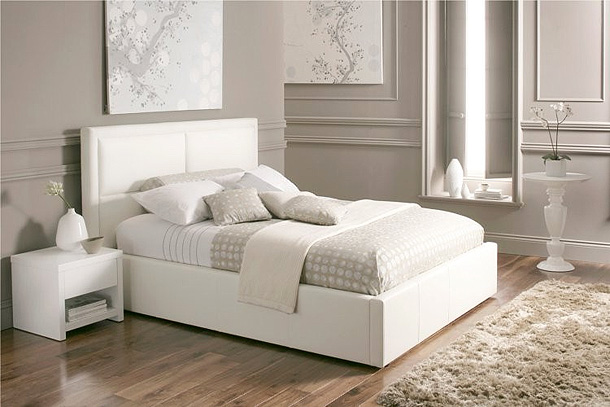 No matter what your taste for interior design is like, when it comes to bedrooms, we all want to feel cozy, pampered and relaxed. The bedroom may be a place for retreat and rejuvenation but living luxuriously doesn't always have to break the bank.
With smarter decorative choices, it's surprisingly easy to have the best of both worlds. Here are a few tips on how you can turn your bedroom into a space that's heavenly yet affordable too.
1. Beautiful Bedding
Creating a beautiful bed that you just can't wait to crawl into doesn't have to include the most expensive mattress and the highest thread count possible. Take a look at your lifestyle first and choose a practical option to suit you. If you have a busy life with little ones then you may want something more manageable and if you have pets then something durable might be better.
For an easy, inexpensive luxury solution, shop around for mattresses in sales to find the best deal. When it comes to bed sheets, you can afford to be cheaper if you drape soft, warm blankets and pile up the cushions instead.
2. Luscious Scents
Luxury should address all the senses. As well as rich colors and cozy fabrics, don't forget to imbue the atmosphere with your favorite scents. Scented candles are so popular right now so you really are spoiled for choice.
But don't feel that you have to splash out on the most expensive cult candle, just opt for cheaper options instead. Many of the more affordable candles have the same great affect and when teamed with a beautiful holder, you really can't go wrong.
3. Inexpensive Organization
What's the key to an impressive room? It's neatness. Most people feel calm and relaxed when a space is organized. So instead of spending money on fitted wardrobes and new furniture, take a look at how you can rearrange what you already have and how you can organize it better.
Say no to clutter and only place key times carefully and consciously on various surfaces. Investigate into inexpensive and imaginative storage ideas too, like this easy DIY rack for your sunglasses.
4. Luxe Lighting
Nothing creates a more powerful impact on the atmosphere of a room than it's lighting. Whether you like airy luxury or prefer the dark and layered look then it's best to think about how you can play with the natural light in your bedroom first. Thicker, heavier curtains will block the light and create a richer space but opening windows up can make your bedroom feel modern, classy and cool.
Move onto your light fittings and strategically place lamps to illuminate important spots and shadowy corners. You can play with the light inside too by choosing unique shapes and shades or adding dimmable lighting for when you want to really relax.
Make the most out of your bedroom by focusing on the key aspects that make up its functionality and atmosphere. Pick and arrange the items that are affordable to you and easy to maintain. Whether it's the feeling of a furry rug under your feet or your favourite scent drifting through the air, luxury isn't just for the privileged, it's for everyone. It really is all in the details!
This is a guest post, as always all opinions are 100% my own.
 Iimage via