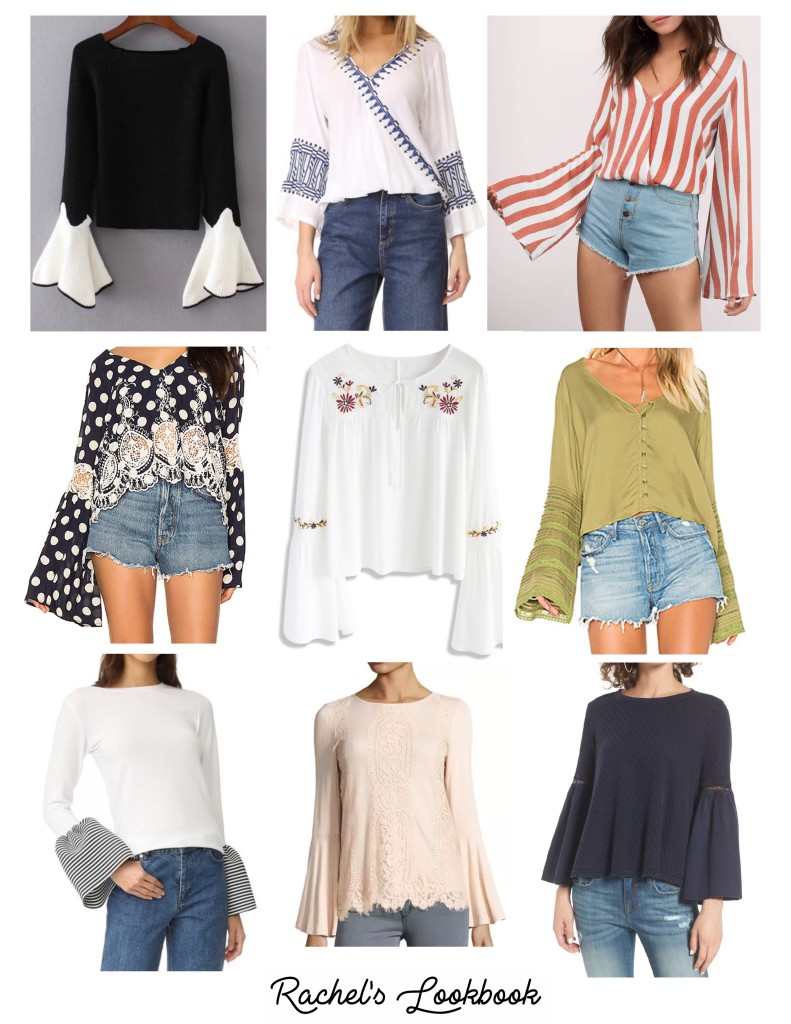 I wanted to start a new series here on the blog where I round up a selection from the top fashion trends going on at the moment. So I had to kick it off with one of my favorite trends of all time, the bell sleeve top!
Black and White Bell Sleeve Top | Bell Sleeve Embroidered Top | Striped Bell Sleeve Top
Polka Dot Bell Sleeve Top | Floral Embroidered Bell Sleeve Top | Olive Green Bell Sleeve Top
White with Striped Bell Sleeves Top | Lace-Front Bell Sleeve Top | Navy Bell Sleeve Top
When I was little I called them butterfly sleeves, but more commonly known as now as bell sleeves. Bell sleeve tops are EVERYWHERE right now. So no matter if you like neutrals or patterns and texture, there is a bell sleeve top out there for you.
I picked out nine of my favorites but will link even more at the bottom of my post. I mean seriously though, I want to be rocking this polka dot sleeve top right now! Not to mention, every time I wear a bell sleeve top or dress, I think of Britney Spears from her role in Crossroads. Her cropped bell sleeve top was gorgeous (not to mention those rock-hard abs, dang girl). That year was definitely the year I fell in love with this style (yes people, I'm talking about the early 2000s – as in 2002) and I can't wait to continue my love for it with all of these options now!
Hope you have been enjoying your weekend! And cheers to another amazing week!
Shop the Post
Black and White Bell Sleeve Top | Bell Sleeve Embroidered Top | Striped Bell Sleeve Top
Polka Dot Bell Sleeve Top | Floral Embroidered Bell Sleeve Top | Olive Green Bell Sleeve Top
White with Striped Bell Sleeves Top | Lace-Front Bell Sleeve Top | Navy Bell Sleeve Top
MORE UNDER $50: