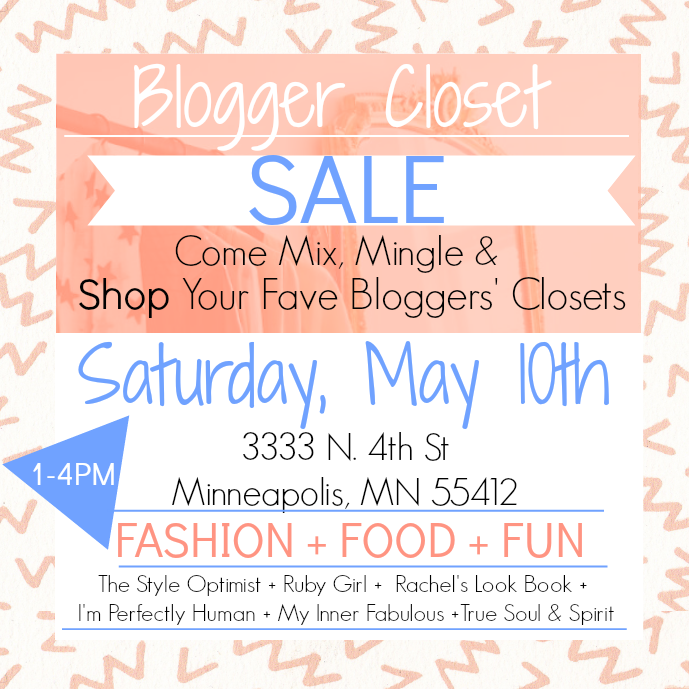 This weekend, some Minneapolis bloggers will be hosting a closet sale! I am so excited to be a part of it! I don't have a ton of items to sell as I have been reducing my closet over the past couple years, but come and stop by for some refreshments and check out all the gorgeous clothing and accessories that will be there!
Bloggers hosting the event are Style Optimist, Ruby Girl, I'm Perfectly Human, My Inner Fabulous and True Soul & Spirit!
I met up with Zhenya a couple weekends ago for coffee and said I would be thrilled to participate in Thrift Style Thursday! I did not have time last week to take outfit photos for it and this week I failed again because I do not own a single piece of thrifted animal print (nor did I have time this week to go find something), but I am definitely joining up next week!
In the meantime, please check out all the other Thrift Style Thursday participants!
Spoolish//Sandpaper Kisses//Sincerely Miss J//Confessions of a Refashonista//Alligator Toe//Buttons&Birdcages//Snippets With Alex//Eclecticity//Being Zhenya//Erika's Style Diary//Sistas from Cali//Rachel's Lookbook//Muddy Flowers//The Two Cent Chick
Also… don't forget to enter my Babette Scarf Giveaway… ! Ends next Monday 5/12 at 12 p.m.! Good luck and Happy Friday Eve!