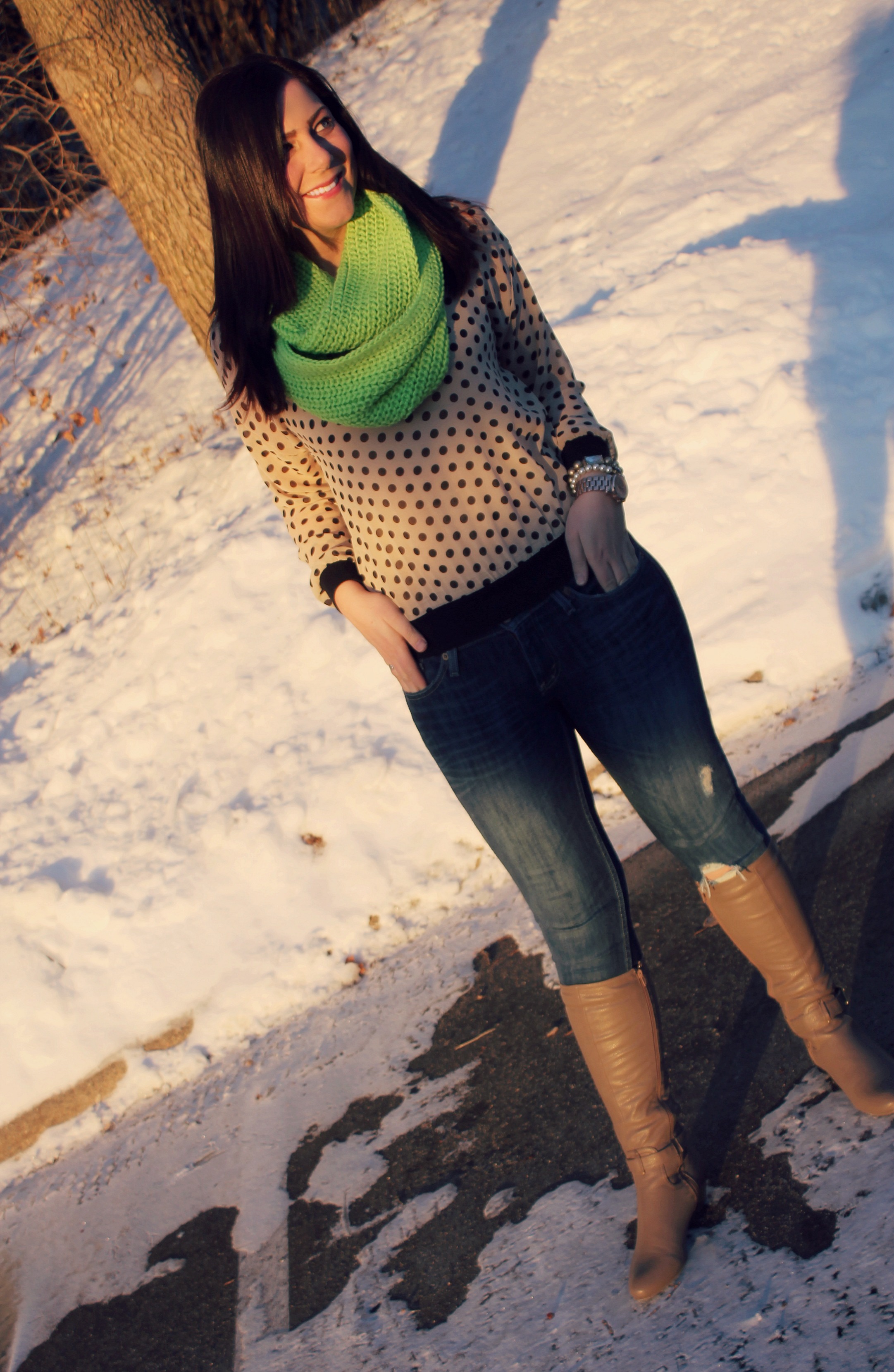 This Friday's casual outfit was a complete recreation of a look from Happily Grey (see her outfit here). I pinned this look awhile back from my friend and once I got this polka dot top for my birthday, I remembered how striking a beige/black polka dot top looks with a neon scarf (Yup, that's right… I can seriously remember WAY too many of the things I've pinned… kind of scary). Since I just got my neon infinity scarf with my January budget, it was the perfect time to try this look. I hate to admit that Casual Fridays are not easy for me.  During the week I'm usually in pencil skirts, maxis or work pants, so I am really focused on dressing up.  Don't get me wrong, I LOVE being able to wear jeans at my job every Friday, but because I've been out of the habit of dressing more casually or dressing up jeans, it makes it hard for me to get it right. This is why I need inspiration… this is why Pinterest, other bloggers like Mary from Happily Grey and YOU make life so awesome. THANK YOU FOR ALWAYS INSPIRING ME!
Stay Classy My Friends. (haha, anyone else a fan of Anchor Man?!) Have a fabulous weekend!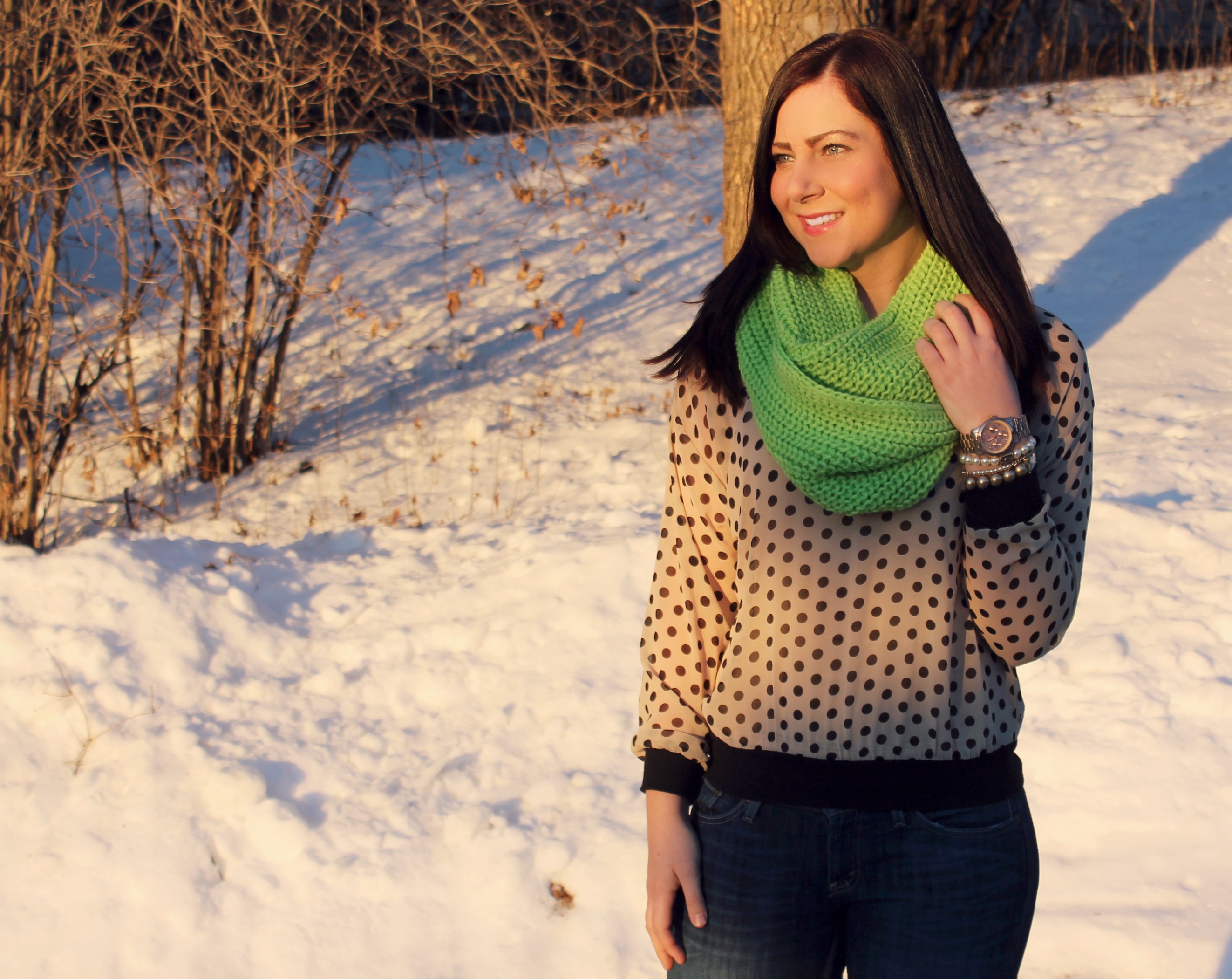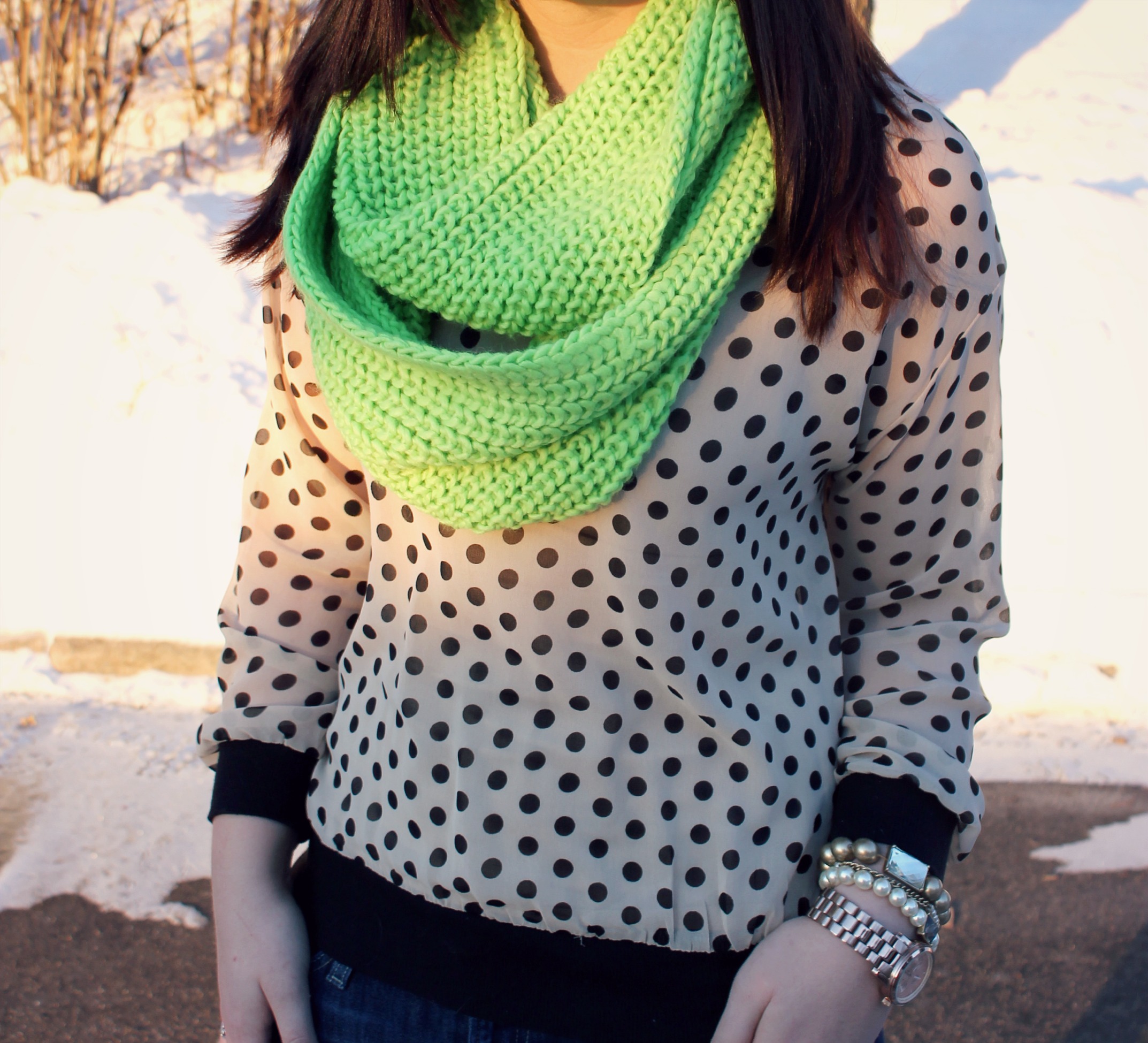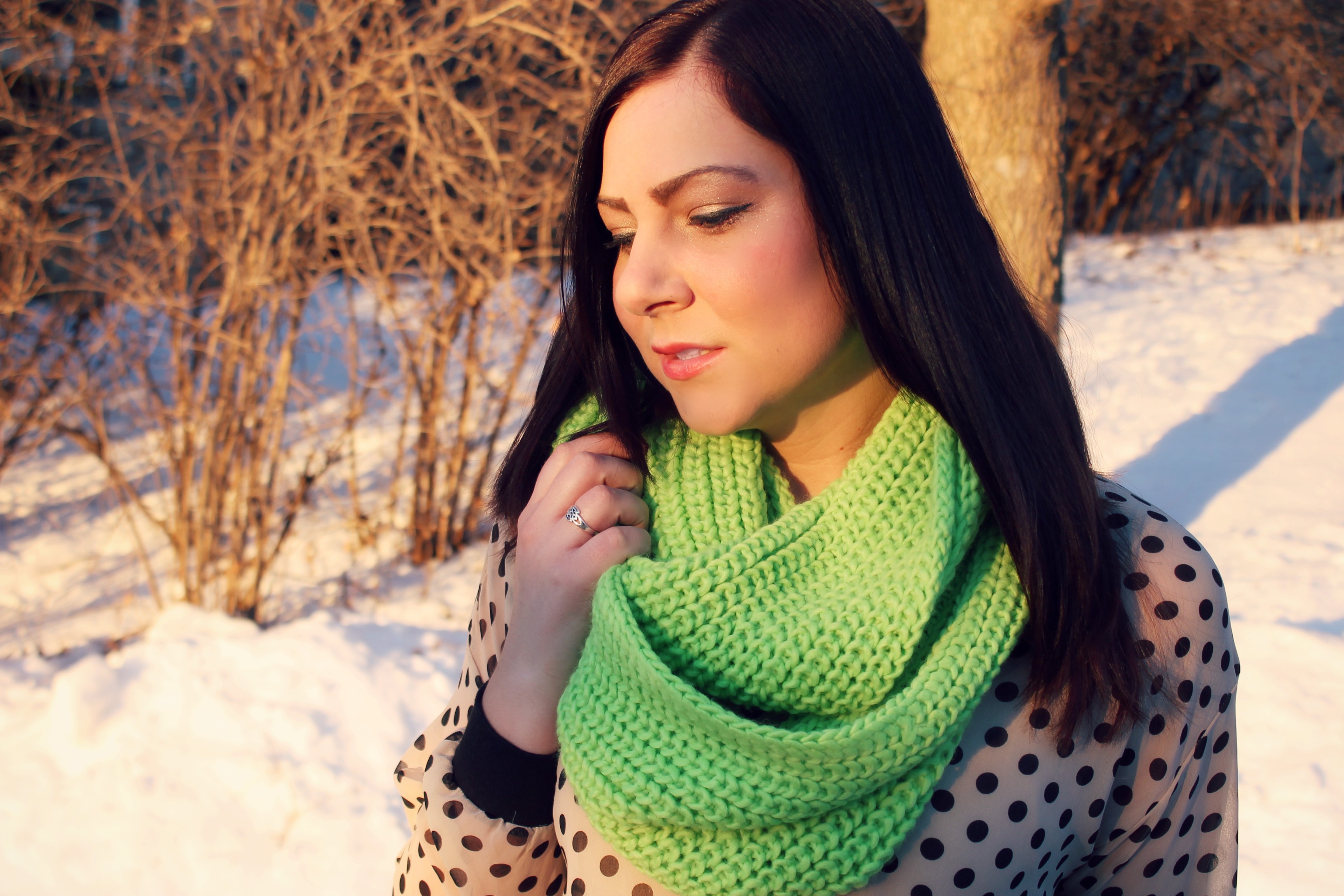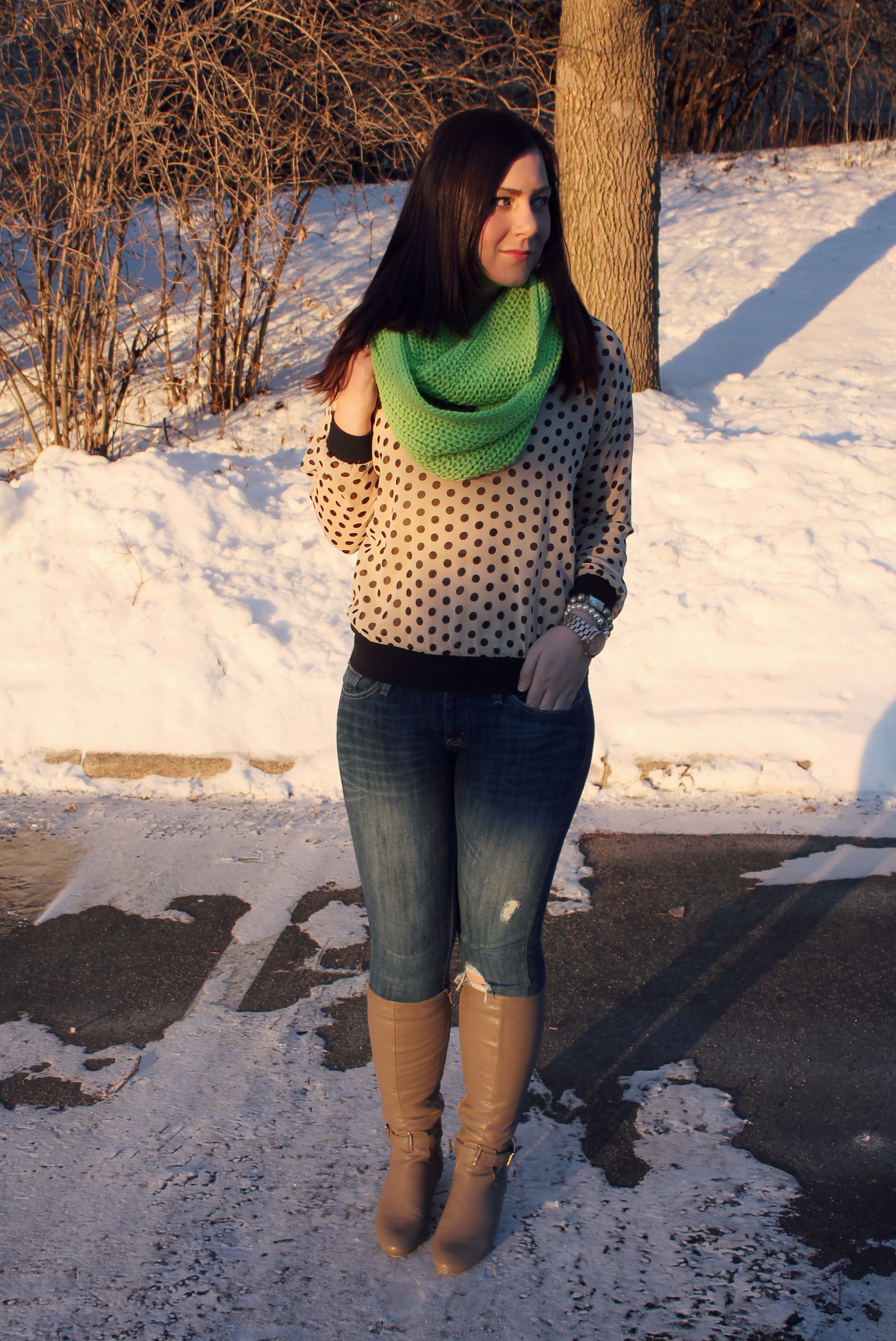 P.S. Do you see me talking to myself in the second to last photo? I think I'm saying something like IT'S NOT COLD, IT'S NOT COLD… complete lies though. NEGATIVE 11 degrees when we took these photos this morning. Ugh.
Polka Dot Top, F21 (Birthday Gift, Available here) :: Infinity Scarf, A&F (Sold Out, Similar here) :: Jeans, Levis via Younkers (Similar here) :: Boots, JustFab (Available here) :: Bracelets, Lia Sophia (No Longer Available in this color, Same Set though here) :: Rose Gold Watch, JCPenney (Similar here)