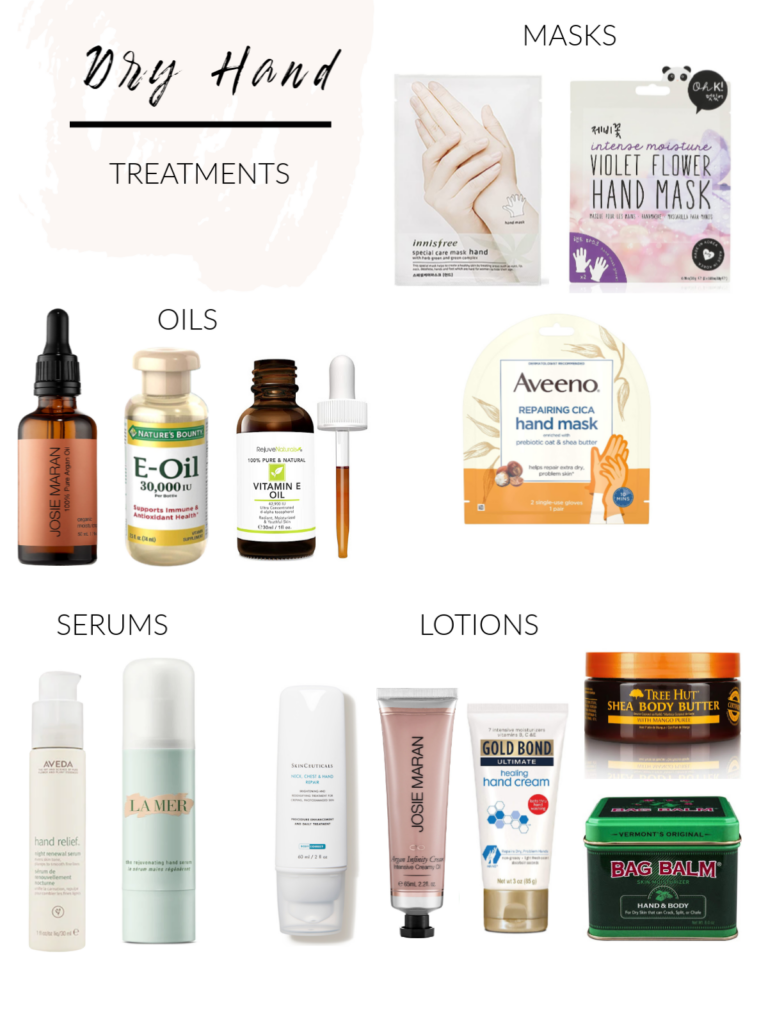 Shop the Post:

Hey everyone! So, I've been sitting at home thinking of all of these ideas for what to share on here. It's a weird and scary and uncertain time, but instead of not posting, I thought I would keep posting content that is hopefully helpful and/or can distract from the current state because we all need a mental break from it every now and again. I will be writing more about this at the end of this post, but today, I wanted to share some ways to combat dry, cracked hands! Because if we weren't already dealing with dry hands coming out of the winter season, we are definitely dealing with it now washing our hands as often as possible.
I personally have been using as much hand lotion as possible to combat my dry hands, but it just hasn't been enough. That's why today, I'm sharing some other top ways to help with your dry hands for some relief and to help with anti-aging. Just like your neck and chest, the tops of your hands should be just as important in your skincare routine. I realize today, we are all more worried about just getting some dry hand relief, so let's get into the options below:
Hand Masks
Hand masks are similar to using face masks, but of course, for your hands! Many hand masks are formulated with herbal extracts and shea butter to help restore moisture. Most hand masks come in the form of gloves that you place on your hands for 10 to 15 minutes. I've listed a few options below:
Hand Oils
I've raved about these oils in the past (see my blog post here) because they can be used for multiple reasons, but definitely great for dry hands right now. You could add a couple of drops of Vitamin E or Argan Oil into your hand lotion, or apply directly to the affected dry/cracked spots on your hands. I've been using Vitamin E oil for years on my elbows during the winter and it helps so much. These oils are also great to have on hand (punny I know) for other uses as well.
Hand Lotions & Ointments
There are obviously endless options when it comes to hand lotions and ointments. I'm listing a few of my favorites, as well as one I've never tried before but has great reviews (and I love the brand). I love the Tree Hut body butter, this travel-sized hand lotion is what my husband and I are both using right now, the Argan Infinity Cream is amazing for extra moisture AND can be used to make your skin glowy. The SkinCeuticals cream is pretty pricey but is a great option for anti-aging for your hands, neck and chest.
Argan Infinity Cream – Intensive Creamy Oil
SkinCeuticals Neck, Chest & Hand Repair
Hand Serums
Did you know they make serums for your hands? Honestly, you can probably use some of your face serums for your hands as well, just be careful if your skin is cracking because depending on the ingredients, it could sting. Below are two options for serums made to combat dry hands. Both, again, are pretty pricey (especially La Mer), but if you are needing some major relief, these would be great options.
Hand Relief Night Renewal Serum
La Mer Rejuvenating Hand Serum
---
Back to what I was saying at the beginning of this post: I am trying to balance sharing posts that are helpful to the times, like my recent post on Instacart and DoorDash, but also share some usual content. This does not mean I'm tone-deaf to the situation or not paying attention to what's happening. I am, and like many people, am managing the new normalcy and maintaining my anxiety. My anxiety is high and sometimes I'm doing ok, and sometimes I'm freaking out. I am just so thankful for everyone out there who are the true heroes in all of this – the healthcare workers, the delivery drivers (Amazon Flex, UPS, USPS, FedEx), grocery store workers, pharmacy & drugstore workers, app-based workers on DoorDash, Instacart and more, the restaurants feeding healthcare workers or giving lunches to kids who aren't in school anymore… I'm sure I'm missing someone… THANK YOU ALL SO MUCH. Also, I'm thinking of everyone affected by this, people who have the virus, who have lost loved ones to the virus, who have lost their jobs, who are struggling financially and worried about paying rent and other bills… I am thinking of you all. Again, I'm sharing content to be helpful (if I can in any way). I'm trying to embrace this the best way possible and have a place you can come and feel comforted, or leave your frustrations in the comments below, or email me just to have someone to talk to. I am here, and we are all in this together. Most of all, I hope you are staying safe & healthy – all of my love!