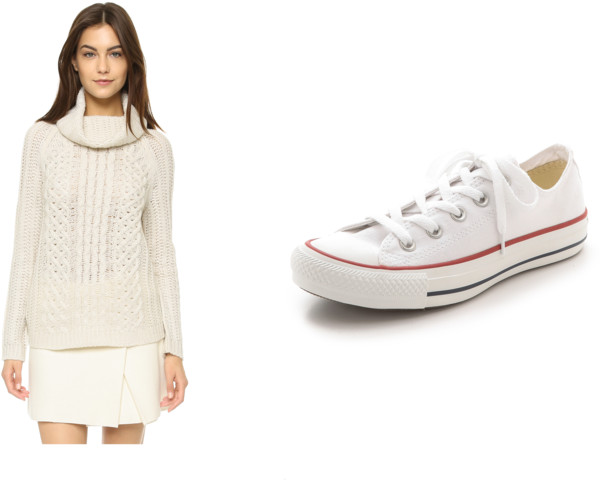 Wow, wrapping up another year of clothing budgets! Guess what?! I spent ZERO dollars on myself this month. I spent a lot of money this month, but all towards Christmas and birthday gifts for friends and family. But I did receive a couple of things from ShopBop this month that I wanted to share.
cupcakes and cashmere Turtleneck Sweater, c/o ShopBop
Converse Sneakers, c/o ShopBop
Total Spent: $0.00
Feels like a great way to end the year! I have my eyes set on some pretty hefty savings goals next year (you can read more on my budgeting and some savings goals here), so I'm getting my clothing budget even more in line. In fact, I might try to save up a few months at a time to then "splurge" on a nicer piece, vs. buying something every month. Have you ever done this before? I'm a sucker for sales, so it's hard to completely resist, but my closet is once again at a max and I'm trying to sell/donate vs. buy.
If you're curious, you can check out all of my other budget posts from 2015 (a few months are missing when I was out of the blogging loop – I was heavily applying and interviewing for jobs in April and May, and started my new job in June):
January 2015 Budget
February 2015 Budget
March 2015 Budget
July 2015 Budget
August 2015 Budget
September 2015 Budget
October 2015 Budget
November 2015 Budget
As always, linking up with Budgeting Bloggers!