This shop has been compensated by Collective Bias, Inc. and its advertiser. All opinions are mine alone. #MyJergensGlow #CollectiveBias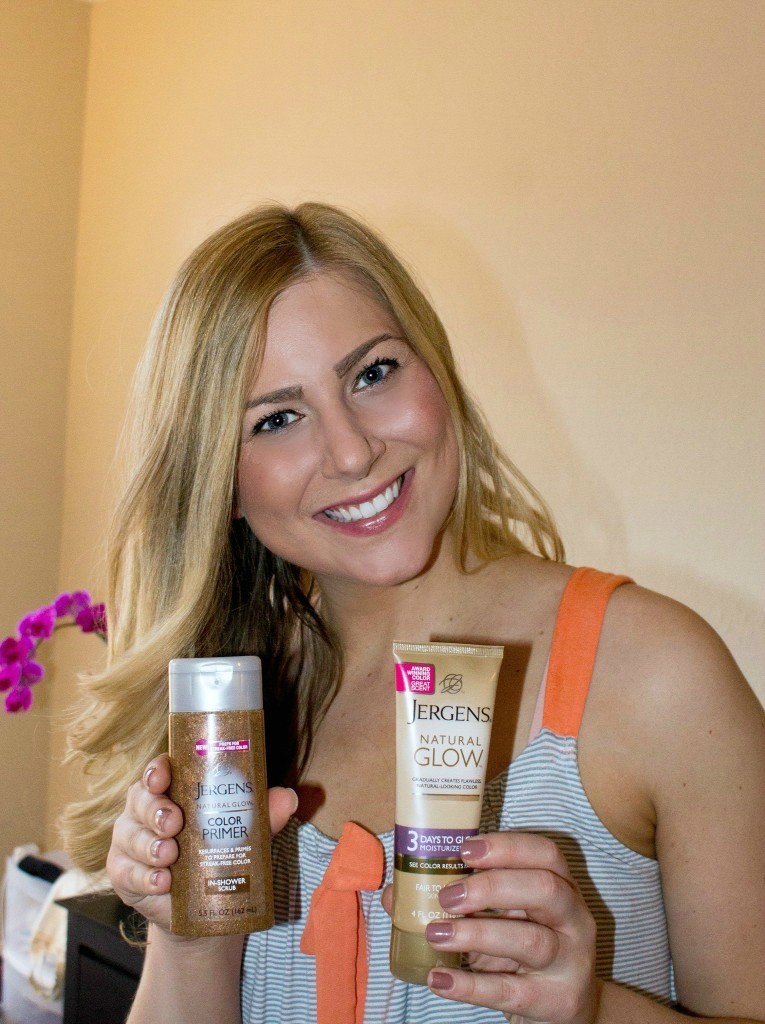 We are in the in between time of the year, which means the short-sleeves, summer shorts, and swimsuits are coming out very, VERY soon! That also means it's time to get a head start on getting the glow for spring and summer! For the past eight or more years, I have been using JERGENS products to achieve a natural-looking tan with ease. I've used a variety of different products and I swear they keep getting better and better every year! This year, I'm using JERGENS® Natural Glow® Color Primer In-Shower Scrub and JERGENS® Natural Glow® 3 Days to Glow™ Moisturizer for a quick way to achieve the glow.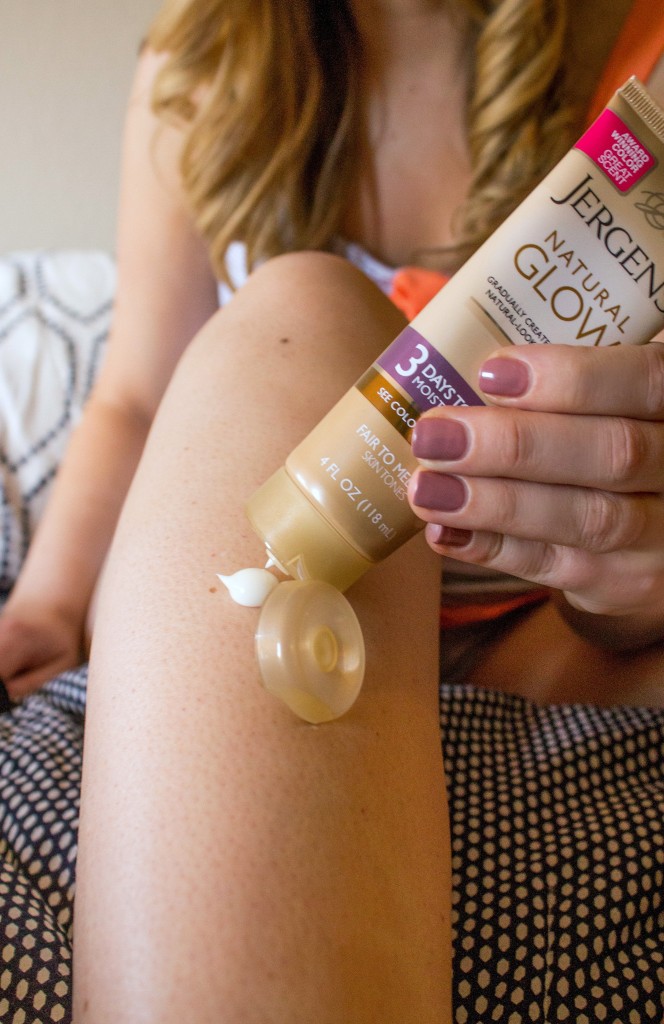 How to Achieve Glowing, Tan Skin: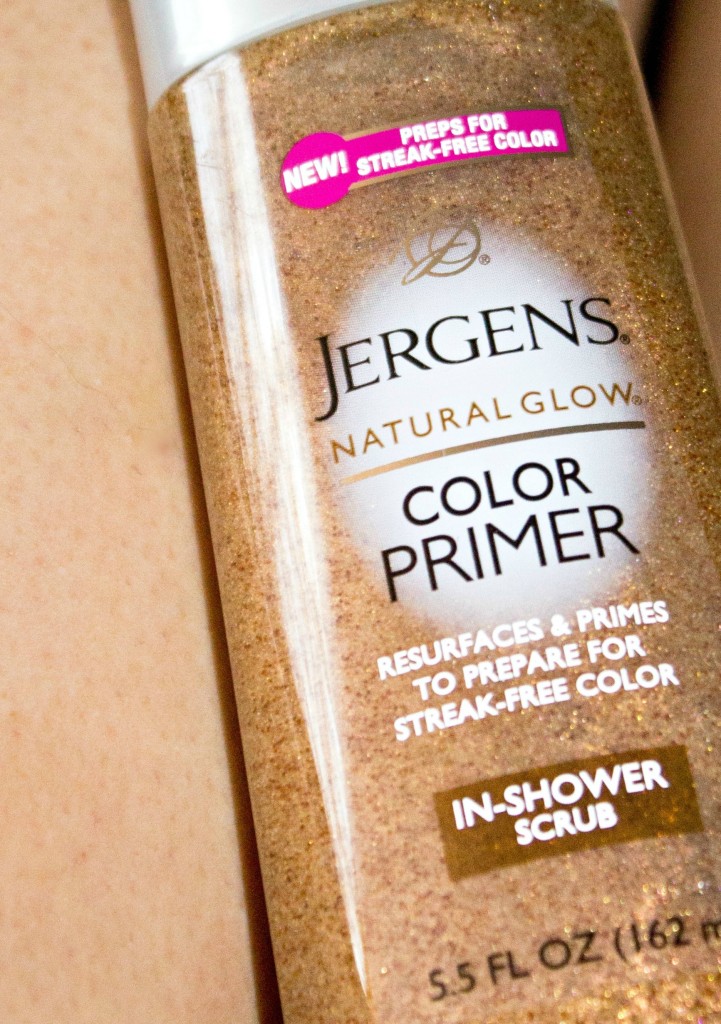 Prep and Exfoliate – It is super important to exfoliate your skin before applying self tanners! That's why it's so awesome that the primer scrub is available to help out. I usually apply self tanners before bed. My schedule is to work out, shower and exfoliate, then apply. It's a great routine to get into as it makes it very easy to ensure I do it every day or every other day.
Apply the Gradual Glow Moisturizer – I use the fair/medium skin because I have very fair skin and don't really use sunless tanners in the winter. Everyone in Minnesota is pale during the winter, so when I started using the moisturizer, I want to start out light and gradually build up a natural-looking tan.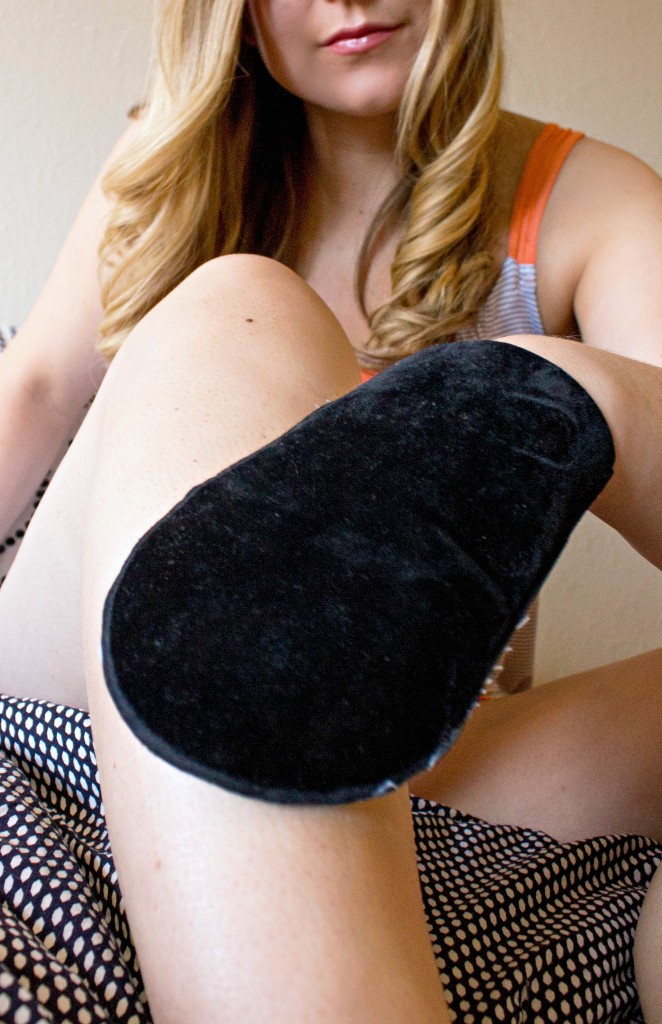 I always start by applying to my legs, and I use a mit to do so. You do not have to use a mit, but it makes the application process extremely easy! I add about a quarter size on my mit and begin to rub into my legs in small circular motions, adding more lotion as needed. I am also VERY careful around my knees. You'll want to use lotion sparingly here.
I then apply to my stomach, chest, and lower back. And my lower, lower back of course! I think it's good to cover every inch of your body, so that you don't have to worry about what type of shorts, rompers, or swimsuits you'll be wearing this summer. Again, I use a quarter-sized amount of lotion and rub in small circular motions over my body.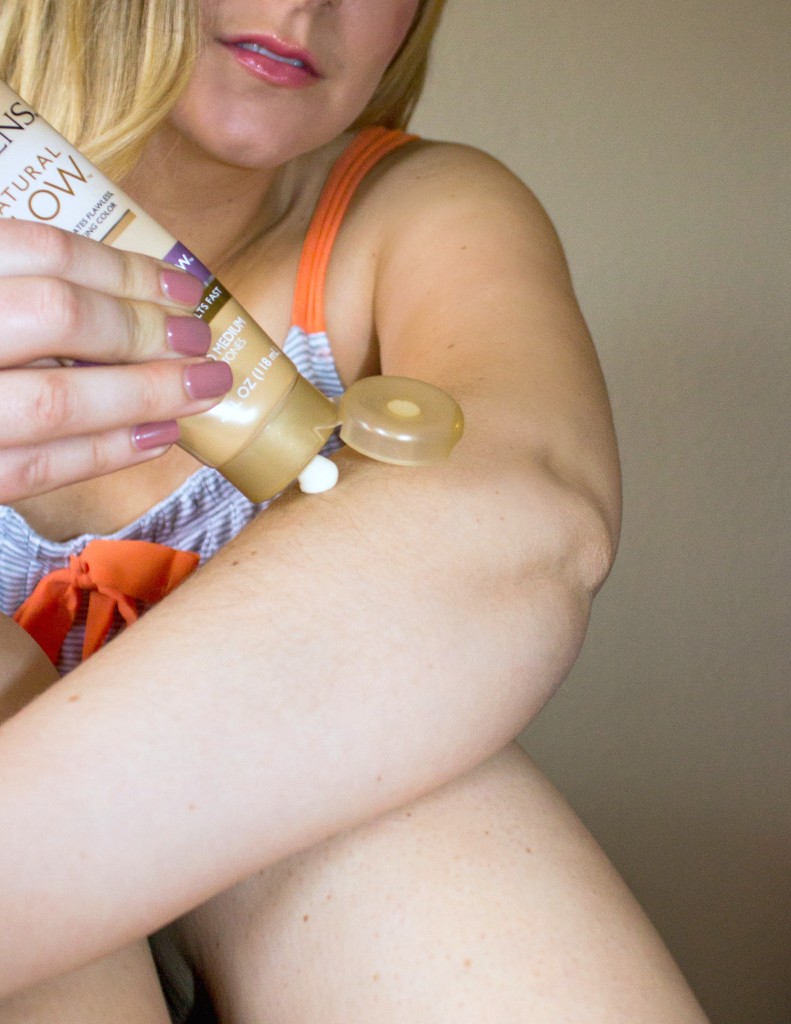 Next, I move onto arms. This is another area you need to be very careful with! Ensure you use a very small amount around your elbows, and rub in very thoroughly. Arms and legs will probably be showing the most, so just take your time to ensure you use the same amount of lotion on both sides of your body and really take the time to go around/use less on the elbow.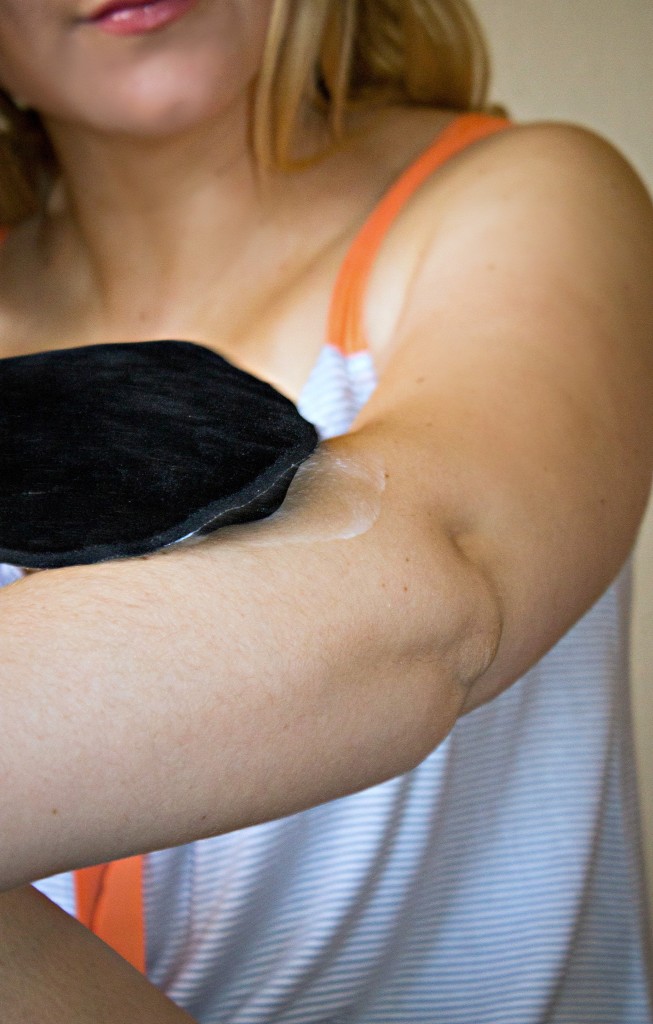 Finally, I finish with the upper back. At this point, I usually switch to a back applicator because it really helps with an equal application on my upper back. Again, this is not necessary, as you can use the mitt in the same way! It's up to you, but I have a really good routine in the order I apply the lotion, and finish with the back applicator.
Finish By Applying a Small Amount to Your Hands – Finally, take off the mitt and apply a small amount to the tops of your hands. You don't want to forget this otherwise you'll have tan arms and white hands! Since it's gradual it won't be extremely noticeable if you forget to do this step a couple times, but this step ensures a great, even tan!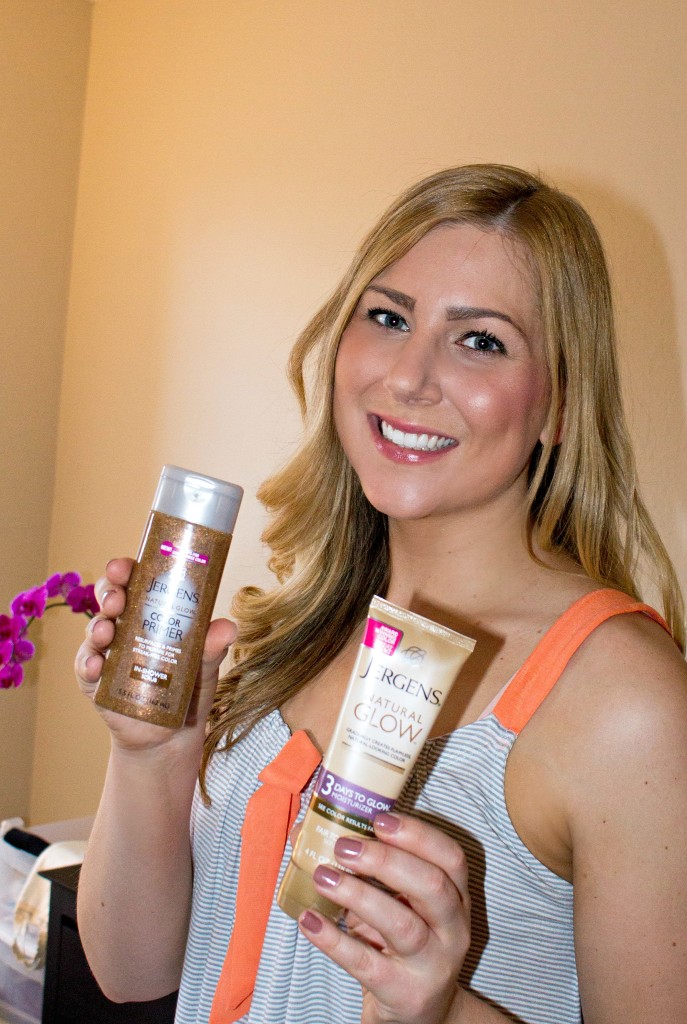 And there you go, repeat as often as you'd like. Depending on what types of events I have, sometimes I apply self tanner every day and sometimes I do it every other day or a few times a week. If I have a wedding to go to, I tend to use JERGENS® every day. If I just want to continue having glowing skin, I usually do this routine three times a week. If it sounds like a lot – don't fret! This only takes me 10 minutes at most, and then I wait another 10 minutes for it to dry before putting on my pajamas. The best way to do it is to integrate into your nightly or morning routine, just as I have after working out and showering.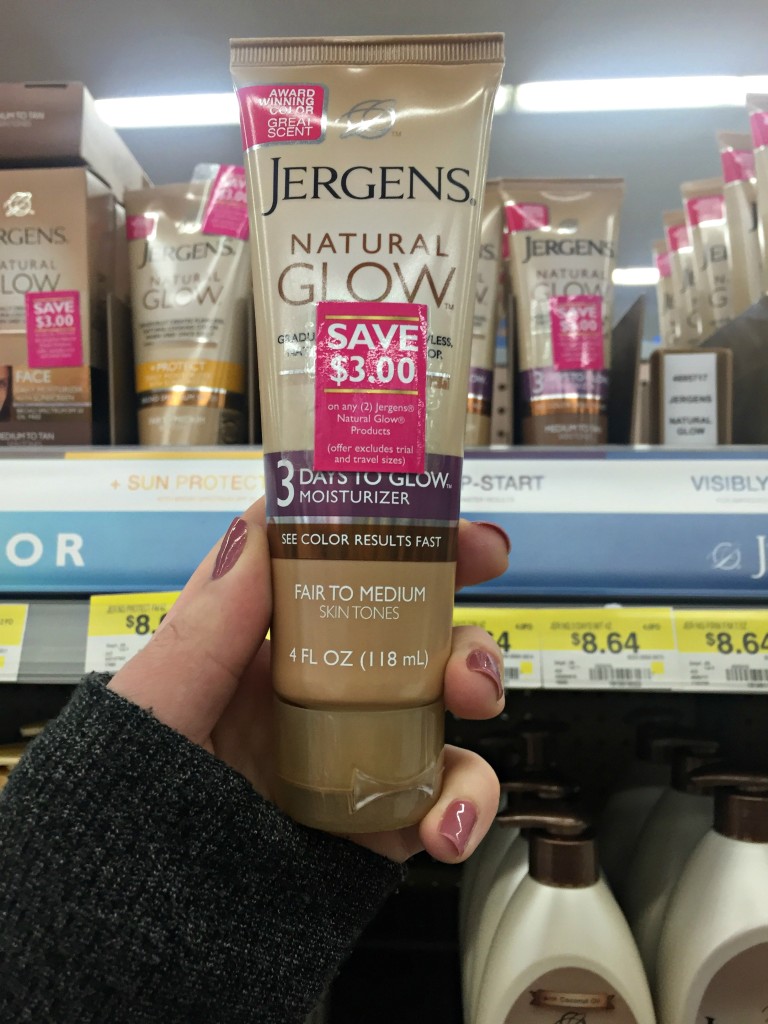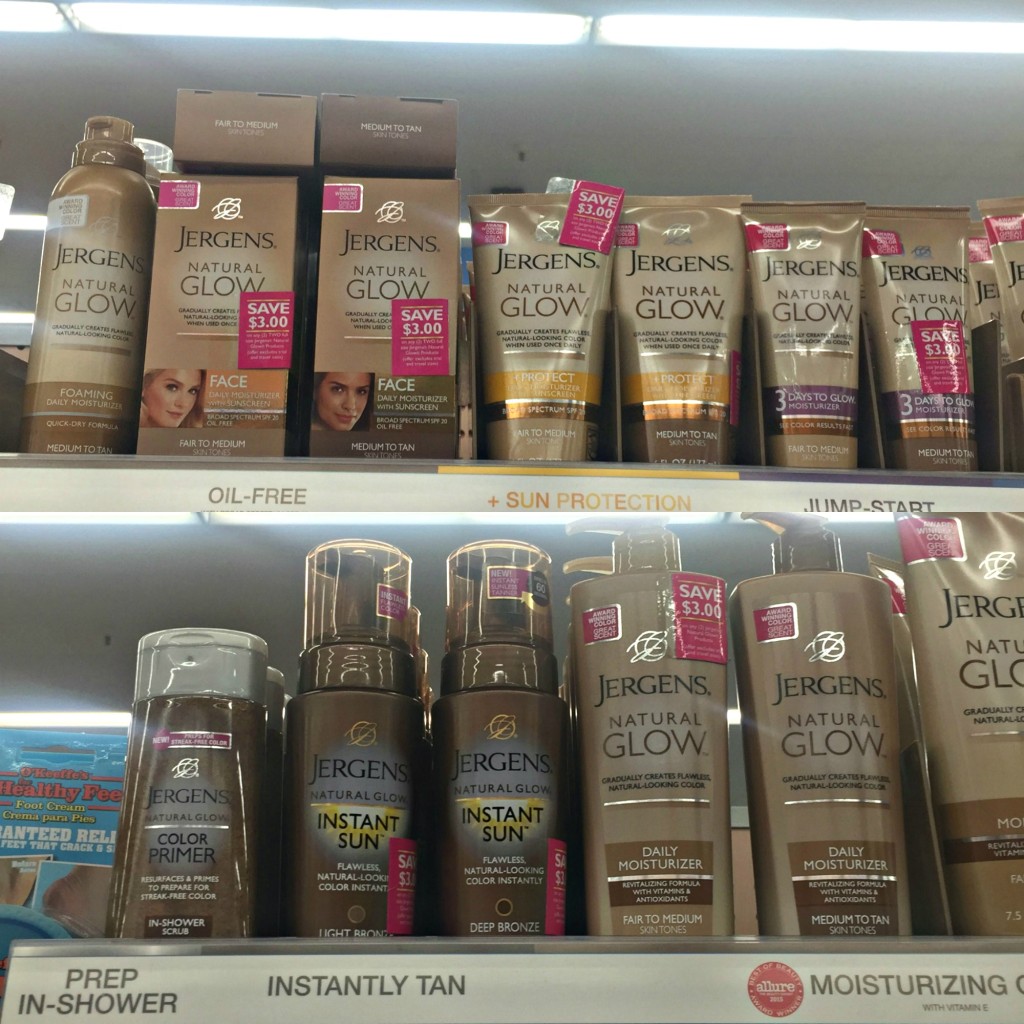 So make sure you check out JERGENS® Natural Glow® Foaming Daily Moisturizer and all of the other JERGENS® glow moisturizers.
Follow JERGENS® on Instagram!