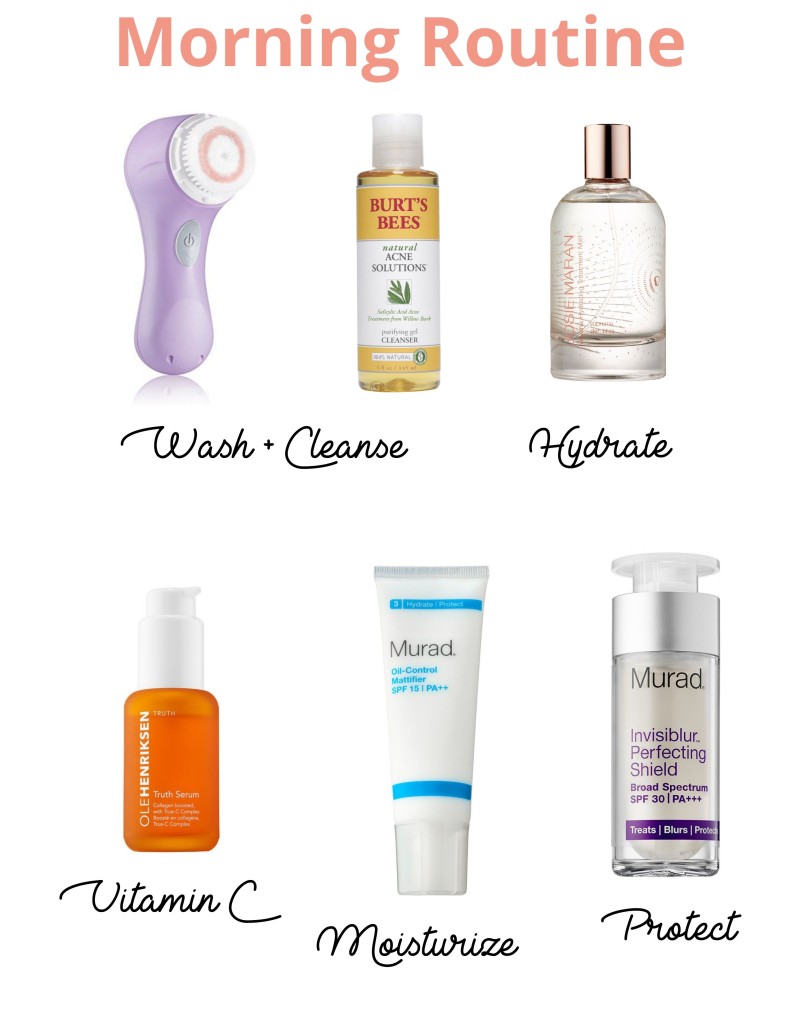 Good morning and happy Monday friends! Today I'm sharing my current morning skincare routine, which I've been extremely happy with. My only complaint is that sometimes gets a bit oily during the day – but I feel like that's just an issue I'll always have – I tend to blot or just use a bit more powder when necessary. Otherwise, my skin has been feeling amazing.
Wash & Cleanse: I use Burt's Bees Ance Cleanser to remove all of my dirt, etc. in the morning. It's gentle but also great for acne-prone skin like mine – which makes it great for cleansing in the morning. I also use the Clarisonic Mia in lavender from time to time (not every single day because my skin is sensitive) but with this cleanser, my skin feels amazing after using the Clarisonic! I use it about three times per week in the morning and three times per week at night.
Hydrate: One of my favorite products I've discovered this winter was the Josie Maran Nirvana Hydrating Treatment Mist. After cleansing your skin, it tends to loose a lot of moisture, so this is meant to be like a steam at a spa to give your skin hydration and prep it for other products. Be sure to choose the correct moisturizer for your specific skin type. In my case, I had to sift through the best moisturizers for dry and oily skin to find which one would work the best for me.
Vitamin C: Now that my skin is completely prepped, I'm ready to put on a serum. I have noticed such a difference in the way my skin feels and looks when I use this Truth Serum from Ole Henriksen. Vitamin C serum is great for supporting natural collagen production and has also been great for my acne scars.
Moisturize: Murad's products are amazing – everything I've tried has actually worked for my skin. This is one of my favorites, it really helps moisturize without making the skin too oily. Helps to keep my oily skin matte throughout the day.
Prep & Protect: I've been using the Murad Invisiblur for a couple years – not only is it great as a primer – it's great to protect my skin from the sun with SPF 30+.
And there you have it – from there I do my typical makeup routine! Have any questions?! Be sure to leave a comment or email me at [email protected] – I'd be more than happy to talk about my morning routine with you!
And it's time to link up! Please join Being Zhenya, Style Optimist and me in this week's Monday Mode link up!
[inlinkz_linkup id=705766 mode=1]