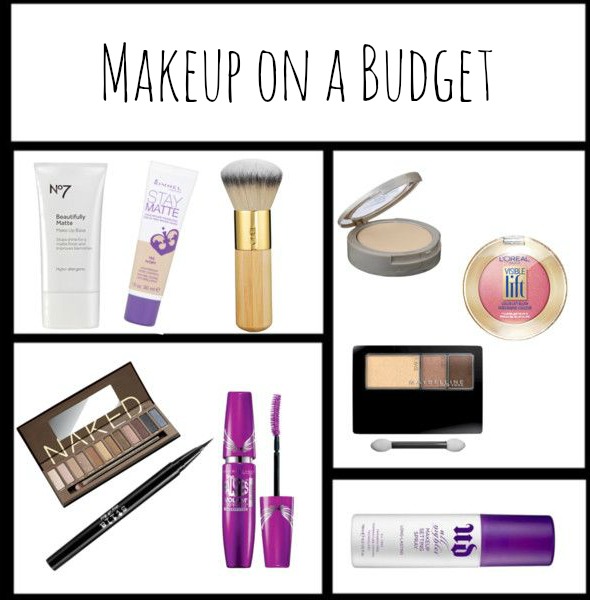 I shared this post as a guest post on Jewel's blog while she was traveling this summer, but decided it would be a good post to share on my blog as well! By the way, I hope you had a wonderful birthday Jewel!
What is a good makeup routine on a budget? This is a question my sister asked me earlier in the summer and then this past weekend when I came to visit her. She knows I love to shop at Sephora, but I've also learned to find a few drugstore makeup items I also love!
I feel very comfortable with my makeup routine now, and with just a few investments, my makeup routine has gone from 15-20 minutes down to 5-10 minutes (okay this can also depend on how awake I am in the mornings — coffee is a must)! Most of my picks are budget picks, but I will recommend that you spend a little more up front on a couple things because you will use them every day and they will LAST you a long time.
1. The first thing I would recommend is purchasing a primer. I have had a hard time in the past finding a primer that I didn't break out from or actually seemed to help keep my makeup on longer. I LOVE this one, even though it is a matte wear (when I usually prefer non-matte primers and foundations). It is affordable and a little bit goes a long way! It helps keep my foundation in place and looking less oily at the end of a work day.
2. A foundation brush – you NEED this if you want an amazing application of product in the least amount of time. While I don't mind applying foundation with my fingers, it just isn't the same as a brush. Plus, then you have to wash your hands and be careful with touching your clothes or other things around you. With my brush, I simply put some foundation on top, rub it in within 30 sec – a minute my foundation looks great. Even with redness, acne scars and new breakouts, my face looks 10x better when I apply with my brush. This is one of the most expensive products I will recommend, but it is worth it. At first, I didn't love how big the brush was, but the more I use it, the more I've gotten used to it and love how it leaves my skin looking.
3. Foundation – Well now you're wondering, what foundation do I use on this brush? I have been using this well-loved drug store foundation for over a month now. And I am ALSO in love. It is another matte foundation (not usually what I like to wear) but I actually love this one and it is great for the work week. Blends well, stays on well and gives great coverage without feeling like your makeup is caked on. I still love this drug-store foundation and use it when I want to achieve a more glowy look!
4. Finishing Powder – During the work week, I want my look to stay put and end up with the least amount of oil on my face at the end of the day (especially during the summer)! I always finish my foundation with a little bit of powder. I don't use a special brush for this because I am using very little and just want to set my look!
5. Blush helps intensify my look (aka makes me look awake) so using a little bit of powder blush over your powder on the apples of your cheeks. While Tarte will always be my number blush choice, I do like this drug-store blush in Pale Peach!
6. An eye shadow palette – this is another recommendation that is going to cost you more up front but is TOTALLY worth it. Eye shadow palettes allow you to create an overall makeup look, whether light and simple for work, or an extreme smokey eye for the weekend, without having to grab for multiple eye shadows and cluttering your counter. I have only used the first Naked Palette, but I totally love it and would buy it again. It makes my life so easy in the morning. I'm not sure if Naked 2 or Naked 3 would be better, but look at the colors. I love the first one because it has a dark gray and black color that I use on the weekends and plenty of highlight colors. Trust me I had never spent that much on an eye shadow palette before, but two years later I still use it every day. Plus, there are plenty of YouTube videos out there to show you how to master the palette!
Sometimes breaking up how much you use something in a month or even year helps me justify the price. If you don't feel comfortable spending that much, I also love these trios.
7. I think mascara and eyeliner can depend on your eyelashes and what you are comfortable with. I still haven't found a better drug-store mascara for me and I use a gel eyeliner because it usually stays better throughout the day (otherwise I'm wiping off black smudges when I use a pencil). I love the look a pencil gives for a smokey eye, but for precision and a great sleek look, teach yourself how to use gel or liquid liner! This is my favorite and what I taught myself using. Again, a little more expensive, but I think if you are teaching yourself, something with a better applicator and something that won't stick to your eyelids is the best idea!
8. Setting spray! If you want your makeup to last all day without touch ups, I would highly recommend a setting spray! (like hair spray for your hair) I have used and loved this setting spray. I have not tried any other makeup setting sprays, so if you have your own recommendations, let me know! You can purchase the travel size to get an idea of how it will work! And YES if you want your makeup to last as long as possible, I definitely recommend both a primer AND a setting spray. While these aren't necessary, you will see a noticeable difference in the appearance of your makeup at the end of the day if you use one or both.
If you have any questions or beauty post request, feel free to let me know! I love talking about beauty products and although I haven't been making as many YouTube videos as I want, I feel like that will be in the process soon! Just need some better lighting and mirror set up to do full makeup tutorials!