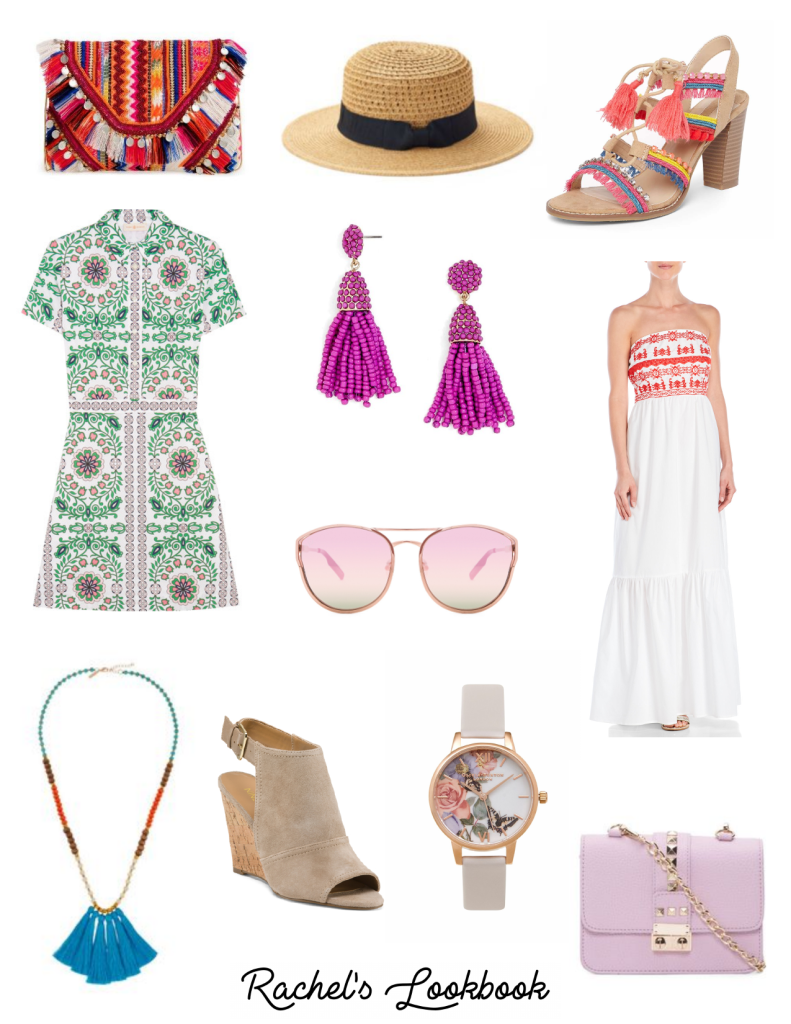 Clutch | Hat | Pom Pom Sandals | Printed Mini Dress | Earrings
Maxi Dress | Sunglasses | Beaded Tassel Necklace | Suede Peep Toe Pumps | Watch | Lavendar Crossbody Bag
Hey everyone! I cannot believe we are already into week two of May. This year is seriously flying – as I thought it would – but I am now only a week away from my first big product release at my new job as Product Marketing Manager and only eight weeks away from my little sister's wedding. To say the least, things are a bit more than crazy!
Unfortunately, due to my new job, my sister's wedding, my approaching wedding and my older sister having her first baby (I can't wait to meet my nephew), my time spent blogging has been sporadic and unfocused. I am going to give updates as often as I can, but I also know that this kind of year will truly be once in a lifetime and I want to savor every moment without worrying about dedicating every creative thought to this blog.
Though, truthfully spending time on this blog is exactly what I want to be doing all the time! I have so many ideas on what I want to share, from steals under $30 to wedding planning to pampering your pooch! Oh, and lots more travel content. OH, and content strategy/marketing as well as SEO for bloggers! This is a subject I'm super passionate about (considering it's been my full-time job for the past five years) and I love applying what I know to my blog. I would love to share tips as well as even start consulting those who would be interested in doing an SEO session with me.
Anyway, long story short, I have a lot I want to do this year here, but I'm afraid I just won't get to it all, and I'm perfectly okay with that. But who knows? Maybe I'll find the right balance soon! Hope you all have a wonderful week, and if you're like me… dreaming of some fun spring and summer pieces to update your wardrobe. Hello adorable pom pom sandals!
Shop the Post:
[inlinkz_linkup id=712795 mode=1]