I thought it would be good to do a quick recap of my family trip to Miami! I was very fortunate to be able to join my parents and two sisters for a week-long family vacation (we haven't had one in years). I helped plan and book the trip, finding the best flight deals and suggestions for things to do on TripAdvisor. I unfortunately didn't get any outfit photos or take very many photos aside from what you might have seen on Instagram, so here are a few of my photos and a bit more about my trip.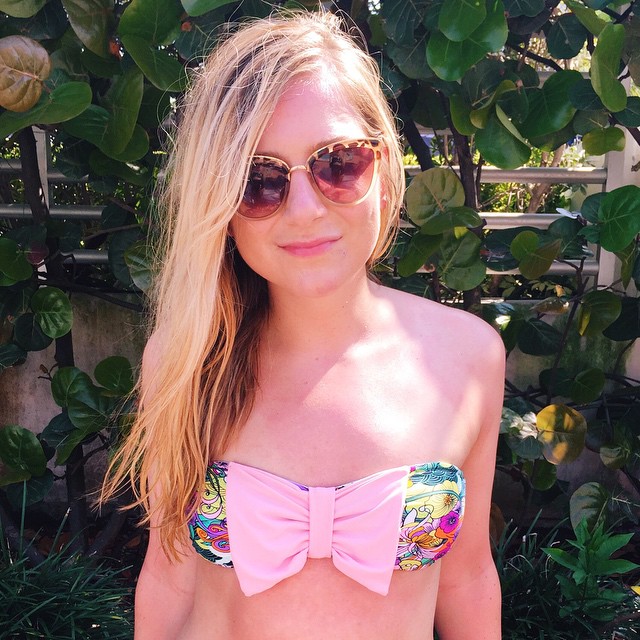 Swimsuit (Size Up), Oasap // Sunglasses, Local Miami Boutique (Similar)
This is my all time favorite swimsuit. I am in love with bows and love the unique floral pattern and I also love the way it fits me. The bottoms are a bit cheeky, but not too cheeky if you know what I mean! I also picked up this pair of sunglasses for $15 on my trip and absolutely love them!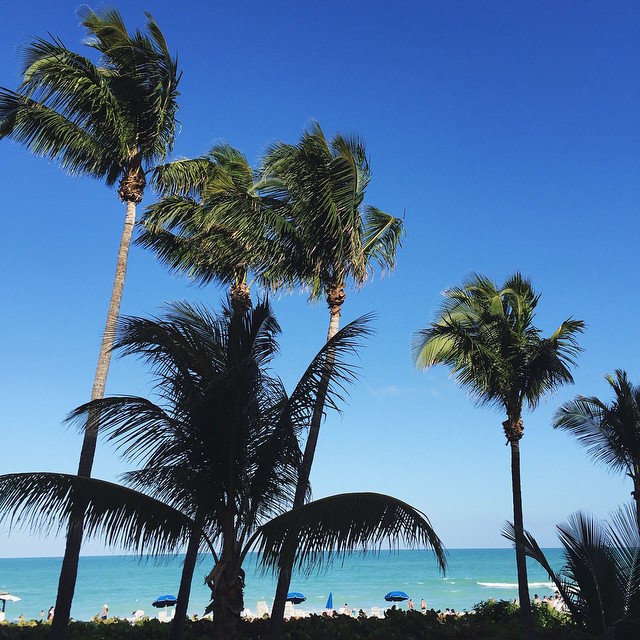 The view from our hotel! We rented a condo in the Alexander Hotel – the only pinkish hotel you will see lined up on Miami Beach! Staying further north from South Beach is great for a family vacation – there isn't quite as much chaos or craziness, but if I were going on a trip with friends I would definitely want to stay closer to the action. We had a lot of fun here and were able to book on HomeAway! I would highly recommend HomeAway for renting if you haven't before. It gave us two bedrooms, two bathrooms, a large family room, large dining area and very nice kitchen for the same price a small hotel room would have cost us.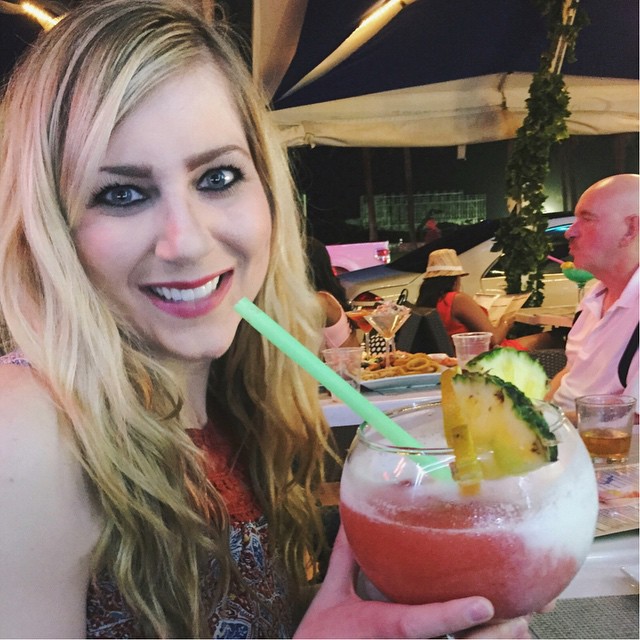 Dress, c/o Moddeals  (under $12!)
We arrived on Saturday night, so we decided to head straight to South Beach to see all the spring breakers. It was definitely a sight to see! We stopped at the Colony Hotel for dinner and drinks and ended up getting fancy fishbowl drinks – I like themes so I had to order the Miami Vice of course. Buyer beware, there are no prices on the menu and each drink was a whopping $45! At least we got a second drink in a to-go cup for "free" haha. Definitely worth it though, we had an amazing first night and our waiter was on a mission to get my family to head to the clubs a few doors down to dance the night away. His offer of peach schnapps shots were appreciated, but we ended up going home to watch TV instead of partying the night away (no worries – we took taxis the whole time we were there, so no one was driving).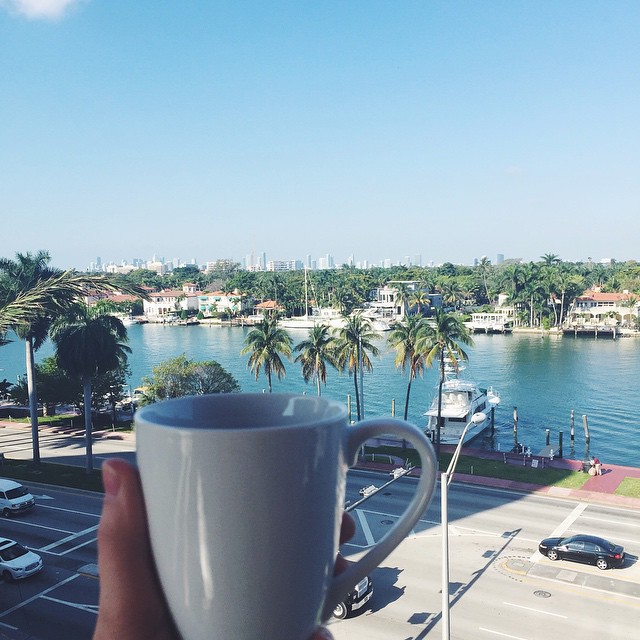 This was the view from our condo rental's balcony – it was big enough that you could see  the ocean when you walked down to the other side. I loved enjoying a cup of coffee here each morning and overlooking the palm trees and view of Miami's buildings.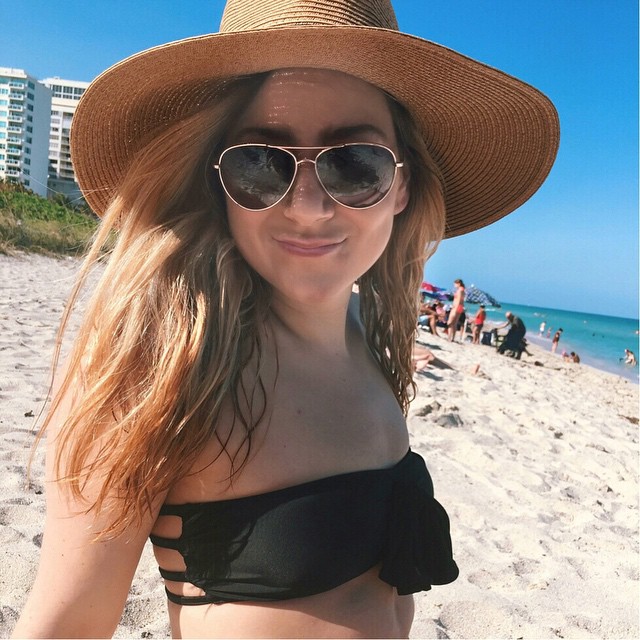 Swimsuit, Oasap (Size Up) // Hat, Borrowed from My Sister!
Here is a photo from our first full day on the beach! I should have washed this swimsuit beforehand – but didn't (the black straps left some marks on my back, but only until I showered). I love the style of the bow and edgy straps on the back. I actually paired it with different bottoms (not sure how I feel about the high-waisted vintage style on myself) but maybe I'll wear them together this summer.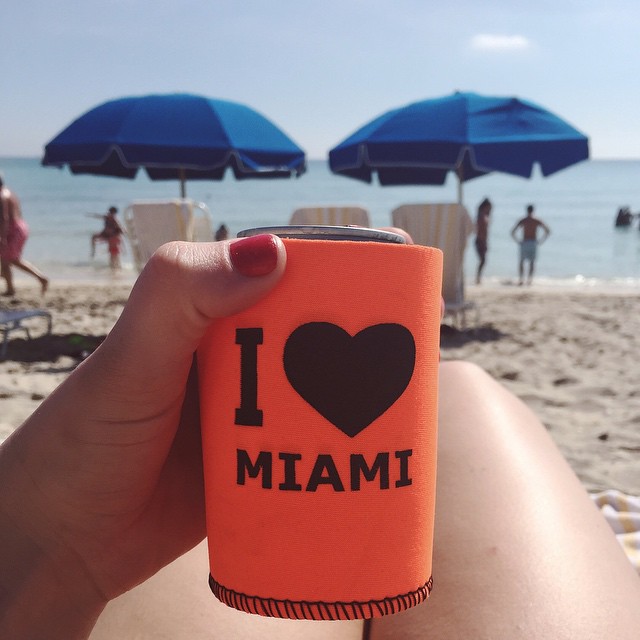 This is pretty much how every day was spent – sun and drinks in hand. Very relaxing vacation – that's for sure! My sisters and I purchased matching "corny" neon koozies!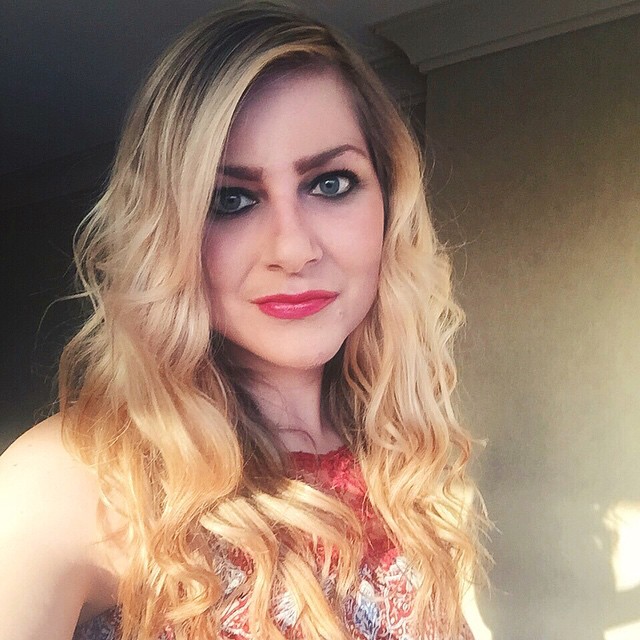 Dress, c/o Moddeals // Lipgloss // Liner // Mascara // Curling Iron
One more selfie from the trip – seemed to be a theme on my Instagram whoops. Oh well! This is also from our first night – wearing the maxi dress from Moddeals and tried to create some beachy waves – this is easily accomplished using a clipless wand that goes from thick to a slim profile. Also, this is probably silly – but I always feel better with just a bit of a tan so I was excited to apply makeup!
I wish I had more photos to share – I wish I would have taken some images of the delicious food we ate – especially off of Espanola Way. We ate at a delicious Italian restaurant and the scenery down there is just gorgeous. But honestly, when I'm on vacation, I like to be on vacation so the memories are in my mind rather than in photos! But yes, that's about it. It was wonderful and I really truly love Miaim – I hope to plan another trip back soon. It is the perfect mix of relaxing beach vacation and fun!