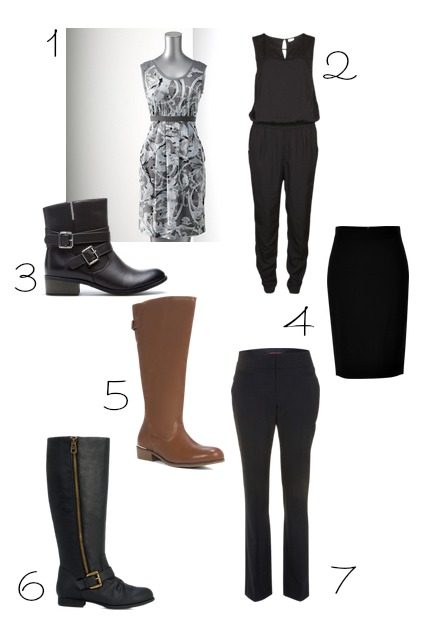 I didn't have very much of a plan for October, but I am happy with myself. As you can see, I got a lot of necessities (boots to get me through the winter, and a pair of black pants/black pencil skirt for work). And of course, a few great thrift finds! The above are representations of what my thrifted finds LOOK LIKE, but aren't actually images of them. Hopefully I can share them all in some outfit posts soon!
1. Simply Vera by Vera Wang Dress (Similar) – Kohl's $15.00 (Bought in store – couldn't find exact online)
2.  Black Jumpsuit (Not actual picture) – Thrifted via Goodwill $6.99
3. Cynthia Black Booties – ShoeDazzle $45.95 (Purchased when all boots and booties were $10 off) = $35.95
4. Black Pencil Skirt (Not actual pictured) – Thrifted Anne Klein via Goodwill $4.99
5. Raine Cognac Boots (Wide Calf) – JustFab $39.95
6. Irina Black Zipper Boots (Wide Calf) – JustFab $39.95
7. Blank Pinstripe Pants (Not actual pictured) – Thrifted Ann Taylor via Goodwill $6.99
Total: $149.82
I didn't set a budget this month, so I guess this isn't too bad! I am VERY happy with the wide leg boots from JustFab and have been wearing them nonstop. I also love my new thrifted skirt and work pants and have been switching back and forth between the two all week.
How did you do this month?
Linking up with Budgeting Bloggers, check it out!