The humble playsuit was born through necessity during World War II when women donned overalls to work in factories and on farms, and the prettiest were picked out to be photographed for propaganda. One such factory girl in overalls was Norma Jean Baker who would later become Marilyn Monroe, and the rest is a history that we keep revisiting.
The comfortable playsuit was melded into the uncomfortable but glamorous 1950s, adorned by the jet set and Hollywood starlets in very short flirty versions. But a proper girl only wore one on the beach or at the country club. In the 60s their comfort and simplicity made them a favorite with feminist, who rebelled by wearing them wherever they wanted, and in the 70s they got blinged up for the disco.
Recent trends in playsuits pay homage to several generations of the playsuit all at once. Here's a look at the modern jumpsuits and all its retro influences.
The Flirty Daysuit
Mysterious Pulse and the Angel Dance Playsuit channel the 50s socialites on the beaches of the South of France or around the pools of the Hampton. They might have been the choice of the svelte Grace Kelly with their pinched waist lines to show off her svelte torso. Kelly, the socialite, movie star and princess probably would have paired them with some flat canvas sailor's espadrilles for sailing and beach lazing.
These playsuits have used a true retro shape, the 50s playsuit, but more modern prints.
The Aviator Jumpsuit
In the late 1970s full length jumpsuits in silk prints or the new rayons hit the disco. They were particularly popular in off-the-shoulder versions or in deep plunging crossover V-necks (sans bra). At about this time Japanese couture designer Kenzo began to lead an Asian invasion in Paris, and light floral silk fabrics were huge.
Recent incarnations of the aviator jumpsuits are a little more practical and true to the original 1940s shape than these 70s and 80s floral disco versions but still use glamorous fabrics.  Talulah's Kindred Sun Jumpsuit, like the original aviator jumpsuit has functional tie and zips at the front but is made of pure silk. They can be worn as smart casual, for day or for night.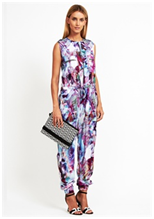 Full length jumpsuits are best with heels and can be accessorised with 70s disco, such as metallic stilettos sandals, large dangling earrings and lots of bangles. However, they can look equally as good with natural coloured accessories. With a blazer you may even be able to wear them to work.
The Day to Night Playsuit
The other update from the disco era is the crossover front which left a sexy plunging V-neck. Love IS Beautiful Playsuit uses a 70s inspired disco look on top half with a generous robe style sleeve but its bottom half is a short boxer that is more recent. The fabric is Asian floral inspired overlayed with a grunge 90s look. This kind of playsuit can now be worn day or night, beach or club.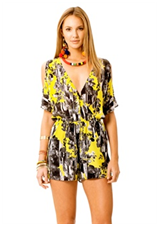 Another shortened disco blend is the Lustrious Light Playsuit with a kaftan feel to it and a romantic 40s flow. Again it can be for the beach or for the bar.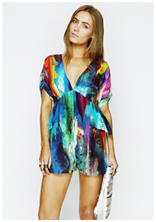 The Rebellious Playsuits
The playsuit kept reinvented itself as a short sporty version of fashion each summer right through the late 1960s. Feminist and fashion icons like Bridget Bardot and Jane Fonder took their playsuits off the beach and into the streets, sometimes wearing them with knee high boots. The Vibrant Grace Playsuit has the ultra-futuristic 60s feels, a mildly psychedelic fabric and super short carefree comfort that the Bardot and Fonder would have embraced.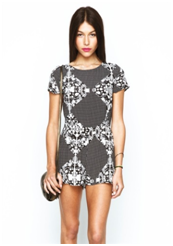 In the 1990s, fashioned turned on itself again, from 80s power dressing to 'too cool to care' grunge.  Androgynism was in and grunge princesses who dated the likes of Johnny Depp (think Wynona Rider and Kate Moss), wore loose boxy playsuits like Talulah's bold floral Enchanted Moment Playsuit which has a high vest-like V-neck tops and men's boxer like shorts. They paired them with their boyfriend's denim jacket and some second hand biker boots for a trans season look.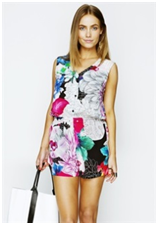 The thing about the playsuit is that it can be simple or accessorised, casual or glamorous, girly or sporty, and layered for cooler months (at least in mild Australian climates). It's has endless ideas and eras to blend. A couple of humble playsuits and lots of accessories is one of the best things you can throw in your vacation or among your wardrobe essentials.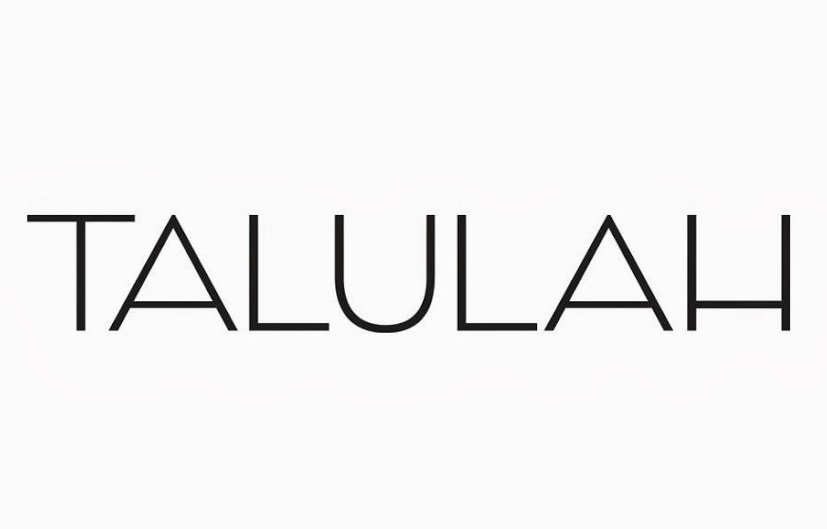 TALULAH and ISLA by TALULAH are both unique Australian Fashion brands. TALULAH's seasonal collections are feminine, bold and flirtatious. Find your individual style and with a designer playsuits. Follow TALULAH at Google+ or visit www.talulah.com.au.
*This guest post is brought to you by Talulah. All opinions, as always, are 100% my own.