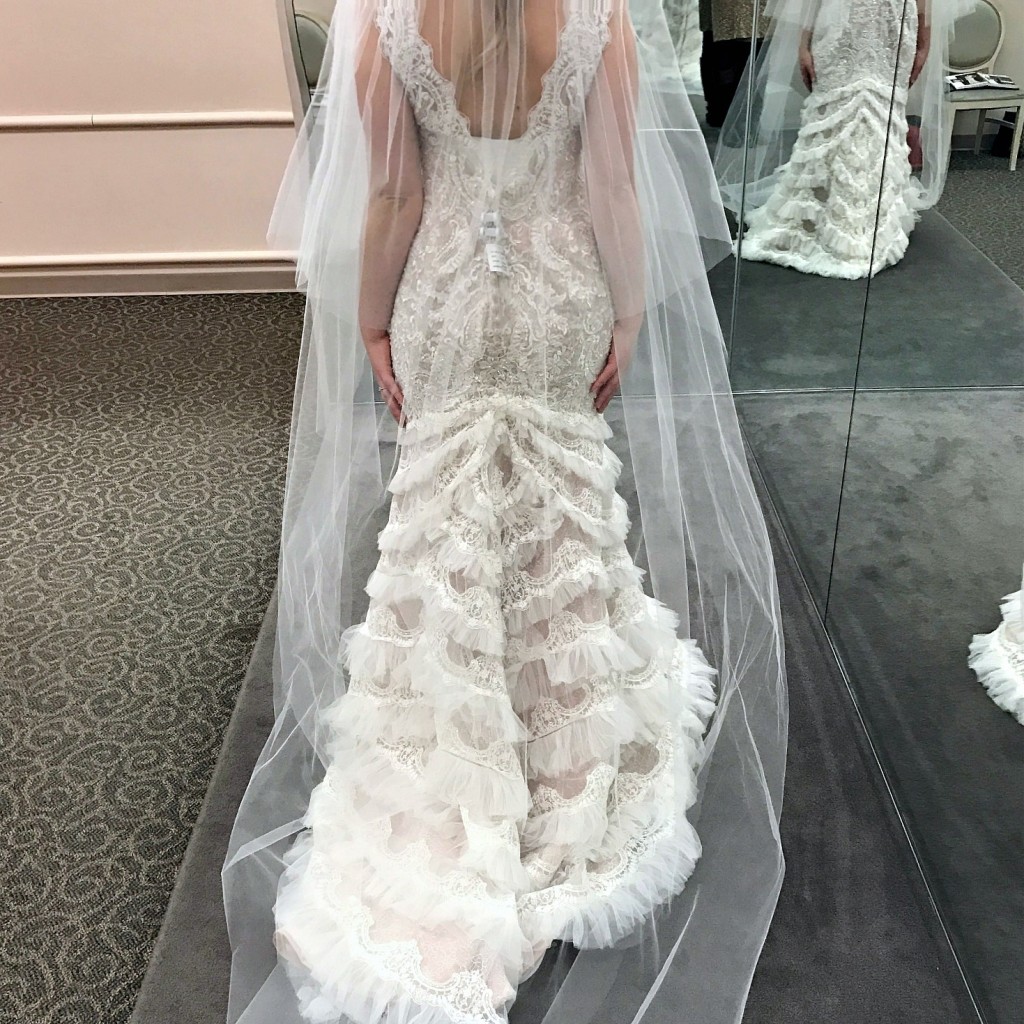 This post is sponsored by David's Bridal.
I've been to David's Bridal a few times before for various weddings, but this was my first experience as a bride. I was pleasantly surprised by the variety of bridesmaid dresses and selection of wedding dresses when my little sister and I first walked into the store. Living in Minneapolis, there are a few locations around the Twin Cities, but we ended up at the Richfield location – which is perfectly located just five minutes away from my sister's apartment.
I've been to a few wedding dress appointments prior to going to David's Bridal so I had an idea of what to expect.
Yet again, I was pleasantly surprised with how low key the appointment was, yet they were very prepared and attentive. It can be a very nerve-wracking and stressful situation to try on multiple bridal gowns and have an audience along with a consultant giving you feedback and asking so many questions. But never once did I feel stressed, pressured, rushed or a nuisance. It was like I was in my own apartment trying on clothes in front of my sister and asking her opinion on what outfit she liked best. And in my opinion – that's exactly how a wedding dress appointment should be! Stress-free, fun and comfortable.
At first, the managers came and introduced themselves and wanted to make sure we had a good experience. Then my consultant took us back to the dressing room and got my measurements so that I could try on dresses that actually fit me. That was one of the best parts about trying on dresses at David's Bridal – the fact that they carry so many different sizes so you actually get a sense of what it will feel like to have a dress that's made for you.
The consultant brought me the bridal book after explaining what type of style I was looking for, which to be honest, is basically anything and everything. I would really to highlight my curves, so I tend to opt for mermaid style dresses, but I was basically an open book!
She selected a ball gown, a mermaid style gown and then my little sister picked out a very unique, beautiful blush A-line dress with straps.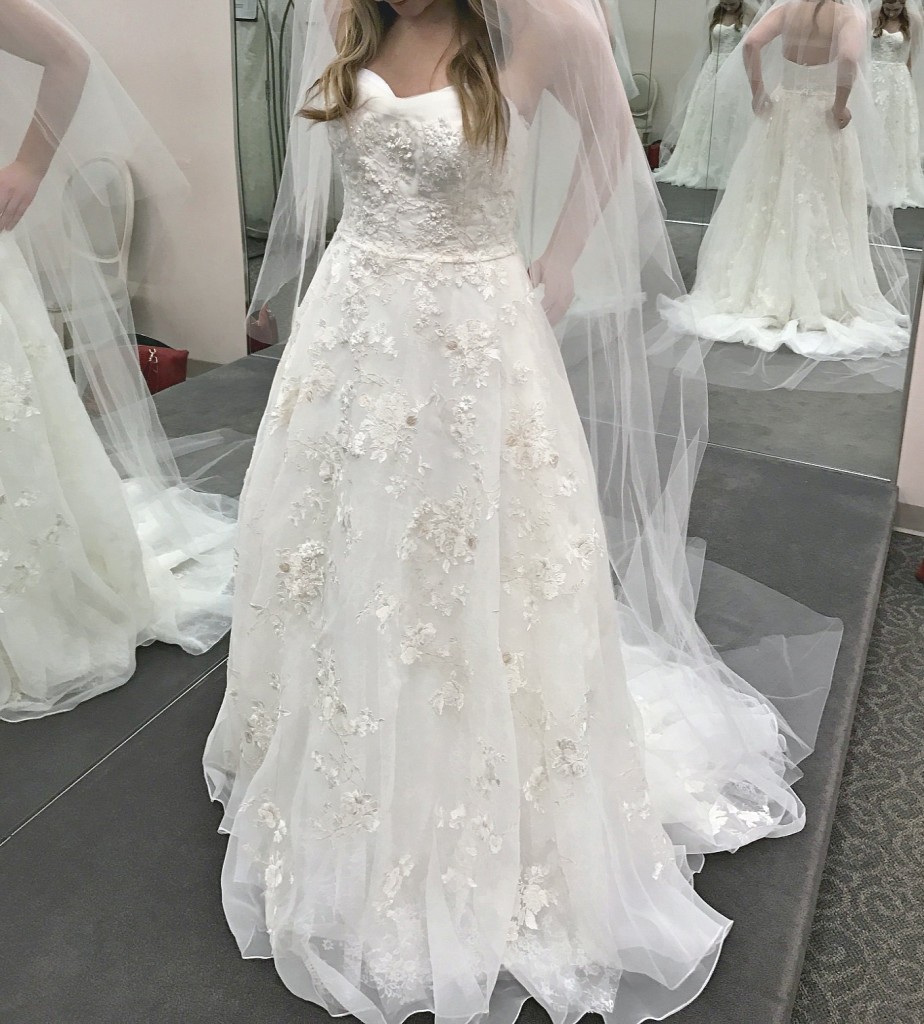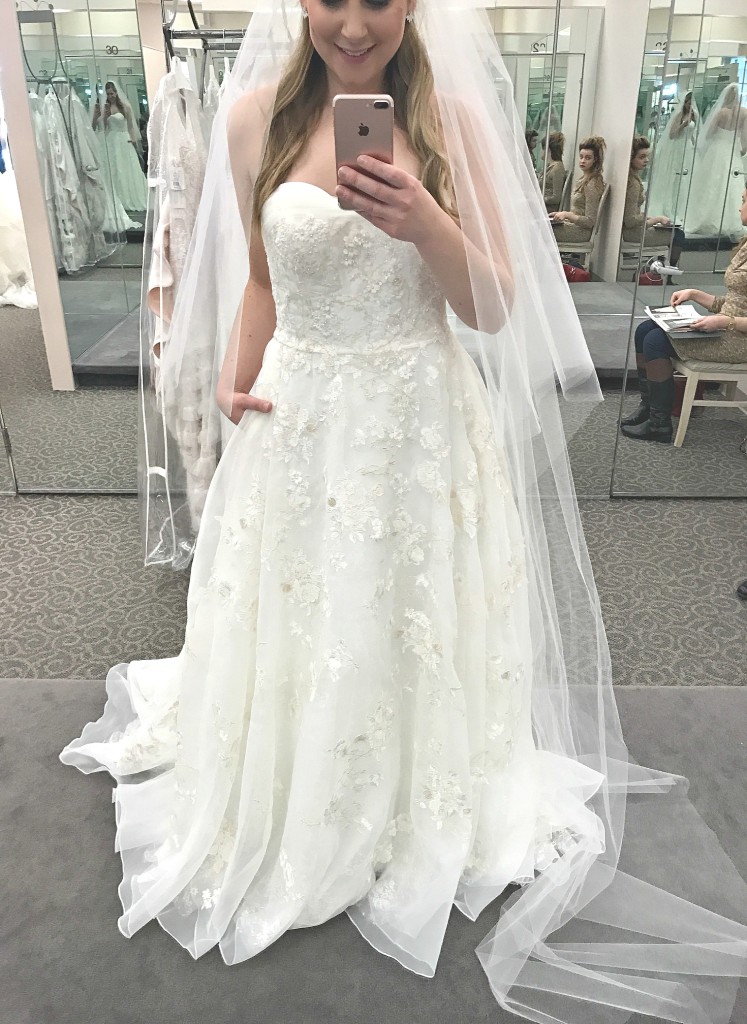 I loved the detailing on the ball gown. It was intricate and had layers of different fabrics to build an overall gorgeous gown. The best part? POCKETS! Yes, I think that would come in pretty handy during the reception to have a place to keep my phone. The consultant grabbed a gorgeous cathedral-length veil so I could see exactly what the whole ensemble would look like.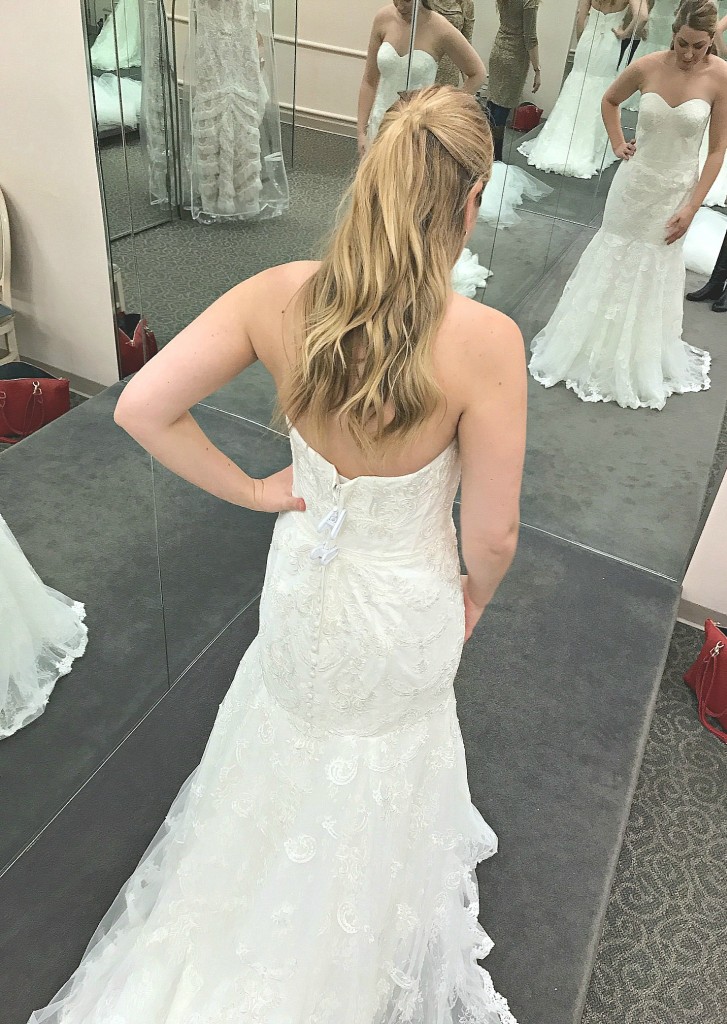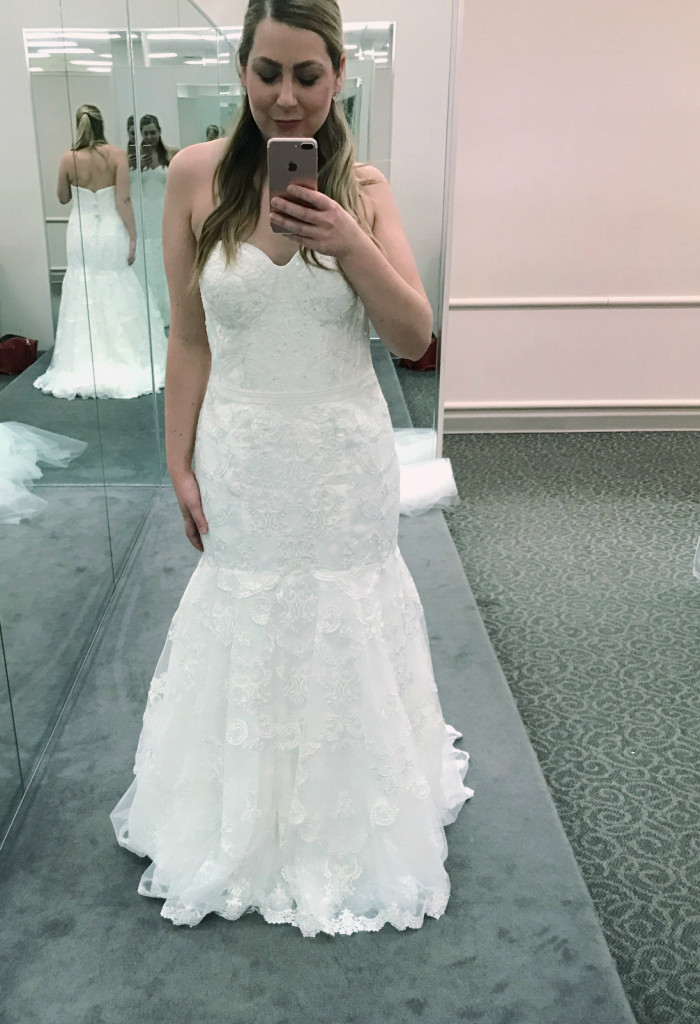 The next gown I tried on was a beautiful mermaid style gown. It had the same type of layering as the ball gown, but definitely emphasized my curves. I definitely loved the detailing on the dress and the way the dress fit me.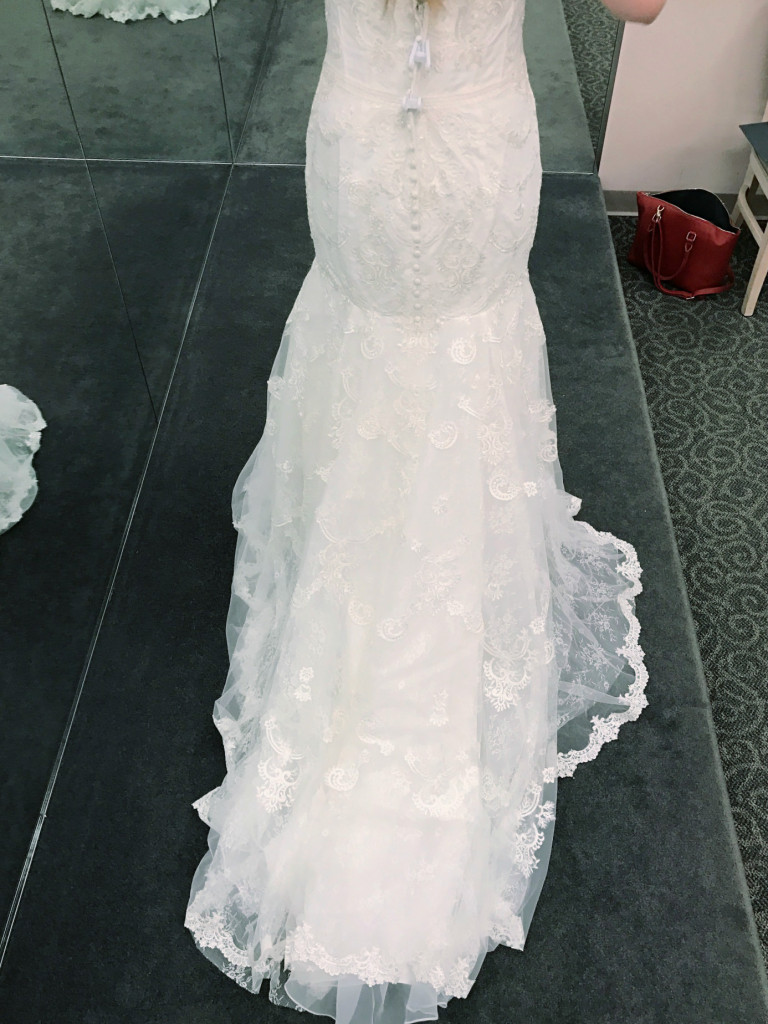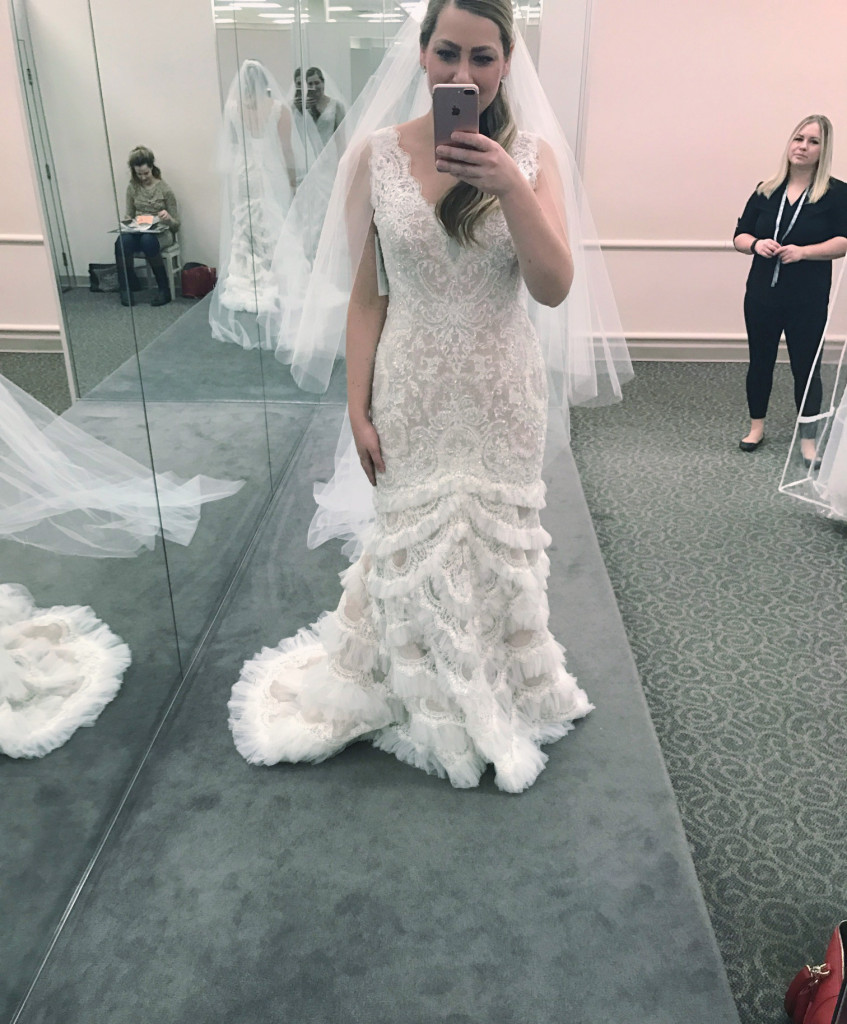 But then, the final dress (and of course the one my sister chose for me to try on) was a blush lace dress with tulle ruffles on the bottom. I absolutely fell in love! I would have never imagined that I would love this dress on me, but it had all the elements I love: ruffles, variation in fabric (lace/tulle), emphasized my curves and most importantly made me feel amazing about myself!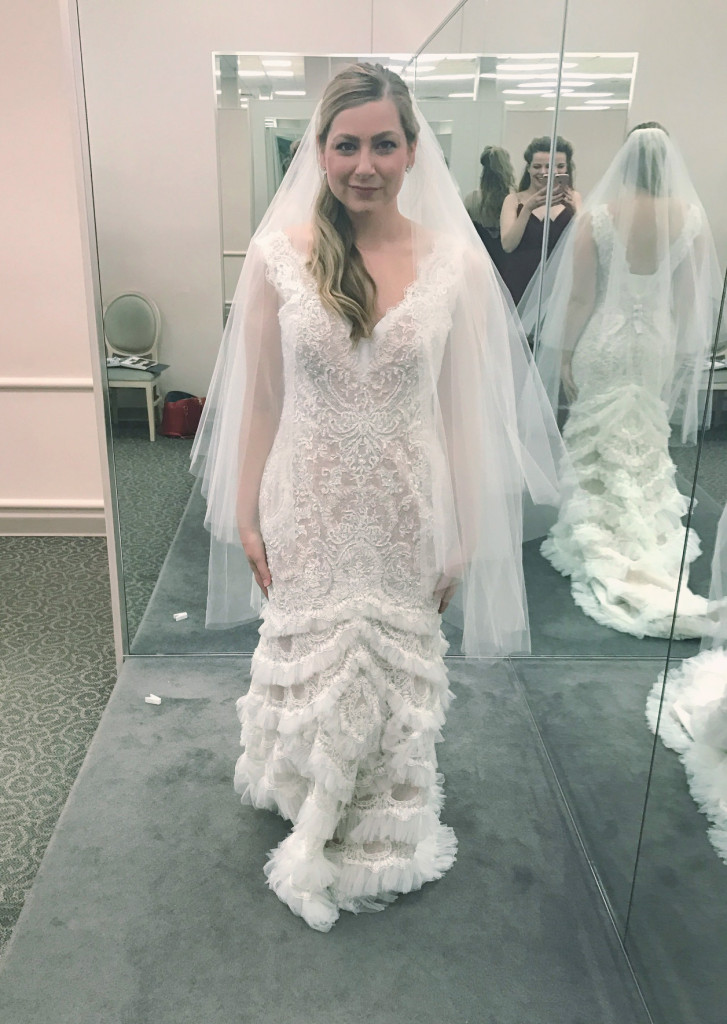 I really loved this one best out of all the dresses I tried on, so the consultant grabbed a different veil to accent the dress in the best possible way. I forget the name of the veil, but it was perfect with the dress.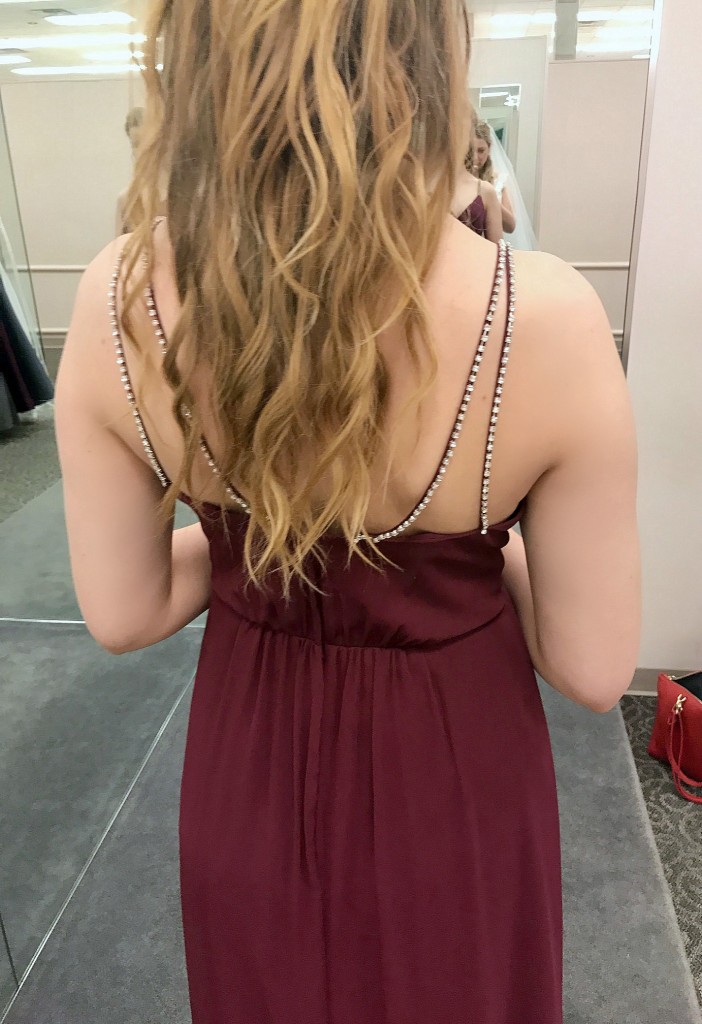 I then had my little sister try on some bridesmaid dresses. I am planning on floor-length dresses for all of my bridesmaids and hoping to find them in a cranberry color. David's Bridal had a large selection of dresses and three colors that worked well with our gray and cranberry theme. The color "wine" was closest to our match so Kaitlyn tried on a couple dresses and looked absolutely stunning! I love the details on the second dress – double straps with rhinestones. I loved it!
After changing back into our regular clothes, we explored the rest of the bridesmaid dresses and headed over to the accessories section. From clutches and shoes to veils and hair clips – they had absolutely anything and everything you could imagine to accessory for your big day. They even had Mr. & Mrs. flip flops for those honeymooning on the beach! Kaitlyn and I got pretty excited to hear that the shoes were buy one get one half off, so I found two pairs of shoes for Kaitlyn's wedding and a pair of wedges I can change into at my wedding. I also found a fabulous pair of open-toe, metallic heels for Miami. Because I need new shoes for all wedding activities (yeah, I can seriously talk myself into all reasons for "needing" new shoes). Kaitlyn found two pairs herself, so at the end of the appointment, I felt like I had a great idea of my favorite styles of wedding dresses, potential bridesmaid dresses and five new pairs of shoes for my sister and I. Now that's what I call success!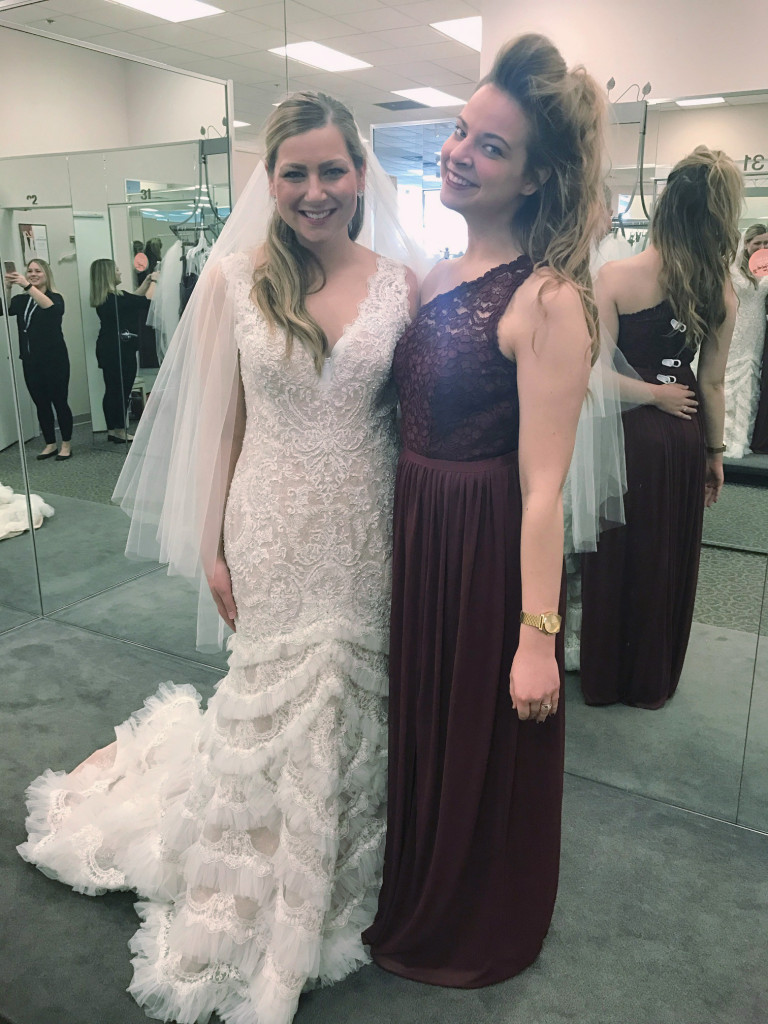 If you are looking to find a place where you can relax and have some fun to try on wedding dresses and bridesmaids dresses, I would definitely recommend David's Bridal after my experience. You can book an appointment here! Don't know where your local David's Bridal is? Find it in the store locator here. I can't wait to finalize the complete wedding look and share it with you all! Have you been to David's Bridal? Tell me about your experience below!
This post is sponsored by David's Bridal. Thank you for supporting the brands that support Rachel's Lookbook!
Save