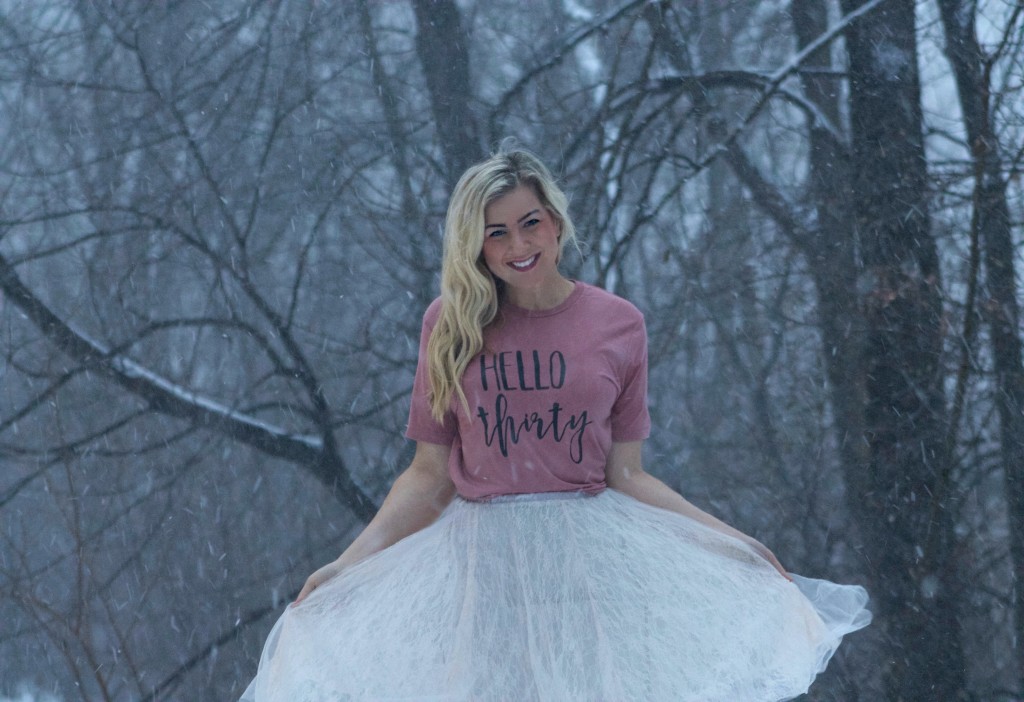 Today I am 30! I cannot believe it! This is one of those birthdays you start thinking about long before it ever comes. And yet, here it is! While I've had my fair share of uncertainty and fear about turning 30, it is here and I'm so excited to embrace it. There is this general fear (for many people) about turning thirty. And I think it's a combination of many things. There is unknown territory. There is no expectation of what 30 should look like or be. There's a misconception that turning 30 makes you "old". In contrast, when I entered my twenties; I was still in college. I knew what to expect for at least the next couple of years.
Outfit Details
"Hello Thirty" T-Shirt: Etsy (EXACT) | Similar Skirt c/o Chicwish (Similar, Similar, Similar) | Matte Lips, #49 in Plum, c/o Burberry (EXACT)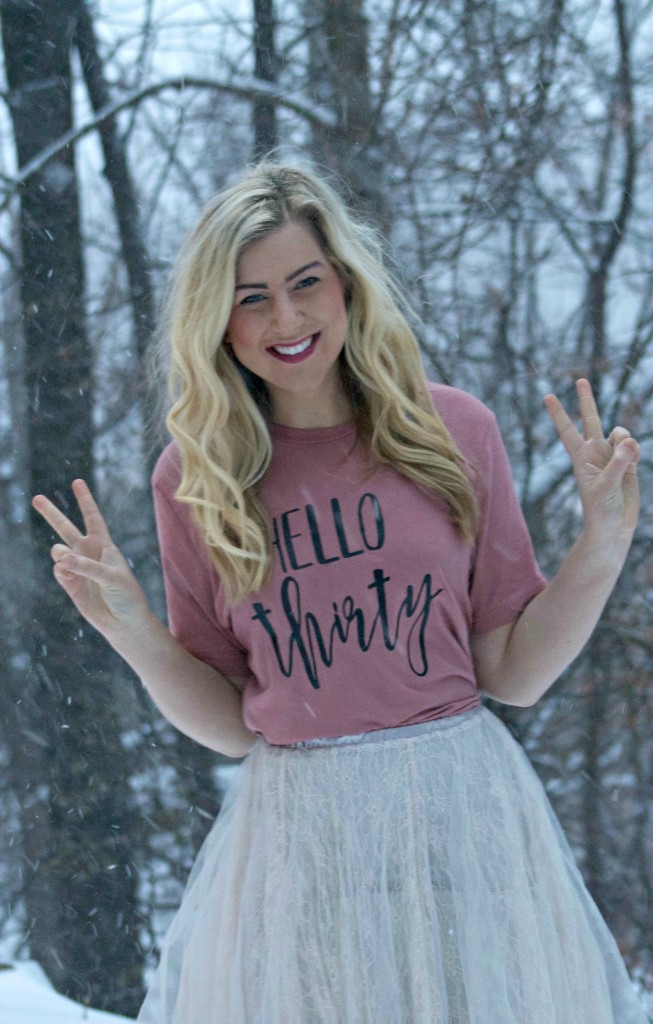 To be honest, there's nothing I'm more excited for than this new decade. I've only heard amazing things about it. Not to mention, if I had so many wonderful things happen in my 20's, I can only expect to have just as many amazing things happen in my 30's.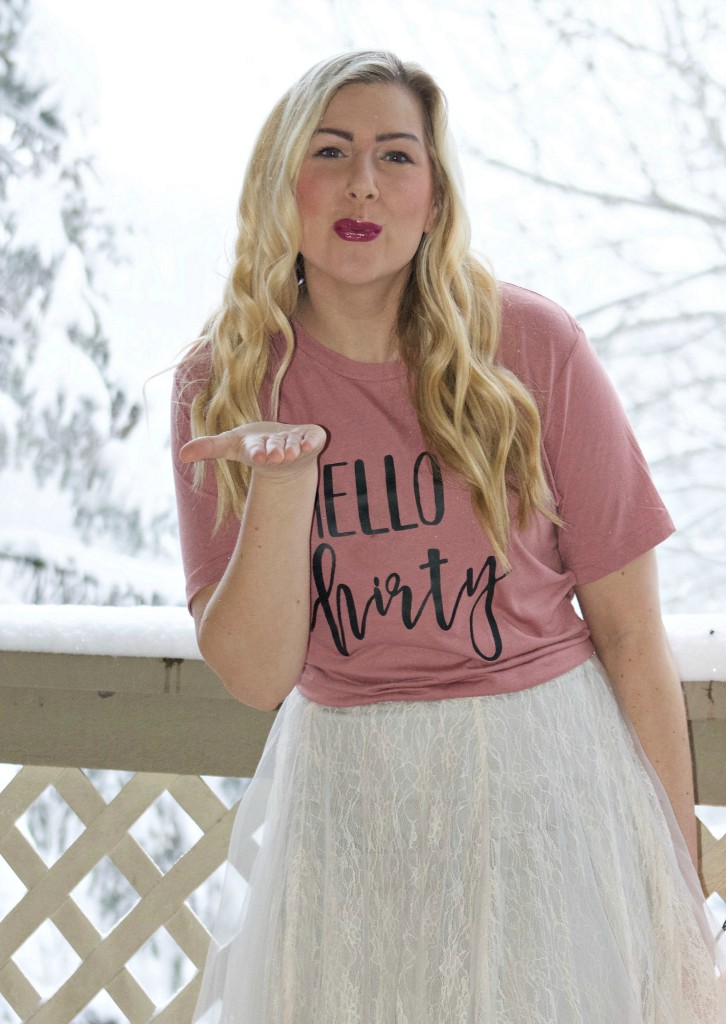 While my 20's brought heartbreak, doubt, and confusion,  they also brought a new view on life, a new home in Minneapolis, a new pair of arms to comfort me (my now husband), many new friends, new experiences, my engagement, my husband – and so much more. The only thing I would change is the fear I had in my 20's. Last year, on my 29th birthday, I mentioned courage being my word and focus for the year. And I want to continue to that theme as I turn 30 – and into my 30's.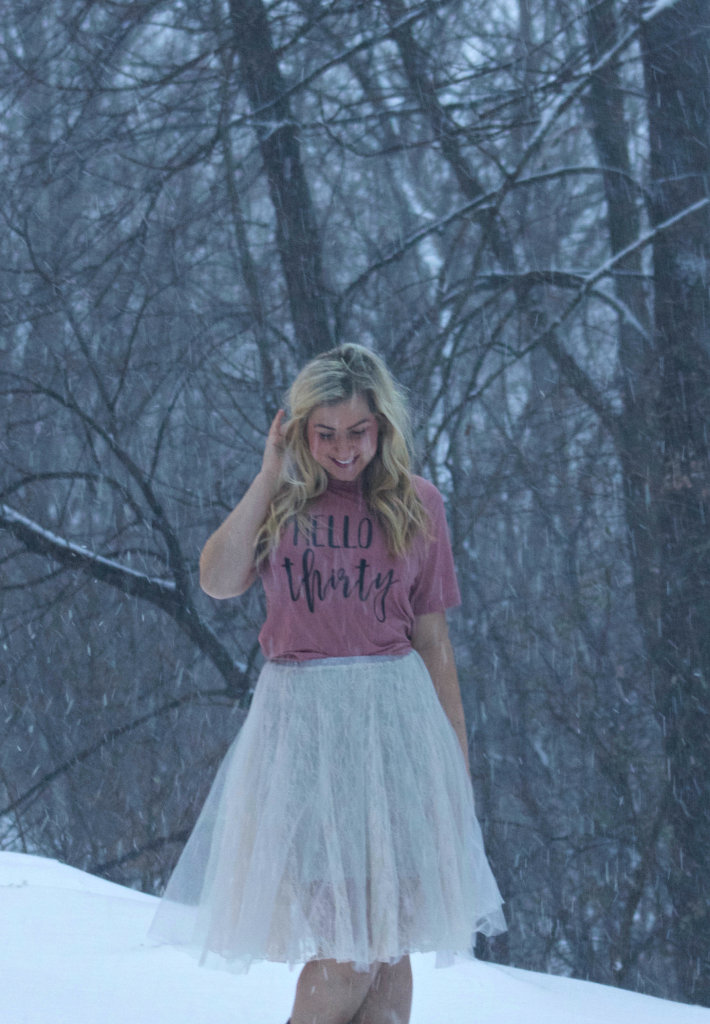 In my 20's it was about being secure. Which meant, no risks. No courage. And a lot of fear.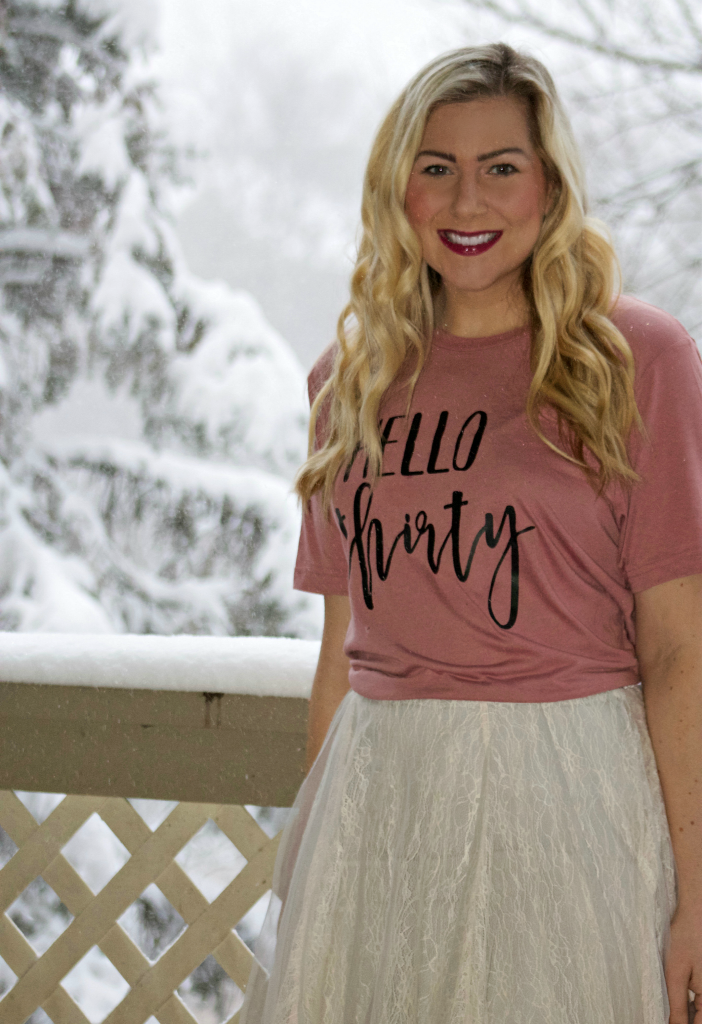 I'm ready to be who I was meant to be. On a mission to be what I'm destined to be (name that song…). Ready to take on this new decade as a grown, ambitious, and unfearful woman. And that's exactly what I intend on doing. Being 30 and f*ckin' fabulous my friends. I'm ready to take on this new decade, hand in hand with my husband, my friends, and family!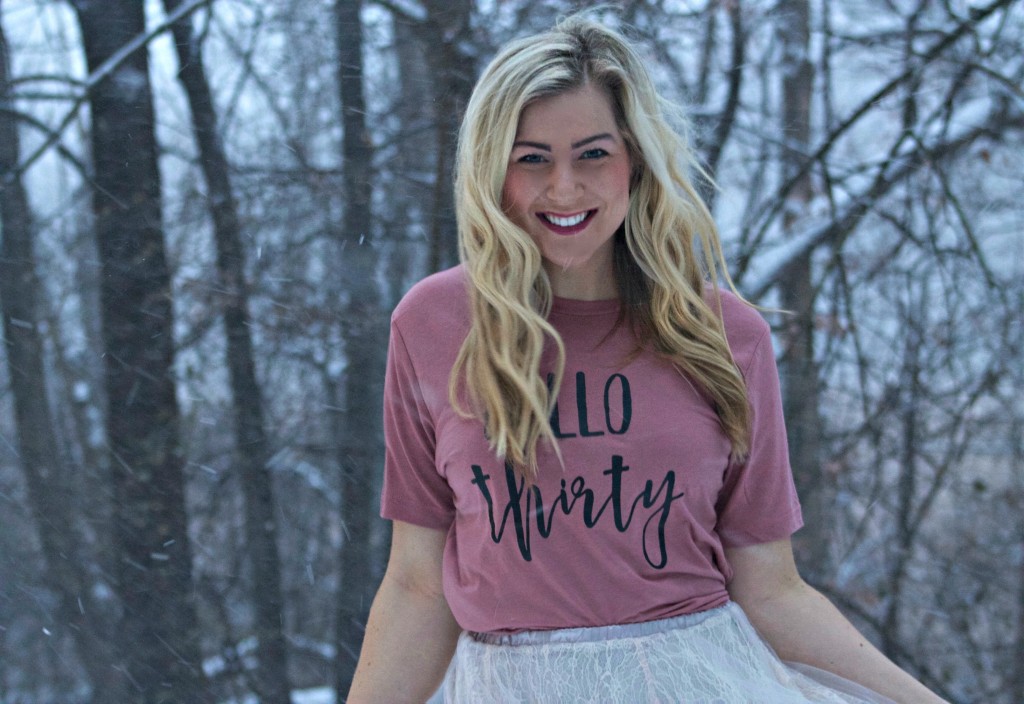 And as a reminder, age is just a number. So while I pronounce my age this weekend, it truly means nothing. You are fabulous, I am going to try to be fabulous, and we have a lot of fabulous things to accomplish this year. Cheers to a new decade and BRING IT ON 30's! I'm ready for you.
P.S. If you are wondering how I handled taking pictures in a short sleeve shirt during a blizzard – well – I was born during a blizzard on January 26, 1988 in Iowa. Since then, blizzards and I just get along (sometimes). 🙂
P. P. S. In case you didn't know, I used to write poems all the time and still enjoy writing cheesy, rhyming poems. So here's my poem about turning 30:
My 30th Birthday Poem
Today I enter a new decade,
But my past memories will never fade.
At thirty years old,
The future is full of new memories to hold.
I am ready and I am here.
No more uncertainty, no more fear.
Hello thirty, hello to this new endeavor,
I look forward to what's coming today & forever…
Shop the Post
"Hello Thirty" T-Shirt: Etsy (EXACT) | Similar Skirt c/o Chicwish (Similar, Similar, Similar)  | Matte Lips, #49 in Plum, c/o Burberry (EXACT)