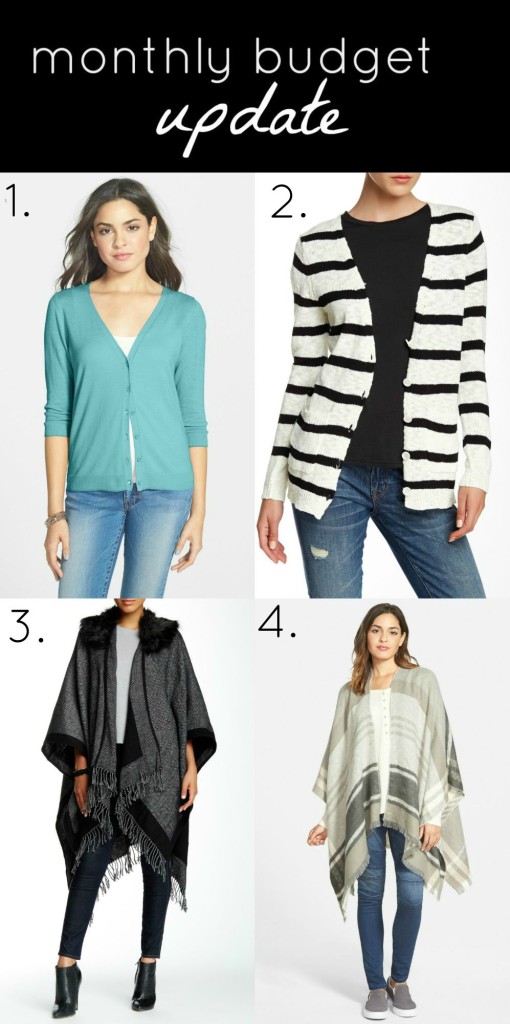 1. Cardigan – Nordstrom Rack, Frenchi $9.97
2. Striped Cardigan – Nordstrom Rack, Abound $24.97
3. Faux Fur Trim Poncho – Nordstrom Rack, Cakes & Roses $36.97
4. Reversible Poncho – Nordstrom Rack $14.97
Total: $102.78
This month I was really excited about the cardigans at Nordstrom Rack, but then went back to check out the ponchos. I saw this faux fur trim poncho (also comes in a brown color) the first time I made an order on Nordstrom Rack this month, and had to go back to get it. I couldn't remember the exact brand, so I searched all ponchos, which is how I ended up with a second poncho. I couldn't say not for $14.97! These pieces will be great for fall and winter, especially now working in a casual work environment.
I'm not going to lie, ponchos might be my problem child this fall and winters, as I also have my eye on this one and this too. I am fairly happy with the amount I spent this month, but still feel like I have no closet game plan. I swear I've been saying this for the last three years (probably because I have), but I need to have more of a plan when it comes to shopping. While I did need cardigans to help mix up and diversify my work wardrobe, I certainly didn't need two ponchos (although they are pretty, right)? I want to be able to fund purchases I actually want, and will actually use for years to come. I'm adjusting my budget overall and going to start automatically placing money in different savings accounts. I have a separate savings for travel and for a future house down payment, but I think it is time to open one where I can place blog money, PoshMark earnings, and just a little bit from each paycheck and actually buy more of what I want. I'm definitely feeling better about my closet and what's in it (significantly reduced since this incident), but still have a lot of work to make it what I want it to be!
On that note, we are officially moving again (third year in a row – YAY) but for real yay. I hate moving, but this will be worth it and this should be the last move before something more "permanent"- and perhaps it will give me yet another opportunity to donate some of the items that haven't had any love since the last move.
How did you do this month? Did you find any must-haves for the upcoming fall and winter seasons?
See last month's budget post here.
Linking up with Budgeting Bloggers