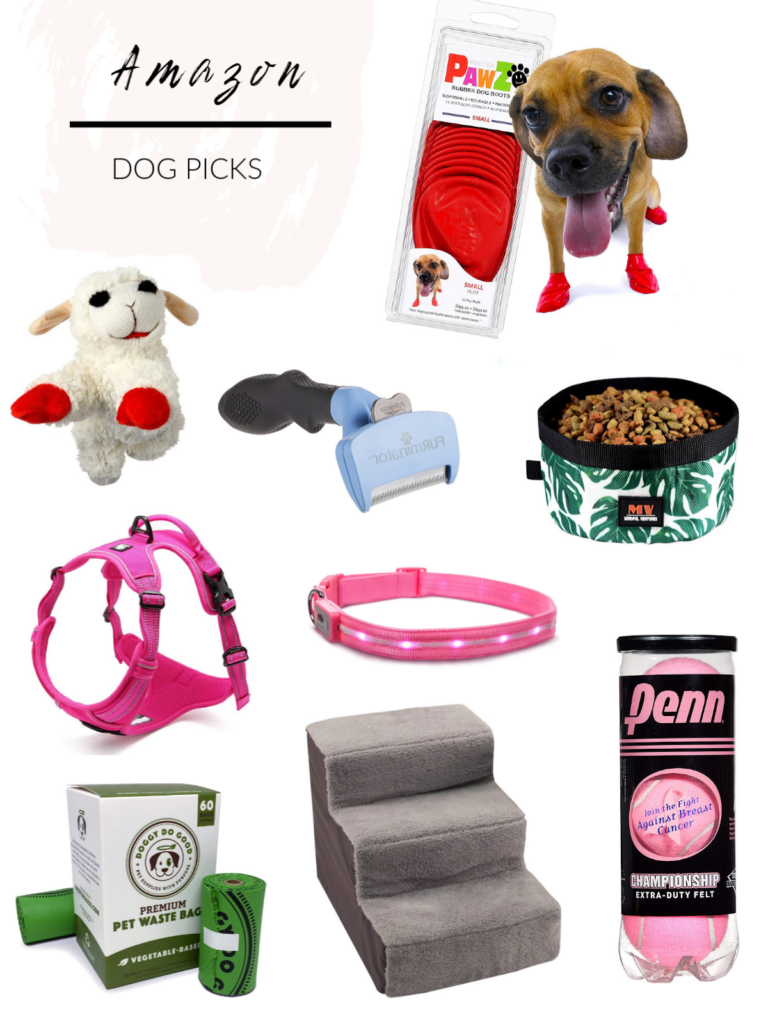 Shop the Post
Pawz Dog Boots | Mini Lamb Chop Toy (Pack of 2) | Furminator Deshedding Hair Brush | Portable Dog Water & Food Bowls – Palm Print | Outdoor Dog Harness | Blazin' Safety LED Dog Collar | Vegetable-Based, Biodegradable Poop Bags | Dog Stairs | Pink Tennis Balls
Emma certainly isn't a stranger to her favorite items coming in the mail. Many online orders, especially from Amazon, come with something she loves (or a few of my picks that she hates but it's good for her, like DOG BOOTS). Today, I wanted to share these because whether you are a new dog owner or looking for something helpful that's dog-related, these items have been amazing for us! For reference, Emma is a miniature Australian Shepherd, roughly around 17 or 18 pounds. Australian Shepherds have double coats, an outside layer for weather protection and an inside layer for insulation.
Pawz Dog Boots
For the first few years we had Emma, we STRUGGLED hard with finding the right pair of dog booties to use when it was too cold or below zero. Using dog booties is SO important if you live in a colder climate. We haven't had to use them as often in Boston, however, they come in just as handy for the rain. We tried a few pairs before discovering Pawz and haven't looked back. These are basically like little rubber balloons (but more sturdy) that you stretch to fit over your dog's paws. They come in different sizes, so be sure to get the right size for your pet. These stay ON and protect your fur baby's paws. Emma used to be able to figure out how to hover in the snow and jump out of her other velcro booties, so I am SO thankful we found these when we did. They are fairly easy to get on after a few times of practicing. You can also reuse them more than once. Depending on salt content in your area, you can probably get 4 to 5 uses out of them before needing a new pair. Each pack comes with 12, so 3 sets of dog booties. We also now use them for the rain! Emma hates being outside in the rain and this actually helps her out when she's going to the bathroom. It also is helpful to keep our place clean and not have her running around with wet paws and much simpler than using a towel to dry off her paws.
Mini Lamb Chop Toy (Pack of 2)
Emma really loves ALL of her toys, but she always comes back to her sheep toy, the Mini Lamb Chop. We call the toy "sheep" or "sheepy" and she knows exactly which toy we are talking about and will go get it to play fetch. The mini ones are the perfect size for her (she's about 18 lb). This is a toy we often replace because she will eventually tear the toy open and pull out the stuffing. That's why I like to get the two-pack! One usually lasts her a few months, during the period we deem she is "being nice" to her toy. Then she goes for the kill 🙂
Furminator Deshedding Hair Brush
As I mentioned in the intro, Emma has a double coat and she absolutely sheds. She has two major shedding seasons, the fall, and the spring, like most other double-coated dogs. They are shedding their heavier undercoat before spring to make way for a lighter coat and shed their lighter undercoat in the fall to make way for a heavier coat. As your pup might be right now, Emma is currently shedding like crazy! The Furminator is so helpful because it makes it simple to brush through just once to help alleviate some of the shedding. Just be careful to not OVERUSE it or you can create bald spots. Once a day, use the brush over the coat. This brush to me is the equivalent of the Wet Brush for my hair – it is so worth it!
Portable Dog Water & Food Bowls – Palm Print
I cannot emphasize how important it is to have multiple bowls/dishes on hand if you are active with your dog as we are. Between going to the beach, on hikes, long walks and taking her with us whenever we can – breweries, vacation, etc., portable water and food dishes are where it's at. I love these because they are so easy to fold up conveniently and can work for both water (they are waterproof) or dog food. Plus, the palm pattern is wicked cute, right?! They are also non-toxic (SO important, I never used to pay attention to this) and have a convenient clip to attach to the leash, your belt loop, purse, etc. I can't tell you the number of times we previously had to figure out some sort of dish to get her water, but now we keep a set in the car and I keep some in my purse because YES she is with us that often 🙂
Outdoor Dog Harness
This harness is extremely easy to put on and has some nice soft sponge cushioning and breathable with light-weight mesh. This makes it the perfect year-round harness when we are taking Emma to the beach and on long walks – whether it's 25 or 80 degrees out!
Blazin' Safety LED Dog Collar
Not only is Emma stylin' in this adorable pink collar (it comes in 10 colors overall), it is also SO important if you walk or take your dog out when it's dark. There are three LED light settings and it is rechargeable. I usually just have it on the first setting where the entire collar lights up, where it stays on, but sometimes use the blinking lights if we are in a more heavily trafficked or busy area. This collar has been amazing and makes me feel better taking Emma out! I've turned into the person that yells at cars to slow down, but it is crazy how quickly people drive on side roads where there are lots of children and dogs. Keep your fur babies safe with an LED-lit collar! As you might be able to tell, Emma loves pink 😉
Vegetable-Based, Biodegradable Poop Bags
These are the perfect bags and I swear it is not so unpleasant to use these to pick up after your dog! I've used other bags that are too thin, and yes, that is very important as a dog owner. These are a bit more pricey, but you can feel good using these biodegradable poop bags. They are also super easy to tear apart, unlike some other bags I've used in the past. They are also leak-proof and you know that's important!
Dog Stairs
I honestly wish this was something we got her way sooner in life, but I'm so glad we have them now. Sometimes she is a sassy pants and chooses not to use them when we say "stairs" but overall she uses them to get into bed with us and thank goodness! She is turning eight this spring and while she still has a ton of energy and life in her, her legs just aren't like they used to be. These stairs have worked well for us. They can be a bit of a pain to travel with since they don't fold down, but they do have a convenient handle on the back. That way you can also move them to the living room if you want them for your couch as well. Also, for the price and the fact they also are aesthetically pleasing (gray goes with everything), I am so happy with this set. There are a lot of other sets available on Amazon that I'm sure are also great, but linking to the exact set we use.
Pink Tennis Balls
Hands down, our dog is a fetch dog. If your dog is a fetch dog then you know what I'm talking about when I say she would literally kill herself playing fetch, she won't stop until you make her stop! She will also play fetch with anything AND everything – her mini Lamb Chop mentioned above, sticks, but her favorite toy to play fetch with is a tennis ball. We like to have a pack or two on hand to play fetch with her when we have a chance at a local dog park or for playing tennis because we do like to play tennis as well 🙂
What are your must-have dog items from Amazon? Or in general?! Let me know in the comments below!