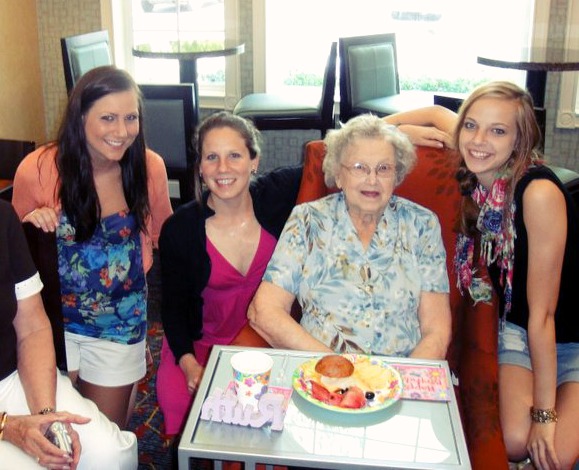 I have debated whether or not I wanted to write down these thoughts and share them on my blog.  I am typically a positive person who loves to inspire and spread positive thoughts and attitudes if and when I can. With that said, I usually only share happy moments, celebrations and all the joy fashion brings me on my blog because that's why I started it.  But today I am choosing to take a break from the blog's purpose to share the parts of life that happen and just plain suck.
Today I am grieving the loss of an amazing woman I was lucky enough to be the granddaughter of. My grandma passed away last night and although my family knew it was coming, it certainly hasn't made things easier.  My grandmother was such an incredibly beautiful woman (inside and out),  with a great sense of humor and strong work ethic.  She raised seven children… Six of them boys, and knowing my uncles, I can tell you that was no easy task.  My mother is a spitting image of her, both in her beauty and personality, and I have to say that has made her passing even harder.
As much as it is painful to deal with losing someone you are close to, it is also painful to know how much the people you love are also hurting because of the loss.  Thinking about my cousins, uncles, sisters, mother… makes it hurt even more.  And although death is a part of life and I know she is no longer suffering, it is still hard.  When my mom's dad passed away six years ago I was in and out of tears for days, even started bawling during the middle of one of my high school classes.  I am a cry baby as is, so my tears are unpredictable.  No matter how much I have tried today to focus on other things, my mind keeps coming back to the sadness.  That's why I decided to write this and share with you.  Everyone at some point experiences the loss of friends, family or people they love and it will never be easy.  Today, I didn't want to post a normal post and pretend everything is okay.  I will be okay, but today (and this week), along with the rest of my family, I need to grieve this loss.  I love you grandma, you are forever in our hearts.