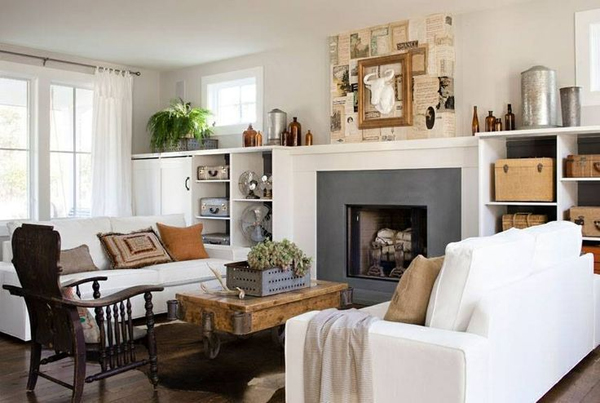 If you are interested in trying out a new interior look in your home then why not channel Country Cottage chic, a rustic look that is bang on trend. There are many different takes on this style and you can put your own stamp of individuality on it. Take a look at the tips below to see how you caneasily get this look in your own home.
Print and Color
Farmyard prints are a great way to bring country chic into your home, use prints with farmyard animals such as roosters and rabbits for items such as tea towels and cushions, and mix these prints with large checked fabric and tweed for furniture or throws.
Botanical and insect prints can also be an ideal way to bring the outdoors in, making your home feel more spacious that it actually is. When choosing paint colours for the walls stick to neutral earthy tones with deeper reds and oranges for accent colours.
Wall Decorations
Hang objects on the wall such as antiques and paintings. Country décor is a transitional trend, meaning you can mix the traditional with contemporary for a modern spin on the trend. The country look also usually has a good mix of interesting items, which by no means does this mean that it has your home has to look too cluttered, especially if you lay out your chosen items in a cleverly considered way.
Fireplace Layout
No cottage look would be complete without a fireplace! If this isn't an option in your home then why not invest in some country style lanterns with candles as an alternative that will still make your home feel cosy.
Furniture
As a light coloured wood, Pine makes a good option for country style furniture as it will fit into almost any colour scheme or interior style. Pine furniture is also more affordable than other types of wood such as oak and noted as a typical wood type for country interiors. Check out websites such as Furniture Plus Online who are based in the UK for a wide selection of wardrobes, beds, dressers and much more.
Accessories
Use quirky accessories such as cast iron deer hooks to complete the look, or an assortment of kitsch jars and tins in the kitchen.
Is your home decorated in a country cottage style? Get in touch to let us know and also check out the House to Home website for some visual look-book inspiration to get your creative juices flowing.
 Image via