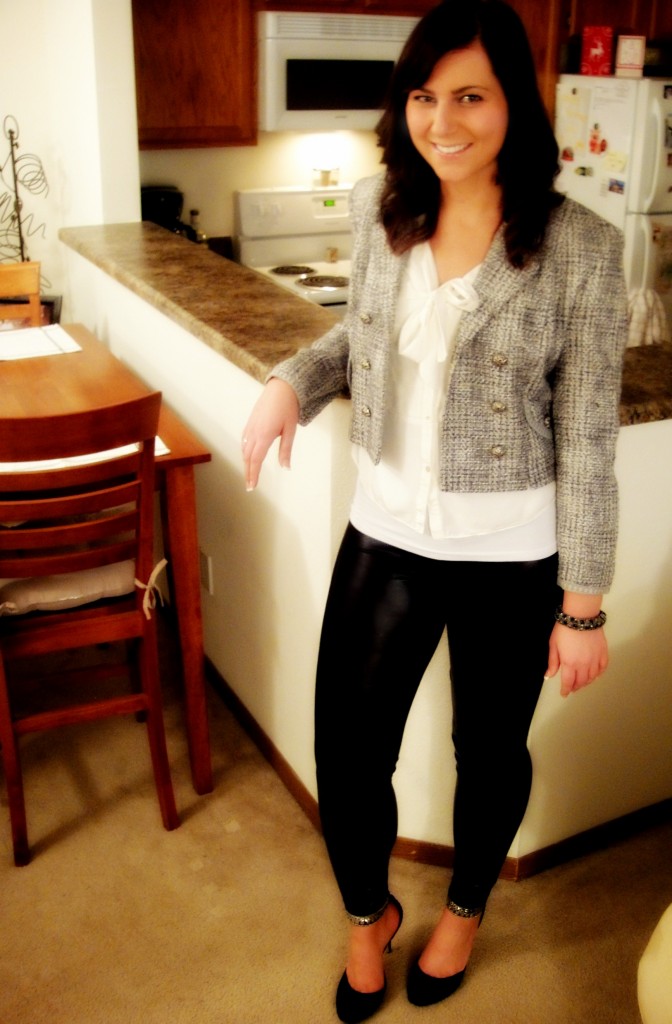 So I am really excited to start a new section on my blog that will also be featured under "Outfits" called the Inspiration Board.  I gather inspiration from many sources, whether it's from a magazine spread, advertisement, celebrities, celebrity events, looks on the street or other bloggers, I will make sure to explain what it is I love about the style and how I make it my own through specific outfit details!  You can also see more of my fashion inspiration on Pinterest… follow me at Rachel's Lookbook!
Tweed Jacket, Vintage; Bow-tie Blouse, Macy's; Pleather Leggings, Express; Bracelet, Kohls; Chain-Link Ankle Strap Pumps, Steve Madden Luxe
My first inspired look is based off of Whitney Port.   I used to watch her in "The Hills" and followed her through "The City" and was always inspired by her easy, put-together looks. She isn't afraid to try new patterns and colors, mix patterns or take a classic and add modern details for a new twist.  She takes this gorgeous tweed jacket and makes it look so chic and effortless.  I love tweed and own two tweed jackets (which I bought exclusively for the office), but sometimes I struggle to wear a tweed jacket without making it look boring or strictly office wear.  Whitney Port has several jacketed looks and this is by far one of my favorites!  To keep the tweed modern and chic, she pairs it with a skinny black legging and patent black heels, as well as a classic ruffled blouse.  This look inspired me to take this tweed jacket look outside of the office!  What a great look for drinks on the weekend or happy hour during the week.  To spice it up a little more for my personal style, I wore my pleather leggings for some more shine and wore my pumps with a chain link detail around the ankle.  Additionally to add a twist to her take on tweed jackets, I would even add some more color with the pumps and some bling with big dangly earrings.