Before I get into my horrible spending habits this month, let me tell you how I feel right now as I'm putting this post together (in gif form of course):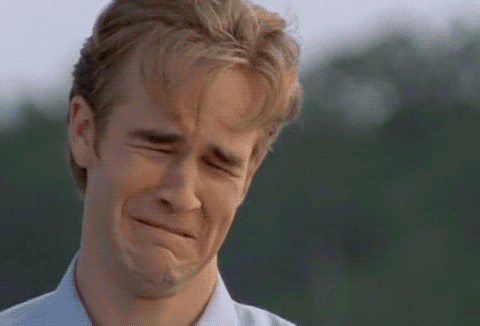 Up until this month, I have stuck to my budget… well for the most part (a couple months I was over oh by $20 at most)? This month shame shame I am over by about $80. Which is almost as much as I set my budget at. Excuse me while I give myself a dirty look. My fault, I know, but still. Old habits die hard I guess.
Let's start by breaking it down:
Ralph Lauren Jean Jacket – Thrifted via Goodwill $6:  Perfect fit and the perfect color I was looking for. I wanted something in a dark denim so I could wear it over dresses at work and feel more dressed up.
White Dress – Thrifted via Goodwill $6: This dress is gorgeous and the perfect LWD for work and play!
Monet Gold Earrings – Thrifted via Goodwill $2.50: Had to have these earrings. I usually accessorize with gold, so they are perfect.
J.Crew Gladiator Wedges – Thrifted via Goodwill I was THRILLED to find these strapped wedges for $8 and even though they were a 9.5, I tried them on and they fit! Hooray. (See here)
Thrift Store Finds Total: $22.50 (I bought these items for a new series I will be doing on the blog about thrifting, stay tuned!)
Cap-Toe Flats – ShoeDazzle $4.95 I don't think I have expressed my love for ShoeDazzle enough, have I 😉 I was so excited to get these flats for $4.95 with my VIP credits!
It Takes Two Top and Double Decker Capri – Ellie Monthly Subscription $49.95 + $0.00 S&H = $49.95 My obsession with Ellie's fitness clothing continues to grow. These capris are amazing and so well made and the top is a great alternative to my usual razor back tanks. I wore this to work out the other day and then ran errands. These are the best errand clothes too! ***If you are interested in signing up, you should do so SOON for the fit fashionista club because they are going to start charging S&H on all accounts, if you sign up BEFORE June 1, you can continue to get free shipping. Just like other monthly subscription sites, you can skip a month, or if you aren't interested in the new items they came out with, you can still get a full outfit from previous collections for $49.95. If you are interested in signing up, you can save 20% here.
Gold Spike Bracelet – Sira & Mara $13.50 I adore this bracelet and it is stretchy, which is perfect for my big wrists.
Candy Necklace – Sira & Mara $12.99 I've been searching for a gorgeous colorful necklace ever since seeing this outfit on Elle. FOUND IT and for under $15, I was sold. (See here)
Sira & Mara Total:  $29.99 including S&H
Gray T-Shirt – Old Navy $14.94 Needed TO replace this one. Love the length, style and feel.
White T-Shirt – Banana Republic $22.50 This has been on my Holes in My Closet list for awhile. I just never could make a purchase because I wasn't sure. I want a really nice one that lasts awhile, but didn't want to spend more than $50. I remember I had a nice oxford from Banana Republic that lasted me a long time, and read good reviews on this one, so we shall see. It is too early for me to tell if this is the perfect white t-shirt for me or not.
Green Gingham Button-Up – Old Navy $17.99 I have been looking for a long-sleeve gingham shirt for awhile and wanted a red or green one. Tempted by the free shipping of over $50 with my purchase of the other t-shirts, I had to buy this!
Old Navy/Banana Republic Total:  $48.49… It was $54.99 with $0.00 for being over $50, but then I got $6.50 off in PROMO codes (one for Mother's Day, do I feel guilty using it and not being a mother, NO I do not. I mean I am technically a mother of a crazy hyper Mini Aussie). Yeah, I like being able to get free shipping even after it goes below $50 with promo codes!
Cargo Shorts – H&M $12.50 I went shopping with my bestie last weekend at the new H&M in Uptown (thank goodness, because if you are like me you will avoid the MOA at all costs – okay Sunday mornings are the best time to go – and this one has a better layout). Well I couldn't resist these shorts for summer at $12.50. They are super comfortable and don't stick to my thighs, which will be great in the summer heat. I might go back and get a couple other colors!
Striped T-Shirt – H&M $5.95 Can you tell I was on a t-shirt theme this month? I desperately needed to replace my old one, which I shrunk in the wash and ended up as a belly shirt (whoops). The material is super soft and for $5.95 I guess I could replace it with a nicer one in the future.
Striped Cardigan – H&M $10 For how much I love wearing stripes AND cardigans, I didn't own a single striped cardigan until now. For $10, I was very excited to pick this up in a blue color!
H&M Total: $28.90 I do feel guilty about this shopping excursion last week, but not guilty enough to return anything. I will be wearing all of these items a lot, so I guess it could be worse.
May's Budget: $100
May's Total Spend: $184.78
OVER BY $84.78
But here are a few thoughts (thoughts sounded nicer than justification):
I did end up crossing off at least one item on the Holes in My Closet list. I love the way this  white t-shirt felt when I tried it on and it is better than digging through my boyfriend's closet to wear one of his plain white Hanes t-shirts. Also, after taking outfit pictures with my old gray t-shirt, I realized I really needed to update that t-shirt as well.
I guess I can't defend my purchases too much. I also really really wanted to challenge myself to thrift a WHOLE outfit for under $20. Props to Macklemore. Luckily I had $22.50 in my pocket that day and I think I came out pretty good: white dress, jean jacket, gold earrings and a pair of strappy wedges! Summer casual perfection in my book! Hopefully I will be wearing and sharing this outfit soon 🙂
Linking up with Budgeting Bloggers over at Franish!