I have talked about my skin several times on the blog before, and today I want to dive in a little deeper about the topic. In high school, my skin was the biggest factor in my self-confidence issues. As I saw most other girls my age with bright, glowing, clear skin, all I saw was horrible cystic acne all over my face. From that point, I taught myself how to use makeup to cover up so that people would see me and not the imperfections on my face. Now that I'm much older and wiser (well I hope this is true), I have learned a lot and tested out a ton of products to help me manage my break outs, as well as incorporated good habits to give me healthy skin!
Although I still suffer from stress-related break outs, my acne overall is under control and not as much of a worry. I do suffer from redness and acne scarring though, so to go a day without makeup is something that scares me. The good news is I'm not the ONLY one and there are ways to treat it!
What causes the redness of rosacea?
Rosacea is a common, inflammatory skin condition, affecting an estimated 16 million Americans. The most common sympton of rosacea is persistent facial redness. Dilated facial blood vessels increase blood flow to the skin and cause the face to look red. So here's the deal, because people like me want to cover the redness, we tend to wear more makeup, which is completely going against my goal of wanting to wear less makeup and be makeup free more often!
Rosacea sufferers are more likely to be self-conscious and wear makeup more frequently. (stats from Galderma Laboratories, L.P.)
*65% of rosacea sufferers wear makeup to work compared to only 35% of Americans who don't have rosacea
*Just over half of Americans (53%) wear makeup, compared to over 77% of rosacea sufferers
*51% say they skip the dermatologist because they are worried about the cost of treatment, BUT…
* On average, rosacea sufferers spend $36 on a single non-prescription product that promises to hide or cover-up facial redness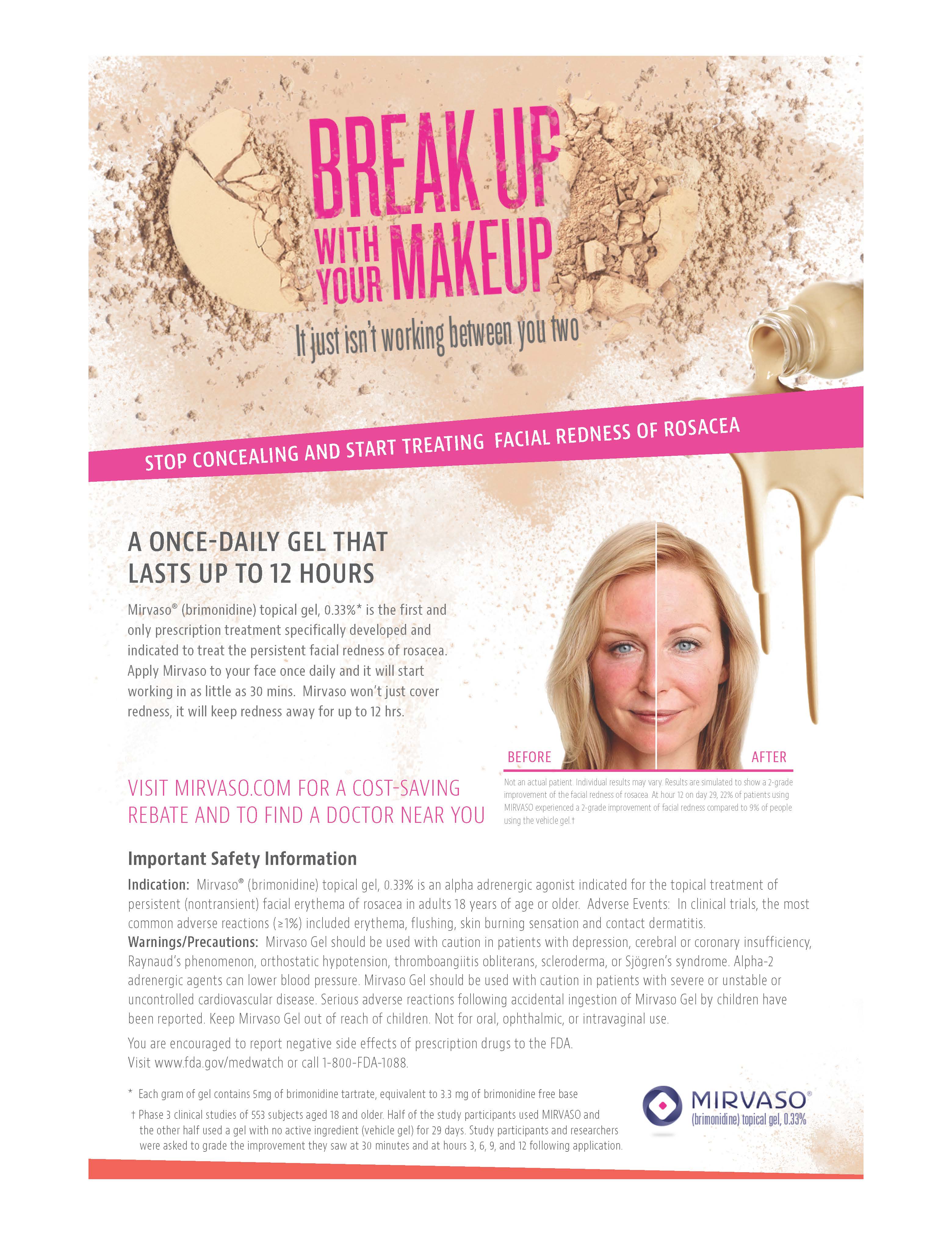 And finally here is the good news, Mirvaso from Galderma Laboratories, L.P. is a topical gel that can significantly help reduce the appearance of redness, and officially allow you to be free from makeup! Mirvaso has proven results that were reviewed by the FDA for safety and efficacy, and depending on your insurance, copays may be as low as $25!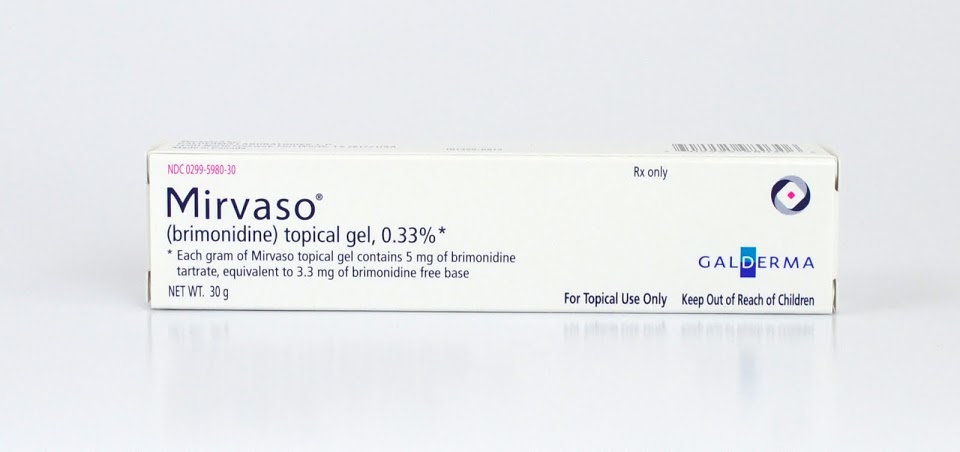 I don't know about you, but when it comes to my skin I want to see fast results and reduce persistent redness. Mirvaso provides fast results and lasts for up to 12 hours! That means I could actually go makeup free for a whole day! So are you ready to break up with your makeup?!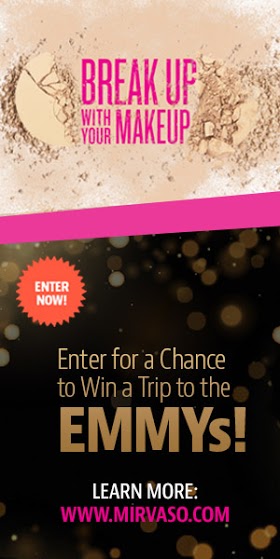 Enter to win the Emmy ticket giveaway!
Important Safety Information:
Indication: Mirvaso® (brimonidine) topical gel, 0.33% is an alpha adrenergic agonist indicated for the topical treatment of persistent (nontransient) facial erythema of rosacea in adults 18 years of age or older. Adverse Events: In clinical trials, the most common adverse reactions (≥1%) included erythema, flushing, skin burning sensation and contact dermatitis. Warnings/Precautions:Mirvaso Gel should be used with caution in patients with depression, cerebral or coronary insufficiency, Raynaud's phenomenon, orthostatic hypotension, thromboangiitis obliterans, scleroderma, or Sjögren's syndrome. Alpha-2 adrenergic agents can lower blood pressure. Mirvaso Gel should be used with caution in patients with severe or unstable or uncontrolled cardiovascular disease. Serious adverse reactions following accidental ingestion of Mirvaso Gel by children have been reported. Keep Mirvaso Gel out of reach of children.Not for oral, ophthalmic, or intravaginal use. You are encouraged to report negative side effects of prescription drugs to the FDA. Visitwww.fda.gov/medwatch or call 1-800-FDA-1088.
I was selected for this opportunity as a member of Clever Girls Collective and the content and opinions expressed here are all my own.