This shop has been compensated by P&G and its advertiser. All opinions are mine alone. #MyBestZzzs #CollectiveBias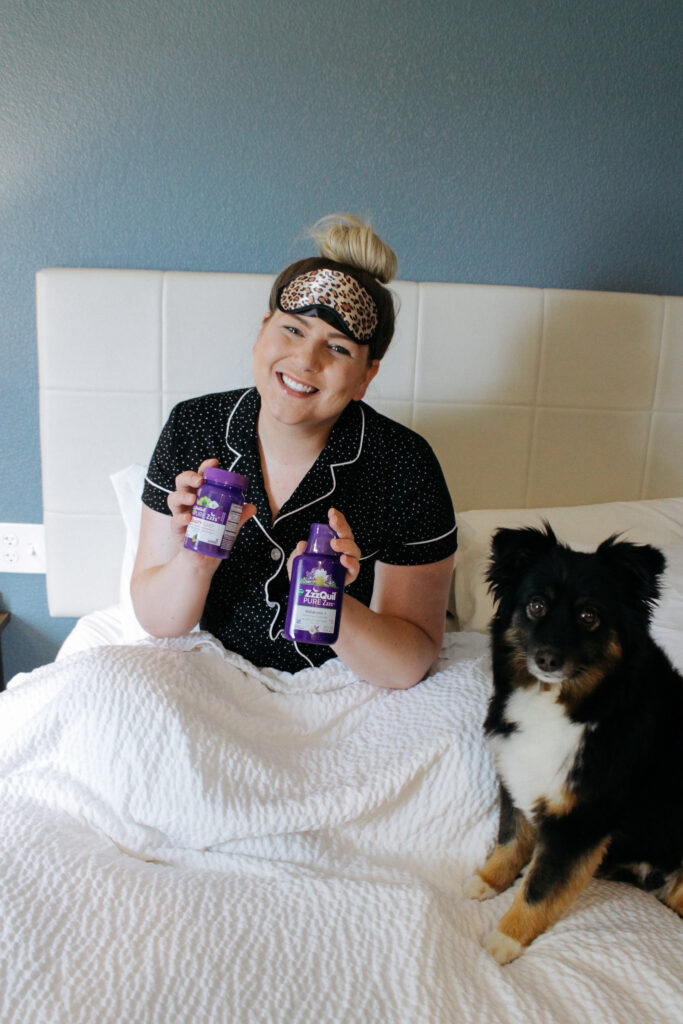 Did you know? Overnight is one of the best times to recharge and revitalize yourself, ensuring your body feels great and keep you looking beautiful: hair, eyes and skin. Yes, it's true! There are so many benefits involved with getting a proper amount of beauty sleep every night, which is why I've been taking ZzzQuil Pure Zzz's Beauty Sleep Gummies and ZzzQuil Pure Zzz's Melatonin Liquid to ensure I can fall asleep naturally. These are new products that I found at my local Walmart and have been helping me more easily fall asleep at night – naturally!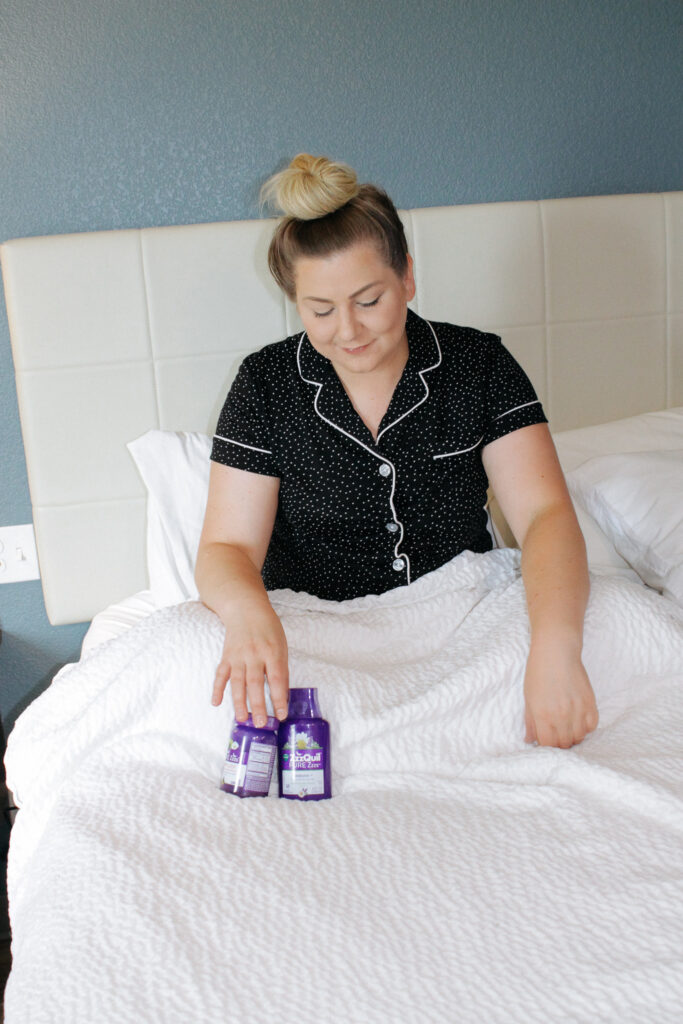 The ZzzQuil Pure Zzz's Beauty Sleep Gummies are a sleep aid with ginger, grape seed extract, chamomile, lavender and valerian root with a white strawberry rose flavor available. You can take one to two gummies per night to help you fall asleep naturally!
The ZzzQuil Pure Zzz's Melatonin Liquid is a unique botanical blend of chamomile, lavender, valerian root and lemon balm in addition to melatonin. It is a great-tasting liquid that is non-habit forming.
Interested in these products? Hover over the image above to shop them directly!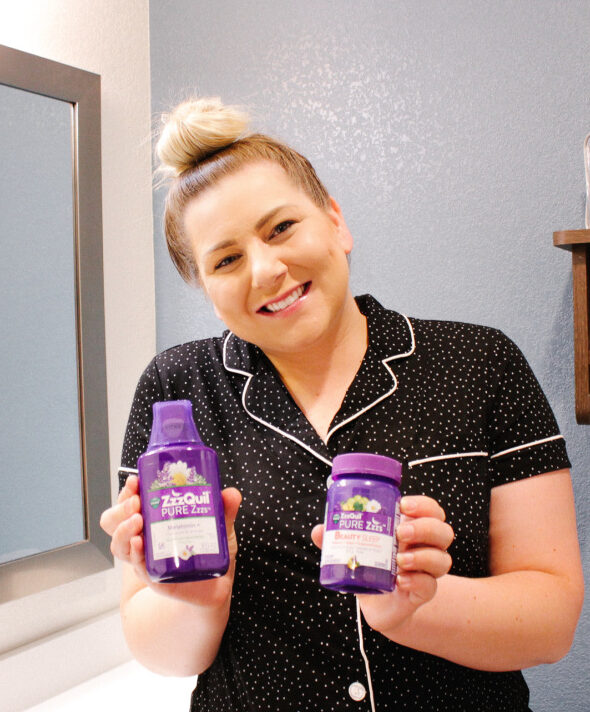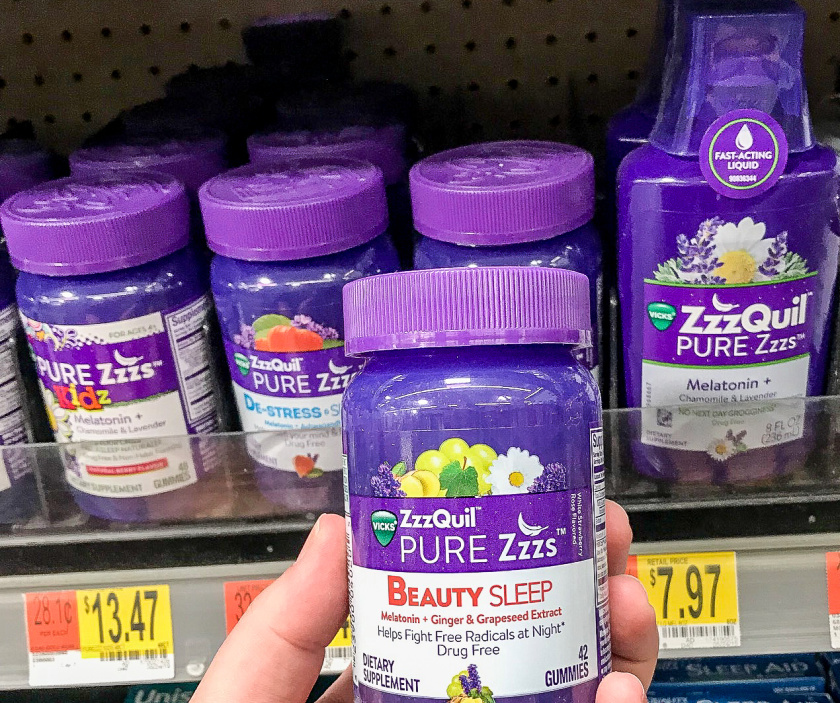 I was able to find both of these easily at my local Walmart in the aisle with medications and supplements. They also had a display of it in the main aisle.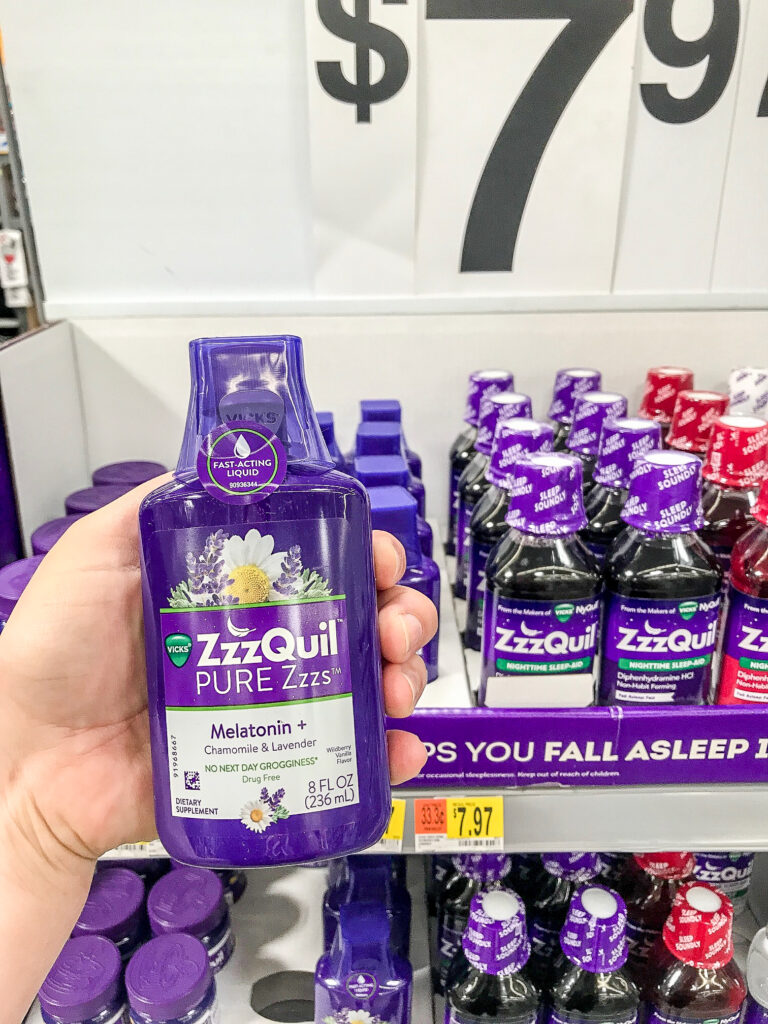 Today, I'm sharing 5 tips on how to achieve the best beauty sleep of your life!
Use an Overnight Lip Mask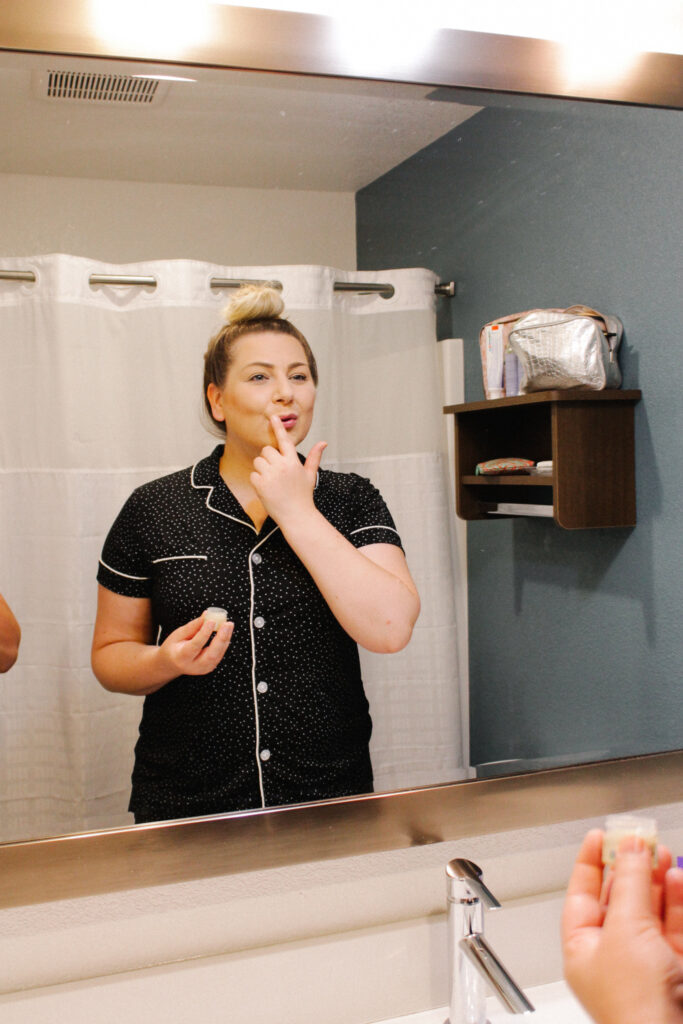 Many people know about the benefits of using a moisturizer or serum overnight to help plump the skin and renew collagen levels, but did you know it's just as important to re-hydrate your lips?! There are several overnight lip mask options out there and it only takes a few seconds to apply, so it is easy to incorporate into your nightly routine. By using a lip mask, you can help combat dryness and fine lines, waking up to smooth, more supple lips!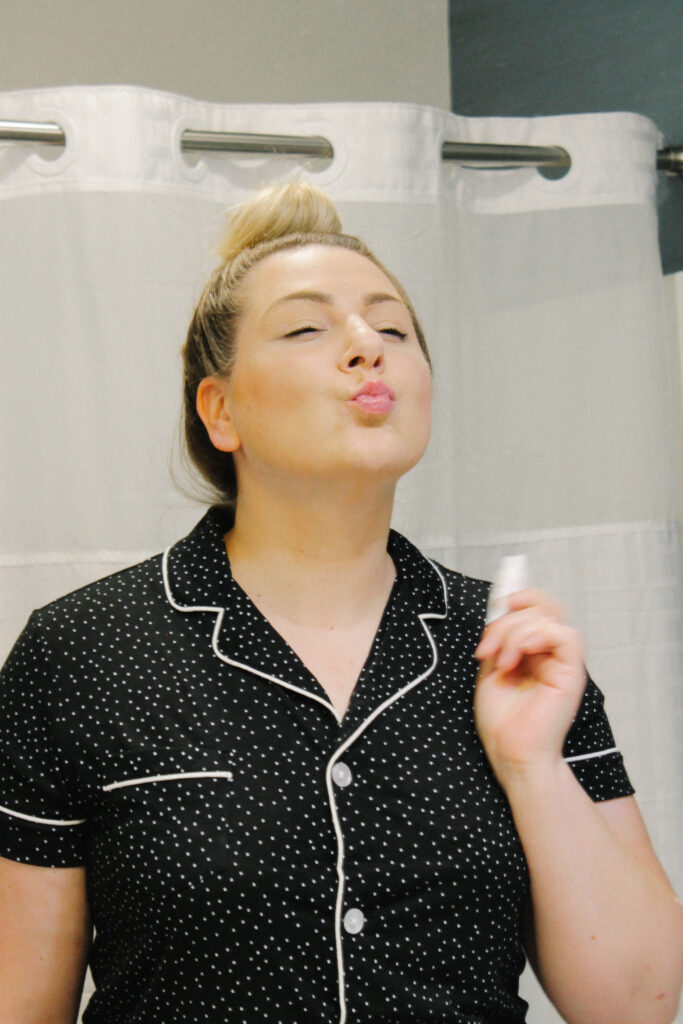 Switch Out Your Pillowcase for a Silk One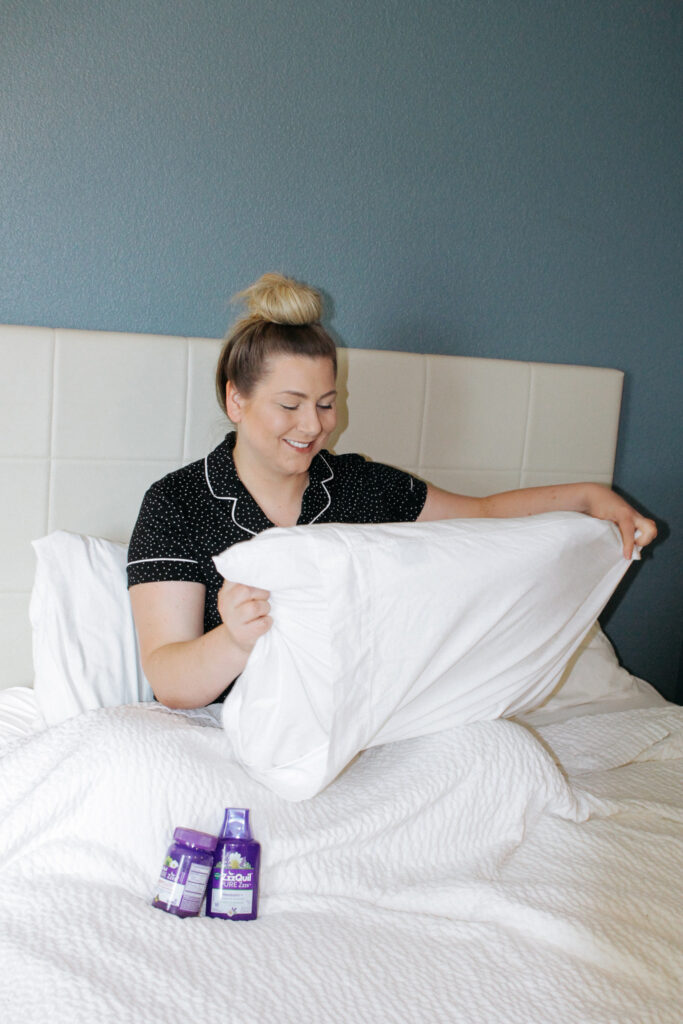 One of the easiest and most important things you can do to wake up more beautiful is to exchange your cotton pillowcase for a silk one! Cotton can be rough on your skin and can pull on your hair, resulting in breakage. I have been using a silk pillowcase for the past couple of years and have definitely noticed a difference in both my skin and hair! Silk is gentle on skin and hair (especially if you dye your hair blonde like mine) and will ensure you wake up with gorgeous skin and hair.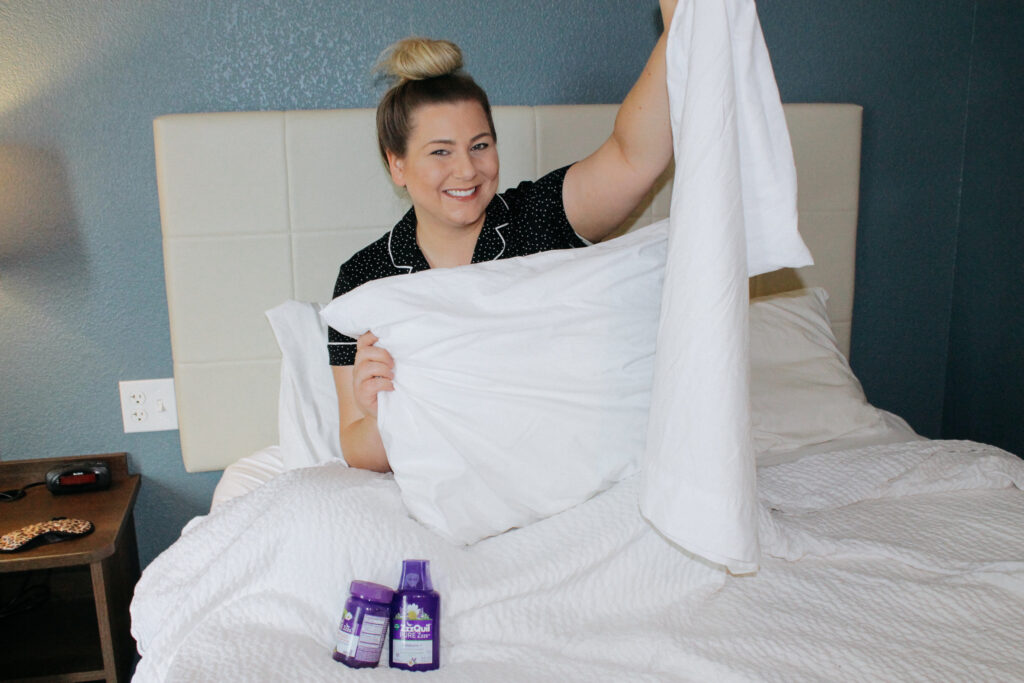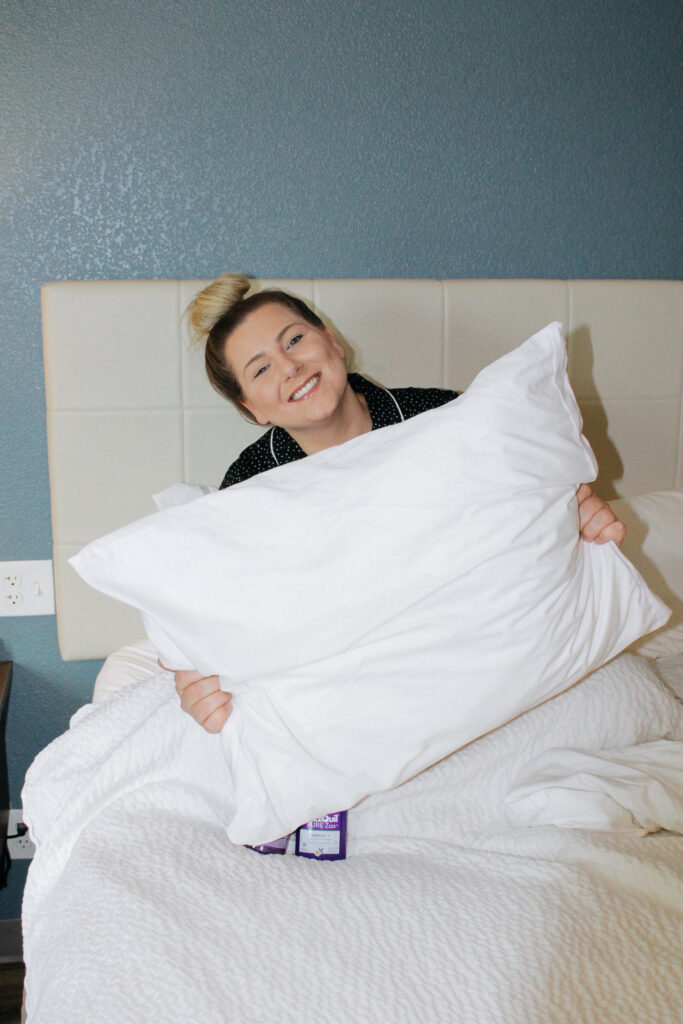 Wear Your Hair Up or in a Braid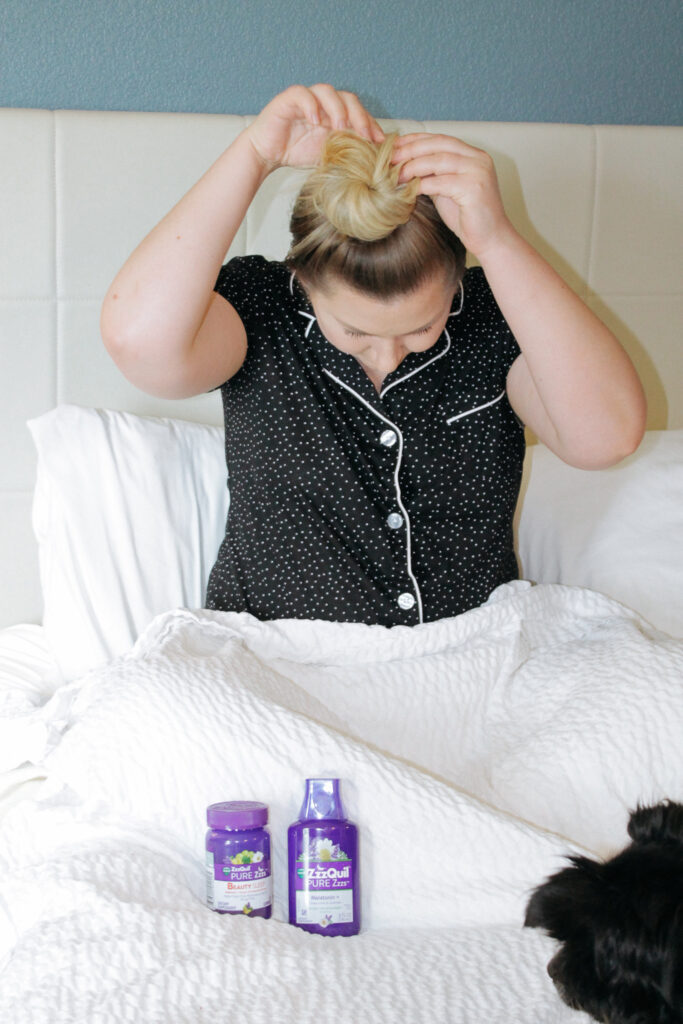 I used to always sleep with my hair down – I never knew that it could be so bad for your hair! If you sleep with your hair down, especially if you roll a lot during your sleep, it can be really rough and pull on your hair throughout the night – resulting in, yes, more breakage. I usually wear my hair up in a top knot bun using a coil hair tie (regular hair ties can pull too tightly on your hair, so please use a coil hair tie if you wear it up in a bun). It actually makes it much easier to sleep because you don't really feel your hair and if you toss and turn like me, you don't feel it tugging on your hair during the night.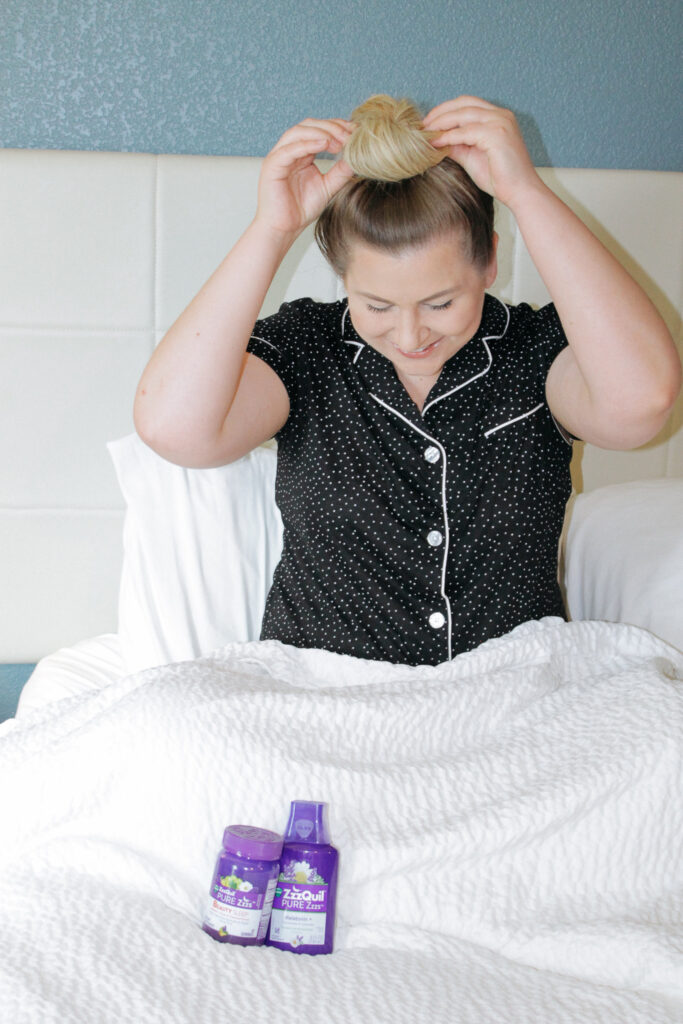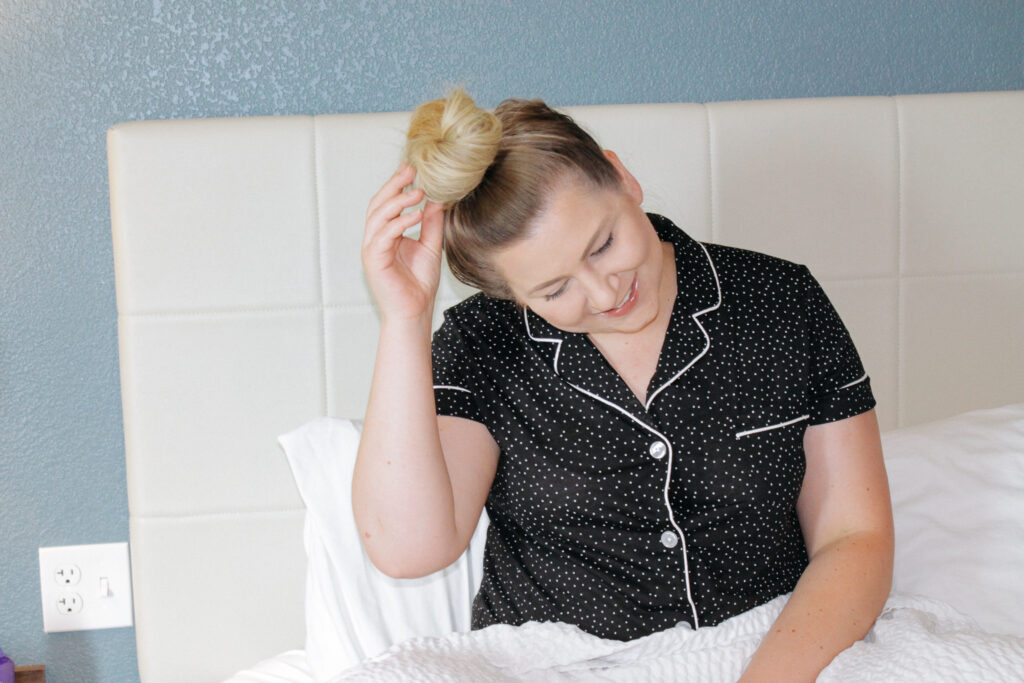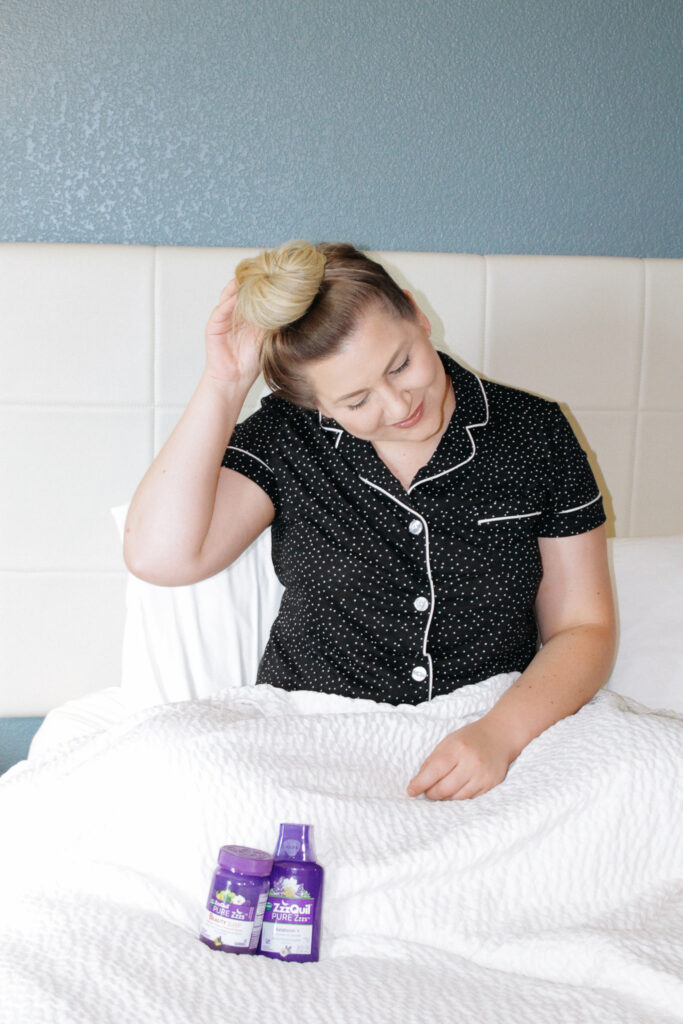 You can also braid your hair – doesn't matter if it is one big braid to the side, two braids, or multiple braids, this will help keep your hair in place and minimize the amount of pulling. I usually wear one big braid to the side or two braids if my hair is damp after showering, then I wake up with beach waves! I might then spray in a little bit of texturizing or sea salt spray. Either way, wearing your hair up is going to help the health of your hair so much!
Wear an Eye Mask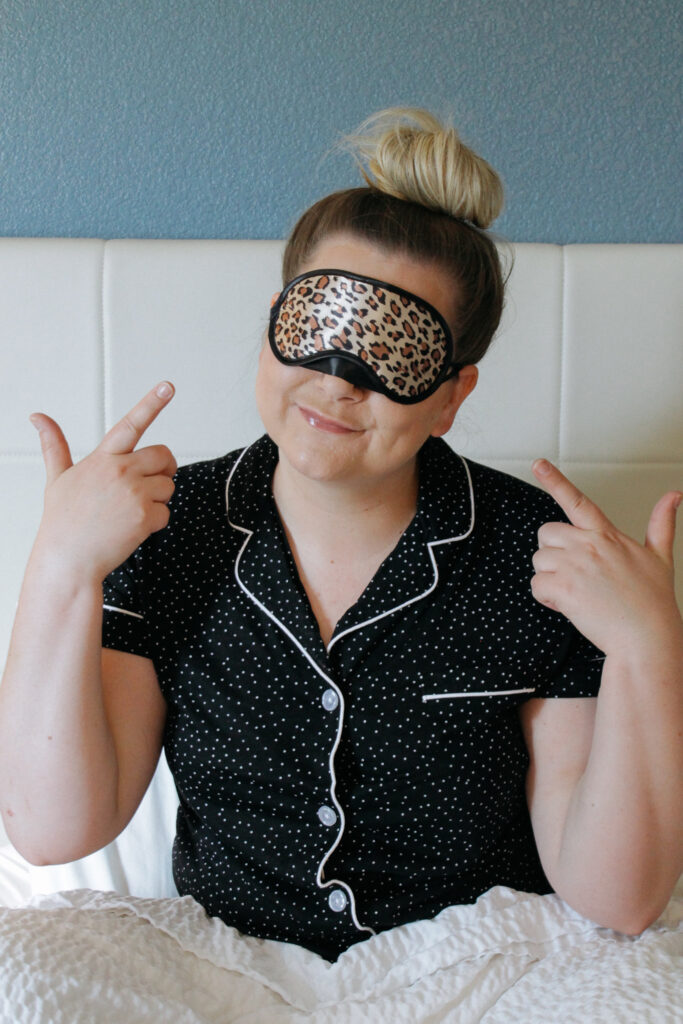 Okay, first thing first – eye masks are adorable, so why wouldn't you want to wear one?! But in all seriousness, they can help you fall asleep faster by shutting out everything around you. Not only does it make it darker so it's easier to fall asleep, but it also ensures your environment is device-free! TV, phones and other distracting devices can interrupt your sleep, making it take longer to get your needed beauty sleep, which is why an eye mask is so important. I am 110% guilty of watching TV or being on my phone for hours before bed, which is another reason why I started wearing an eye mask to bed. Once it's on, I am able to separate myself from all the technology that can make it difficult to fall asleep. I like to wear a simple silk eye mask, but there are cooling eye masks and many other options out there to try out! Also, did you know that when your brain senses complete darkness it produces melatonin? That's the main reason why it's such a simple, great solution to falling asleep faster!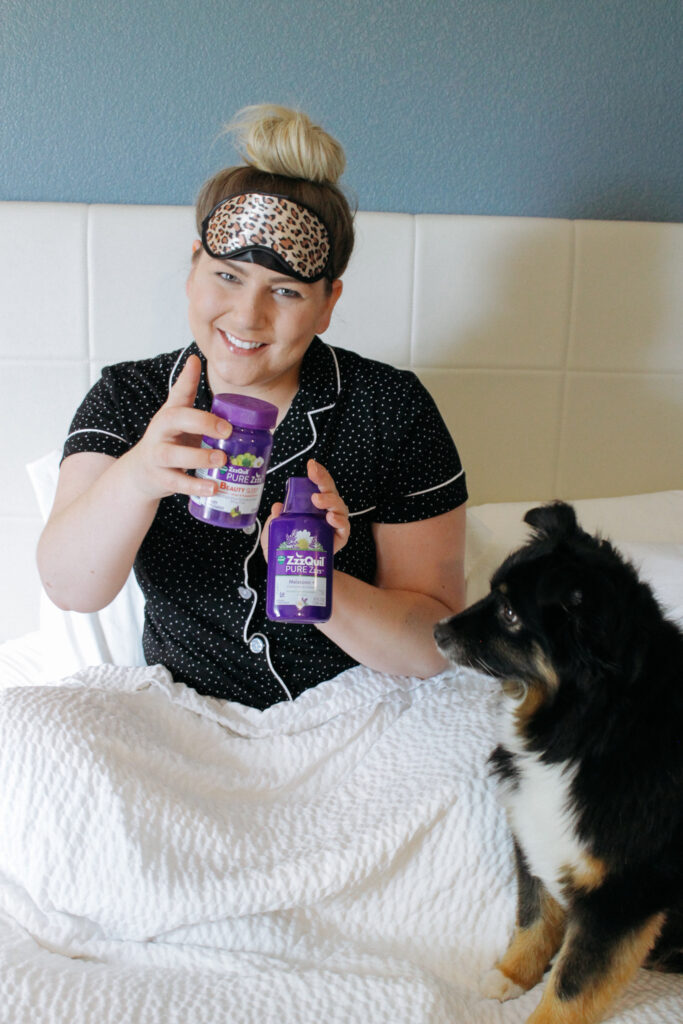 Take ZzzQuil Pure Zzz's Beauty Sleep Gummies or ZzzQuil Pure Zzz's Melatonin Liquid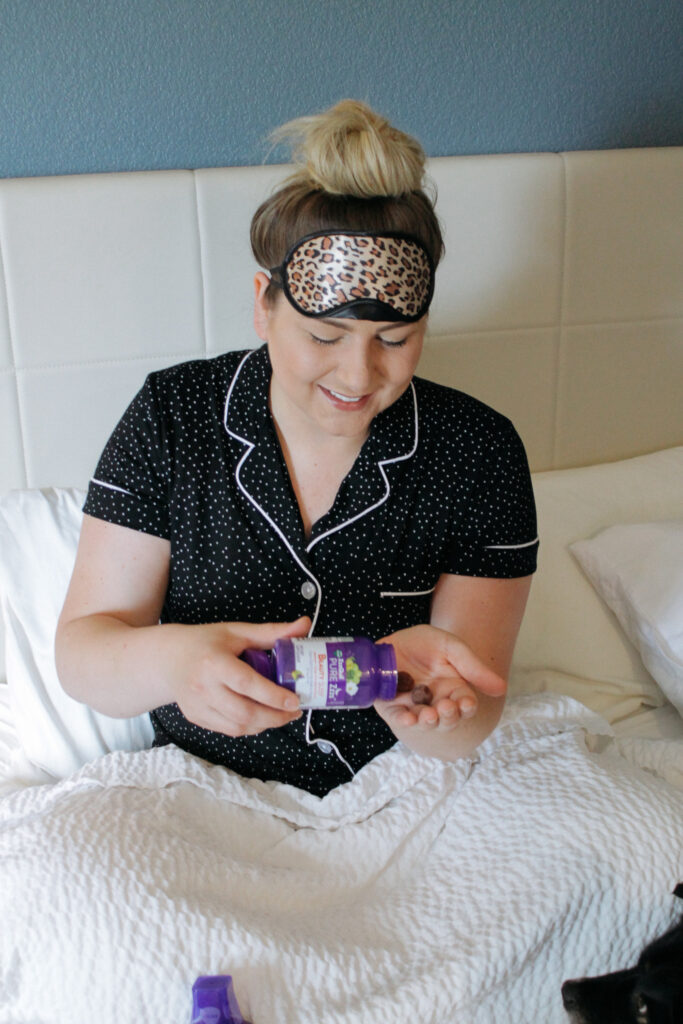 Last, but certainly not least, my NEW favorite part of my nighttime routine – taking Pure Zzz's Beauty Sleep Gummies or ZzzQuil Pure Zzz's Melatonin Liquid before bed. Again, as mentioned above, these can help you fall asleep more naturally. Both products contain ingredients that help you fall asleep naturally, and are both an easy addition to your nighttime routine! They also both taste amazing, so why not give it a try if you're looking to get better beauty sleep?!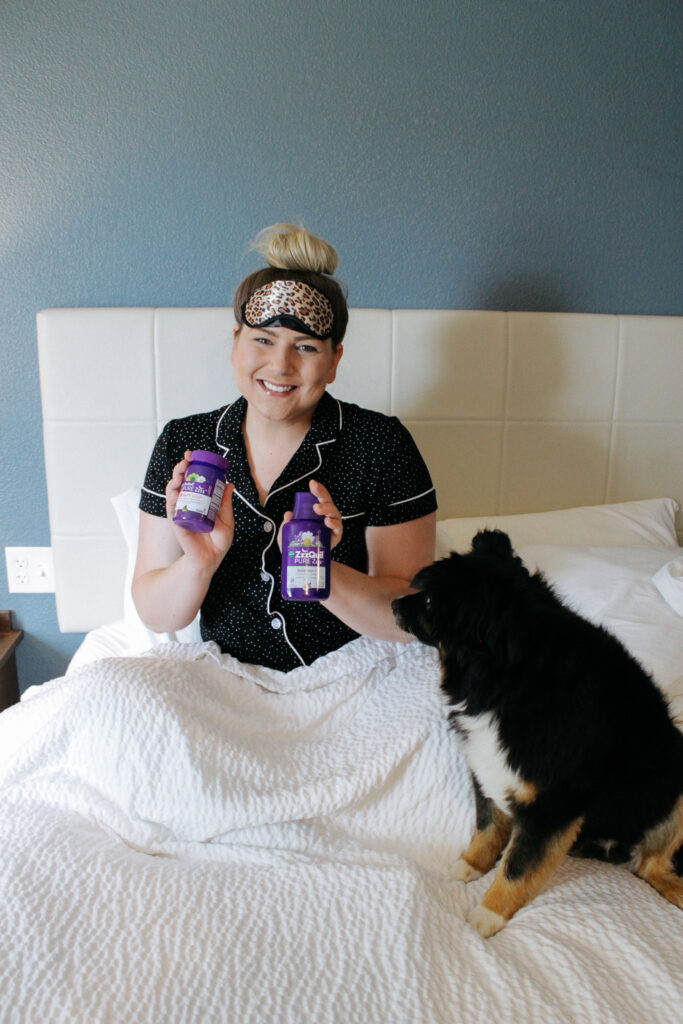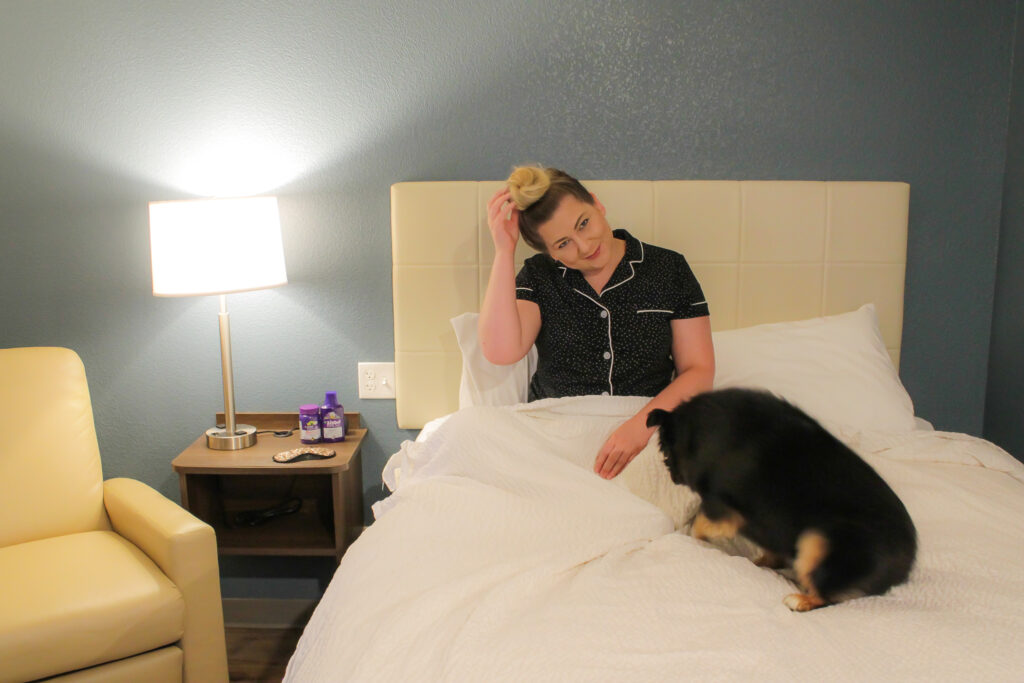 Have you tried out these products yet? If you're interested, you can check out other ZzzQuil products here!
This statement has not been evaluated by the Food and Drug Administration. This product is not intended to diagnose, treat, cure, or prevent any disease.