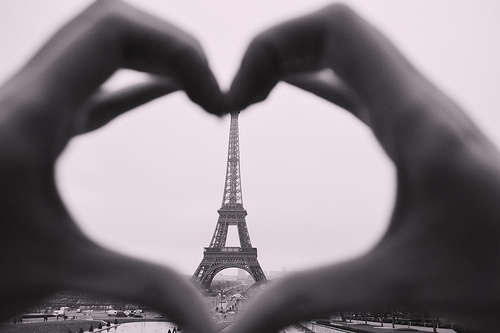 Paris is amazing, but you don't need me to tell you that. I dream about going back every day, after all, it is part of my office decor theme. I was supposed to go to Paris on a school trip when I studied abroad in Swansea, but due to lack of sign up for the trip, it was cancelled. I bawled. I literally bawled the whole day thinking it might have been my only chance to go.
I have been extremely fortunate to go to Europe a couple times and have completely fallen in love. When I made it to Paris for the first time with my mother and sisters, I couldn't believe what I had missed out on years before. Instead of thinking about that, I focused on how lucky I was to be there with my family. The romance of the city is astonishing, really. Something you have to find out for yourself. Some people told me Paris was over-hyped, but Paris made me feel warm and fuzzy inside. Sure, there were some dirty parts, and sure there were some rude people, but I was pleasantly surprised at how well we were treated as visitors and Americans in a city where not a single one of us spoke French (not even a little). The whole time I was there I could only look forward to going back, and bringing my true love with me. I have been hinting at the idea of taking a major trip together to Europe and starting somewhere like London or Paris, but truly a trip to Paris with my boyfriend is my dream vacation!
Lucky for me, AND for you, RCI is hosting a sweepstakes to celebrate their 40th anniversary that allows you to plan your dream vacation and share it on social media for more entries to the sweepstakes (and they will be giving away 40 awesome vacation prizes)! When I went to RCI, planning my dream vacation was easy! I first selected that my dream vacation would be in a city, but other options include golfing, skiing or beach vacations! I then chose Paris because going to Europe has been on my mind a lot lately! New York and Vegas are clearly winners for me as well, and I'm sure we'll be making it to Vegas again soon!
Next the RCI sweepstakes asks what would make your vacation even more ideal, where I answered "Renting a Car" because I've never rented a car in Europe and I think it would be fun to see some of the French countryside as well! Freedom baby, freedom! Finally, you select the guests… would it be for you and your partner? You and a friend? You and your family?! You get to select how many guests depending on what you want! I want to take my boyfriend on a romantic vacation to Paris and enjoy the food, the sights and the wine!
Now it's your turn to build a dream vacation for your chance to win! Here are some of the details:
You have the chance to win a dream vacation worth up to $25,000!!!!!!!
A total of 40 vacation prizes will be given away in celebration of RCI's 40th anniversary!
You may enter to win until June 18 – and the more you share your dream vacation through social media, the higher your chances of winning! So get on social media and share it with everyone!
I was selected for this opportunity as a member of Clever Girls Collective and the content and opinions expressed here are all my own.