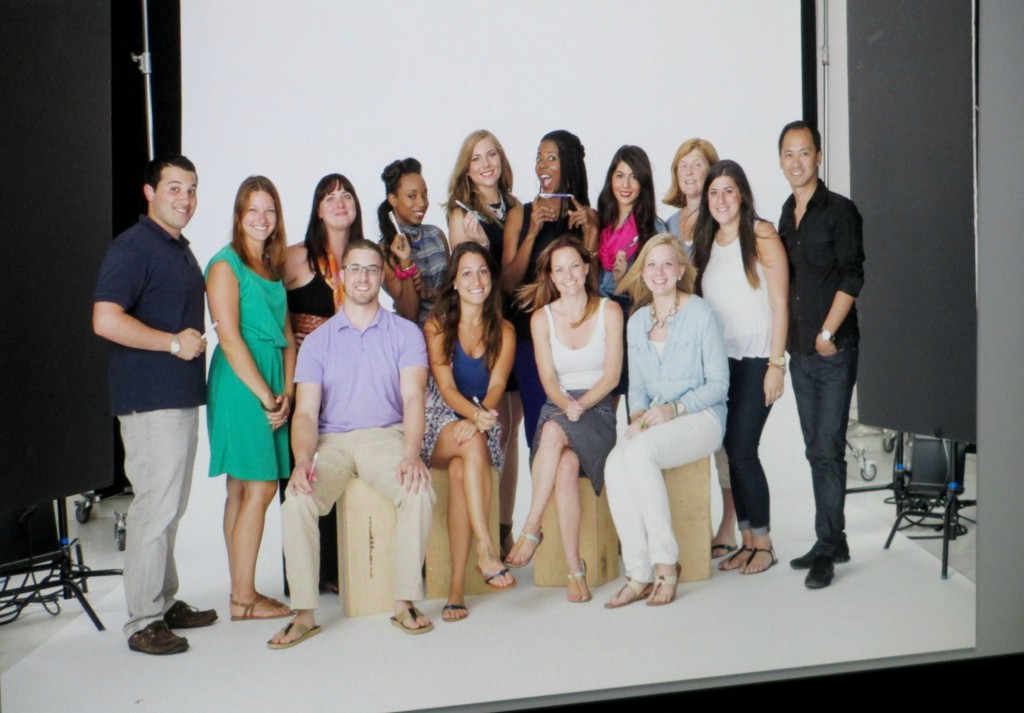 Tuesday morning I woke up excited, rather than nervous like the night before. I wasn't sure what they would want me to do with  my hair, but they asked me to have it clean and completely dry before arriving, which meant I had to be up pretty early because it can take up to 40 minutes to blow dry my hair (the pains of thick hair and being in the process of growing it out…).  A car was waiting outside our hotel at 8:45 a.m. to take us to the photo shoot at Time Inc. Studios, which is the studio that lots of photography is done for all the magazines Time Inc. owns including People, People Style Watch and InStyle! It was such an honor just to be able to go to the studio.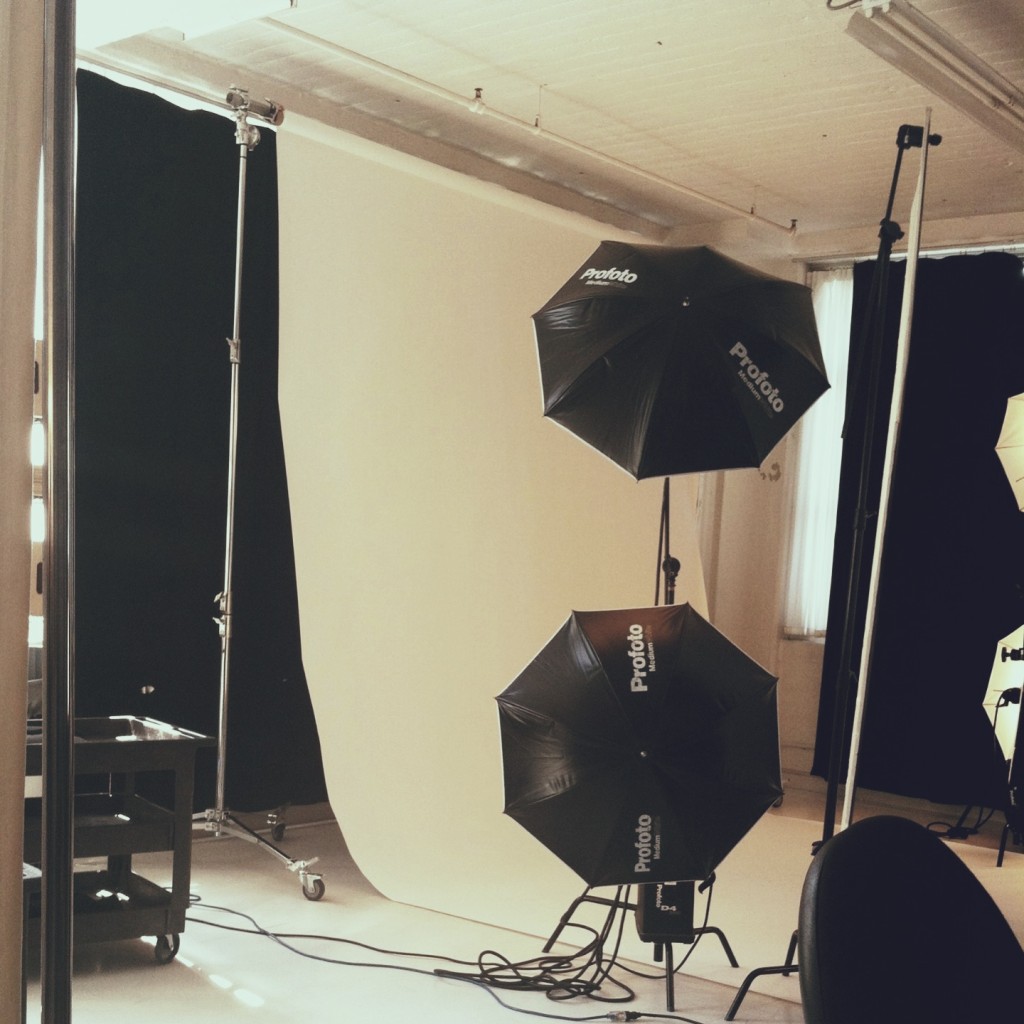 After my boyfriend got his visitor pass at the building we went up the elevator and I watched people get off on floors including Tory Burch and One King's Lane! I was seriously trying to not freak out. As we walked back to the studio, I began to get more and more nervous because a whole group of people were sitting there, watching us as we walked in. But being nervous didn't last long because a few minutes later, they brought me back to get styled for the shoot. My poor boyfriend went to use the restroom and before he could wish me good luck I was already behind the screen getting dressed. They had me try on three different outfits  one navy Zara dress with an H&M necklace, another purple dress and Joe Fresh jeans and a top, all paired with the same Nine West heels.  They asked me what I liked best and honestly I didn't know because everything was so great. They had me change into a robe and flip flops and then I went straight to make up.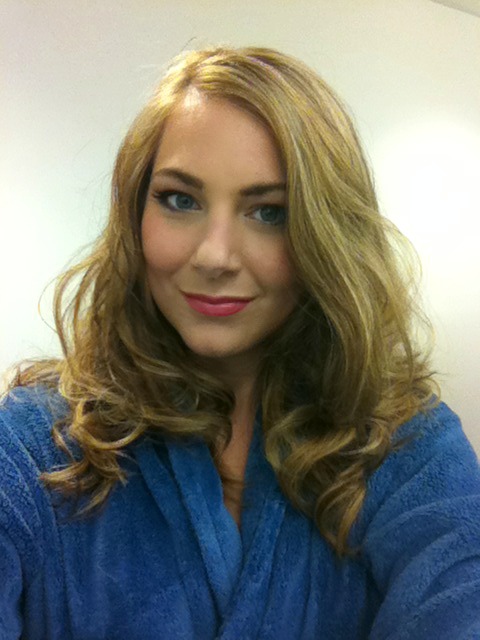 My make up artist was AMAZING. He taught me how to do brows right, even though I've liked the way I've done mine in the past, I love the way he did them and have been trying to mimic them ever since. He also gave me some good tips and tricks for having good overall coverage without using too much foundation and used a red/pink eye shadow to make my eyes pop. I have never considered using those colors before and he made my eyes look absolutely amazing! After make up was complete, I sat down in the hair chair and they asked me how I wanted my hair done. I honestly didn't know, but I'm not all that great at curling my hair so I said, give me big curls! And so they did. Holy cow, I literally did not recognize myself when I looked in the mirror but was SO happy with the result.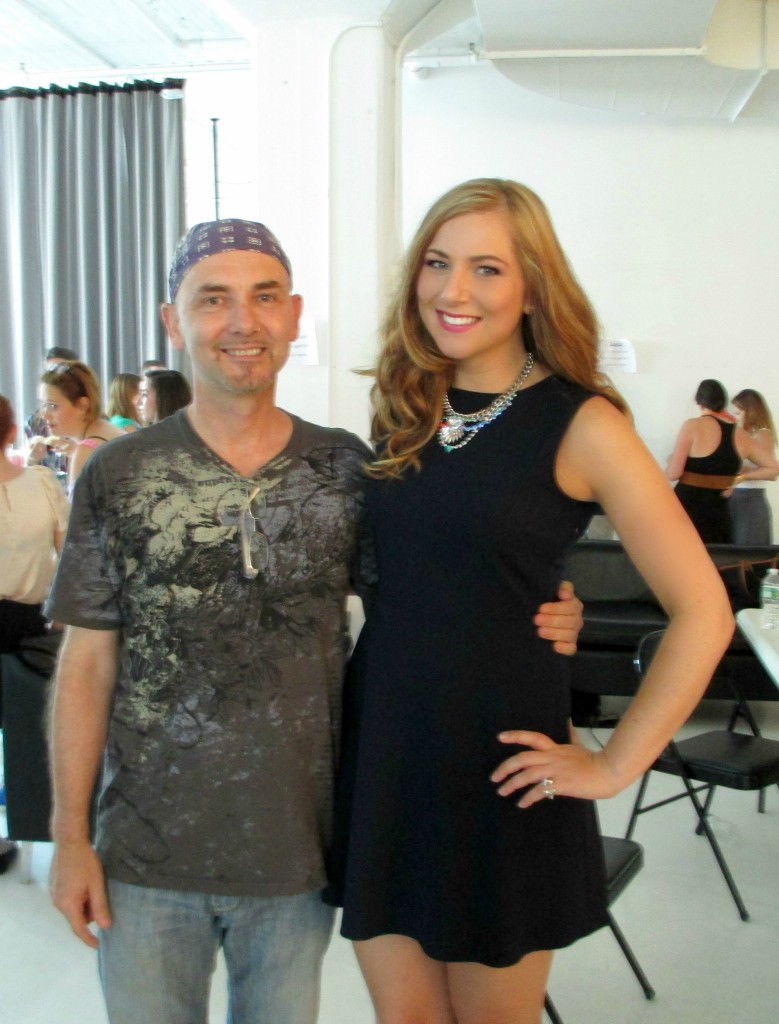 My amazing make up artist!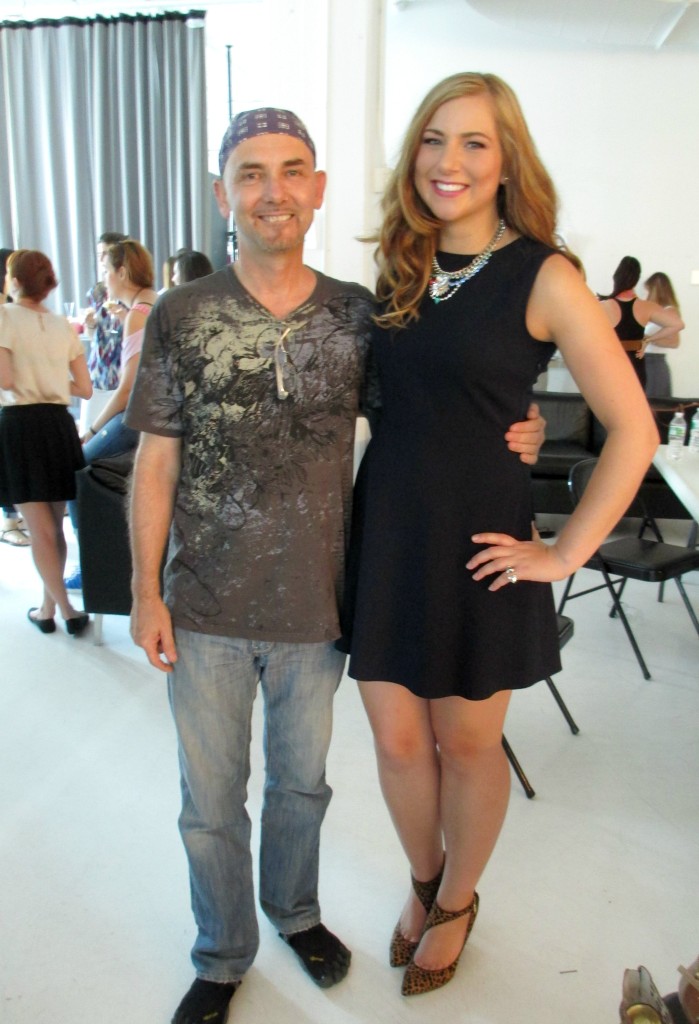 After we were all ready, they started out taking individual photos. I was the third person to go, so I hung out and read through all the magazines to occupy my mind and time. It was so scary because all of the people involved were just staring at the screen after each photo was taken and whispering to each other. WHAT WERE THEY SAYING?! When it was my turn, they took me back to get changed and I ended up wearing the navy Zara dress, which I LOVED so was super excited about. I got nervous/excited as I walked over to start taking individual photos, but the photographer was so amazing. She was very fun and spunky and made me feel completely relaxed. She helped direct me, telling me how to pose, etc. and made me feel like I was doing a great job! After some individual shots, we finally ended up doing group shots for the advertisement. They wanted us to just act like we were having a fun girl's night out and kind of hang on each other with big smiles. I was much more relaxed during this portion because the other girls were so fun and it was great to interact with them. We got to see a preview of some of the shots and they looked great. I can't wait to see the end result!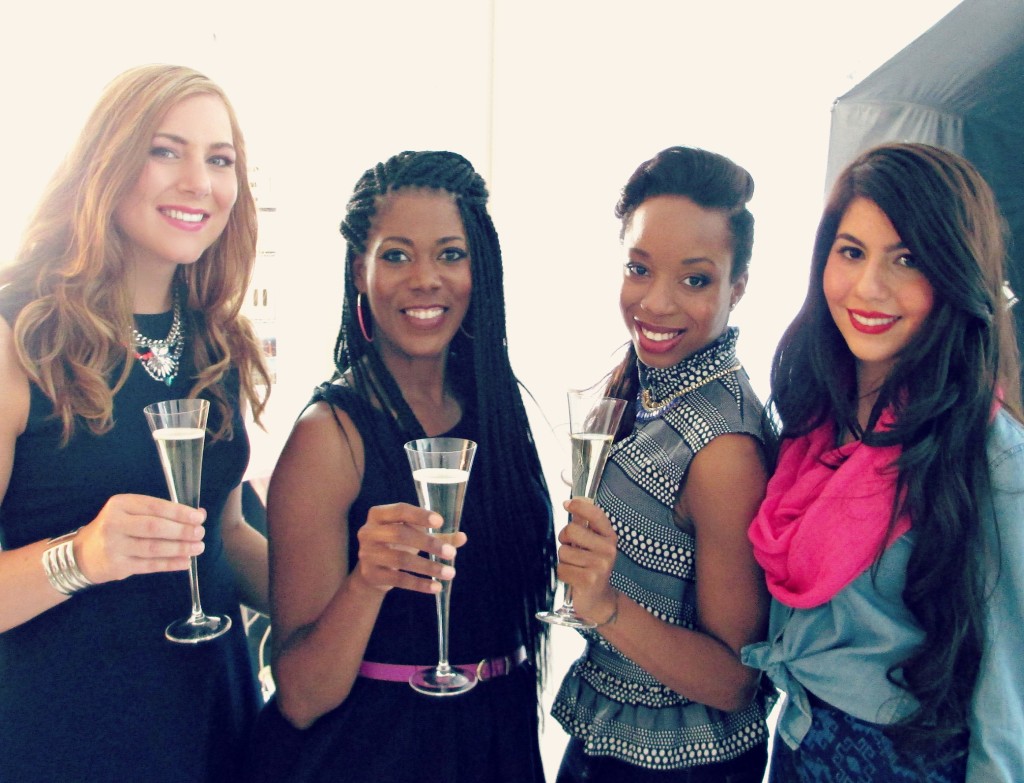 The entire shoot took the whole day… we were there from 9-5 and group shots of us took over an hour. Here is a picture of all of the girls after the shoot! — with a much needed glass of champagne! CHEERS!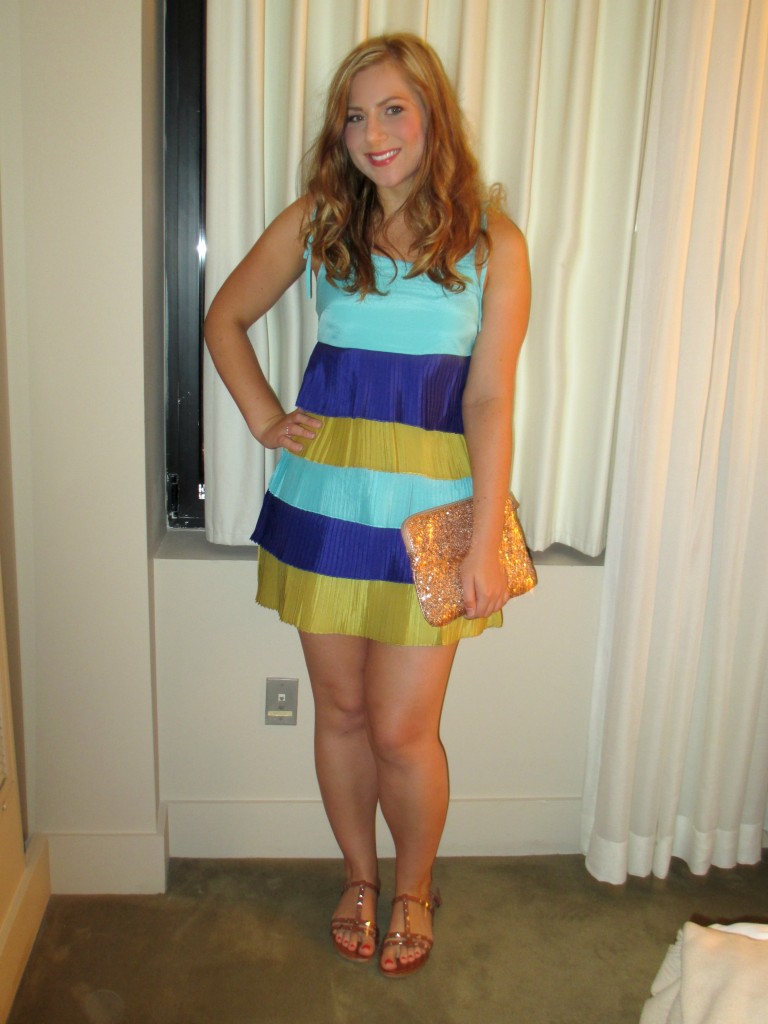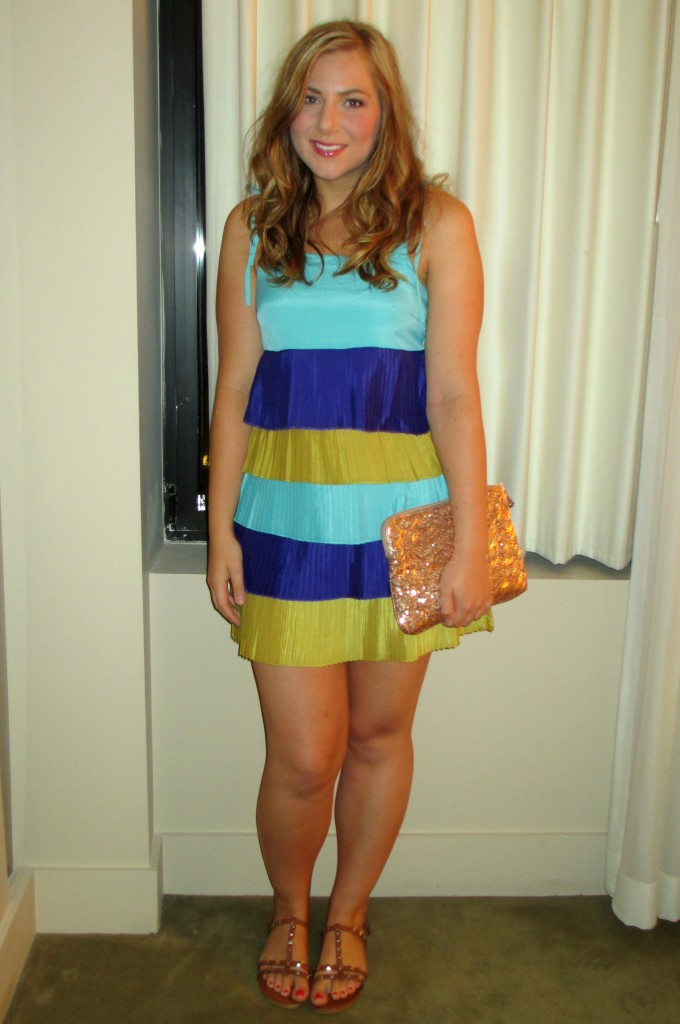 After the shoot, I was very tired but also very hungry so I got ready for dinner and we went out to get some Italian food at a place called Aurora. It was delicious and just enough food to put me in a food coma because afterwards I slept for a good two and a half hours.
I was wearing: (I wanted to be wearing these heels, but my feet hurt too much from a full day in them!)
c/o 10DollarMall.com Dress
10DollarMall.com Sandals
NineWest Clutch (Similar)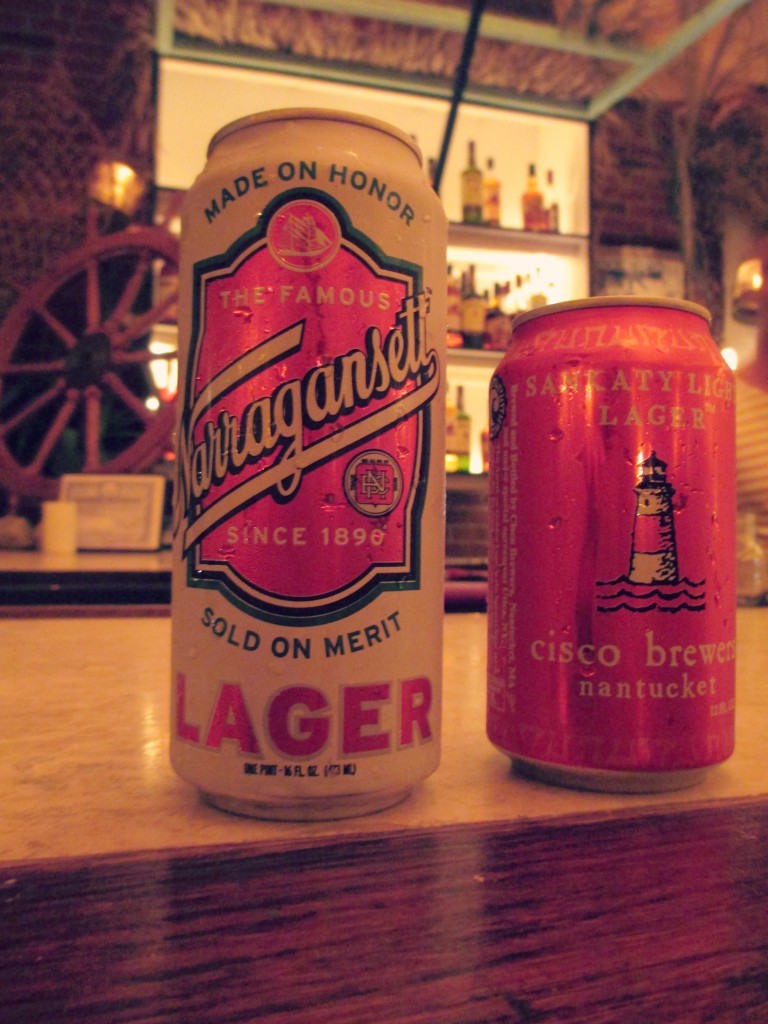 Since we were so tired and it was so hot outside, we just decided to walk to a nearby bar to get a couple beers and call it a night. It was such an amazing experience, but it also went by so quickly it is hard for me to remember all the details. It was definitely a dream come true to go to New York and get the opportunity to be a part of this amazing experience with three other women and have the chance to appear in People Magazine! The issue is supposed to come out September 20th, so I'm sure I will be sharing it with you as soon as it comes out! Thank you again to everyone who has been so supportive of this opportunity! I really appreciate all of the sweet comments and encouragement. Also, I hope this shows you that people like me can have great opportunities and that real people actually do win these kinds of contests — so don't be afraid to put yourself out there, you just never know what might come of it! 🙂