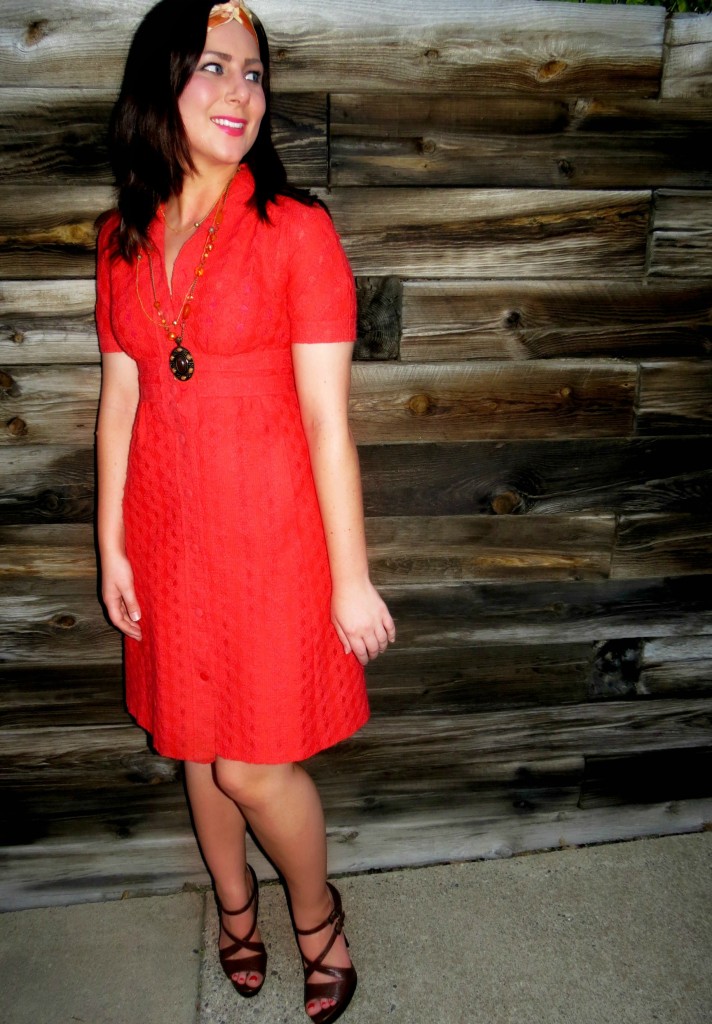 So I must admit something: I am a liar.  The lying wasn't on purpose, but it seems that my memories are getting confused these days.  My memories of great travels and wonderful shopping experiences, that is.  If you read my post about Napa Valley and some of the amazing vintage boutiques there, I told you that the vintage dress I am wearing in these photos was a beautiful piece purchased from Betty's Boutique in California.  Well I am sorry to say it's not… I only own two dresses from Betty's Boutique.  A polka dot one (seen here) and a floral Hawaiian print one I'm sure I'll be posting sometime this summer.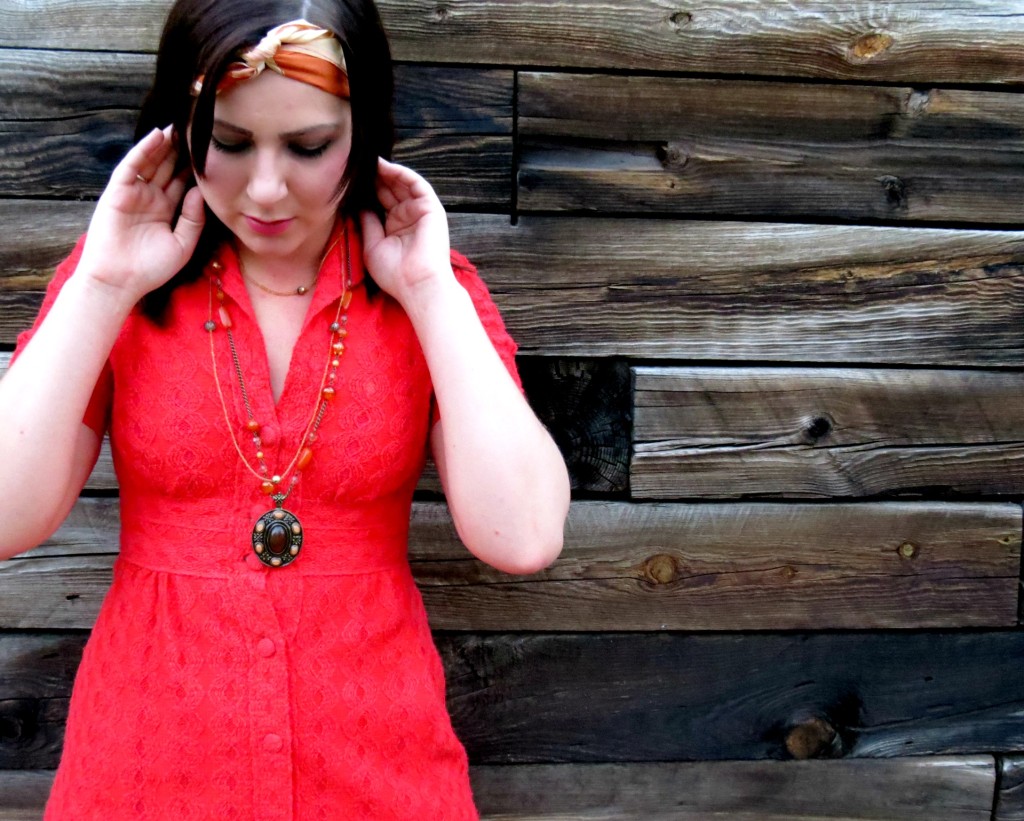 The wonderful piece of vintage I'm wearing comes all the way from Scotland.  From a wonderfully amazing vintage store in Edinburgh, Scotland.   It is by chance that I realized this while reading my journal this past weekend.  I am preparing for a trip to Europe with my mother and two sisters in early June and wanted to remember what it was like to be in Europe since it has been four years since my study abroad experience there. I found myself enthralled in the details of hanging out with my Welsh and English friends, late nights dancing and drinking and my short, yet exciting trips to other parts of the UK.  As I was reading about my trip to Edinburgh I took with one of my very best friends (we met while studying abroad together), I gasped as I read about the moment I laid my eyes on this dress.  Bright, colorful and definitely a "notice me" piece, I tried it on and it fit perfectly.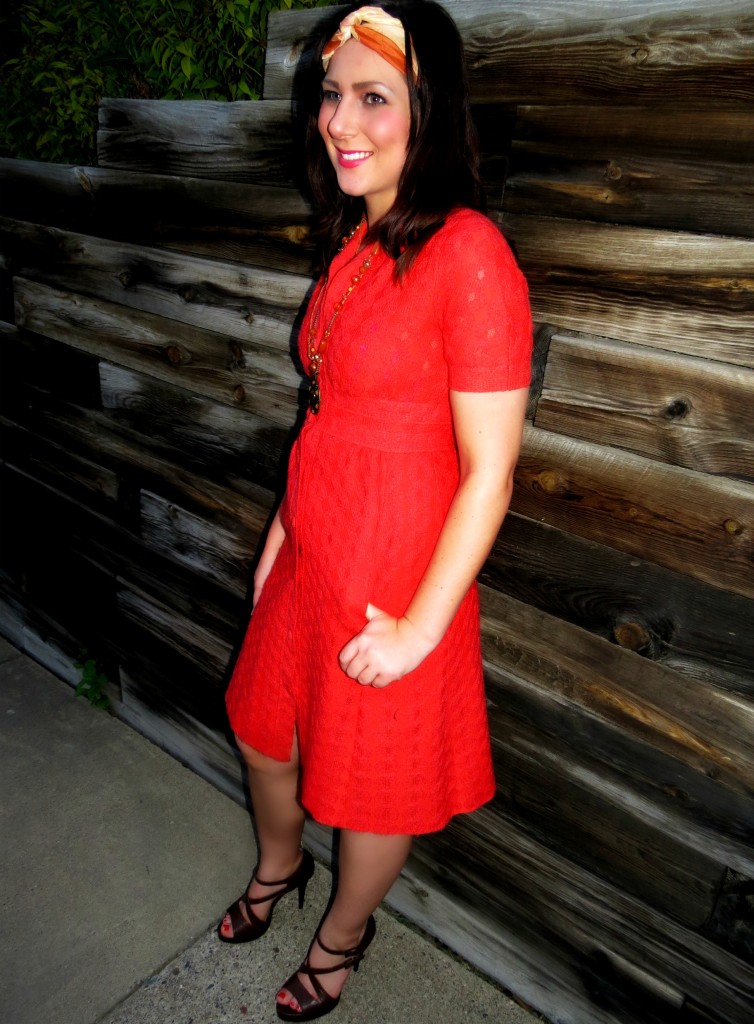 My intention on that three-hour tour was not to buy anything (especially not a vintage dress), but my friend and I, being horrible shopping buddies (in the sense that we encourage spending too much money), decided to take our lunch break to shop at this vintage store.  When we got back from the break, we showed our tour guide these amazing purchases and what happened next I will not forget: he told us that Kate Moss was recently spotted there just a couple weeks before.  I almost dropped dead… Kate Moss has always been a fashion icon in my eyes and a source of inspiration.  I was so excited to know I shopped somewhere that Kate Moss had been to.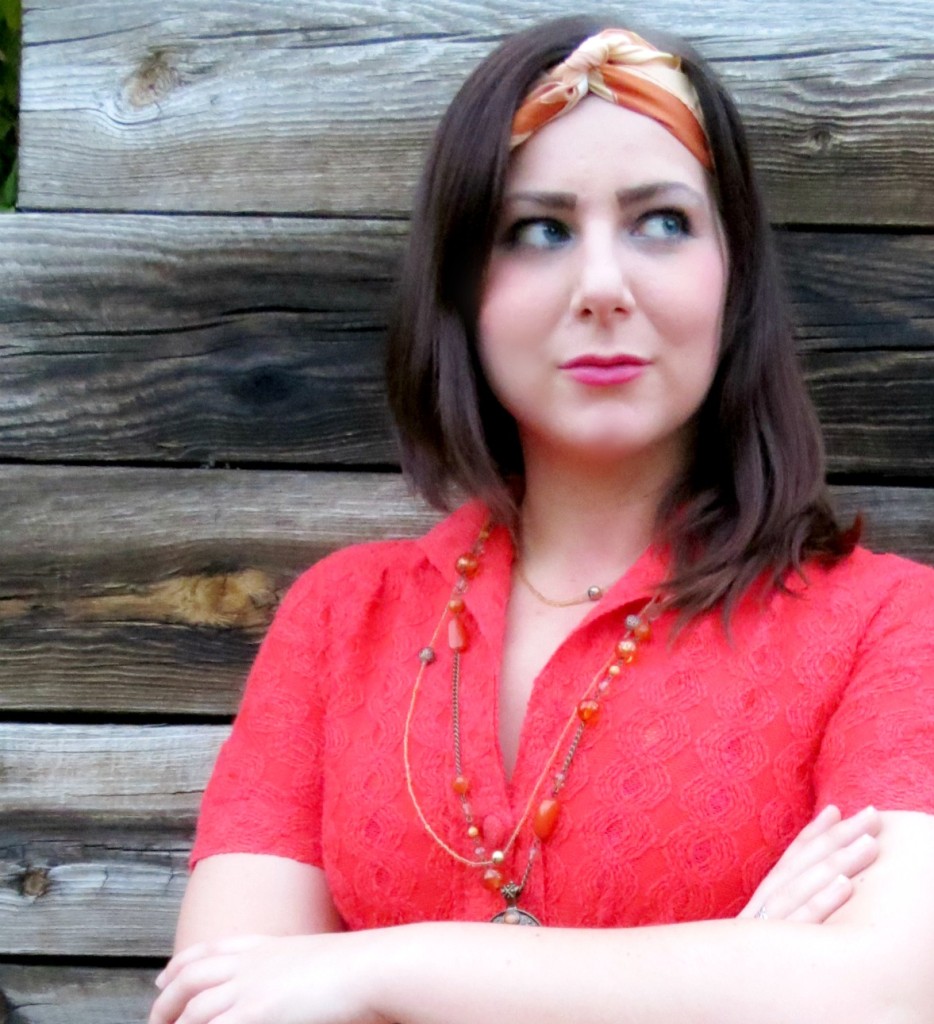 So I don't know about you, but human memory and psychology have always been so intriguing to me. I am extremely curious to know what was happening in my brain when I confused my vintage shopping memories from Napa Valley and Scotland.  Has it just been too long that the experiences were both so similar in how pleasing they were to me that I somehow I joined the two memories together? Anyway, I will always be curious to know and I apologize for lying in my earlier post. This dress is from Armstrongs Vintage and if you are ever in Scotland, definitely stop by this vintage store, it was such a fun shopping experience (now that I can remember it… thank you journal!) and according to the deli man, Kate Moss shopped there! It also looks like they now have a store on e-Bay!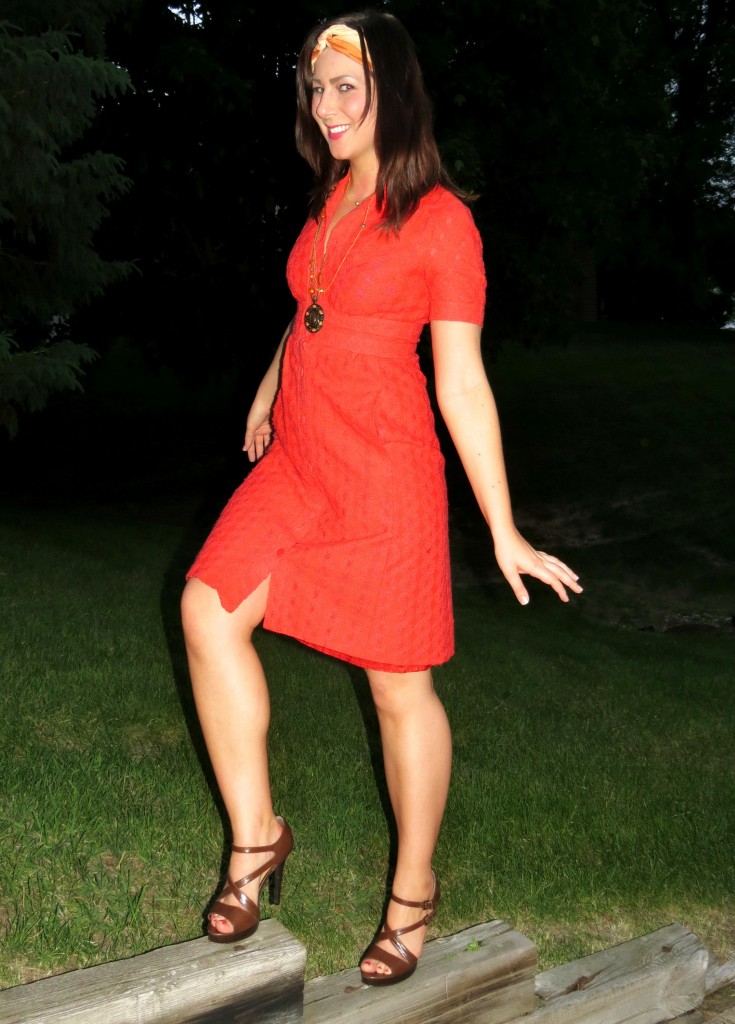 Here is the experience from my journal:
"24/04/08– We just relaxed at our hostel this morning before heading to our three-hour free walking tour. Breakfast included a bowl of cereal, two slices of toast and coffee or tea. It would have been great if they hadn't tried to feed us moldy bread. Kaitlin and I instead shared one slice. Moldy bread was not on my list of interests for a Scotland vacation. We made it to Starbucks on the Royal Mile just in time for the tour. The group was enormous but I felt better seeing two tour guides. Our tour got started out on a sour note as many of us walked through a war memorial. Whoops. Not impressive. The tour was great and even Kaitlin found herself enjoying it. After an hour we got a lunch break and Kaitlin and I bolted to the nearest vintage store (yeah…I know… over food, I can't help my fashion obsession). The vintage shop called Armstrongs was absolutely fantastic! Newer clothes, ghetto clothes and the classic 80s poofy sleeve dresses. Chunky shoes and crazy colors galore! Kaitlin immediately found a green polka dot skirt. As I scanned the hangers I came across two great looking dresses. I tried them on and fell in love with the pop-collared, waist-sinched, coral-colored piece of art. The fabric was a patterned material, strong and solid. A dress that could easily last another 30 years or more! At the 18 pound price, I was sold. We hurried to the Hula Shop to get a wrap and the owner talked to us about how our days were going. We told him about our vintage splurges. He then said how he thought he saw someone that looked like Kate Moss go in there a few days before and that he found out later that it was actually her. He pretended like it wasn't a big deal. We kept our cool, but both were screaming on the inside… we just shopped where Kate Moss shopped!"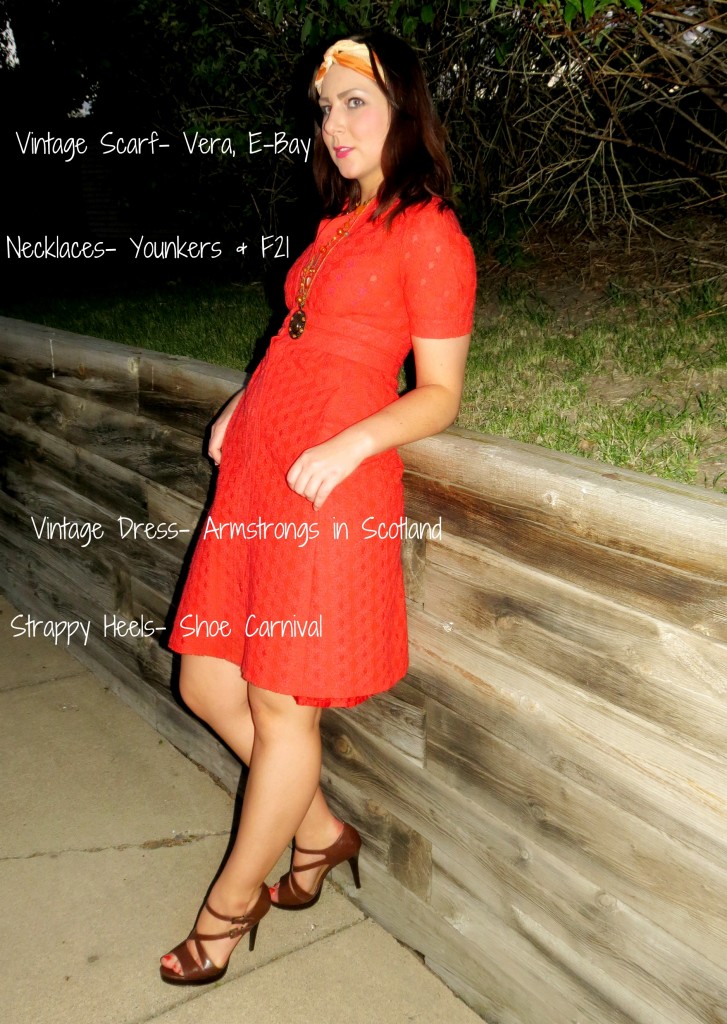 Vintage Dress- Armstrongs :: Similar here
Vintage Scarf- Vera, e-Bay :: Buy Vera scarves here
Necklaces- Younkers & F21 :: Similar here and here
Strappy Sandals- Shoe Carnival :: Similar here
……………………………………………………………………………………………………………………………