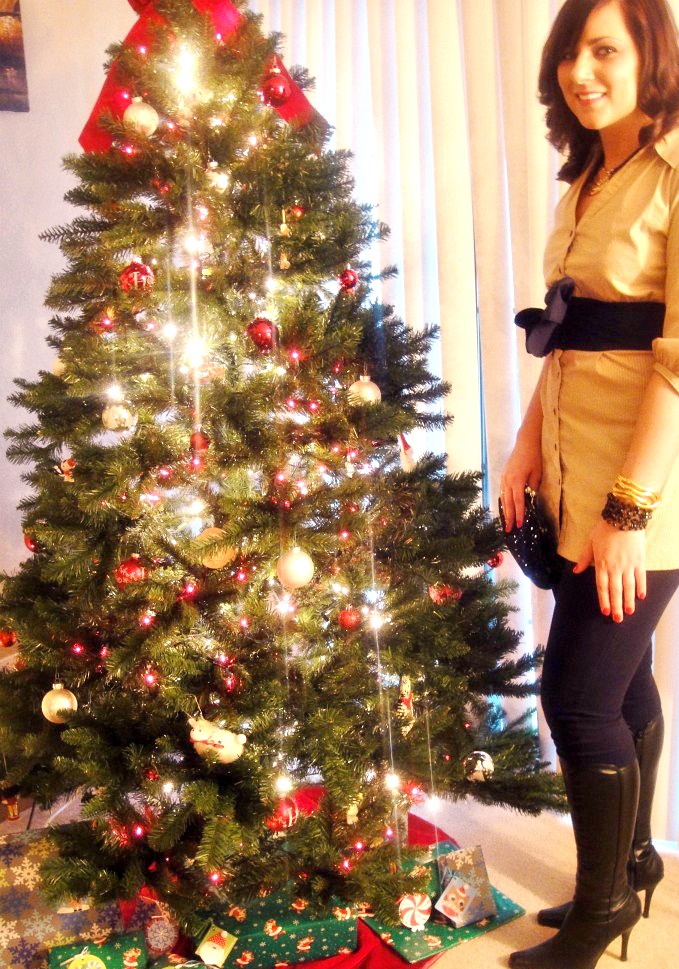 There is a lot of inspiration out there right now for holiday party and event outfits, and I have gotten a lot of great ideas from other bloggers and some of my favorite fashion magazines.  Typically holiday party and event wear includes dresses, skirts and sequins, all of which I love and have made certain will work into later party outfits, but for my first holiday event, I wanted to instead go for a pants look:  a gold-stiched blouse with a big black bow on the front paired with black denim, black heeled boots and some sparkly accessories and red nail polish.  After dinner on Sunday, I went to the Cirque de Holiday show with my boyfriend and friends dressed in this first holiday outfit of the season.  Starting with my black denim, which always makes me feel a bit more edgy, I was still able to appear dressed up because of my bow blouse and the accessories I chose.  The outfit was perfect for my night out! I think I'll give it a standing ovation and wear it again this winter 🙂
Gold-stitched Bow Blouse: JC Penney; Black Denim Skinny Jeans: Younkers; Black Leather High-Heeled Boots: Chinese Laundry; Gold Layered Chain Necklace: Jadas Jewels; Gold Tear Drop Earrings: Jadas Jewels; Black Necklace (turned into bracelet): Vintage; Gold Necklace (turned into bracelet): University Mall in Chapel Hill, North Carolina; Black Sequin Clutch: Coach; Red Nail Polish: Nicole by OPI "Kourt is Red-y for a Pedi"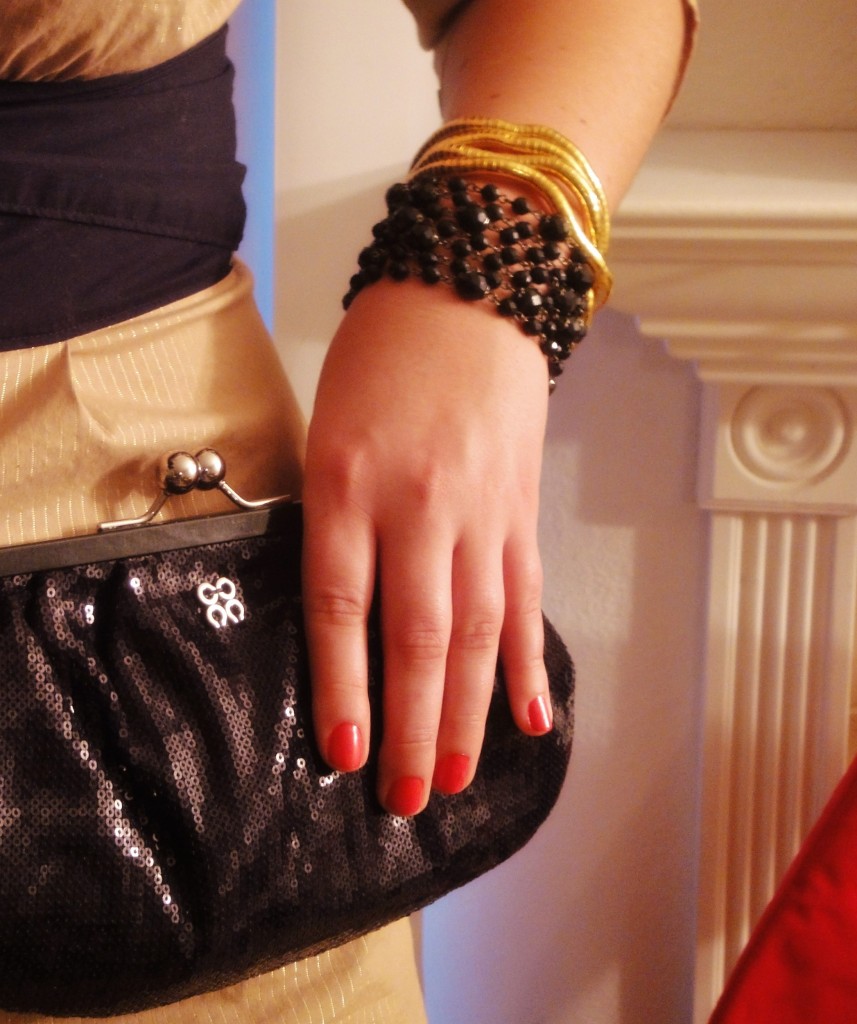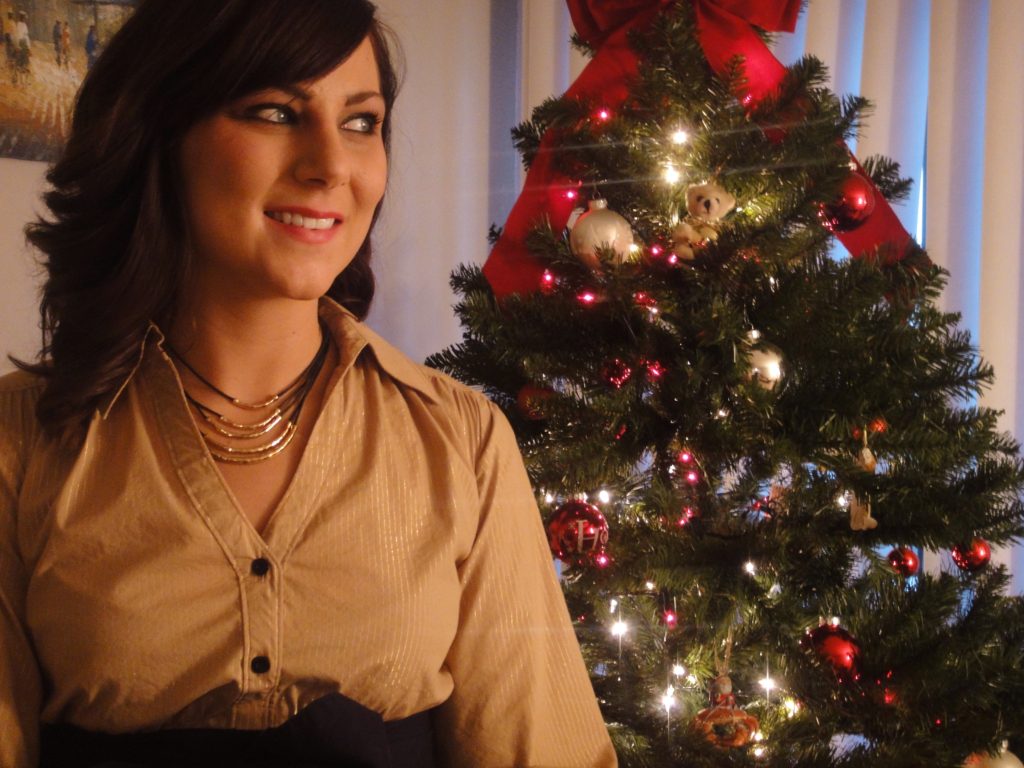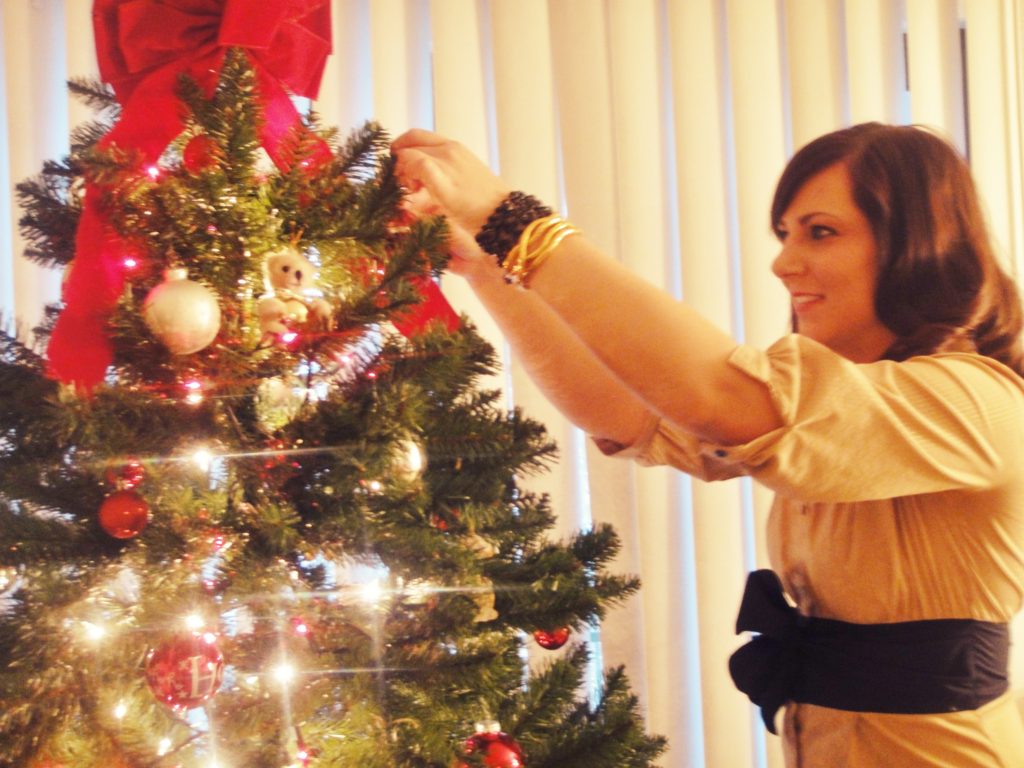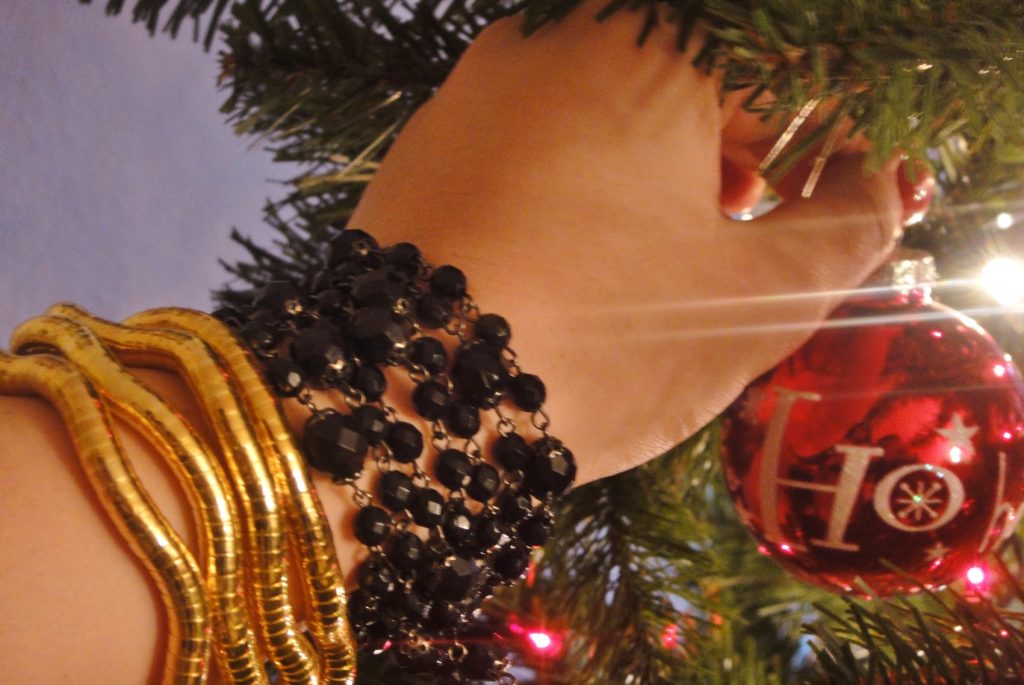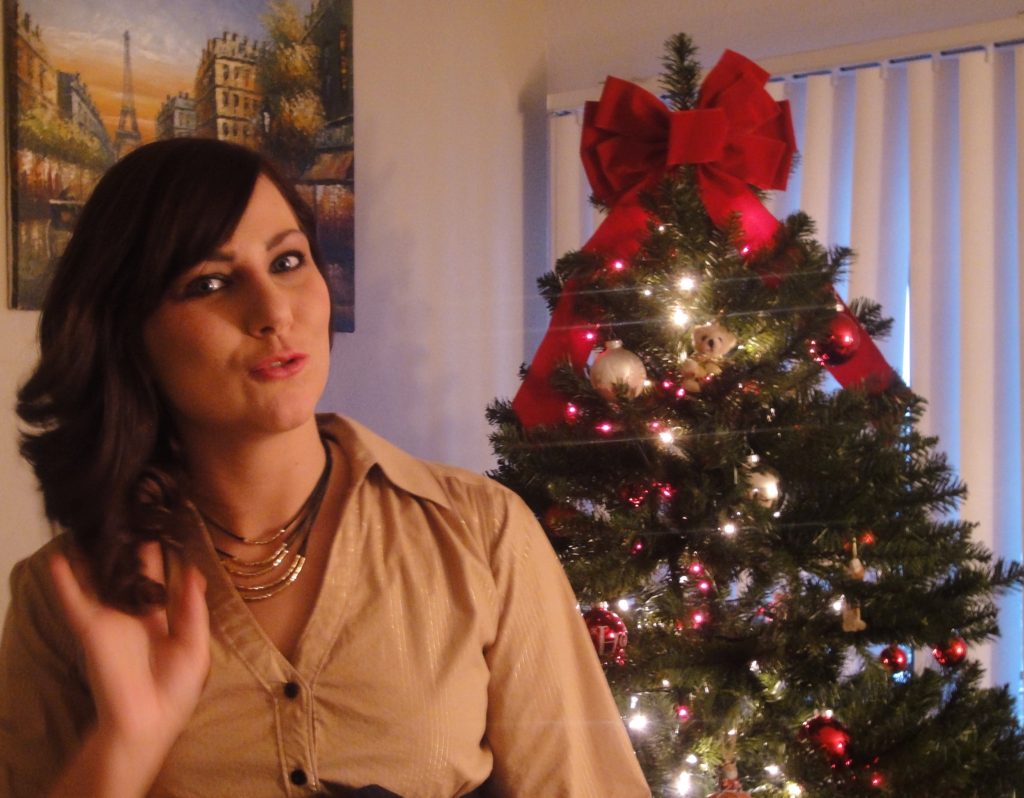 DO the "LOOK"
Gold-stitched Bow Blouse: Sticking to good classic blouse will give you the overall look, no matter the color.  The main emphasis of my blouse is the big black tie in the middle (which is why I chose to wear this blouse…in the past people told me I looked like a Christmas present, perfect holiday blouse then right?!)  To get this look, simply find a big black, red, maybe green belt for some holiday cheer with a bow or a buckle.  This will give a plain blouse the same look as this one that includes the black tie.
Black Denim Skinny Jeans:  *INVESTMENT PIECE*  Black denim is probably my favorite thing next to my pleather leggings because they look edgy and are a nice variation from blue denim.  Since they are so versatile, I would definitely recommend picking up a pair!  With black boots they really flatter a curvy shape like mine.  Other options for a pants look like this include black plain or pleather leggings, opaque tights (if the blouse is long enough) or wide leg black dress pants.
Black Boots:  Tall leather boots are a great way to dress up any outfit during the winter.  For this outfit, I wanted the black on black look, but if you want to try another shoe look, basic pumps or fun strappy heels would also work well.
Bracelets:  Don't have chunky bracelets to get this arm band look?  Do what I did and take a couple of longer necklaces and wrap them around your wrist.  I was able to wrap each necklace around my wrist four times to get this look.  You could also mix chunky and thin bracelets, watches and cuffs to get this look.
Necklace/Earrings:  Any type of black/gold chain, simple necklace would work as well as studs or dangly gold earrings.  These earrings and necklace actually came as a set, and altough I don't usually wear a set together becasue I find them too similar (and thus boring) this set is different enough to look chic!
Black Sequin Clutch:  This is my favorite black sequin clutch that I like to use for weddings, parties and other events. Gold, red, black and anything shiny would make a great clutch or purse for this outfit.
Red Nails:  Go for a nice bright shade of polish with this ensemble… I chose to wear this "Kourt is Red-y for Pedi" (The Kardashian line of Nicole by OPI) because it really pops and is a red-orange color compared to a plain or deep red color.  I personally love Nicole by OPI… it is so easy to put on, dries quickly… and if you don't have time, it already gives you a clear-coat finished look and shine to it.  I just put on a couple coats without the clear coat because I want to change my nail color/look a lot this holiday, so I only needed it to last a few days.